How do I know if I need a meditation cushion? And if so, what's the best meditation cushion for me? Is there a cushion that can help me with my meditation posture, and if so, what is it?
I am going to try out 12 different cushions for my meditation practice and let you know which one works best for me. You might be able to determine which type of cushion you'll need, too.
We all have different body types and need support in different areas, so while I might like one best, you might find another one that suits your personal needs better.
My First Meditation Cushion & Why You Should Buy a Proper One
When I first started my meditation journey, I couldn't afford much. I just knew that I needed to meditate, and I knew that I had around $30 left to make it happen.
I decided to visit a friend of mine, and when I saw this pillow resting in the corner of his room I knew that it'll be mine.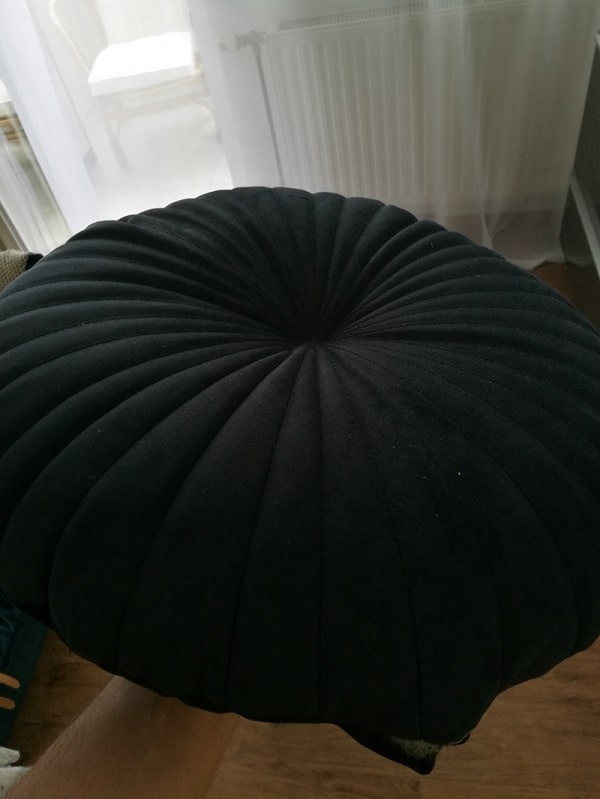 Yes, this was my first cushion for meditation. It wasn't perfect but it did its job (it kept my butt warm :D).
However, after a year I began to fell some back pain, my knees started to hurt a little bit, and because of all that pain, I couldn't meditate properly.
In a next few weeks, I'll "invest" some of my time to show you which zafu and zabuton set I'm using now, and I'll show you why you should buy a proper cushion even if you're only just starting to meditate.
In the meantime, take a look at shopper's favorite picks.
COMPARISON TABLE – Best Meditation Cushions in 2020
After tons of research (and a lot of sitting), I have narrowed my findings down to the top 12 best meditation cushions in 2020. I'll answer all your questions along the way. Let's get down to the nitty gritty.
1. Gaiam Meditation Cushions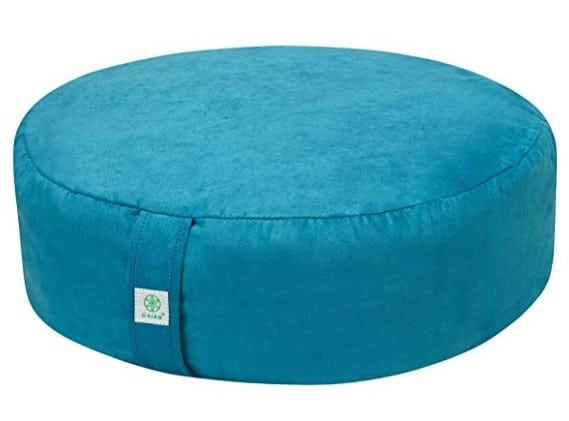 What I love about the Gaiam Zafu Cushion is that it's both organic and comfortable. Another great thing about it is I can adjust the cushion if I want it more or less firm, and it's really easy to wash. I've had cushions that had no way of removing the cover, or it was very difficult to do so, and this one removes very easily.
The Zafu comes in black, purple, or teal, and the filling is organic buckwheat hull. It helps support your posture and relieves pressure on the knees, ankles, and back.
Pros
It has a handle, so it's easy to carry
Easy to wash
Firmness is adjustable
Made of organic buckwheat
Relieves pressure on knees, ankles, and back
Cons
It's a bit heavy, weighing about 5 ½ pounds
Comes in just 3 colors
2. Waterglider International Zafu Yoga Cushion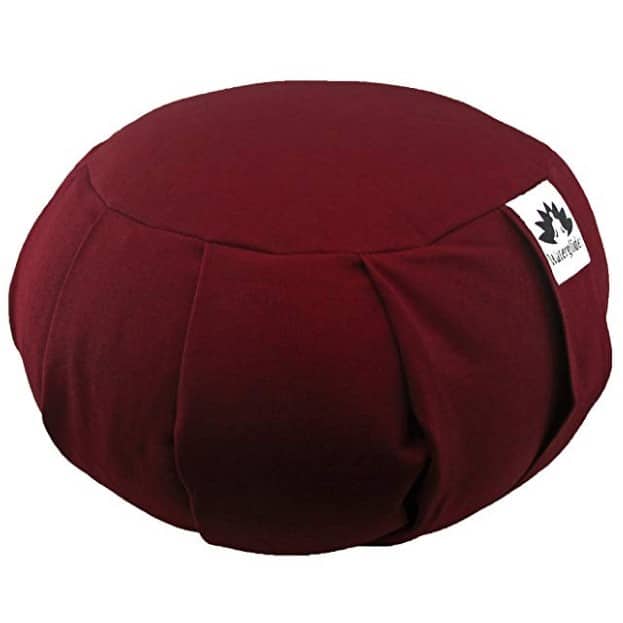 The Watercolor International Cushion is great for sitting during lengthy meditations. It's also made with the buckwheat hulls, which feels soft and similar to a bean bag. This particular cushion is sturdy and lasts a long time.
Pros
Ethically sourced from farmers in the USA
Great for soundwave therapy
Durable
Comfortable: firm enough to keep you off the ground, and soft enough to support your joints
Cons
Not machine washable
Some report seams coming apart with prolonged usage
3. REEHUT Zafu Yoga Cushion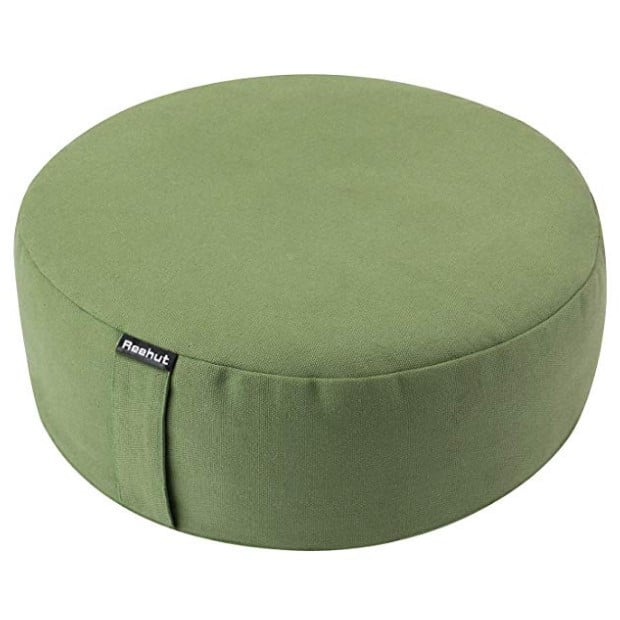 I really like this meditation cushion because it's designed for all styles and meditation postures for yoga. I keep it in my "yoga corner," where I can sit and listen to binaural beats. It really helps me reset myself and feel more refreshed during the day.
If you are flexible, you can order the smaller sizes at 4.5" height; if you need extra support, it's best to go for the 6" height.
Pros
Cover is easy to remove and machine washable
Very comfortable
Variety of sizes available
Cons
Construction can be an issue with prolonged usage
Colors may vary slightly from the picture
4. Peace Yoga Meditation Cushions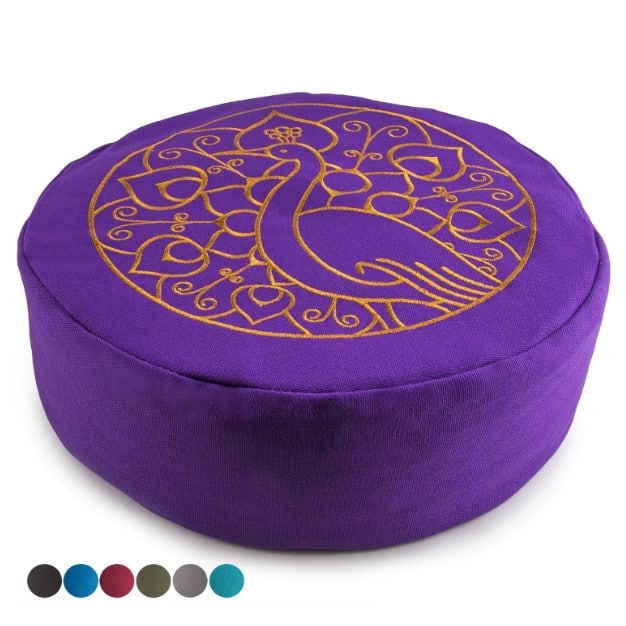 The Peace meditation pillow is very beautifully designed, and has a phenomenal balance of pliability and firmness. As a bonus, this cushion can double as a yoga block, which makes it really helpful for stretching. That's a really great way to save on yoga accessories.
Pros
Beautiful Designs
Dual purpose as a yoga block
Machine washable
Cons
The zipper can become an issue with prolonged usage
5. Yoga Accessories Round Cushions for Meditation
If color is your thing, I'd go with the Yoga Accessories Round meditation pillow. There are 18 different designs, all of which are very unique. It's also listed at a lower price point, which can be helpful for many people.
Pros
Many varieties of colors and designs
Priced lower
Choice between silk or cotton for outer layer
Choice between round or crescent shape
Cons
Height can shrink over prolonged use
Is too firm for some
6. Bean Products Zafu and Zabuton Meditation Set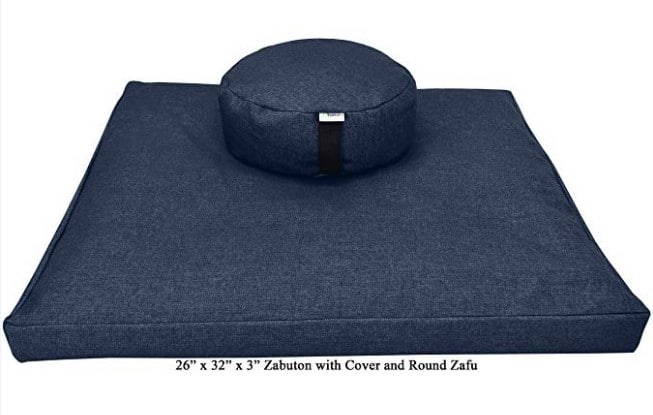 The Zafu and Zabuton meditation cushion set is just what you need to get into the ideal position for meditation. The combination of the small cushion and the larger Zabuton mat gives you all the space and support for maximum relaxation.
You can mix and match the Zafu and Zabuton meditation set however you like. There's a broad range of colors to choose from, including black, white, navy, green, purple, burgundy, and many shades between.
The Zafu comes in 14" and 18" sizes. Since the cushions are not sewn together, you can use either individually or as a set.
For an all-in-one solution, the Zafu and Zabuton Meditation cushion set is one of the best meditation cushion options around.
Pros
Two pieces for use separately or in conjunction
Wide range of colors
Comfortable bean filling that can be replaced when necessary
Great customization options
Cons
Difficult, if not impossible, to wash
Zabuton cushion can be firm, which may not suit some people
7. Gaiam Meditation Cushion Zabuton
The Gaiam Zabuton meditation cushion is an affordable way to get started. Measuring 36"Lx24"Wx4" thick, it comes in three colors — black, purple, and teal.
This meditation cushion is light, comfortable, and properly aligned. It provides correct support for your knees, ankles, and back, and can be combined with a Zafu for maximum effect.
The body forming cotton baffing can be easily removed to wash the outer casing. Simply unzip, unpack, and throw the casing in the washing machine.
Pros
Comfortable body-forming cotton filling
Provides good support
Affordable entry-level Zabuton cushion
Cons
You might need to shell out extra for a Zafu cushion
Cotton filling can get lumpy and deflated after repeated use
8. Zenjara Zafu Meditation Cushion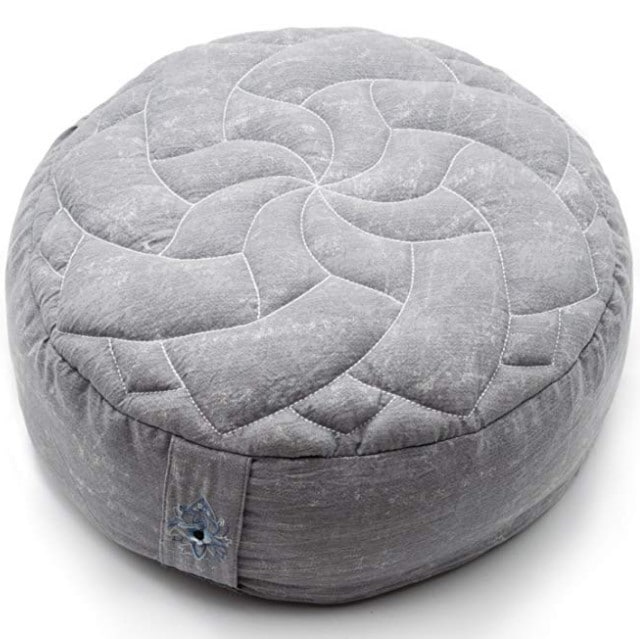 The Zenjara Zafu meditation cushion is an excellent option for those who don't need a Zabuton — or who have one and want a Zafu for extra support.
Zenjara's meditation cushion offering comes in three colors — blush pink, cloud grey, and sea green. It's approximately 13" in diameter, with adjustable height.
The cushion contains an inner cushion stuffed with buckwheat. By removing filling from the inner cushion, you can adjust the height and firmness of the Zafu meditation cushion to suit your needs.
Unlike many meditation cushions, Zenjara has sewn an attractive, relaxing design into the cushion to add style to your meditation sessions.
Pros
Adjustable sizing to suit your needs
Textured cushion for style and comfort
Convenient carry handle
Affordable
Cons
Emptying and refilling the inner bag can be messy
9. Tibetan Singing Bowl Set with Meditation Cushion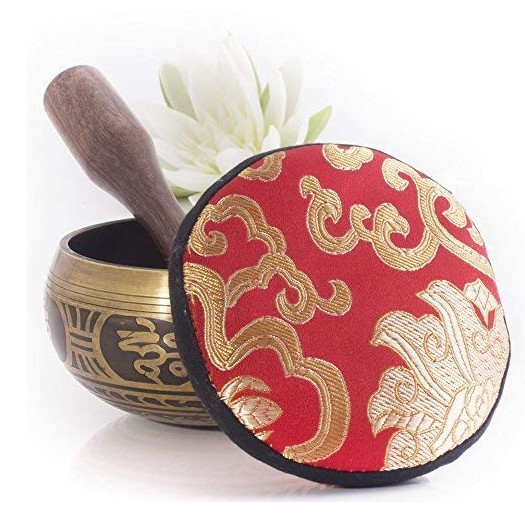 Nothing quite sets the mood like a traditional Tibetan singing bowl. The soothing tones are perfect for cutting out distractions and focusing on finding your peace.
This set comes with the bowl, dual surface mallet, and silk resting cushion. You can choose between black, brown, white and bronze colors. Each colored bowl comes with a different style of cushion to match.
The included mallet allows for hard strikes or softer ringing. To make the bowl sing, simple rub the mallet around the outer lip of the bowl. Faster turns produce higher tones, while slower circles produce lower tones.
Pros
Sets the mood for relaxation and meditation
Makes a beautiful decorative piece when not in use
Four different designs
Cons
Some buyers have had issues getting their bowls to "sing"
10. Zafuko Yoga, Meditation, Kundalini and Pilates Cushion
If round Zafu cushions aren't your style, this Zafuko meditation cushion might be what you're after. Swapping the usual cylindrical shape for a box rectangle, the Zafuko Zafu pillow is a versatile tool to have.
Measuring 14″ x 7″ x 5, the Zafuko is compact and weighs just 1.2 pounds. I found it to be just as useful as a cushion as it as a block, pillow, or even a bolster. While it didn't provide any relief for knees, it was simple enough to choose a sitting position to work around it.
The Zafuko meditation cushion comes in a wide variety of colors and styles, such as black and red, cherry peach, deep blue sea, green and violet, and much more.
This cushion is very eco-friendly, filled with 100% Kapok. Kapok is also known as silk cotton or Java cotton — a hygienic, vegan, hypoallergenic material that provides maximum support and comfort.
Pros
Small and easy to carry
Versatile
Comes in a wide range of attractive colors and styles
Cons
Filling can't be removed for washing
May limit some available poses if used on its own with sore knees
11. Leewadee Meditation Set: Zafu, Zabuton Mat
Leewadee's meditation set is another 2-in-1 deal: both a Zafu cushion and Zabuton mat in one package, which can be used separately or together.
I found the double sets to be the best meditation cushion options for me, as it creates a harmonious esthetic for me to relax in. This set come in a variety of colors, such as orange, black, and blue. My personal choice was the Sky Blue.
This set does leave out some features you can find when buying items individually, though — like adjustable heights and firmness. Some may find the set a bit too firm for their backs for daily use.
Pros
Attractive, unified designs
Convenient all-in-one set
Provides great support
Cons
May be too firm for regular use for some people
Some smaller users may find the Zafu cushion too high
12. DharmaObjects Traditional Tibetan Meditation Cushion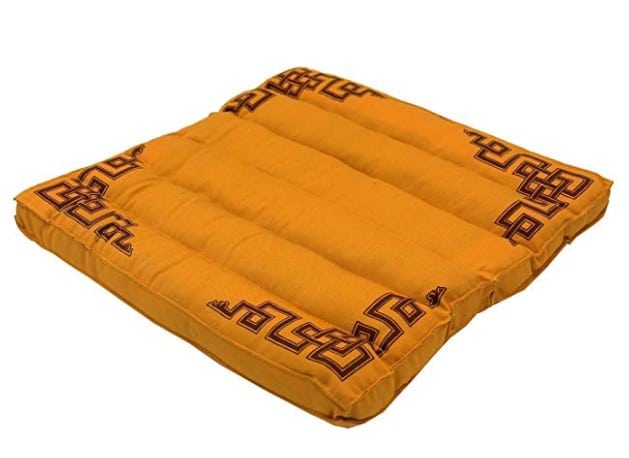 Rounding off the list is a traditional Tibetan meditation cushion from DharmaObjects. This Zabuton mat is an affordable, entry-level mat sure to provide much value.
My favorite thing about this mat is that it can fold in half to go from a Zabuton mat to a Zafu cushion depending on your needs. It provides all of the same versatile use of the Zafuko rectangular cushion above, but with the added use of a laid-out mat.
There are many colors and styles available, including black, blue, orange, yellow, purple, and various shades of each.
Pros
Versatile — great for meditation, yoga, or a support block
Lightweight and easy to carry
Attractive styles
Cons
Lacks the all-in-one convenience of sets
Why do I need a meditation cushion?
A meditation cushion is paramount to spinal support. When we meditate, we often "go" to a different place, and we can lose focus on our posture. With the exception of a few types of meditation, zazen included, which train us to focus on the posture throughout the duration of the meditation, it's really helpful to have some extra support.
If you're practicing brain entrainment or listening to binaural beats, it's especially helpful to use a cushion so that your focus is entirely on the meditation itself, and not on your back or knees.
The last thing you want while meditating is an ache that makes you interrupt your meditation, or worse, a numb foot that distracts you until it "comes back to life."
How do I choose the best meditation cushion?
It's always important to choose based on your body structure. Some cushions run a little larger or smaller may have a different type of filling or added structural differences to stand out from the crowd.
The best question you can ask yourself is how much support you think you'll need. Some of us do great with a basic cushion with relatively little support because they are able to sit straighter with just this quality.
Here's a guide that quickly explains how should you use a meditation cushion.
[embedyt] https://www.youtube.com/watch?v=EiGYwVEoH2E[/embedyt]
Others need a cushion that's almost in the shape of a chair in order to guarantee the best support. This can be a great option for those who they feel tired often, or for those who are new to meditating.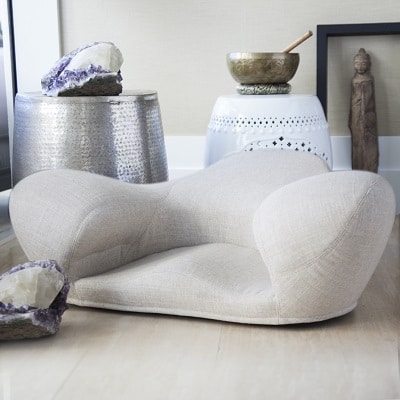 A meditation cushion by Alexia is actually a seat. This kind of cushion gives you support for a whole body (lower back, knees, legs, feet). It's very, very comfortable. The only issue is its price, which is a few hundred dollars or euros.
You can find more information about Alexia's seat here.
Check in with yourself and be honest – which shape suits you best?
Which Style Cushion is Best: Zabuton, Buckwheat Hulls, Kapok Fiber, or Zafu?
The Zafu cushions are great for holding postures, however, if you need some extra cushion below the knees (or you have cold floors), you'll want to add in a Zabuton cushion as well.
Zafu cushions aren't for everyone. If you've never meditated using them before, you may find them small and uncomfortable. They aren't meant as chairs; they're meant to give extra joint and spinal support. So if you're going for comfort, try adding on the Zabuton cushion.
Zabuton cushions are larger and square, and most people can sit comfortably on them. Zabuton cushions do not provide elevation as the Zafu cushions do.
Buckwheat hulled cushions are those that are filled with buckwheat. It's an organic material that can give off a kind of "bean bag" feel, which helps relieve pressure on the joints and is more comfortable for some people. These are less firm than cotton filled cushions.
Kapok fiber is another filling for the Zafu cushions, which give off more of a soft and spongy feeling. It's similar to cotton and can mold to your body. Some people don't like the faint smell of the organic material.
What does color of a meditation cushion mean?
Colors have a deep meaning in meditation; that's why each meditation cushion has a unique color. Colors show up when we meditate to present different divine messages, they are also chosen based on the energy they give our mind, spirit, and body, and finally, each color has distinct energetic properties that help us when we need support.
When looking for the best meditation cushion for you, you may want to look at colors. Whether you're personally drawn to one color or another can say a lot about you.
For example, red can lift you up and generate energy, whereas orange can help bring on healing properties.
Black tends to draw the focus inwards, and violet gives a feeling of calmness and balance. Green promotes a balanced feeling while slowing down the mind and breath.
There's no wrong color to choose when it comes to your meditation cushion. Simply choose which one is best for you!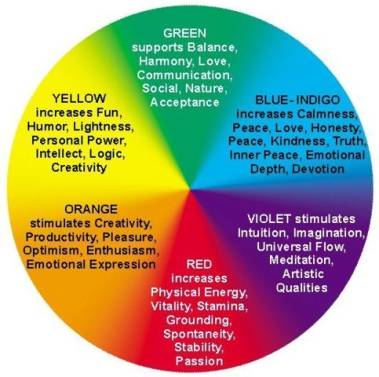 Frequently Asked Questions about Meditation Pillows
How can I clean my cushion?
While each cushion has different cleaning instructions, many of them have a removable cover.
If it does, you can unzip and remove the cover, turn inside out, and machine wash cold with the gentle cycle. Air dry to prevent shrinkage. As always, please read the cleaning instructions.
How can I remove the smell?
While it's possible that your cushion will have a light odor, this will fade over time. If you have a cushion that has a washable cover, you can wash that out a few times to speed up the process.
It can also be helpful to air it out outside for a day or two if you're really sensitive.
Can my kid use a meditation cushion?
Yes! Meditation cushions are great for all ages, and can benefit kids as well!
It helps them retain good posture while sitting, reducing the problems they may create for themselves if they aren't using one.
Can a cushion be used for other activities as well?
Sure! You can use your meditation when drawing, reading, knitting, watching movies, playing with pets or kids on the floor, or even when eating at a low table.
Is there a height and weight restriction?
While every cushion has a different weight limit, the weight limits are hard to reach.
What about mites or pest?
We carefully selected cushions that have a great reputation. 99.9% of the time, you won't find any issues with pests or mites.
If they are found, please notify the manufacture and dispose of immediately. You'll be issued a refund right away.
Can I use my meditation cushion with brain entrainment programs?
Absolutely! Brain entrainment programs are enhanced with cushions as they allow the body to deeply relax while staying in an aligned posture. This reduces aches and pains that generally come with sitting for long spurts of meditation.
Our honest opinion
When you're meditating, using cushions is really great, whether you're taking a yoga class, meditating at home, or even listening to binaural beats in your meditation corner. I use mine daily and I can't recommend it highly enough.
I don't have to focus on holding my posture a certain way or making sure my feet, knees, and hips are in alignment because the cushion does it for me. I can focus only on meditation without any distractions.
I definitely recommend having at least one cushion to meditate on.