Have you always wanted to find the perfect meditation style, but have a hard time sitting still? If so, Dynamic Meditation may be the perfect form of meditation for you.
Osho, a 20th-Century spiritual guru from India, invented this practice as a way for modern people to find the stillness that meditation offers. He said that people today have a harder time sitting still, as stillness often makes us aware of inner chaos.
His meditation involves five stages of heavy breathing, shouting, frenetic movement, mantra repetition, jumping, stillness, and a final celebratory dance. All of these steps are done methodically over the course of an hour in order to produce catharsis and inner calm.
What is Dynamic Meditation?
Osho's version of this meditation style is still called Dynamic or Active Meditation, although sometimes this name is used to refer to any meditation style that incorporates movement.
Osho claimed that modern people need movement to arrive at inner stillness. He said that the more traditional forms of meditation were devised for people of a different era. Those earlier meditators spent all day working labor-intensive jobs, so they had a much easier time sitting still.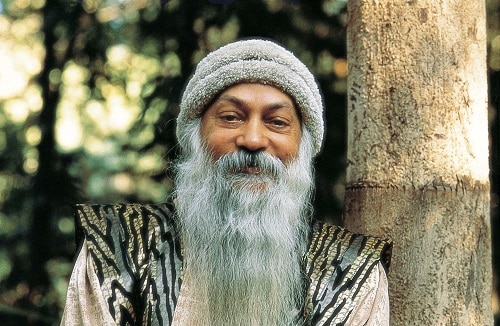 When people today try and sit still, we are often met with inner chaos. If we can first remove the inner chaos through movement, we have a greater chance of finding the stillness we seek in meditation.
This meditation technique was created with this idea in mind. By moving in an uninhibited way, we can break up stale energy, disrupt negative patterns, and eventually arrive at a carefree sense of peace.
Countries all over the world have their own unique forms of meditation involving movement. Osho's method was developed in meditation centers in the Indian Mountains. It has since spread and is practiced worldwide in meditation classes, retreats, and among individuals within their personal meditation practices.
This meditation style involves five stages that make up a one-hour session. Each stage is designed to help you release emotions and inner chaos so that you can begin to find stillness within yourself.
The first step is frenetic, heavy breathing and moving the body naturally for ten minutes. The key is for your breathing to be irregular and uncontrolled. You breathe through your nose and focus primarily on the exhalation.
The second step is an explosion of movement and shouting for another ten minutes. This is the expression of catharsis and might feel strange the first time. Shouting and moving wildly is said to help you move toward internal stillness.
The third stage involves raising your arms above your head and jumping, chanting the mantra 'hoo!' upon landing on your feet. This is meant to shake out any residual energy that is left in your body. This stage also lasts ten minutes.
In the fourth step, you freeze in your original standing position, observing in silence. Since the previous steps have worn out your body, it will be easier for you to stand in this silence for fifteen minutes.
The last fifteen minutes is a celebration, spent dancing and letting loose to the music. It is important to stay for this final portion, to fully experience the gratitude and abundant life that can be found here.
How Does Dynamic Meditation Work?
Since Osho created this method for people that had difficulty meditating in stillness, it offers the benefit of accessibility. People that do not enjoy meditating in silence and stillness can access the benefits of meditation through this technique.
Each stage of this method was designed to offer a unique benefit. Let's take a look at each step and what it can offer your body and mind.
The first step of Dynamic Meditation is chaotic, irregular breath. This is meant to build up energy in your body before the big release in the second step. By breathing irregularly and quickly, you are taking more oxygen into your body. The result is an increase in energy, which forces you into an alert state of being.
The second step releases all of the energy from stage one. You can completely let loose by shouting, jumping, throwing your body, and acting in any way you wish. This step works to release all of the chaos, negative thoughts, suppressed emotion, and heaviness inside of you. Once you have released everything, you are left feeling light and renewed.
The third step is a more controlled movement: jumping vertically and shouting 'hoo' as you land. This step is a final effort to wear out your physical body before giving in to stillness. Osho stresses that tiring the physical body creates space for new energy to enter your system. You will be exhausted, so the parts of you that might originally resist stillness or new energy will simply be unable to. With continued practice, this energy collects over time and will contribute to a restored and fresh sense of self.
In the fourth step, you simply freeze in the previous standing position. This allows the flow of energy from the previous steps to course through your being. You are no longer responsible for doing anything. The ego is eliminated and you simply observe, and allow the benefits of the meditation to sink in.
In the final step, you dance and celebrate your efforts. Here, you have the chance to fully feel the renewed energy and life that you have gained. You feel fully awake and can appreciate the beauty of life with renewed vibrancy.
Dynamic Meditation Benefits
As you can see, the steps of this practice take you from your own mental chaos to deep gratitude of life. Many meditations have this effect, but this style works through your body to help you access the benefits more fully.
A few of the reported benefits of this meditation style are:
Releasing old patterns
Releasing negative thoughts and emotions
A renewed sense of aliveness
Releasing stagnant or heavy energy in the body
Feeling light, weightless, and carefree
Gaining more energy
Letting go of the ego
A restored sense of gratitude
A deeper sense of relaxation and peace
Increased longevity
Release of anger which eliminated negative chemicals from the body
Heightened senses
Why Dynamic Meditation?
If you cannot meditate in stillness due to built up nervousness, energy, or emotions, this technique offers a way to release those limiting factors. Through this process, you can still achieve the state of calm that you seek.
How to Learn Dynamic Meditation
This meditation is most commonly learned in group classes or retreats. It can either be practiced in a single class or as part of a course that takes place over several weeks.
The typical Osho Dynamic Meditation course lasts 21 days. Osho intentionally designed the program to have a three-week duration. He says the first seven days allow you to settle in. You begin to feel the benefits in the second week, and in the third week, you arrive at feeling truly comfortable within the practice.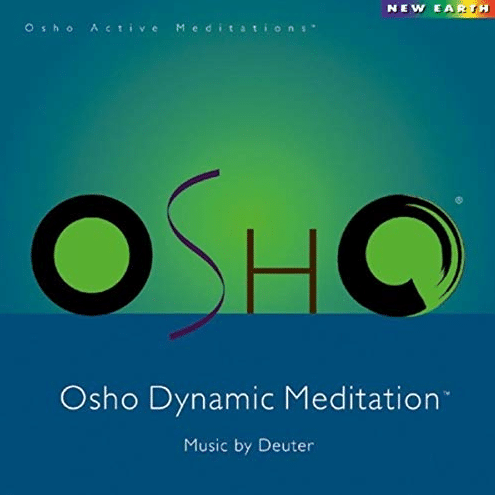 It is commonly said that it takes 21 days to form a habit, and Osho seemed to have a similar idea in mind when designing his courses. He says this process requires consistent work to break up old patterns and fully receive the new energy.
If you complete the 21-day course, you go through a transition of resisting the physical and mental changes to embodying them with ease.
An instructor guides the group sessions through each of the five steps, so all you need to do is listen and participate. The energy in the room can be quite powerful and adds to the overall meditation experience.
Although this meditation originated in India, it is now practiced at meditation centers all over the world.
Dynamic Meditation Books
Of course, this style can be practiced individually as well. If you want to try out the practice before joining a group, or if you've already taken a class and want to continue the practice at home, you can benefit from exploring on your own.
Purchasing a book on the topic may help you further your development within this technique. You can refer back to the book for ideas on how to deepen your practice.
Here are a few options to further your discovery of this meditation:
The Book of Secrets: 112 Meditations to Discover the Mystery Within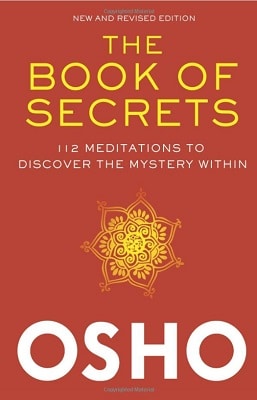 This book is a practical guide to the secrets of Tantra written by Osho himself. He created the book to help modern people access the benefits of these meditations. The goal of the book is to help readers eliminate old patterns and beliefs that hold them back in life through the meditations provided.
Some readers claim that this is one of the most valuable books they have ever read. One reader even says if they had to choose only one book to read for the rest of their life, they would choose this one. They claim that it offers something that many other books cannot: liberation.
This book is more like a reference book than something you can read straight through. It must be consumed slowly as you allow the skills to slowly seep into your consciousness.
As with most meditation guidebooks, some people say to use caution when practicing the techniques it offers. These methods are best learned and experienced with an instructor present.
Readers say this book is a great value. It has over one thousand pages of Osho's teachings and techniques at a very affordable price. The book can help you begin a spiritual journey, or dive further into your spiritual development.
While many found this book to be a brilliant resource for learning meditation, some were disappointed that the book contains Osho's teachings that have been revised, and wished the text were his untouched, exact wording. The revisions were meant to provide clarity, so the underlying meaning still remains.
If you are looking for a tome of meditations and wisdom to read through very slowly, this book would be a great addition to your collection.
Dynamic Meditation
This is another one of Osho's books on his method of meditation. In the book, Osho goes into detail about the meditation style. Unlike the aforementioned book, this one specifically discusses this meditation technique, how it differs from other methods, and the benefits it can offer you.
Osho separates his method from religion by claiming that this technique is more of a scientific approach to meditating. Through his carefully devised steps, you can arrive at your own religious or spiritual experience.
This would be a great book to buy if you are hoping to learn more about this specific meditation style. Whether you are new to the practice or have been practicing for years, you can benefit from this deep dive into each individual step of the meditation.
One reader claims this book should be required reading for every instructor of this meditation style. He says the original transcripts of Osho's teachings offer new insights even if you are an expert in the technique.
Give this book a try as an introduction to this type of meditation, or keep it on hand as you deepen your practice. No matter how far along you are in your journey, there are always new benefits to be discovered.
Japanese Yoga: The Way of Dynamic Meditation
While the traditional version of this style was developed by Osho in India, many other cultures practice a version of meditation that incorporates movement. If you'd like to explore the ways other cultures incorporate movement into meditation, this is a great starting point.
This book covers the art of Japanese yoga, explaining its uses for healing, stretching, and meditating. The book provides steps and guides so you can try the practices for yourself.
Since these teachings demonstrate how to incorporate everyday movements into meditation, the practices fall into the category of active meditation.
The practice of Japanese Yoga leads you toward a more positive attitude, higher levels of performance in your daily life, and improved concentration, among other benefits.
Readers claim that this book flows easily, and even beginners can try the movements and improve through consistent practice.
Some people say that the book encompasses much more than yoga. The yoga stretches and poses offered in the book are not provided for exercise or weight loss, but for helping prime your body for meditation.
This book can offer a window into new ways to practice movement with meditation. It's a good idea to explore different styles to find the one that works best with your mind and body.
How to Do Dynamic Meditation
Although I've mentioned the steps of this meditation practice above, I'll provide a meditation script below so you can try the techniques for yourself.
Make sure you wear comfortable, non-restrictive clothes, take your shoes off and find a space where you have room to move, shout, and jump as you please. Make sure you have an hour of time available and use a timer to divide the minutes up properly for each step.
Step one (ten minutes): Begin by breathing deeply, chaotically, and irregularly through your nose. Let your body move naturally as you continue this breath for ten minutes. Allow the energy to build up in your body, but do not let any of it go in this step.
Step two (ten minutes): Now, let go of the energy that you built up in the previous step. Explode with movement, shouting, jumping, and any emotion that comes up. Release everything you have been holding back. It is important to fully let go of any tension, emotion, and energy that you have been holding in the mind and body.
Step three (ten minutes): Raise your arms over your head and hold them there loosely during this entire step. Jump up and down while chanting the mantra 'hoo' repeatedly as you land. Land flat on your feet, releasing any remaining energy and completely exhausting your physical body.
Step four (fifteen minutes): Stop all movement, and freeze in the previous standing position. Observe in silence. Do not worry about any particular position, breath, or movement. Just stand in silence and observe.
Step five (fifteen minutes): This step is a celebration of the new energy and gratitude you feel after the meditation. Turn on some music and move naturally. Do not worry about how you look. Stay in your body and allow it to flow naturally as an expression of your joy and celebration.
Allow the sensation that has come over you during meditation to stay with you throughout the day. Return to this practice regularly to increase the benefits you feel.
Final Thoughts
If you've always heard of the benefits of meditation, but find it difficult to sit still in silence, this style was designed just for you. Osho's technique can help you expel nervous energy through movement, and arrive at the state of peace and calm that you desire.
Dynamic meditation can help you feel more energy, more peace, and even increase your longevity and resilience. You will feel more joyful, more content, and more grateful within your daily life.
If you'd like to try this style, there are many courses available all over the world. Find one in your area, or check out a book to explore the style further.
If you've enjoyed learning about this form of meditation, I encourage you to explore it for yourself. The catharsis you'll feel will be sure to bring you a renewed sense of peace. Movement plays a surprisingly beneficial role in meditation. It's worth digging deeper to experience the liberating quality of this style for yourself.