The Essence of Feathers: Spiritual and Symbolic Perspectives
Feathers have always mesmerized human souls with their ethereal beauty, inspiring awe and reverence. They gracefully move back and forth between the human and divine worlds. They have served as symbols for everything from power to purity throughout many different cultures and traditions. Our exploration of their profound spiritual and symbolic significance is compelled by their very existence.
Key Takeaways
Notions of Freedom: The lightweight and floating nature of feathers symbolize liberation and free spirit.
Connection to Nature: Feathers bridge the terrestrial and celestial, emphasizing a harmonious coexistence with nature.
Spiritual Communication: Often seen as a medium, they're believed to convey messages from the divine or the deceased.
Artistic and Ritualistic Uses: Their aesthetic appeal and symbolic weight make them invaluable in various cultural expressions and ceremonies.
Feathers in Religious and Spiritual Traditions
Religious and spiritual practices have long held feathers in high regard, as evidenced by everything from Native American headdresses to Egyptian gods adorned with feathered symbols. They are frequently considered to be manifestations of divine energy or gifts from the heavens. Due to these cross-religious integrations, feathers have become a widely recognized spiritual symbol.
Native American Traditions: Feathers, especially eagle feathers, are symbols of strength, courage, and honor.
Egyptian Beliefs: Feathers were associated with the goddess Ma'at, symbolizing truth, balance, and order.
Christianity: Feathers, especially dove feathers, can symbolize peace, hope, and the Holy Spirit.
Feather and Wind: The Symbolism of Freedom
Feathers bring up images of the vastness of the sky and the freedom of birds. They effortlessly move with the wind, reinforcing a fundamental human desire to fly free. The universal symbolism of freedom is woven throughout legends, myths, and common language.
Flight: Represents breaking free from earthly ties and soaring towards one's aspirations.
Wind: Embodies change, transformation, and the unseen forces that guide life.
Historical Overview of Feather Symbolism
Feathers have shaped and been shaped by the annals of human history because of their enduring allure. They were revered by ancient shamans, used as crown decorations by medieval kings, and still found in contemporary artifacts and stories today. Thus, their symbolism becomes a reflection of how the human psyche is developing.
Ancient Civilizations: Revered feathers as divine signs or omens of the future.
Medieval Eras: Used them to signify nobility, valor, and authority.
Modern Interpretations: Shift towards personal spirituality, inner freedom, and individual expression.
Feathers as Divine Messengers: A Transcultural View
Around the world, a feather's sudden appearance is frequently considered serendipitous. Feathers cross cultural boundaries to resonate with divine communication, whether it be a message from a loved one who has passed away or a kind nod from the universe.
Signs from the Universe: Many believe feathers appear in moments of doubt or seeking, offering guidance.
Angelic Symbols: In some traditions, they're considered signs from angels or benevolent spirits.
Ancestors' Messages: Some indigenous cultures view feathers as messages or blessings from ancestors.
Color and Type: Understanding Feather Symbolism
Much like a prism refracting light into a spectrum, feathers too, through their colors and types, weave a myriad of stories. A raven's dark plume might evoke mystery, while a peacock's radiant feather speaks of beauty and vanity.
White Feathers: Often associated with purity, peace, and spiritual messages.
Black Feathers: While sometimes considered ominous, they can also symbolize protection, mystery, or magic.
Peacock Feathers: Represent beauty, vanity, and in some cultures, an all-seeing eye.
Sacred vs. Mundane: The Role of Feathers in Daily Life
Feathers are a testament to the dual nature of symbols, seamlessly traversing between the sacred and the ordinary. They adorn altars, become tools of divination, and yet, also find a home in our pillows and fashion. This juxtaposition highlights the sanctity we can find even in everyday artifacts.
Ceremonial Use: In rituals, feathers are tools for cleansing, blessing, and invoking divine presence.
Everyday Use: Their practical applications include insulation, decoration, and accessories.
Fashion Statement: A fusion of aesthetics and cultural references, feathers accentuate clothing, hats, and jewelry.
The Power Dynamics in Feather Symbolism
Feathers frequently take center stage in the complex dance of power and symbolism. Warriors wore them as badges of courage, spiritual leaders as links to the divine, and kings and chieftains as symbols of authority. They are more than just ornaments; they are also statements of power, strength, and spirituality.
Crowns and Headdresses: Represent authority, leadership, and divine connection.
Warrior Marks: Symbolize courage, achievements, and honor.
Spiritual Attire: Highlight purity, devotion, and a bridge between the physical and spiritual realms.
Is a Black Feather Always Ominous? Debunking Myths
Black feathers have frequently been associated with bad omens or evil forces in cultural narratives. The fluidity of symbolism is what makes it beautiful, though. While some people are afraid of black feathers, others view them as magically protective, grounding, or even protective.
Omens: Some traditions associate black feathers with warnings or messages of upcoming challenges.
Protection: They can act as shields against negative energies or harmful intentions.
Magic and Mystery: Celebrated in some cultures as symbols of deep magic, intuition, and the unknown.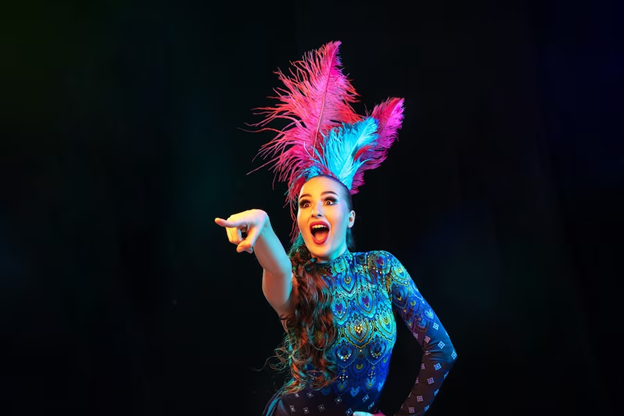 Decoding Feather Imagery: A Psychological Insight
Feathers frequently manifest as potent symbols in the complex tapestry of the human psyche. They might represent a quest for liberation, a transformational journey, or even a link between the conscious and unconscious worlds. Their presence prompts reflection in both dreams and art.
Dream Interpretation: Feathers might indicate transitions, spiritual elevation, or messages from the subconscious.
Artistic Expression: Artists employ feather imagery to convey emotions, spiritual themes, or societal commentaries.
Transcendental Bridge: Acting as links between the conscious and the unconscious, tangible and ethereal.
Importance of Context in Feather Symbolism
A feather's story isn't just woven by its color or type but the context in which it's found or used. Its meaning can shift dramatically based on its surroundings, the intent behind its use, or the personal beliefs of the beholder. Thus, context becomes a key interpreter.
Sacred Spaces: In temples or altars, they're divine connectors or offerings.
Found Objects: A feather stumbled upon might be seen as a sign, message, or simple serendipity.
Gifts: When given or received as gifts, they hold emotional or spiritual significance.
Feathers in Fashion and Their Cultural Implications
As fashion evolves, it borrows and redefines symbols, with feathers being no exception. From haute couture runways to traditional attires, they add elegance, statement, and sometimes, stir debates. Their use in fashion isn't just about aesthetics but also ethics, cultural respect, and storytelling.
Elegance and Luxe: Feathers add a touch of opulence and drama to fashion pieces.
Cultural Symbols: Indigenous and traditional outfits may use feathers with cultural or spiritual significance.
Debates and Ethics: Concerns arise about cultural appropriation, animal rights, and sustainability in fashion's use of feathers.
FAQs
What does finding a feather symbolize in different cultures?
Feathers found unintentionally across civilizations may represent divine messages, ancestral blessings, or omens, depending on the cultural perspective.
How has the symbolism of feathers evolved through history?
The cultural, spiritual, and everyday narratives of feathers have changed throughout history, evolving from sacred symbols in ancient rituals to symbols of individual expression today.
Why are feathers often associated with spiritual messages and guidance?
Because of their ethereal qualities, revered past, and widespread affinity for birds and flight, they are suitable as symbols for messages from higher realms.
How do the colors and types of feathers influence their meanings?
Combining the energies of different bird species with the emotions that colors arouse in people results in a feather's distinctive symbolic resonance.
How are feathers used in contemporary art, fashion, and spirituality?
Today's world sees feathers as multifaceted emblems, employed for visual appeal, spiritual practices, cultural statements, and even political commentaries.
References
Adelowo, E. D. 1990. Rituals, Symbolism and Symbols in Yoruba Religious Thought. 162-173 Available From: obafemio.weebly.com/uploads/5/1/4/2/5142021/04_1_162pdf.
Gibson, C & Dunbar-Hall, P. 2006. Nitmiluk : Place, Poltics and Empowerment in Australian Aboriginal Popular Music. Cited in Ethnomusicology A Contemporary Reader (ed) by Jennifer . C .Post , 2006. New York: Routledge, 383-400.
Smith, F. T. 1987. Death, Ritual and Art in Africa. African Art, Vol. 21, No. 1. (Nov 1987), 28-29 + 84. Available From: http://www.jstor.org/stable/3336496. Accessed: 15 July 2014