Unraveling the Spiritual Significance of Mountains as Symbols
Mountains have served as metaphors for difficulties, divinity, and transcendence throughout history and across cultures because they are frequently seen as immovable and eternal. The depiction of mountains reflects humanity's close relationship with nature and our innate fascination with heights and grandeur in everything from ancient myths to contemporary art. By interacting with these symbols, one may develop closer ties to the environment and to oneself.
An exploration of the psychological and spiritual significance that mountains hold across cultures is vast and profound.
Key Takeaways
Challenges: Mountains often symbolize life's obstacles and the human spirit's capability to overcome them.
Divinity:

Associated with gods and sacred practices in many traditions, reflecting spiritual elevation.

Transcendence:

Symbolizing the ascension to a higher state of consciousness or spiritual realization.

Human-Nature Relationship: A reflection of humanity's evolving relationship with the natural environment.
Impact of Mountain Symbols on Spiritual Traditions
From the ancient Greeks' Mount Olympus to India's sacred Mount Kailash, mountains have been seen as the dwelling places of deities or paths to enlightenment. How mountains have shaped spiritual practices and beliefs in different cultures is a theme recurring throughout history.
Sacred Sites: Many cultures have specific mountains considered holy and often make pilgrimages to these sites.
Spiritual Metaphors: Mountains represent spiritual journeys, struggles, and ultimate enlightenment in various religious texts.
Cultural Perspectives: Different cultures imbue mountains with diverse meanings, reflecting unique values and spiritual orientations.
Mountains in Mythology vs. Reality: A Psychological Perspective
In myths, mountains frequently represent the homes of gods or significant spiritual locations; in reality, however, they could represent the goals and struggles of an individual or a society. A fascinating interplay between imagination and experience can be seen when comparing the symbolic significance of mountains in myths to their actual significance.
Mythological Meanings: Mountains as homes to gods, thresholds to other realms, or sites of mythical events.
Real-World Significance: Symbolizing personal goals, societal achievements, or physical challenges and adventures.
Psychological Insights: The interplay between myth and reality in mountain symbolism might reflect deep psychological processes and human needs.
Historical Overview of Mountain Symbolism
A shift from mystical reverence to a metaphor for human ambition and exploration can be seen in the evolution of mountain symbols from antiquity to modern interpretations. Numerous cultures have revered the mountains as sacred, and their symbolism has changed to reflect shifts in societal values and perceptions of the natural world.
Ancient Veneration: Many ancient civilizations revered mountains as sacred, associating them with gods or cosmic order.
Middle Ages and Renaissance: During these periods, mountains were often associated with spiritual quests or divine wisdom.
Modern Times: Contemporary interpretations include mountains as challenges to be conquered, reflecting human ambition and mastery over nature.
From Sacred Peaks to Modern Metaphors: A Symbolic Evolution
One could consider the evolution of mountains as a reflection of human perception and symbolism. Mountains are now seen as symbols of human achievement, conquest, or personal development, rather than just being seen as divine or unapproachable.
Sacred Peaks: Historical reverence for mountains as divine or mystical places.
Challenges and Conquests: Modern interpretations of mountains as challenges to overcome or achievements to reach.
Personal Growth: In personal psychology, mountains might symbolize personal goals, growth, or inner journeys.
Dominant vs. Non-Dominant Symbols: The Role of Mountains
Mountains frequently play a central role in literature and art, reflecting both universal human experiences and distinctive cultural values. Analyzing the psychological factors that contribute to mountains' prominent representation in literature and art reveals a complex interplay of themes that cut across all cultures.
Dominant Symbols: Mountains as universal symbols of challenges, achievements, or spiritual quests.
Non-Dominant Perspectives: Unique or culturally specific interpretations of mountains, reflecting local beliefs or experiences.
Literary and Artistic Expressions: How mountains are portrayed in literature and art, offering insights into cultural values and human psychology.
The Power Dynamics in Mountain Symbolism
Different cultures, social groups, or even individuals might infuse mountains with varied meanings, reflecting power dynamics, social structures, or personal beliefs. How the interpretation of mountain symbols can be influenced by cultural context is a testament to their versatility as symbols.
Cultural Influences: How culture shapes the interpretation of mountains, reflecting societal values or power structures.
Personal Interpretations: Individual experiences and beliefs might lead to unique interpretations of mountain symbolism.
Contextual Meanings: The meanings of mountains might shift according to historical, social, or geographical context.
Gender Roles in Mountain Symbolism
Exploring the masculine and feminine aspects attributed to mountains in various traditions reveals another layer of complexity. The gendering of mountains might reflect societal gender roles, symbolic associations, or deeper psychological processes.
Masculine Attributes: Some cultures see mountains as masculine, symbolizing strength, stability, or authority.
Feminine Qualities: In other traditions, mountains might be associated with femininity, nurturing, or mystery.
Cultural Examination: The gendering of mountains can provide insights into societal gender roles, cultural beliefs, or symbolic associations.
Mountains as Male or Female: A Cultural Examination
Discussing how mountains have been gendered in different societies offers a window into cultural values and symbolic language. The attribution of gender to mountains might be tied to specific myths, religious practices, or societal norms.
Masculine Mountains: Mountains symbolizing power, dominance, or assertiveness in certain cultures.
Feminine Mountains: Mountains representing nurturing, receptivity, or creativity in other traditions.
Intersection with Culture: How gender roles within a culture might shape the gendering of mountains and other symbols.
Decoding Mountain Symbols: A Psychological Insight
Understanding the complex layers of meaning that mountains can hold requires a multifaceted approach, considering cultural, psychological, historical, and individual perspectives. From personal introspection to societal norms, mountains resonate with diverse meanings, reflecting human complexity and the intricate relationship between humanity and nature.
Geographical Context: How the location of a mountain influences its symbolic meaning.
Artistic Interpretations: The portrayal of mountains in art, literature, or other media, reflecting human emotions or societal values.
Individual Insights: Personal experiences with mountains and how they shape individual symbolism and understanding.
Importance of Location in Mountain Symbolism
How the geographical and cultural context of a mountain can alter its symbolic meaning shows the nuanced nature of symbolism. A mountain's location, shape, or association with specific events or stories might deeply influence its symbolism.
Location-Specific Meanings: How a mountain's geographical location influences its symbolic associations.
Cultural Influences: How local culture, myths, or beliefs shape the symbolism of specific mountains.
Contextual Interpretations: Understanding that a mountain's meaning might change based on its location or cultural context.
Mountain Imagery and Their Psychological Interpretation
Exploring the use of mountains in art and literature and what they reveal about the human psyche can unveil profound insights. From poetic metaphors to vivid paintings, mountains in art might symbolize universal themes or personal emotions, reflecting both shared human experiences and unique artistic visions.
Literary Symbols: Mountains in literature as metaphors for challenges, spiritual quests, or personal growth.
Artistic Expressions: Paintings or other artworks featuring mountains, reflecting cultural values or artistic emotions.
Psychological Insights: Analyzing mountain imagery to understand human emotions, societal values, or psychological processes.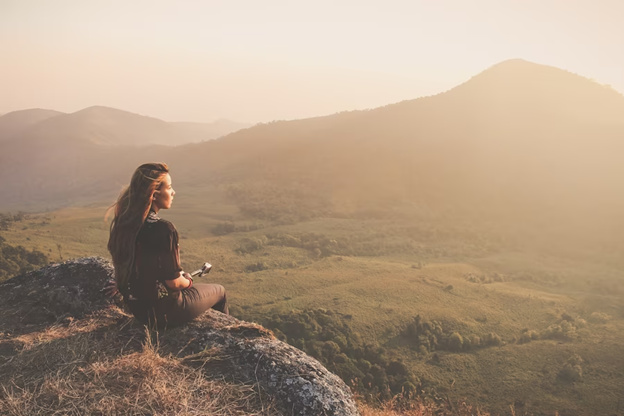 FAQs
What do mountains symbolize in different spiritual traditions?
In different spiritual traditions, mountains have been seen as sacred, powerful, and transformative. They can symbolize:
Challenges or Obstacles: Representing life's struggles or spiritual quests to overcome.
Divinity or Enlightenment: Associated with gods or spiritual realization in many traditions.
Connection with Nature: Reflecting a deep human connection with the natural world and cosmic order.
How has the symbolism of mountains changed over time?
The symbolism of mountains has evolved through history, reflecting changes in human culture, understanding of nature, and psychological needs:
Ancient Times: Often venerated as sacred or divine.
Middle Ages to Renaissance: Associated with spiritual quests or allegorical meanings.
Modern Interpretations: Symbolizing personal goals, human mastery over nature, or challenges to overcome.
Why do mountains often represent challenges or obstacles in literature?
Mountains often represent challenges or obstacles in literature due to their imposing physical presence and the human experience of climbing or conquering them:
Physical Challenges: Climbing a mountain requires effort, perseverance, and courage.
Metaphorical Meanings: Mountains as symbols for personal or societal goals, challenges, or transformations.
Literary Device: Used by authors to represent inner struggles, personal growth, or societal ambitions.
What psychological insights can be gained from personal experiences with mountains?
Personal experiences with mountains can provide insights into individual psychology, values, or spiritual beliefs:
Personal Growth: Mountains as symbols for personal achievements, growth, or self-discovery.
Spiritual Insights: Personal connections with mountains might lead to spiritual revelations or self-understanding.
Psychological Reflection: How individual experiences with mountains reflect personal beliefs, emotions, or needs.
How can engaging with mountain symbols enhance personal growth and self-understanding?
Engaging with mountain symbols can foster personal growth and self-understanding by:
Reflecting on Symbolism: Understanding what mountains symbolize for you personally, reflecting inner values or beliefs.
Connecting with Nature: The experience of being in or near mountains can foster a deeper connection with oneself and the natural world.
Exploring Art and Literature: Analyzing mountain imagery in art or literature to gain insights into human nature, societal values, or personal emotions.
References
Campbell, Joseph. "The Power of Myth." Anchor, 1991.
Jung, Carl G. "Man and His Symbols." Dell, 1964.
Eliade, Mircea. "The Sacred and the Profane." Harcourt Brace, 1959.