Unraveling the Spiritual Significance of Rainbows
In many different cultures and spiritual traditions, rainbows have long been used as a symbol of hope, promise, and spiritual connection. A source of inspiration and mysticism, a rainbow is a natural phenomenon caused by the refraction, reflection, and dispersion of light within water droplets.
The purpose of this article is to look deeper into the symbolic meanings of rainbows.
Key Takeaways
Universal Symbols: Rainbows are universally recognized as symbols of hope, unity, and promise across different cultures and religious beliefs.
Divine Messages: The appearance of rainbows in various mythologies and religious texts has been interpreted as divine communication or transformation.
Spiritual Meanings of Colors: Each color within a rainbow may hold specific spiritual meanings, energies, or vibrations.
Personal Spiritual Journeys: For some, a rainbow may signify personal guidance or a signpost on a spiritual path.
Impact of Rainbows on Cultural Beliefs and Myths
Rainbows have played a prominent role in shaping cultural narratives and myths. From ancient legends to modern storytelling, they continue to inspire awe and wonder.
Greek Mythology: In Greek mythology, the rainbow was considered a path between Earth and Heaven.
Biblical Significance: In the Bible, the rainbow is a symbol of God's covenant with humanity.
Indigenous Traditions: Various indigenous peoples see the rainbow as a symbol of life, prosperity, and creation.
Modern Pop Culture: Today, rainbows are symbols of diversity, inclusivity, and hope in popular culture.
Rainbows as Symbols vs. Omens: A Spiritual Perspective
The symbolism of rainbows extends beyond mere physical beauty. It often conveys deeper spiritual messages, both positive and ominous.
Symbol of Hope and Promise: Many see the rainbow as a symbol of hope, a promise of better things to come.
Omens: In some cultures, a rainbow might be seen as an omen or warning, often connected to weather patterns or significant life events.
Connection to Higher Realms: Spiritual practitioners often view rainbows as bridges to higher spiritual realms or consciousness.
Historical Overview of Rainbows in Spiritual Traditions
The significance of rainbows has evolved over time, reflecting the changing beliefs and contexts of various spiritual practices.
Ancient Civilizations: In many ancient societies, rainbows were seen as divine messages or connections to the gods.
Medieval Perspectives: During the Middle Ages, rainbows were often associated with religious imagery and artistic expression.
Modern Spirituality: In contemporary spirituality, rainbows are seen as signs of personal growth, transformation, and spiritual awakening.
From Myths to Modern Interpretations: A Colorful Journey
The way rainbows have been interpreted has transformed over time, resonating with the beliefs of each era.
Ancient Myths: The symbolism of rainbows in ancient myths often revolved around divine communication, prophecy, and creation stories.
Renaissance Art: During the Renaissance, rainbows were depicted in art to symbolize hope, divine connection, and natural beauty.
New Age Spirituality: Today, the rainbow has been embraced by New Age spirituality as a symbol of personal transformation, healing, and spiritual alignment.
Vibrant vs. Subtle Interpretations: Rainbow Symbolism
The diverse spiritual meanings and emotional resonances of rainbow colors reveal both vibrant and subtle interpretations.
Color Vibrations: Each color in the rainbow may hold a specific vibration or energy, influencing emotions and spiritual perceptions.
Cultural Context: Different cultures might interpret the colors of the rainbow in unique ways, reflecting their values and traditions.
Individual Interpretations: Personal experiences and beliefs can shape how one perceives and connects with the symbolism of a rainbow.
The Power Dynamics in Rainbow Symbolism
The way spiritual and cultural leaders interpret rainbows can significantly influence public perception and understanding.
Religious Interpretations: Religious leaders have often utilized rainbow symbolism to convey theological concepts and moral lessons.
Artistic Expressions: Artists have employed rainbows to express profound philosophical ideas, emotions, and human experiences.
Social Movements: The rainbow has become a symbol for social and political movements, promoting inclusivity, diversity, and human rights.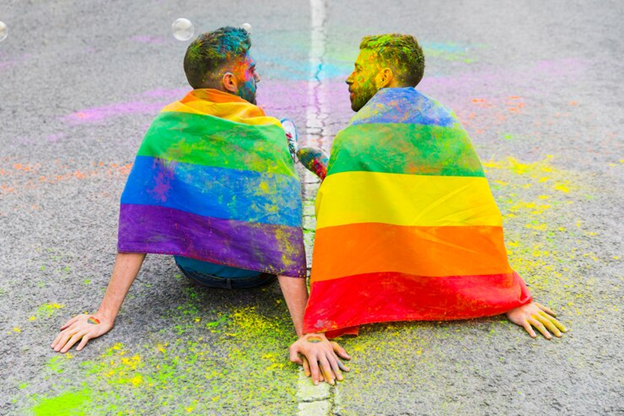 Personal Connections with Rainbows
The appearance of a rainbow can stir deep emotions and spiritual connections on a personal level.
Signs and Symbols: Many individuals interpret seeing a rainbow as a spiritual sign or confirmation of inner guidance.
Emotional Responses: The sight of a rainbow can evoke strong emotional responses, often connected to hope, joy, and reflection.
Spiritual Phenomena: Some spiritual practitioners see rainbows as evidence of spiritual phenomena, such as angelic presence or divine intervention.
Is Seeing a Rainbow a Spiritual Sign or Symbol?
How people perceive and interpret the appearance of a rainbow can be deeply personal and spiritually meaningful.
Personal Guidance: Seeing a rainbow might be interpreted as personal guidance or affirmation on a spiritual journey.
Divine Communication: For some, a rainbow may symbolize a direct message or blessing from a higher power.
Symbol of Transformation: Rainbows are often seen as symbols of personal transformation, growth, and renewal.
Decoding Rainbows' Spiritual Messages: An Intuitive Insight
The appearance of a rainbow might carry specific spiritual messages, depending on context and personal insight.
Decoding Insights:
Messages of Hope: Rainbows often symbolize hope, reassurance, and the promise of positive change.
Spiritual Alignment: Seeing a rainbow may signify spiritual alignment, guidance, or affirmation of one's path.
Color Symbolism: The colors of the rainbow, each with its unique energy, can provide insightful messages and guidance.
Red for Vitality: Often associated with life force, energy, and passion.
Orange for Creativity: Symbolizes creative thinking, emotional balance, and joy.
Yellow for Wisdom: Represents intellect, clarity, and empowerment.
Green for Healing: Symbolizes healing, growth, and harmony with nature.
Blue for Communication: Represents calmness, communication, and intuition.
Indigo for Perception: Symbolizes deeper understanding, intuition, and spiritual realization.
Violet for Transformation: Represents spiritual wisdom, enlightenment, and transformation.
Importance of Context in Rainbow Symbolism
The context in which a rainbow appears can significantly influence its meaning and interpretation.
Natural Settings: A rainbow's appearance in natural surroundings may symbolize harmony, balance, and connection to nature.
During Life Transitions: Seeing a rainbow during significant life transitions can be interpreted as reassurance or guidance.
After a Storm: The appearance of a rainbow following a storm often symbolizes hope, renewal, and a new beginning.
Colors of the Rainbow and Their Symbolic Interpretation
Exploring the spiritual significance and energies associated with each color in the rainbow offers a multifaceted understanding.
Red: Associated with vitality, courage, and the physical realm.
Orange: Represents creativity, balance, and emotional well-being.
Yellow: Symbolizes wisdom, self-awareness, and intellectual pursuits.
Green: Reflects healing, growth, and connection to nature.
Blue: Symbolizes communication, truth, and spiritual expression.
Indigo: Represents intuition, insight, and the mystical.
Violet: Symbolizes spiritual connection, transformation, and divine love.
FAQs
What does seeing a rainbow signify in different spiritual traditions?
The sight of a rainbow has captivated the hearts and minds of individuals across diverse spiritual and cultural backgrounds.
Christianity: Often seen as a symbol of God's promise.
Buddhism: Represents transcendence and spiritual enlightenment.
Indigenous Cultures: May symbolize life cycles, creation, and harmony with nature.
New Age Spirituality: A sign of spiritual alignment, transformation, and personal growth.
How can one interpret the colors of a rainbow in a spiritual context?
Rainbows and their myriad colors offer a spectrum of interpretations and insights.
Chakra Alignment: The colors correspond to the seven chakras in the body, each with its own spiritual significance.
Emotional Resonance: Colors can be interpreted based on their emotional resonance and psychological impact.
Cultural Interpretations: Different cultures may assign unique meanings and significance to each color.
What are common myths and truths about rainbows in spirituality?
Rainbows, in their ethereal beauty, have given birth to countless myths and tales that capture the human imagination.
Myths: Ideas such as a pot of gold at the end of a rainbow, or that rainbows are bridges to other worlds.
Truths: Rainbows as symbols of hope, divine connection, and spiritual insight across various cultures and traditions.
How do rainbows connect with personal transformation and spiritual awakening?
As transient as they are, rainbows often emerge in the aftermath of storms, symbolizing the cyclic nature of life – after darkness comes light.
Symbols of Change: Rainbows often appear during transitional phases, symbolizing growth and change.
Spiritual Markers: They may serve as markers or signposts on a spiritual path, indicating alignment or readiness for a new phase.
Guidance and Affirmation: Seeing a rainbow may be interpreted as affirmation from the spiritual realms or inner guidance towards transformation.
References
Cooper, J.C. (1978). An Illustrated Encyclopedia of Traditional Symbols. Thames & Hudson.
Hall, J. (2008). The Illustrated Encyclopedia of Symbols, Signs & Dream Interpretation. Chartwell Books.
Chevalier, J., & Gheerbrant, A. (1996). The Penguin Dictionary of Symbols. Penguin Books.