Unraveling the Spiritual Significance of Universal Symbols
Eclipses are examples of universal symbols that have been important in many religions and cultures. They are now essential to understanding the psyche because they frequently cross cultural boundaries and elicit intense psychological reactions.
Exploring the psychology behind symbol interpretation can reveal profound truths about human nature and the evolution of cultures.
Key Takeaways
Universal Symbols: Eclipses and other celestial phenomena are often perceived as powerful universal symbols, signifying change, transformation, and mystery.
Cultural Interpretations:

Interpretations of these symbols can vary widely across cultures and historical contexts, reflecting the dynamism of collective consciousness.

Personal Experience:

Engaging with these symbols can trigger profound personal insights, emotions, and spiritual transformation.

Understanding Self and Cosmos: Thoughtful engagement with symbols can enhance our understanding of ourselves, our societies, and our connection with the universe.
Impact of Symbols on Human Culture
Symbols are not just abstract concepts; they resonate deeply with our subconscious mind, influencing our behaviors, beliefs, and cultural practices. How symbols, including eclipses, have shaped human thought, ritual, and connection is a fascinating field of study.
Cultural Identity: Symbols like the eclipse have often been integral to cultural identities, used in rituals, myths, and art.
Emotional Connection: They can evoke strong emotional reactions, binding communities together or marking significant transitions.
Ritual and Celebration: Eclipses and other celestial events have been central to various ceremonies and celebrations, marking them with spiritual significance.
Literal versus Symbolic: A Psychological Perspective
Literal thinking deals with concrete facts, while symbolic thinking transcends the obvious, delving into abstract and metaphorical realms. Analyzing the role of symbolic thinking in human cognitive and spiritual development opens doors to understanding how our minds interpret the world.
Cognitive Development: Symbolic thinking is vital for cognitive growth, allowing for creativity, imagination, and abstract reasoning.
Spiritual Interpretation: Eclipses, as symbols, can represent more than mere astronomical events, reflecting deeper spiritual or psychological truths.
Metaphorical Thinking: Understanding symbols like eclipses metaphorically enriches our perception of reality, offering multifaceted insights.
Historical Overview of Symbolism
Tracing the evolution of symbols, from ancient pictographs to modern archetypes, offers an intriguing look into how human communication and understanding have evolved. Symbols are not static; they grow and transform, mirroring societal changes and technological advancements.
Ancient Roots: Early symbols, such as pictographs, conveyed essential concepts and beliefs.
Evolving Meanings: Over time, symbols like eclipses have taken on diverse meanings, reflecting changes in culture, religion, and science.
Modern Archetypes: Contemporary symbolism, influenced by psychology and media, continues to shape our understanding of ourselves and the world.
From Sun Worship to Eclipses: A Transformative Journey
Looking at eclipses as representations of transformation, rebirth, and mystery can show how people have viewed celestial events throughout history. In the past, eclipses were either revered, feared, or thought to be omens, depending on societal values and spiritual understanding.
Sun Worship: Many ancient cultures venerated the sun, and solar eclipses were seen as profound spiritual events.
Symbols of Change: Eclipses have been interpreted as symbols of transformation, rebirth, or divine messages.
Mystery and Awe: The awe-inspiring nature of an eclipse continues to captivate, reflecting human curiosity and wonder about the cosmos.
Dominant vs. Non-Dominant Symbols: The Role of Archetypes
Archetypes are timeless images or ideas that recur throughout history and across cultures, resonating with the shared human experience. Understanding how archetypes develop and work requires examining the psychological factors that contribute to the enduring power and significance of certain symbols, such as eclipses.
Dominant Symbols: These are pervasive across cultures, like the symbol of the eclipse, often tied to fundamental human experiences or fears.
Non-Dominant Symbols: These may be specific to particular cultures or periods, reflecting unique beliefs or social dynamics.
Archetypal Patterns: Archetypes such as the Hero, the Mother, or the Shadow can be identified in myths, dreams, and cultural narratives, shaping our understanding of human nature.
The Power Dynamics in Symbol Interpretation
There is a complex interplay between social norms, beliefs, and power structures that determines how context and culture can affect the meaning and impact of symbols like eclipses.
Cultural Context: The meaning of an eclipse can vary significantly between cultures, reflecting unique values and worldviews.
Influence of Authority: Religious leaders, governments, or influential thinkers can shape the interpretation of symbols.
Social and Political Impact: Symbols can be used to consolidate power or promote social cohesion, reflecting underlying power dynamics.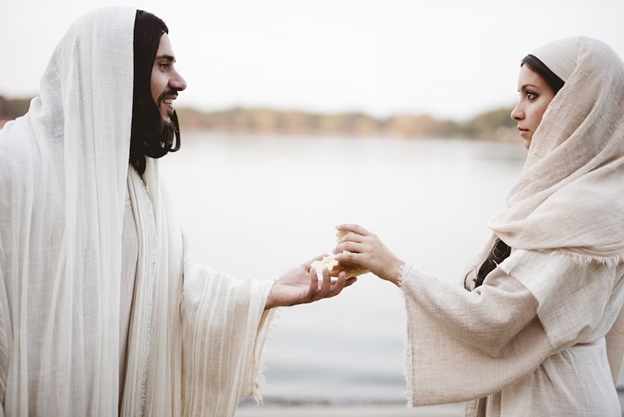 Gender Roles in Symbolism
It is possible to gain insight into how society creates and maintains gender norms by considering how traditional gender roles affect how symbols like the sun and moon are interpreted.
Gendered Symbols: Many symbols are gendered, reflecting societal expectations and biases.
Masculine and Feminine Traits: Eclipses, as interplays of sun and moon, often symbolize a union of masculine and feminine energies.
Impact on Perception: Gendered interpretation of symbols can reinforce stereotypes, affecting how individuals perceive themselves and others.
Is The Sun Masculine And The Moon Feminine?
Discussing societal norms and biases around celestial symbols like the sun and moon reveals how deeply ingrained gender associations are in our symbolic language.
Sun as Masculine: Often associated with strength, power, and rationality.
Moon as Feminine: Symbolizes intuition, emotion, and receptivity.
Eclipse as Union: An eclipse can be viewed as a harmonious union or balance of these energies, reflecting a deeper understanding of gender complexity.
Decoding Symbol Etiquettes: A Psychological Insight
Understanding the unspoken rules and manners in interpreting and using symbols like eclipses is vital in decoding their psychological impact. Symbols are not merely decorative; they communicate complex ideas, emotions, and cultural norms.
Proper Use: Symbols must be used thoughtfully and respectfully, acknowledging their cultural or religious significance.
Interpretive Etiquette: Interpretation of symbols like eclipses requires an understanding of context, history, and personal meaning.
Misuse and Misinterpretation: Incorrect use or interpretation can lead to misunderstandings or offense.
Timing and Alignment in Celestial Events
How timing and celestial alignment can alter the meaning and impact of an eclipse is a nuanced understanding of astronomical phenomena and their symbolic resonance.
Astronomical Precision: The exact timing and alignment in celestial events like eclipses have scientific importance.
Symbolic Timing: Cultural or spiritual significance may be attached to the timing of an eclipse, reflecting beliefs about fate, destiny, or divine intervention.
Alignment as Harmony: The alignment of celestial bodies in an eclipse can symbolize harmony, balance, or cosmic order.
Celestial Imagery and Their Psychological Interpretation
The hidden meanings behind celestial imagery, including stars, planets, and eclipses, form a rich tapestry of symbols that have fascinated humans for millennia.
Stars as Destiny: Stars have often symbolized fate, guidance, or aspiration.
Planets as Archetypes: Different planets are associated with specific gods, qualities, or human traits.
Eclipses as Transformation: Eclipses symbolize change, renewal, or the interplay of cosmic forces, reflecting deep psychological themes.
FAQs
Does an eclipse symbolize change or renewal?
An eclipse can represent both transformation and rebirth. It might signify the end of one phase and the start of another, reflecting cycles of development and change.
How to understand the symbolism of celestial events?
Understanding the symbolism of celestial events requires a combination of cultural sensitivity, personal intuition, and knowledge of astronomical phenomena. Interacting with myths, literature, and introspection can help to strengthen the interpretation.
How often have eclipses been used in mythology and literature?
It takes a combination of cultural awareness, personal intuition, and knowledge of astronomical phenomena to comprehend the symbolism of celestial events. The interpretation can be strengthened by interacting with myths, literature, and introspection.What does it mean when a culture focuses on certain symbols?
When a culture focuses on certain symbols like eclipses, it often reflects core values, beliefs, or societal norms. These symbols become emblematic of cultural identity, spiritual understanding, or shared experiences.
How to interpret the personal significance of an eclipse or other symbols?
One must take their beliefs, feelings, and environment into account when interpreting the personal significance of an eclipse. Depending on personal perception and cultural background, it may resonate with personal experiences, spiritual insights, or psychological growth.
References
Jung, C.G. "Man and His Symbols." Dell, 1964.
Eliade, Mircea. "The Sacred and the Profane: The Nature of Religion." Harvest Books, 1959.
Campbell, Joseph. "The Hero with a Thousand Faces." New World Library, 2008.