Everything to Know About Binaural Beats Benefits…
What are Binaural Beats?
Have you ever tried a meditation where there were two separate things playing out of each side of the headphones? These are called binaural beats, and they're used as a brain trick to help you relax. Are there any binaural beats benefits, and if so, what are they?
For starters, if you're looking to "change the channel in your brain," binaural beats can help you get from beta wave frequencies to the delta and theta frequencies. These techniques of brainwave entrainment can help in so many ways; I'll share with you some of my favorites today.
10 Fascinating Binaural Beats Benefits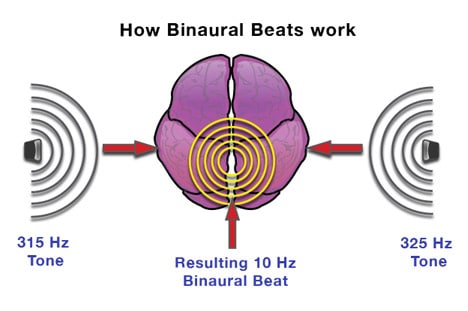 Along with enhancing your meditation practice, there are many other great results from listening to binaural beats. This happens because the frequency of your brainwaves can be shifted to whichever state you'd like to be in. If you want to be more relaxed, you can listen to tracks that will help you relax. If you want more focus, you can listen to tracks that will help you with this.
Enhancing your meditation practice

Have you ever wondered how it seems like so many people can just "tune in" to meditation without effort? One of the binaural beats benefits is that the binaural beats can help you get into the zone much faster.

Binaural beats work by playing two different frequencies into the ears, usually about 10 Hz difference or less. The brain then processes these two sounds and interprets a third sound, which is that difference in frequency. This term is called binaural beats.

When we listen to the binaural beats, our brains naturally go into the relaxed state that happens with meditation, only you don't have to put in any effort.
Improved sleep

With more practice of listening to binaural beats, the brain becomes trained to go into relaxed states (the delta and theta frequencies) quicker.

When this happens, it can become easy to fall asleep. Some binaural beats tracks are designed to help fall asleep as well. If you listen to these before bedtime, you may not even hear the whole track before you are fast asleep. This has happened to me so many times.

When I find myself restless, or have anxiety preventing me from sleeping, I simply tune into binaural beats (brainwave entrainment), and am instantly relaxed. Then, my sleep quality is better, too!

Lower stress levels

When our bodies are able to enter into the theta frequencies, we're able to relax, which means, lower stress levels. If we're losing sleep or we're stressed out often, cortisol levels can become imbalanced and adrenal function can become somewhat dysfunctional.

This only perpetuates the stress levels, and can re-create the insomnia patterns. It's like a loop that keeps on going. With binaural beats, the stress cycle is broken and the body can enter into a relaxed and healing mode.

Improved performance at work

Another one of the many binaural beats benefits is that it can lead to improved performance at work and increased productivity. That's because when we are able to enter these relaxed states, we're able to recharge ourselves.

When we recharge, we can have more motivation, more creativity, and longer stamina to get things done. I have been lucky to be able to get my work done faster and with much less effort than before, which makes my overall experience at work much more pleasant.

Work is no longer something I dread, and I don't think there are any therapies or treatments that can get you there any faster than with binaural beats and brainwave entrainment.

Enhanced Creativity

Remember how I said once our brains reset, we can have more focus? Well, the same thing happens with creativity. Binaural beats focus on helping us reach the deepest states of relaxation.

Have you ever noticed that creativity doesn't really come when we're trying to make it happen? Creativity comes when we are relaxed and "in the flow."

Photo by Tim Mossholder

Higher levels of happiness

Another one of my favorite binaural beats benefits is that I feel happier when I listen to them. While it's true that in the moment I feel so relaxed that I am unable to do anything else (unable even to think about anything), when I'm not listening to the beats it's easier to find happiness.

Gratitude and happiness come faster because I've been able to give myself the break I long needed. It's kind of like what it feels when we take a mini vacation – you know how great you feel even if you just go somewhere for half of a day? It's a great recharger and happiness booster.

Physical health

Research has shown that once our brains and mental states are balanced, then our bodies respond in the same way. For example, when we get deep sleep, our bodies enter a restoration mode and we wake up feeling refreshed. And if we only get quick naps in? Our bodies' immune systems shut down, we become cranky, stress levels go up, etc.

Binaural beats focus on helping restore the brain's frequencies, which means you'll feel more balanced and thus, your physical health will improve.

Easier to relax

Did I mention relaxation levels go up? That's because once we learn how to relax, our body remembers how to do it at a faster rate. The more often we listen to binaural beats, the faster we can relax not only while listening to them but also in everyday life.

When we're relaxed, all of our relationships improve (with ourselves, with other people, with our businesses or careers). See, when we are relaxed, we can see things from a different perspective, and learn how to cope with life's challenges easier.

Ability to stay in the present moment

Another one of the great binaural beats benefits is the ability to bring us back to the present moment. When we listen to the binaural beats, it's near impossible to do anything else.

Once we learn how to do one thing at a time, it becomes easier to do so with the rest of life. You'll find yourself more able to focus when talking to others because you'll have given yourself that time to generate those crucial theta waves.

Pain levels drop

Studies show that when we are exposed to prolonged stress, our pain receptors become more sensitive. So when there is a pain, it feels much worse and our tolerance level to pain drops.

However, when we give ourselves the time to relax and rest, and our mood improves, then the pain receptors become less sensitive. That means we feel less pain when there is pain, and the duration is shorter. The pain goes away faster the better we feel. This is another wonderful aspect of the benefits of binaural beats.
5 Ways to Use Binaural Beats
1. Listen during your lunch break
If you're like me, there are some days when just taking a lunch break isn't enough. That's when I find "the beats" satisfying. I can feel like I got a true break-in, and get back to work feeling refreshed, rather than feeling rushed at lunchtime.
2. Listen before bed
The most often I listen to binaural beats is at bedtime. When my mind is racing or I can't seem to calm down, my favorite thing to do is turn on binaural beats. Headphones enhance quality, but you don't need them. I play them straight from my computer and am asleep within minutes.
3. Listen upon waking
If you're looking for an extra boost to your day, add in some binaural beats first thing in the morning. It's a wonderful gift to yourself, and I try to do this every morning.
4. Whenever you need a break
When life (or work) gets tough, a great mental break is binaural beats. I didn't think it would be at first since my primary time was listening at nighttime, but wow is it a great break. My mind has been reset, and it feels as though I have taken a restful nap, even though only minutes have passed.
5. While reading
You can use specific binaural beats to enhance your reading time. Some can help improve focus while tuning out other thoughts and sounds that may be present.
Tips for maximizing the benefits of binaural beats
Use headphones for maximum binaural beats benefits. It's very important that each ear hears the different frequency so that the brain can "piece together" the missing parts and create the binaural beat for healing.
Make sure you're choosing the correct track for the appropriate results. While some binaural beats will be targeted toward helping you fall asleep, others will be targeted to keeping better focus or improving performance at work.
Allow enough time for your brain to retrain itself. While some people may find results within minutes, it may take others a little longer before they feel the effects. Be patient, and you'll see the results with time.
Are there any side effects to listening to binaural beats?
Binaural beats aren't harmful, although they do change the brain state. It's important you realize what brain state you would like to switch to so that you get the maximum value.
It's important not to listen to binaural beats for prolonged periods of time, as this can create headaches.
Another key thing to keep in mind is that machinery shouldn't be operated while listening, nor should you be driving when listening to binaural beats.
Increasing volume doesn't mean you'll get better effects from listening to binaural beats; the brain can start the brainwave entrainment no matter what the volume level is.
Conclusion
After listening to binaural beats, my life quality has improved significantly. The binaural beats benefits continue to reveal themselves to me over time. With less stress from day to day life, my work and home life have become more balanced, and I continue to listen to binaural beats every day.
More information:
– Best Brainwave Entrainment Programs Reviewed
– Free Binaural Beats Program by Unify Cosmos