Archangel emerges with wings and a glowing white orb cupped between two palms, wrapped in flowing white and pink robes. Archangel Barachiel's favorite animal depictions are dragonflies, ladybugs, butterflies, and hummingbirds, which are vivid, joyful reminders of Heaven.
Archangel Barachiel has been entrusted with the mission of promoting miracles on Earth and assists you in keeping a positive outlook. Archangel Barachiel connects you to Heaven's pure love energy through your mind, body, and spirit.
In astrology, Barachiel is the ruler of Jupiter and is associated with the zodiac signs of Pisces and Scorpio. People who encounter God's blessings through Barachiel are said to be filled with a sense of humour.
What's Archangel Barachiel story?
The archangel Barachiel's duties are as diverse as the blessings for which he is called. Barachiel is also the leader of the guardian angels, and it is written that if one is not praying to the guardian angel directly, but rather as an intercessor, Barachiel may be prayed to for all the benefits that the guardian angel is thought to confer. In the Byzantine Catholic and Eastern Orthodox traditions, he is revered as an official saint, particularly as a patron of marriage and family life. He's also regarded as the angel sent by God to keep an eye on converts (also known as "adopted children of God") and assist them in their lives.
Archangel Barachiel is listed in the Third Book of Enoch as one of the angels who serve as great and honored angelic princes in heaven, and he leads 496,000 other angels. He is the chief of all the guardian angels and a member of the seraphim class of angels who protect God's throne.
What are Archangel Barachiel's powers?
Barachiel is typically portrayed scattering rose petals, which signify God's sweet blessings, or holding a white rose to his chest, which also represents blessings. However, some depictions of Barachiel show him carrying either a basket overflowing with bread or a staff, both of which represent God's blessings on parents in the form of children. In paintings that emphasize Barachiel's nurturing work providing blessings, he is often depicted in a feminine fashion.
Barachiel prays for people in need before God, requesting that God bless them in all aspects of their lives, from their relationships with family and friends to their jobs. People seek Barachiel's assistance in achieving success in their endeavors. People often ask Barachiel for assistance in offering a blessing by one of their personal guardian angels, as Barachiel is also the leader of all guardian angels.
He will assist you in attracting the things you need, but you must also have the right mentality. He manifests and draws abundance, blessings, and happiness to your life when he is close to you. God's goodness and kindness motivate him to send good gifts to people, and Barachiel is also the one who arranges for those gifts to be delivered. Barachiel will frequently send optimistic thoughts into people's minds, encouraging them to expect the best in order to prepare them to receive the blessings that God has in store for them.
Archangel Barachiel Powers
| | |
| --- | --- |
| Prayers be heard | Aiding to deliver your message and prayer to God |
| Abundance | Helps to manifest abundance and wealth |
| Blessings | Aiding with whatever you are in need of |
| Ascension | Spiritual enlightenment |
Signs that Archangel Barachiel is visiting you.
Archangels may give you specific signs to let you know that they want to work with you. They may also give signs that they are near, protecting you, and opening your roads.
If Archangel Barachiel is near you, or wants to work with you, these are some of the signs that you would see in your daily routine:
A Dream – the most common sign that an archangel would give you, is appearing in a dream. They would guide you in your dream, or just appear as a vision. If you do remember the dream vividly when you wake up, this is a sure sign that they are trying to contact you.
Vivid colors in the corner of your eye, or auras of light – If you happen to see vivid colors in the corner of your eye, or when directly looking at something, you may not have an illness, but you are getting signs that Archangel Barachiel is near you. You may want to distinguish the colors that you see. If Archangel Barachiel is contacting you, you may see green lights.
A shift in your humor – one of the ways that Archangel Barachiel will help you, is by shifting your mood, and making you feel joy, happiness and laughter.
Smell of roses – if you suddenly smell roses, even if there are no roses around you, or you haven't used anything with a rose scent, it may be a sign that Archangel Barachiel is near.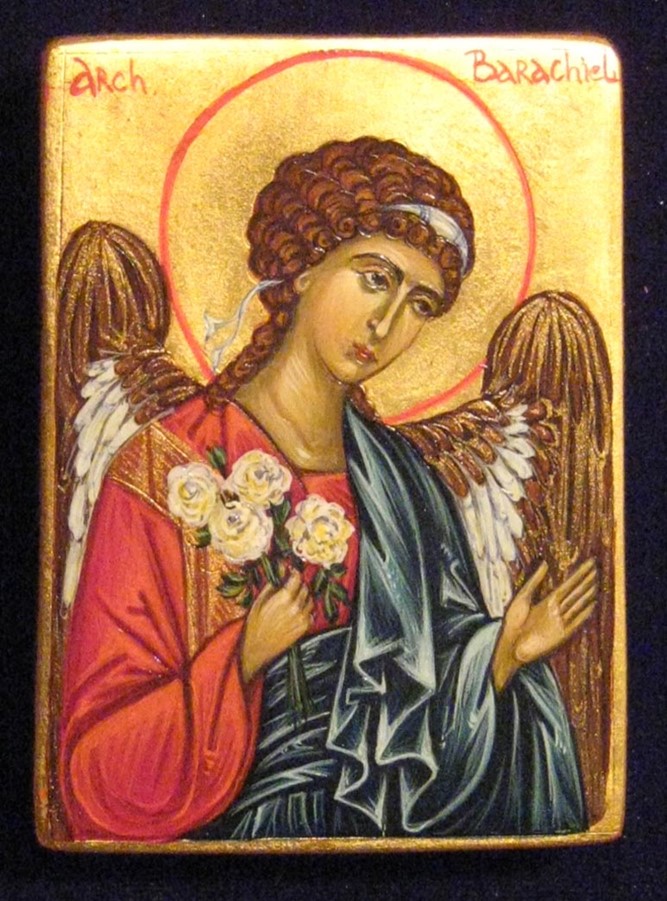 How to know if it is a trickster spirit rather than Archangel Barachiel?
When you first start on your spiritual journey, you may not know yet how to protect yourself, or your Spirit Guides have yet to adapt to protecting you on your new journey. This is the time when you are most vulnerable to trickster spirits, even though it happens all the time, to even more advanced spiritual practitioners.
These are the definite signs you are dealing with a trickster spirit:
Feeling a presence when you are in a vulnerable position (grieving someone, fearing abandonment, fighting with your loved ones, anger issues, doubting everything, etc.). A trickster spirit will feed on these emotions, and also fuel them even more.
Trickster spirits are those spirits who appear to be as someone else, trying to get something from you, while making you think you are talking to the Spirit you want to talk. In most cases, trickster spirits are not dangerous, they won't affect your life, but they will play games with your mind. If you are in a vulnerable position,
for example, you are triggered by the loss of a loved one, or you want to know what your partner is doing when they're not with you, it is easier for trickster spirits to come in, and play with you.
You will be asked to offer something to them, straight away. The first thing a trickster spirit will ask of you, is for you to offer something to them. They will usually start with asking for small things like a fruit, or a flower, or a cup of milk, or go for big ones like a dog, a goat, and other animals. They will push you to fulfill their desire, because they will in turn, give you the information you have been seeking. If you are in a vulnerable position, you are desperate for that answer, and they can feel that.
However, any spirit will usually be bound to tell you the truth, but you have to ask the right question. If they claim to be Archangel Barachiel, you shall ask more personal question, like what's his favorite color, what's yours, what's in your heart, what's your tomorrow going to be like, what's Archangel Barachiel going to help with, what prayer should you speak, etc. If you are dealing with a trickster spirit, you will notice that they won't make sense, or they will focus on what they want, rather than the question posed.
Trust your intuition. If you feel the answers from your spirit are tricky, or they don't make sense, it's because a trickster spirit doesn't really know the truth, so they are trying to confuse you with half-answers, or nonsense answers.
A Spirit that holds power, such is Archangel Barachiel, will answer straight away. If they can't provide an answer, they will give you the reason for it. You won't have to try, and decipher what they may be saying, and you won't get answers that don't make sense, or that do not relate to the question at all.
How can you work with him?
As with any Archangel, if you want to work with them on the long term, you should build an altar for them. You can build Archangel Barachiel's altar on a Tuesday, or Friday, you should go with your intuition. You should approach your spiritual work with Archangel Barachiel following these steps:
Place the Altar. You have to find a high table, that won't be disturbed, and cover it with a white cloth. Then, you have to put a statue of Archangel Barachiel, or a photo of him. If you can't afford a quality statue, or photo, it is just fine if you print a photo of him from the internet. You only have to make sure that the Spirit in the picture is Archangel Barachiel.
Dedicate a candle to her. You may need to get a green candle to light for him, and ideally light it every day. You should set a cup of water on the altar, which you change, and refill every other week. You may also want to put a cross on your altar. This is the basic altar, but if you want, you may share your daily food with your Archangel, or leave flowers on his altar.
Spiritual Work on your Altar. All the spiritual work that you want to invoke the Archangel Barachiel's powers, you should do in front of, or on, the altar. You may write a petition, or light a candle, and pray on what you want to manifest. Your Archangel will hear your wishes, and if it is on your best interest, he will grant it.
What can you work with him on?
When you need miracles in your life, assistance in keeping a positive attitude, a boost in your morale, or aid letting go of past situations that have been weighing you down, call on Archangel Barachiel.
You can call upon Archangel Barachiel to bless you with whatever you need in your life. If you are struggling in your romantic relationship, and especially if you are struggling to have children, you can ask Barachiel to help you on this matter.
Archangel Barachiel is also known to deliver prosperity, abundance and good luck to those who call upon him. Therefore, you can solve most of your financial issues through working with Archangel Barachiel. However, you should be willing to do your own part, thus accepting opportunities when they present themselves, or not be afraid to work hard, if you want to build wealth. Archangel Barachiel will ease your way, but will not make money rain for you.
If you are someone who works with the Law of Attraction and manifestations, or affirmations, you can work with Archangel Barachiel. He will teach you how to apply the Law of Attraction, and he will also help you to manifest your dreams in your physical reality.
Prayer for Archangel Barachiel
You can pray at the church, or you can light a candle and say your prayer to Archangel Barachiel, asking of him what you need in your life. You don't necessarily need an altar for him, even though it is advised to build an altar for the Archangel if you wish to work with him every now and then.
The prayer for Archangel Barachiel:
"O Powerful Archangel, St. Barachiel, filled with heaven's glory and splendor, thou art rightly called God's benediction. We are God's children placed under thy protection and care. We are in the world filled with confusion and demonic influences. Come to our aid as we do not know our left and right; how to relate to Jesus on daily bases; how to be sensitive to the Holy Spirit – Spirit of truth. Let the joy of the Lord be our strength. Hear our supplications (name them). Grant that, through thy loving intercession, we may reach our heavenly home one day. Sustain us and protect us from all harm that we may possess for all eternity the peace and happiness that Jesus has prepared for us in Heaven. Present to God the Father all of these petitions, through Jesus Christ, our Lord, together with the Holy Spirit, forever and ever. Amen."
If you want to pray on a wish of yours, you need to light a candle for Archangel Barachiel, and this is the candle that will represent him, and the light that will guide him to come to you. If you pray at a church, you don't need a candle for him. Other than the candle that represents Barachiel, you will need to light another candle that represents your prayer, or desire.
Healing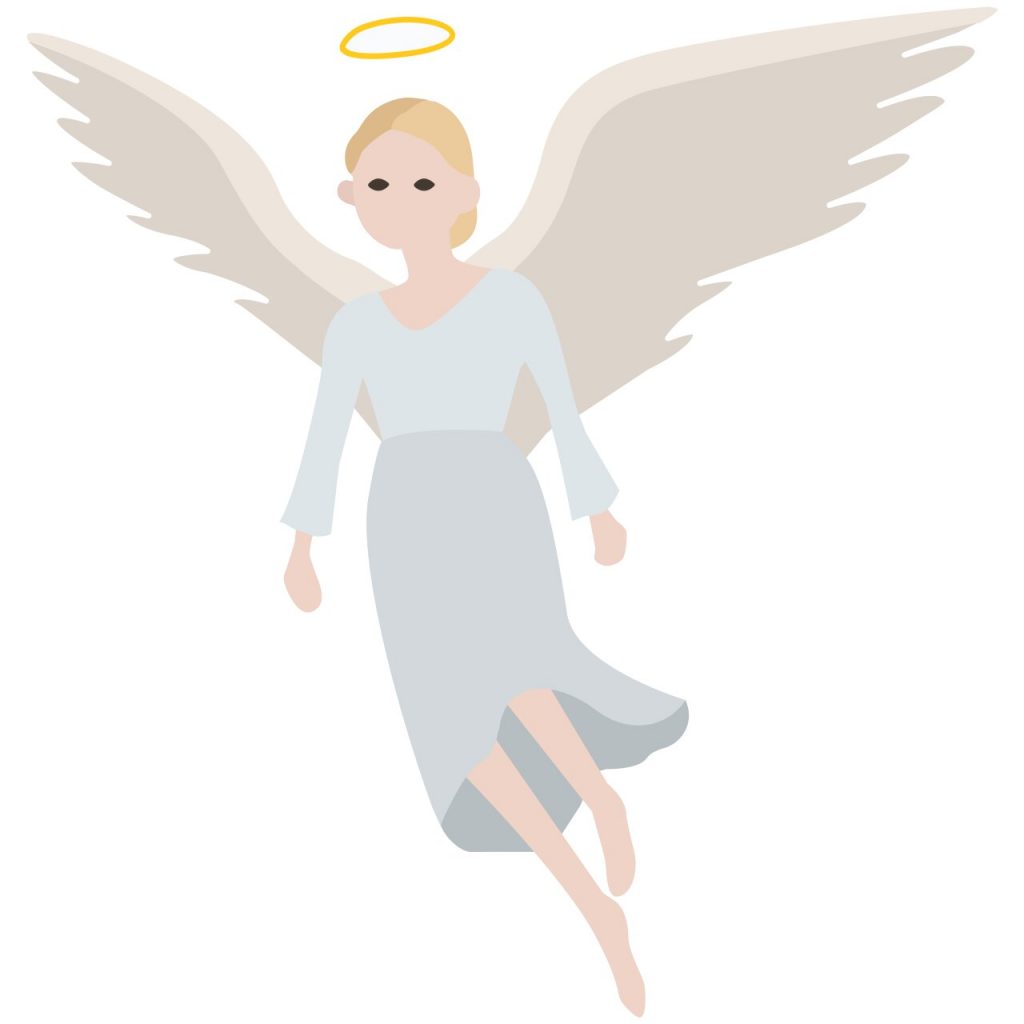 When you are in need for healing, either for yourself, or somebody else, you can pray to Archangel Barachiel to allow you to heal yourself or others, or for him, to use his healing powers for you. You may speak a prayer :
"Please, Barachiel, deliver this prayer to the Most High. Pour out thy Healing Angels, thy Heavenly host upon me, and upon those that I love. Let me feel the beam of thy Healing Angels upon me, the light of your healing hand. I will let Thy Healing begin, whatever way God grants it. Amen."
You may light a blue candle, or a green one, because these colors stand for healing, cleansing, and grounding. You want to nourish yourself, and bring life back to something that was touched by a disease. If you don't have these colors, a white candle is just fine.
Finances

If you are in need for help regarding your financial situation, or to open your path to the career that you want to follow, you can pray to Archangel Barachiel, using the following prayer:
"Archangel Barachiel, Archangel Barachiel, Archangel Barachiel, I invoke your intercession. Mighty I Am. The riches of God flowing into my hands and use now and continuously. Amen!"
You may light a green, or yellow candle, because these colors represent abundance, wealth, and joy. If you don't have them handy, you may always light a white candle. Make sure to have a separate candle lit for the Archangel Barachiel.
Love

If you have been having a hard time finding love, or you can't seem to get along with your partner, you may ask upon Archangel Barachiel to get in contact with your lost loved one, or lost true love.
You will need to light a pink, or red candle, to represent your wish for love, and speak this prayer:
" Barachiel, Archangel, Please assist me in resolving the dispute, and assist me in achieving a state of happiness in my life. Remove all of my negative and judgmental feelings, and replace them with feelings of unwavering love for everyone. Please assist me in reviving my current relationships, and assist me in developing new relationships with people all over the world. Assist me in raising my vibration to a love frequency, so that on a daily basis, I can attract love, harmony, and joy. Amen."
What to be cautious about?
You may think that Archangels are Angels of light, and they intent to help you become your best self, and manifest your best dreams. This is true. However, what you may fail to realize, is that Archangels do not take into account what you may lose along the way.
For example, you may ask to settle a situation between you and your partner, but after you pray to the Archangel, you and your partner break up. Your prayer was answered, even though it may not have been what you meant. Or another example would be, if you ask for a larger amount of money to come your way, and then your grandparents die, and you inherit their legacy. Your desire was answered, but not in the way that you wished it to be.
Therefore, you have to be cautious what you wish for. If you want more money, you should always make it clear that you don't want anybody to get hurt, or you may name the exact sources that you want your money to come from (business, job promotion, etc.).
On another note, you should always be careful not to make promises that you can't keep, or that you don't intend to keep. These are the promises that you don't fulfill, after your desire has been granted, and it is as simple as bringing them flowers, or offering food everyday for a week. These may also be promises like you will stop smoking, or drinking, if they grant you the promise. If you fail to uphold any promise that you make them, at the best, the Archangel won't work with you anymore, and at the worst, they will take whatever they granted you, and more.