Meditation is often thought of as a mental exercise. While this is true–as well as it being a necessary ingredient to any spiritual practice—this "exercise" also allows for us to quiet our mind, to connect with the Divine within; which is the object in Contemplative Meditation.
This meditation practice leaves us feeling revitalized, energized, more at peace, in possession of greater wisdom, and more compassionate. Through the practice we can achieve God union.
What is Contemplative Meditation?
Contemplative meditation, sometimes interchangeable with the label "contemplative prayer", is a Western approach to what is commonly thought of as an Eastern practice.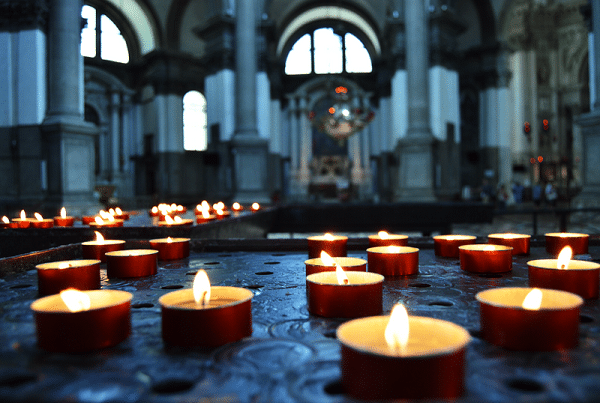 Contemplative meditation springs forth out of the Christian mystic tradition. It can be summed up as a method of keeping our mind quiet to let God (The Source, The Infinite, The Divine) flow in.
It is to "be still and know God".
Many are conditioned to immediately think of Buddhism and Hinduism where matters of meditation are concerned. Rightfully so, as meditation is heavily emphasized in these religions–while being almost non-existent on the surface of Abrahamic spirituality.
But the truth is-is that there have been mystics in all religions and philosophies, across the world and throughout history, who have practiced this direct experience with the Divine; via meditation.
As a meditator, or even as one who shows the interest; you are most likely a mystic yourself. Mysticism simply implies the direct inner experience of the Infinite as opposed to relying solely on scripture, authority, and faith.
This particular form of meditation goes by many names and can be witnessed in:
Contemplative Christianity– Found within Christianity's contemplative schools is a method called "contemplative prayer". This is meditation on a sacred word, bible passage, a focus on the indwelling God Presence, and other sacred symbols which result in having a mystical experience with the Divine.
Esoteric brands of Christianity– In esoteric paths of Christianity, the "I Am" meditation is key. "I Am" is considered to be the indwelling God by esoteric followers. In this style of meditation the practitioner dwells in the "I Am" Presence and recites "I Am" as mantra.
Sufism– The mystics path within Islam. The aim of the Sufi is to be conscious of the Divine (God, Allah) at all times until there is no distinction between God, meditation, and daily life.

This is achieved through the chanting of mantra, breath, meditation, and the contemplation of God.

Kabbalah– A mystical branch of Judaism (or rather a practice that is influenced and plants itself within Judaism) that practices meditation on sacred Hebrew letters and the names of God–like mantra—accompanied by breathing techniques which still the mind so that practitioners can directly experience the Divine.
Hinduism– Most notably in Bhakti Yoga, which translates to "devotional yoga"; where adherents chant and meditate on sacred mantras (which are the names of God). And as in all forms of Yoga, its ultimate goal is to seek union with the Godhead.
Sikhism– Silently reading scripture to oneself, or the chanting "Waheguru" (the name of God) in a group.
In religion and with out– It is truly universal. Our yearn to connect with something greater than us, our Source, has always been with us and will remain with us outside of religion.
While the term "contemplative meditation" is Christian in origin, the heart of the practice has roots deeper than any one religion. In this article we will explore this practice both within in the Christian mystic context as well as from a meditators point of view–also presenting ways in which we can adapt this practice to our own respective tradition (or lack there-of).
Brief history of contemplative meditation within the Christian tradition
The beginnings of Contemplative meditation within Christianity is fuel for debate. Some positing that it has been around since the times of the Old Testament. There are several references in the Old Testament of Hebrew words which can be translated as: "meditate", "murmur", "muse", and "rehearse in one's mind".
The way in which an esoteric Christian would interpret the bible and the teachings of Jesus is that he had taught mysticism and that meditation was an integral part of his practice.
Many notable saints and monks throughout time were known to practice and teach differing styles of meditation practice, such as: St. Ignatius of Loyola, St. Teresa of Avila, St. Francis de Sales, and monks John Main and Thomas Merton.
Whatever we are led to believe, we can be assured that meditation has always had a place within Christianity; whether through focused prayer, repetition of the sacred, or through silence and solitude.
Similarities to other forms of meditation
It is important to note, for any who may have religious hang-ups for any reason; that a Western contemplative practices draws many parallels to mantra practices found elsewhere.
As described above, the contemplative practices of other religions almost mirror the ones of contemplative Christianity. While the language may differ in each, the formula is almost always the same: meditation, mantra (or breath), and contemplation of the Divine resulting in a direct experience with God.
Contemporary forms of contemplative meditation
Contemplative meditation had been revived in the 1970's by three Trappist monks in Massachusetts, USA: Father William Meninger, Basil Pennington, and Thomas Keating. These 3 monks were inspired by the French-American mystic/monk, Thomas Merton, (who was heavily inspired by Eastern thought) and his attempts to bring back the contemplative practices of Christianities past.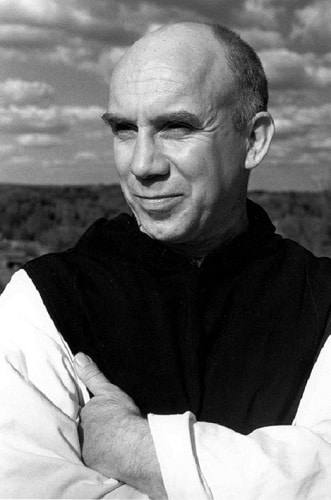 The monks (like Merton) were influenced by their exposure to spiritual teachers from the East, having traveled the world, and whose monastery was in close proximity to the Buddhist Insight (Vipassana) meditation center in Massachusetts.
In a world that was based in pre-Google maps, Buddhist meditators would often show up at their monastery mistaking it for the Insight center; with whom the monks had a close relationship with.
Progressive teacher and author Matthew Fox is the predecessor to these monks, carrying on the tradition of "centering prayer". Matthew is an avid meditator, well-versed in many spiritual traditions, who also practices zazen (seated Zen meditation) as a tool to deepen his faith and directly experience God.
Why Contemplative Meditation Practice?
Contemplative meditation is one of the most fulfilling styles of meditation, as it connects us to The Source that so many yearn for. This connection leaves us feeling revitalized, energized, and at peace. Being rooted in Christianity, is perfect for those of us seeking to get into meditation and mysticism but unable to get our minds around Eastern philosophy and its concepts.
Even if we don't necessarily adhere to Christianity, it is still taught with language and ideas that are familiar to us culturally.
Because our relationship to the Divine is a personal one, the benefits that we receive from a contemplation meditation practice may differ.
But generally speaking; when we quiet our mind, open our heart, and let The Divine in we can expect:
To receive Love.
Guidance from a higher Source.
Relief from stress, dealing with our day-to-day problems with greater ease.
A new relationship with life, fresh perspective, and a new way of being.
More energy from loosening the grip on our burdens and our ego-self.
Purification and transformation of the mind.
Greater compassion.
Deeper wisdom
To become more grounded and open.
That some of our health problems may be resolved.
Greater productivity in our daily life.
How to Take Up a Contemplative Meditation Practice?
It wasn't long ago that contemplative meditation was strictly reserved for those residing in monastic life. Thankfully, in the 1970's, the three Trappist monks who revived this practice had set out to make it more appealing and accessible to everyday laypeople.
Due to this revival, accompanied by the dire need for something deeper and more meaningful in the west; there is an ever-growing community surrounding contemplative practice. This is seen in centers across the globe with many retreats being offered.
In a modern-era; this meditation practice is being taught outside of the walls of monasteries and of churches. It doesn't ask that you join any religion to learn it.
Contemplative Meditation Books
For those looking for resources to equip themselves with to take up a contemplative practice on their own, I have recommended a couple of books:
Open Mind, Open Heart: The Contemplative Dimension of the Gospel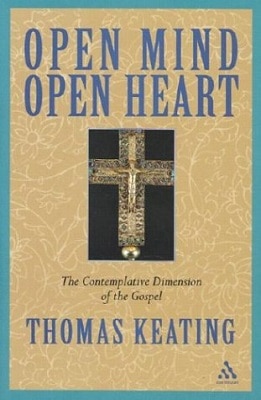 "Open Mind, Open Heart: The Contemplative Dimension of the Gospel" is widely considered the go-to for introductions into the overshadowed practice of Christian meditation. Its author, Father Thomas Keating, was one of the revivalist of contemplative meditation and the founder of the Centering Prayer movement.
Eastern spirituality, namely Buddhism, had a major impact on Father Thomas Keating. He was exposed to and worked alongside many spiritual teachers throughout his career; which was an influence on the creation of his form of contemplative practice: centering prayer.
"Open Mind, Open Heart" not only covers contemplative meditation, but Christian mysticism and the contemplative life as a whole; inspiring non-Christians and deepening the spiritual lives of Christians alike.
Mindful Silence: The Heart of Christian Contemplation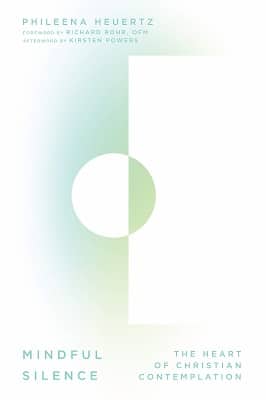 Spiritual teacher, activist, humanitarian, yoga instructor, and public speaker Philena Heuertz wears many hats. Philena is as well-rounded as her book, "Mindful Science: The Heart of Christian Contemplation" is.
Philena takes us deeper into contemplative life; drawing on inspiration both progressive and ancient, reaching in to pull out teachings from masters of the past.
"Mindful Silence" is a great read for people of any religion who are interested in a deeper understanding of the contemplative life.
How to Practice Contemplative Meditation?
Again, it's important for me to reiterate that while this meditation is Christian in origin that I am writing purely from a meditator's point of view.
As well, we will come to find that the way that this meditation is taught is pretty irreligiously and so can be easily adapted and geared towards whatever belief system that we hold.
First, we choose a sacred word, scripture, or image as a vehicle for consent to God's (or the Divine's) Presence within us.

The symbol that we chose is the intention that we're setting, just like we do before engaging in any meditation or spiritual practice.

According to Thomas Keating (creator of this particular meditation), it is recommended that we use a Sacred word which has just one or two syllables. Words such as: "God, Jesus, Abba, Father, Mother, Mary, Amen, Love, Listen, Peace, Mercy, Let Go, Silence, Stillness, Faith, Trust".

The above sacred words are obviously Christian in nature. We can feel free use any word that resonates with us, and the Divine within, that allows us to connect.

I must note that for some, rather than using a word, turning inward to our Divine Presence or concentrating on breath may be more beneficial.

Once we have an intention set and sacred word, we must stick to it for the entire course of the meditation period (which could be however long as you see fit). Any attempts at changing the object of our meditation would be to engage with thoughts, defeating the meditations purpose.

We then find a comfortable place to sit, closing our eyes, we take a few moments to settle in.

We want to be seated in a comfortable position, but not too comfortable, lest we become drowsing and sleepy. This is why it is recommended that we sit with our backs upright.

We relax our bodies and our minds. Maybe take a few moments to focus on our breath.

Once settled in, we silently introduce our sacred word into our minds.

We introduce the word gently, repeating it silently within our minds.

If we find ourselves being distracted by thoughts, sensations, perceptions, feelings, or any external stimuli; we simply and gently return to our sacred word.

It is expected that with any meditation that our thoughts and feelings will attempt to distract us. We may even give in to their pull, sometimes multiple times during meditation.

It's OK.

We don't become bothered by it. Rather, we simply and gently return back to our object in meditation. In this instance returning back to our sacred word.

At the end of our meditation we sit in silence for a couple of minutes.

We do this with our eyes closed.

The reason for this is to take with us the benefits of our meditation with us throughout our day.
Final Thoughts
Christian mysticism and contemplative practice are real gems, diamonds in the rough with great rewards, that are unfortunately overshadowed by the dogma's of traditional Christianity. This is both a meditation and a way of life that is worthy of the exploration of any spiritual seeker.
The greatest gift that we are given is the ability to go within and connect to our Source, and contemplative meditation is a fitting vehicle to do so in.