King of Wands Tarot Card, in its core, represents stability that comes from the tempering of desires. This card is associated with the Fire element, representing the Zodiac signs of Aries, Leo, and Sagittarius, and its season is spring.
King of Wands Meaning
When drawing tarot cards, usually they are put in a vertical setting, spread on a timeline of the past, present, and future. In this kind of drawings, the King of Wands may come up upright, as well as reversed. Some psychic readers like to read reversed tarot cards. Some don't.
Either way, the other tarot cards in the drawing will make up for the way the psychic reader conducts their readings because a Tarot Card deck is connected to the energy of the psychic reader, so it 'talks' to them.
Upright Position
Merging the qualities of the "King" and the qualities of the "Wands Suit," the King of Wands card would represent:
| | |
| --- | --- |
| Masterminding new strategies | Being artistic and inspiring |
| Being an influential, natural leader | Instilling confidence in others |
| Creating an atmosphere of excitement | Setting an example |
| Commanding presence | Being charismatic, theatrical |
| Attracting others like a magnet | Someone may be watching you |
| Earning and giving respect | Being imitated and talked about |
| The focus of attention | Being unconcerned for others' opinions |
Reverse Position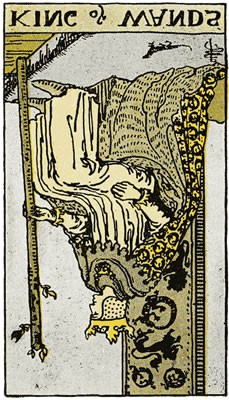 In a reverse position, the King of Wands would mean precisely the opposite of its core qualities, bringing in the drawing:
| | |
| --- | --- |
| Being forceful or trying to dominate | Acting like a dictator |
| Womanizer | Breaking promises |
| Not reliable | Setting bad examples |
| Not proactive | Being ineffective and powerless |
Horizontal Position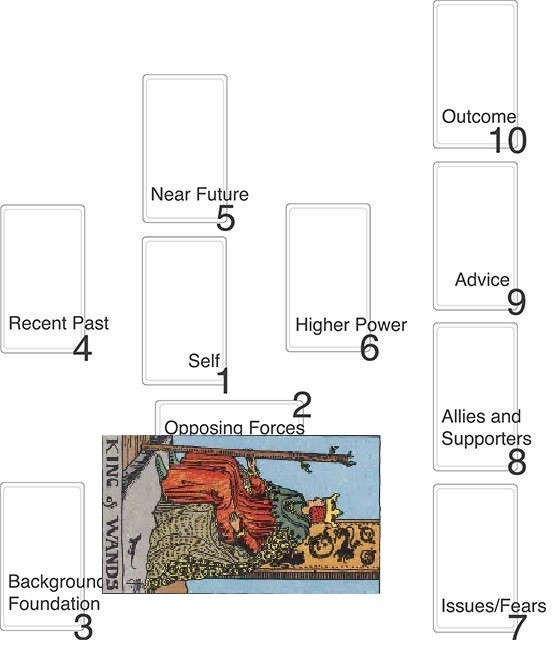 There are also spreads where the tarot cards pulled are placed on vertical as well as horizontal positions. If the King of Wands would sit in a horizontal position, it means you may be facing someone or a situation challenging your power.
This card advises you to acknowledge how you are executing your power, if there is anyone you are hurting on your way, or if you can do things better. You are a natural leader, but this doesn't mean you don't make mistakes.
King of Wands – One card pull [Yes or No]

One Card Readings are for when you need a fast, straight to the point answer. For when you wish not to see future events or past events, and you just need a specific answer on the question that is bothering you. You shuffle the cards, then choose only One Card, or you read the One Card that falls out while you are shuffling.
Whichever method you use to pull the card, listed below are some of the questions and answers you may get when you pull the King of Wands.
Yes or No Answer
Upright Position: If you pull the card in an upright position, it means definitely Yes.
Reversed Position: If you pull the card in a reversed position, it also means Yes, but you have to not act so entitled.
For a Yes or No answer, the King of Wands represents Yes, as a card of the Cups Suit.
King of Wands – Love and Relationships

The King of Wands in a relationship reading means that you both evaluate the other partner's ability to be independent, not needy, or too demanding. You believe that in a relationship, you should provide room for growth for both of you and that no one is the leader or the head of the relationship, but you can both take turns, depending on the day and the situation.
How someone sees you or feels about you?
They see you as someone confident, and they are very protective of you. They know how to give you what you want and provide for you and the family if you have one. Usually, the King of Wands represents someone that is Alpha, that if he finds himself in a supportive, healthy relationship, he will give out more than he takes. They have warm feelings for you and feel like even though you are independent and strong enough to care for yourself, caring for you is exciting and fulfilling to them.
Just starting dating?
If you have started dating this new person, the King of Wands indicates somebody with whom you may have a romantic relationship that possibly lasts long and even turns into a marriage. Though you should not be dependent on them, financially or emotionally, you should respect their privacy. They will respect yours. If you can trust them and remain independent, not too pushy or demanding, or even needy, then you are the one for them. Otherwise, they will run.
What not to do?
In terms of what not to do, it would advise you not to try to force your opinion on others, no matter how great they are or how right you are. Sometimes, the ones that are asking for your support are not going to take it, and not only that, but they may be closed-minded people that just can't understand where you are coming from. Not everyone has your mindset and values, so you need to know where to step away from such relations.
Reverse Position (Love and Relationships)
A reversed King of Wand would indicate that your person has significant commitment issues. They may be flaky, breaking promises, or even abusive. They force their dominance on you. They may belittle you and become a burden for you. It is not the relationship that could survive unless you accept their authority, and you do whatever they want you to. It is a toxic relationship that you need to get out as soon as you can. The lack of empathy and support from your partner is abuse, even if they never hurt you physically.
King of Wands – Finance, Business and Career

The King of Wands pulled in a business-related question would indicate that you have a status, a long experience, confidence, leadership skills, and the wisdom that comes with it. You undoubtedly know how to apply your knowledge, and you may be a mentor to someone else, or hold the position of the boss or the leader in your team.
Regarding finances, they seem pretty good and growing with a steady rhythm. You are in control of your finances, and you are good at managing it. It may also indicate a new idea or innovation in some cases.
What not to do?
In business, this card would advise you to allow others to show themselves their skills and complete a task by themselves. You don't need to lend a helping hand every single time. Instead, see what they can do by themselves. This way, you can evaluate your team's capacities, abilities, and what they're good at. It will also help them grow and earn experience. You can check later and make adjustments where needed.
Reverse Position (Business and Finance)
It indicates that you are failing to commit to whatever your work line is, failing to put dedication in and failing to make decisions. You are almost waiting for benefits to fall into your lap without even lifting your finger. You act entitled, and you are not. If you are in a position of power, a boss, a leader, a mentor, you are possibly bullying your team, too controlling and demanding, out of reasonable requests. In a matter of finances, it may indicate that you lack some knowledge, which in turn will withhold your growth.
King of Wands – Timing
When will something happen answer?

If it is a question that involves around the timing of an event and you pull the King of Wands, this would mean that whatever you desire or wonder about will manifest pretty soon. How soon is that? It would be kind of complicated because it would mean springtime, of a Zodiac Sign season Aries, Leo, or Sagittarius.
The way you want to interpret this is keeping in mind that whatever you are asking about is coming pretty soon. From there, you would figure out the time. For example, if it is summertime when you are doing the reading, it would not indicate that your desire will manifest in spring. The highest possibility is that it would manifest during Leo Season or the upcoming month.
In Tarot or any other divination works, it is rare to foretell the future in years because the choices we make along the way alter that future a lot.
King of Wands – The Message Answer

Sometimes, we don't have a specific question. We just want to know how our day will look like, or how we should approach the day ahead. This reading is best done in the morning, so you form an idea of what that day will bring you.
Upright
Upright, The King of Wands, foretells a day that will be easy on you. You may be the one to whom people turn to, for they need advice or support. Your wisdom, experience, and knowledge will be appreciated and needed. You will feel much in your power and content with your delivery.
Reversed
If you pull the King of Wands in reverse, it foretells a day that may be exhausting and tire you out. You may find yourself being pushier then other days, maybe because you are tired of dragging tasks, and you need something done already. It can also indicate that someone else with the Knight of Wands energy, like your boss, will be hard to deal with and stand in your way.
King of Wands – Cards Combinations

In a psychic reading, there are at least six cards drawn, and each tarot card's meaning is interpreted along with the other cards, always bearing in mind the first question upon which the reading is conducted and aims to give answers. A psychic will see the tarot cards in a symbiotic relationship with one another, never try to read them one by one, but the whole drawing as a whole.
That's why it is essential to have a look at how the King of Wands communicates with the other Tarot Cards. Taking into account, there are 1010 Tarot Cards in a deck. We will have a look at how the King of Wands would be interpreted and affect the outcome of the reading in the light of Suits.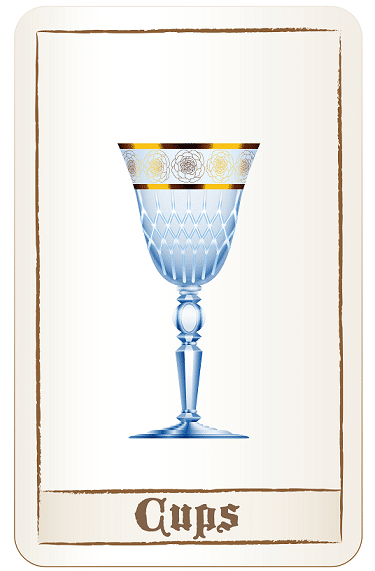 Interaction with the Cup Suits
The Cup Suits represent emotions, feelings, relationships, and contract-ships. If we were to draw the King of Wands with a tarot card from the Cup Suits, it would mean that you are the provider for the family, possibly a father figure. You are the one that others turn to when they need help, not just for petty things. It could be for financial matters or serious matters like dealing with abusers, someone taking advantage of your closed ones. You are the protector and the one that takes others under your wings. You are also the one that motivates others and pushes them to be better.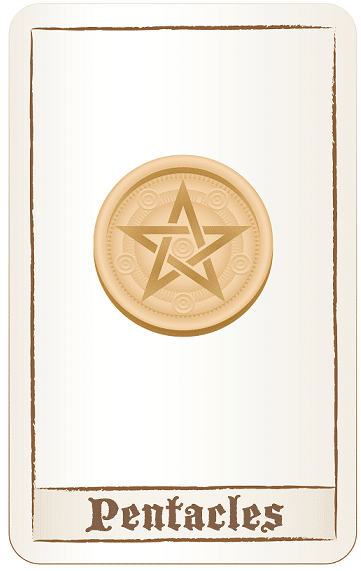 Interaction with the Pentacles Suits
The King of Wands and the Pentacles Suit is a good combination for your job or business matters. The Pentacles suit represented money, income, jobs, and pulled with the King of Wands foretells an excellent financial time for you. Your finances will be growing as a result of your hard-working paying off. It will provide you with lots of opportunities to invest the money, fulfill your family desires, and also support whatever cause you to feel close to you.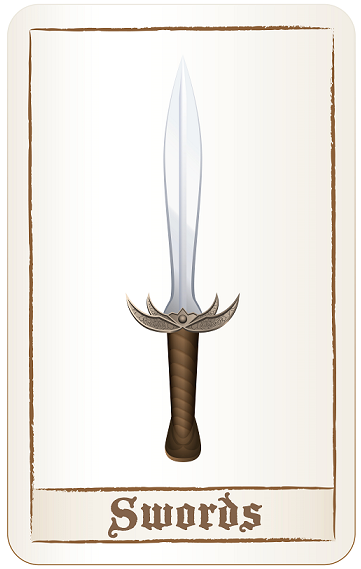 Interaction with the Swords Suits
The Swords Suit gets its share of being a negative suit, where most of the cards represent anxiety, failure, walking away. The Swords Suit, along with the King of Wands, would indicate that you may be facing some real problems which have caused you to lose sleep. You are not someone that fears challenges or doesn't know how to deal with problems, but one that costs you your mental peace, it is a serious problem. This card indicates that you have to pull yourself together and deal with it. You don't lack the power or intelligence.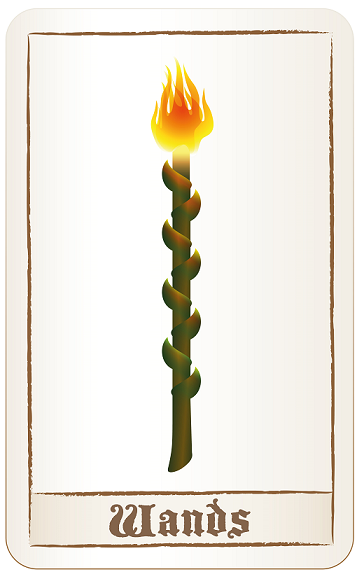 Interaction with the Wands Suits
The King of Wands, along with another card of the Wands Suit, means you are handling some great opportunities. Your long experience in life or profession has gained you the wisdom to do your research, to put logic into plans, and execute them well. If you have been considering taking action in a new plan of yours or changing paths, you have all the abilities to do so, and possibly others will follow.
Overall, the King of Wands, either by itself or pulled in a tarot card draw, is a card that indicates an Alpha person, someone who executes power but also helps others raise to power, someone who is smart and compassionate, a provider, and a protector.