10 Must have Meditation and Mindfulness Apps of 2019 – For iPhone and Android Phones
Would you like to learn to become stress-free within a matter of minutes?
Of course, with the plethora of apps out there now, you can help yourself without having to enroll for a therapy. If you have a busy schedule, all you need to get started is a meditation app which will work on your mobile device.
[icegram messages="5296″]
Here's a quick preview of Best Meditation and Mindfulness Apps in 2020
A lot of meditation experts say that meditation can help you awaken spiritually, or to help with stress, anxiety or depression. It is also useful in regulating blood pressure and combating pain.
If you have trouble sleeping, you can also improve the quality of your sleep through a simple meditation app.
Practising meditation can impact both your physical and mental health. While the number of meditation apps for anxiety in the market is huge, some do not provide adequate features to get the job done.
We've conducted some tests to determine the best meditation apps for anxiety and have come up with a list below. We've also examined the effectiveness of these apps by downloading and using all of them.
Our tests also involved deleting all the apps with a frustrating user interface as well as those that failed to deliver the goods.
Our long search helped us to narrow down the best apps which we used to meditate.
Here is our list.
Headspace app review
If you are new to meditation apps for anxiety, the Headspace app is at your service. It provides you with clear guidance and sequenced classes that outline meditation information. You will learn how you can calm your mind as you sit quietly.
It has an impressive design that makes it easy to navigate. The uncluttered homepage has clear spaces for you to begin. The Discover page is organized into different topics and coordinated using colours.
There's a free trial to test it out before you purchase it and a basics pack that includes a short meditation for beginners. The courses you get from Headspace are all scheduled according to different topics.
Headspace gives you pro meditations which contain ten guided sessions that educate you on your well-being. These give you correct guidance as to where you should start with meditation. It feels like a class that has different levels of learning; the only difference is that you're not in an actual class.
The pro packs are suitable for advanced meditating. The single page of this app for anxiety contains a meditation timer pro that is located under the unguided and guided sections. An experienced meditator will not feel underwhelmed by Headspace since it offers numerous options than most other apps.
The sessions vary when it comes to the duration. Some are five minutes, others longer so that you can maximize the app depending on your free time. Some of the short sessions include restoring and unwinding.
Unlike most meditation apps for anxiety, the "everyday" Headspace feature in this app is adjustable. Other apps do not have an option for you to adjust the timing of the "everyday" feature. Take advantage of the Discover page to add meditation packs to prevent confusion in choosing content.
You will love the cute illustrations that welcome you to the app. You can also access singles to use during emergencies when you're angry, anxious or stressed. Cool, right?
Pros
The app organization is simple
It is ideal for both beginners and meditation enthusiasts
It is a long-term solution
Provides a lot of options making it versatile
Gives you sessions of different durations
Cons
The narrator has a British accent that may not be clear to some users
The trial is limited
Verdict
The attractive design and numerous meditations of this anxiety-killer app make it a suitable app that we would recommend for anyone. Subscribe to Headspace today and unlock content for a better meditation experience.
Download:
Calm app review
Are you familiar with the basics of meditation? Take your skill to the next level by getting this app which gives you open-ended meditation sessions. Calm provides you with different meditation options and sequencing.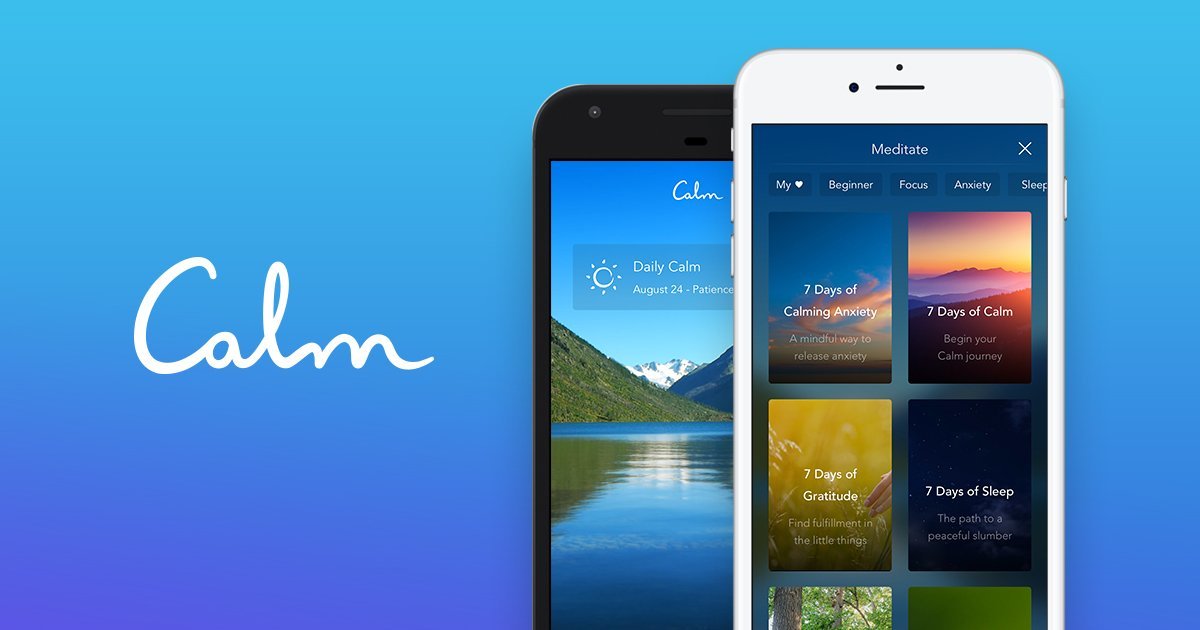 The sessions in this stress-relieving app last for at least ten minutes. This is limiting if you don't have a lot of time for mindfulness practice. However, you can increase the timer, and it also provides a bubble visualization for breathing. Feel free to customize this feature as you select convenient breath counts.
Calm also offers you meditation music in one provided section. Unlike other meditation apps for anxiety, this gives you sleep stories that allow you to relax while listening to a soothing voice. This can help you to manage sleep anxiety as you get past any sleeping problems.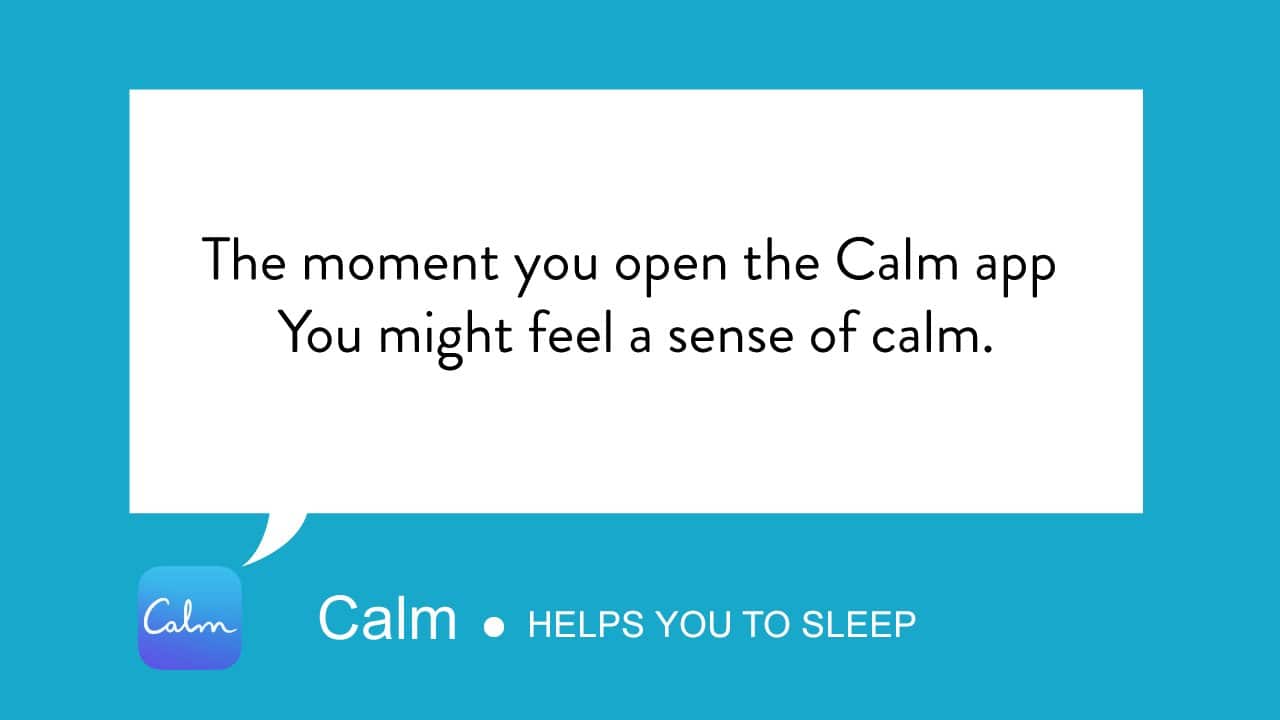 Many people have problems while signing up to this stress-relieving app. The instructions are not clear regarding your options on a full subscription. Many users also report that it's difficult to cancel the app through the app store.
You can stream this app offline, saving you internet charges. The integration of "Apple Health" monitors your meditation duration.
Pros
It offers you sleep guidance such as sleep stories
It provides you with music tracks
The breathing bubble allows you to choose breath counts
It keeps track of your meditation habits
Cons
It does not have clearly laid out courses
Some users report that the narrator keeps on disrupting your session
Verdict
Though calm has some misleading information in signing up, most people who have used to meditate like its unique features. If you need open-ended classes, you can find them on this app.
Download:
10% happier app review
This app uses meditation experts to give you every detail you need for an awesome meditation experience. Unlike most meditation apps for anxiety, this gives you room to interact with the teacher thanks to the chart feature.
As the name suggests, the app teaches you how to achieve happiness through meditating. It promises to enhance your work, health, and relationships. It contains seven-session which act as the introduction to meditation.
Each session has a brief video that has a guided meditation that concentrates on mindfulness awareness. There are short sessions such as tooth brushing that can form part of your routine. According to the teachers, happiness is a skill that you can learn through meditating.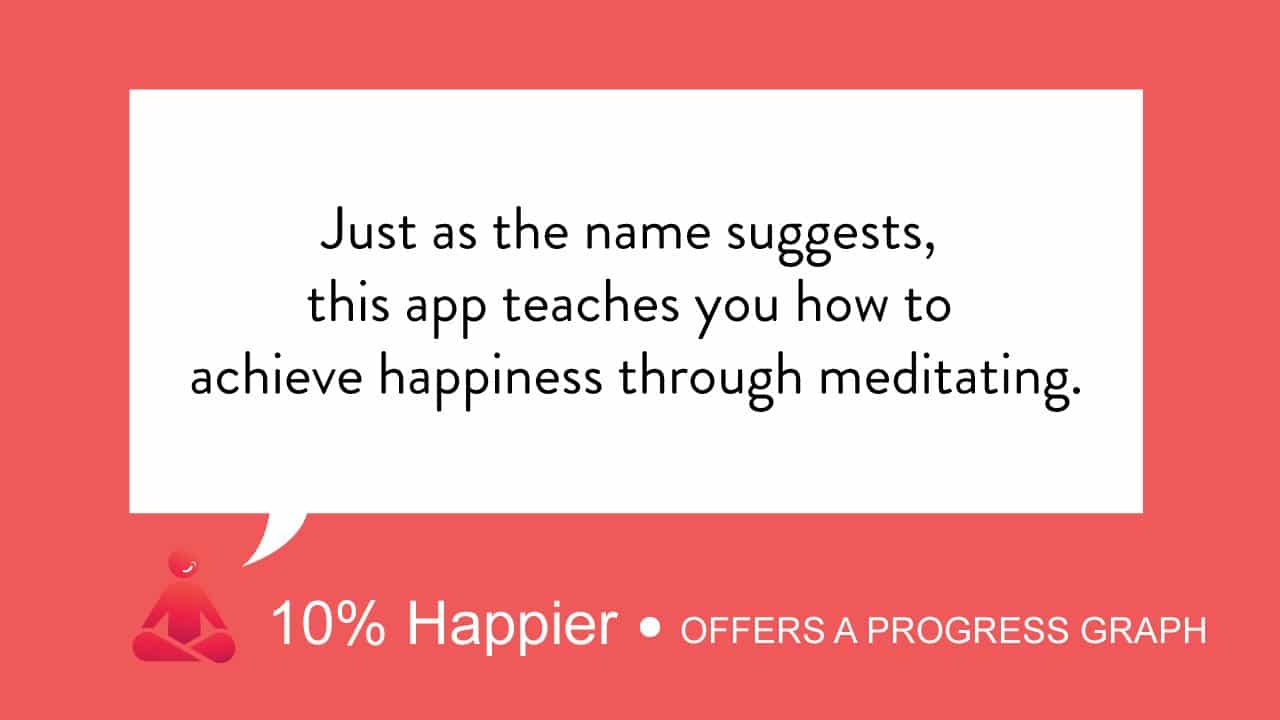 Dan Harris, who is a journalist and meditation teacher, developed this app as well as a book after suffering from a panic attack. This meditation app features advice in breathing exercises such as "ten proper breaths." The teachers also concentrate on emotional challenges that cause stress and educate you on mindfulness techniques.
10% happier is ideal for anyone who does not believe in the power of meditation. The audio meditations can also help you deal with anxiety and is also useful for other activities such as sleeping and walking. You will even get interviews between the founder and other meditation experts who educate you on how meditation works.
Pros
It contains a lot of limited features
The chart feature is unique among meditation apps for anxiety
The app gives you a lot of information from meditation experts
It is compatible with different devices such as Android, iPhone, and iPad
Cons
The approach used in the app is not the best as the founder talks a lot about himself instead of helping you meditate.
Verdict
10% happier provides room for the non-believers of meditation.  Get your premium subscription by paying $7.99 monthly.
Download:
Stop breathe and think app review
This anxiety-killer meditation app encourages you to stop and check your breathing. The intention is to confirm how you are feeling at the moment so that you can learn the importance of paying attention to your thoughts.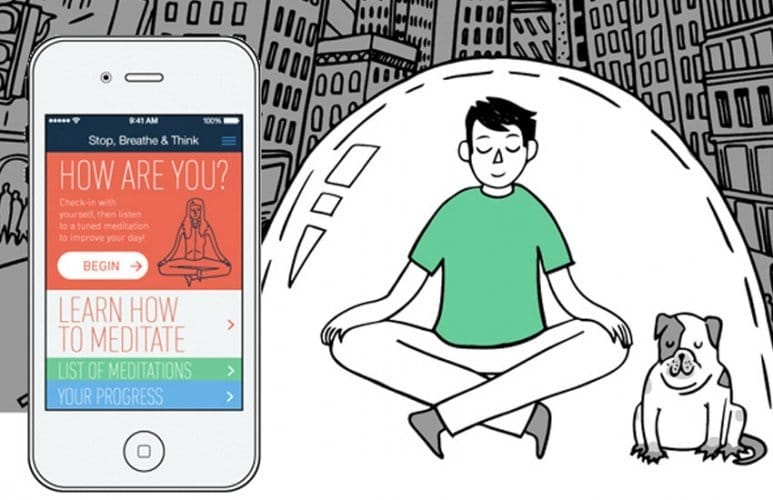 From the app, you get more textual information regarding how to cultivate self-compassion and kindness.
It also involves some short activities that are geared towards tuning your emotions. According to experts, mindful breathing creates space for your thoughts and reactions. This app allows you to strengthen your inner peace and enhance your perspective through different meditation activities.
It contains a lot of customization tools that are convenient to use. You get a short survey that can speculate your moods and guide you through meditation according to your feelings. It collects emotional data and selects the best mindful exercise as for you according to your state of mind.
SBT has a quirky illustration that will appeal to most youngsters and a universal personalized touch. The meditation app contains 30 activities including a body scan that helps you acknowledge your body's sensation.
If you subscribe to the premium package of this meditation app, you get access to 70 advanced exercises that contain acupressure videos and yoga sessions. The videos teach you how to make use of pressure points to facilitate the relaxation of joints, thus minimizing any pain in your body.
The app also contains beginner sessions and some specifically for children and elders. You get more than 20 meditation audios for free with each session lasting for up to 20 minutes. Some of the audios have chimes like ringing sounds of a bell or nature sounds which can help people with insomnia or depression feel better.
You will notice a section marked as "My progress." This contains useful graphs and charts that monitor how many days you checked into the app. It also monitors weekly progress and gives you the total time you have been using to meditate.
Pros
You can focus on your sensation using this app
It has different customization tools
The design is appealing
It gives you a recommendation on the best meditation according to your self-report
It acts as a mood tracker
Cons
It lacks guidelines for newcomers in the field
The app does not engage you completely
Verdict
This app gives you different meditations for your meditation practice. There is an introductory text that is geared towards helping beginners enjoy the app. However, we wish it was more engaging in giving us features such as a chart section instead of only using text.
Most people like the overall design of this app since it has clear audio and attractive graphics. You can get the app at $6.99 for your monthly subscription.
Download:
Smiling Mind app review
Meditation apps are not only limited to use by adults. This app was created to benefit children and young teens going through challenging moments. It offers meditation sessions that are divided into different age groups to select what is convenient for you.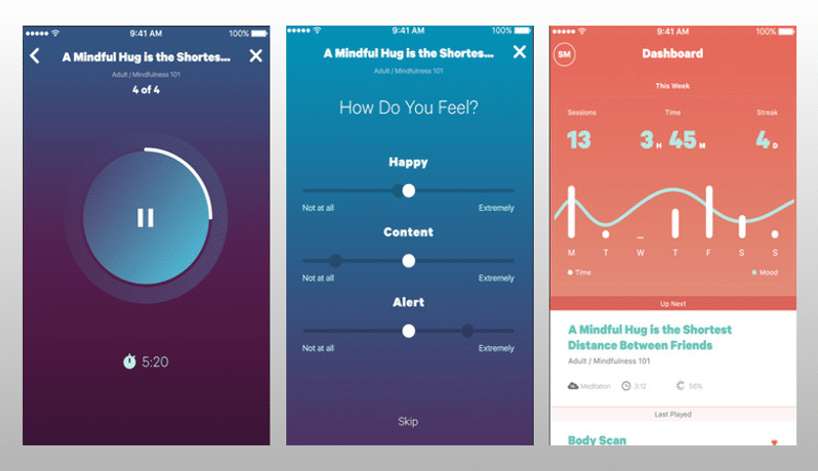 The start-up design is simple, making it suitable for starters. We like the way the narrator welcomes you to the app by explaining the scientific benefits of practising mindfulness. This app involves activities such as visualization and breathing exercises.
It can benefit children to help them understand more about their feelings and manage their emotions and also help teens transitioning from one educational level to the next and making plans for the future. The app contains pre-emptive techniques to impact on your life positively.
As an adult, you can also make use of this app utilizing topics such as mindful eating, listening skills, and mindful commuting. Unlike other apps that charge you, you can get this app for free. It comes from an Australian NGO that aims to improve your well-being at no cost. Download this app from the app store for any of your devices.
Pros
You get it for free
It is not biased toward children and teenagers
Cons
There is a lot of technical language in the narration
Using a repetitive background sound may make it monotonous
Verdict
Smiling minds suits more learners of meditation than those who are already experts to it since there are limited practices for professionals. The children's program makes it a unique meditation app that is easy to understand and use due to its simple structure.
The app provides basic knowledge that makes it age appropriate for anyone over seven years. It could be a comfortable meditation app to use if the producer could switch off the background sound. Users also report that some meditations have an abrupt ending.
Download:
Buddhify app review
This app comes as a colourful disc that contains different segments. Every class includes meditation and mindful exercise to widen the scope. Your personalized wheel allows you to add or remove some meditation sessions so that you can remain organized and prevent confusion while using the app.
If you don't like long, boring sessions, you will enjoy the duration allocated to each category of Buddhify. This caters for people who have busy schedules. Some of the themed practices include walking as you remain mindful of each step and "work break" to help you relax as you work. Its design allows you to slot it into your daily routine.
It has six different meditation sessions that last for at least 30 minutes. The app gives you a meditation timer which you can only use with meditation experience since it does not offer guidelines which monitors your meditation activities.
Pros
It provides you with mindfulness practice that you can apply in various situations
The graphic design is appealing
It has a reasonable cost
Cons
The meditation timer does not come with instructions which may demotivate users.
There is no free trial for the app
Verdict
Buddhify gives you an appealing design that makes meditation a relaxing affair. You can use this app in various daily situations to calm down. This will help you if you already have primary knowledge on how to meditate. You can also use it if you are going through emotional distress.
However, newcomers may find this challenging since they don't offer any guidelines or motivation encouragement to the programs.
Download:
The Mindfulness app review
Most users who have tried meditation apps complain that most of them are either too short or too long. The Mindfulness app solves that problem by giving you sessions that can be as short as 3 minutes and as long as 30 minutes. You, therefore, get a choice of how long you want to meditate.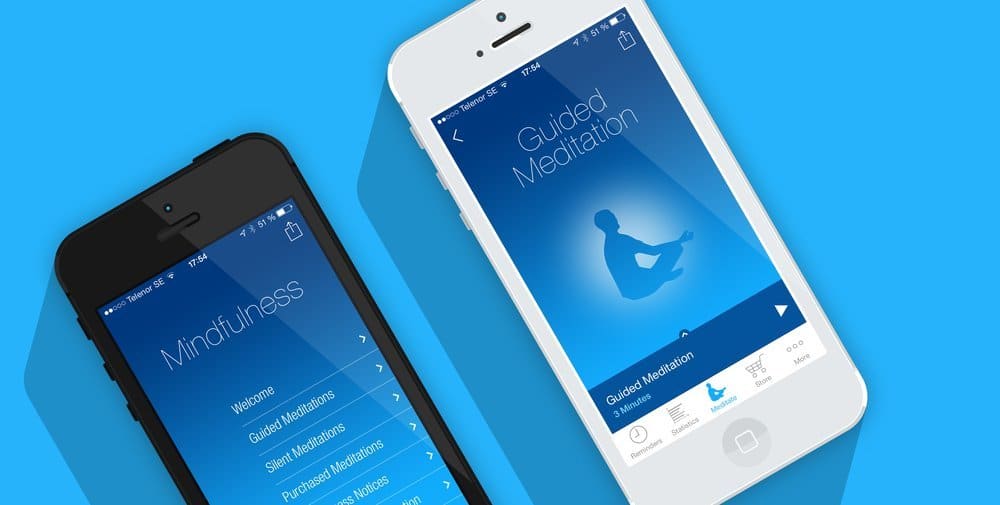 It offers a program that lasts for 21 days for you to use daily. Some reminders allow you to concentrate on your breathing for at least 15 minutes.  Use the pause button to control your breathing. The app also contains an insight timer to help you focus.
This is not biased to any particular group since everyone can benefit from the app regardless of your meditation level. The app contains guided instructions for five days that have different durations. You also get reminders as well as statistics to allow you to remain focused on meditating.
The library is full of different courses and premium meditations that can teach you a lot regarding your physical wellness such as enhancing your immune system. It also contains different breathing meditations as well as challenges to inspire you.
Pros
You get diverse features such as reminders and timers
There are different meditation levels to accommodate everyone
You can learn new activities to help you relax such as deep breathing techniques
Cons
The structure can be confusing if you lack meditation experience.
Verdict
The Mindfulness app aims to enhance your connection with others and yourself.  Your annual subscriptions will cost use $59.99 including a free trial for one month. Alternatively, you can get a monthly subscription at $9.99. As a premium subscriber, you receive at least 200 meditation sessions that cover different topics such as focus and calmness.
Download:
Beyond Meditation Binaural Beats app review
The binaural beat is the most trending therapy in the meditation. A professionally engineered program can be your personal trainer if you want to enjoy peace of mind and mental freshness.
Do you want to take your meditation game to a whole new level? Are you ready to experience the true spirit of meditation? Among all these options, Beyond Meditation Binaural Beats is a perfect pick for every user who wants to enjoy the beautiful meditation audios to enhance his focus and peace of mind.
It has a system that consists of 10 levels. You need to cover every level to boost your meditational skills. You cannot jump to another level after one or two hours. You have to practice one level for at least one month if you want to move to the next level.
It has the most advanced technology that makes meditation more effective with natural voices and is the best app for guided meditation. It is very effective for insomnia. You don't need any special training or expertise to use this app, and every beginner can use this app easily.
Pros
Best meditation app for insomnia
Easy to use with interactive design and user interface
Efficient working and less expensive
Natural and clear audios
10 level meditation system
Cons
The training period for each level is comparatively longer
It is not free on the App store
Verdict
Meditation and stress relief are achieved when you have a perfect environment. This app provides beautifully crafted audios with an effectively engineered interface.
Download:
Insight Timer Meditation app review
Meditation can be a powerful activity for your mental health if you have the right tools for your guidance. Do you think meditation and meditation apps are boring? We have something amazing for you as the Insight Timer Meditation app has a great deal to offer you.
This app also has social connectivity. You can use it to interact with people in your meditation community. You just need to set up a personal profile with all your details, and you are ready to socialize.
The user can share his meditation activities or can set privacy for his profile. Members can contact each other through messages and can share locations too.
The usability of this app is way better than some of the other paid apps in the same category. 2000 recorded meditations are more than enough to guide you, and you can have a customized meditation too.
The main focus of the app is Buddhist and Eastern meditation.
Pros
Community discussions and group building activities
Over time, you can track your progress too
It is available free of cost
The option of multiple languages makes it the hottest pick
Categorized meditation options to meet your needs
Cons
As it's free, this covers all of its cons. By the way, there were no issues reported by users.
Verdict
In this busy life, everyone wants to get the most out of anything. This app is a full package for all your meditation needs. You don't need to spend hundreds of dollars and hours of training to use this app. Both experts and beginners can use this app efficiently.
Download:
Welzen app review
A simple activity can cheer your mood for the whole day, and 10 minutes of meditation is enough to keep you mentally awake. If your tough daily routine does not allow you to experience true meditation, then Welzen's micro-meditation is a real diamond for you.
Most of the meditation apps don't have a multi-language option, but this app is not only engineered for English but Spanish users too.
Even kids can also use this app easily. You can choose the best meditation according to your personal needs and environment. Specific categories are available to meet your specific needs.
Pros

Effective practices for breathing exercises
Better results in less time
Quick lessons to boost your mental health
Kid's mediation is also included in the app
Cons
This app is not available for free
The basic version does not have all the advanced features
Verdict
You may find it a little bit expensive, but its benefits will compensate for the price. You can get lifetime access to this app's full version for $149 only.
Download:
What are the criteria for finding the best meditation apps for anxiety?
The market has a lot of meditation apps that promise to help you in reducing stress and pain. It can be confusing to distinguish which one may be the most effective since these apps don't have scientific backing.  Even though this may be the case, the following criteria can help you choose the right app.
The number of options
Your meditation app should not limit you. It should contain enough features that satisfy your needs. Its functions should be available to both a novice who needs some guided work as well as a seasoned meditator.
The meditation lengths should vary from short sessions to long ones.
Beginner courses
A good anxiety-relieving meditation app does not assume that everybody is already able to meditate. There should be well-structured options for beginners, allowing any newcomer to start forming the meditation habit without dropping it after the first few days. The sessions should not be too long such that they overwhelm any newcomer.
Impressive design
An app should not feel like a hassle to use due to bad design. Get one that has a simple interface.
Free trial
Meditation apps should provide trial periods so that you don't waste your hard-earned money on one that is not effective.  Trials help you to test it for free and decide whether to continue.
Additional features
The features in meditation apps vary greatly. An app that gives you an option of using it offline (like Beyond Meditation for example) can save you a lot on mobile data charges and facilitate use offline, e.g. on a flight.
Editor's Choice?
From the above; Headspace stands out as the best meditation and mindfulness app in 2020, followed closely by the binaural beats app Beyond Meditation.
It has a good voice-over, a good structure, and colorful design. The app uses different methods to deliver a range of meditation experiences and stress relief.
Though you can go for the free trial option, subscribing to the app gives you diverse meditating options for a greater experience. It is also accommodating regardless of how advanced you are in your meditation practice.