Almost every day, someone in my circle of friends, family or co-workers mentions their sense of burnout, fatigue or overwork. If this sounds familiar to you–or even sounds like you–I'd like to introduce you to tantric meditation.
Because, alongside our global energy crisis, there's a human energy crisis, too.
Many of us live with a near-constant drain on our energy–physically, psychologically and spiritually–and there's often just not enough coming back in. Our bodies and minds are so incredibly resilient and oriented toward health, that we can carry on for a long time in this kind of energy deficit.
But, if you're beginning to feel a desire to replenish and rejuvenate yourself in a deep and lasting way, I hope you'll join me for a brief exploration of this amazing meditation practice.
What is Tantric Meditation?
So, what is tantric meditation exactly? It is one of the practices within a larger spiritual system known as Tantra. This comprehensive system includes Ayurvedic medicine, Samkhya/Yoga Philosophy, Advaita Vedant and much more. As one of the roots of these Indian traditions, tantra is widely practiced in the East by everyone from lay people to spiritual devotees. And these traditions have long had branches of interest reaching into the West as well.
Read more about Advaita Vedant here.
Today, Tantra is practiced anywhere where people are interested in a traditional spiritual practice that speaks to our timeless needs for happiness and meaning, as well as to our particularly modern stresses and challenges.
I became interested in this practice for the same reason that sets it apart from other spiritual systems: its explicit focus on energy.
You may have heard some of the quite mind-bending theories coming out of physics in the last few decades. Many of them are based on the emerging realization of energy as the elemental "stuff" of the universe. Some arms of science go so far as to say this "stuff" is consciousness itself.
Whether it is energy or consciousness at the heart of things, matter as we usually conceive it, is seen less as a "concrete thing" and more as a patterned flow of energy.
Tantra was centered around this very idea many centuries ago. Since the universe is essentially energy, and we are part of the universe, all of the powers in the universe are also within us.
So, tantra takes you on a deep and vast journey to recognize this energy and harness it to actualize your full potential as a person and as a spiritual being.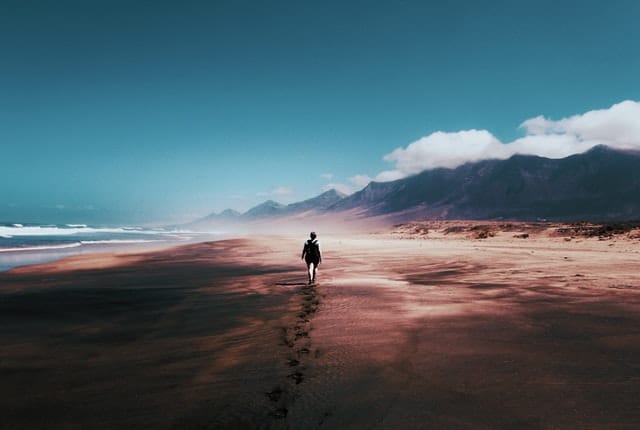 Tantric meditation is the main practice of tantra. I'll be talking with you about this form of meditation throughout this article.
A note here about tantra and sex. Tantra sometimes has a reputation of being about sexual practice. It's true that sexual experience can be a way to practice tantra. And depending on your interest or the school of practice you're involved with, the sexual expression of tantra can be the focus or just one of the ways tantra can be experienced.
In traditional practice, tantra has a larger purpose and focus that we'll look at in this article.
What is the Goal?
Tantra literally means "loom." At its heart, tantra is a weaving together of opposites, to bring us to the most whole place possible for each of us.
It helped me to understand that I wasn't either a human being or a spiritual being, but both.
The goal is not to arrive at a new destination. It's to help us uncover and recognize what's already here in all of us.
How does Tantric Meditation Work?
How exactly does it work? What practices or techniques do people use?
Tantric meditation is a fascinating and varied journey, with many points of entry from sound, to visualization, to chanting, to breathing exercises. These practices are carefully chosen to help you become aware of, balance or release energies already existing in your body.
And each technique or tool creates a particular resonance within you to activate energies in your body/mind.
For example, I have always been drawn to vibrant colors. I didn't know why they just made me feel energized and happy. Through understanding tantra, I learned that bright, deep colors set off a deep resonance for me that released energy and joy. I now keep a few colorful objects in my meditation space to invite some of that resonance each time I meditate.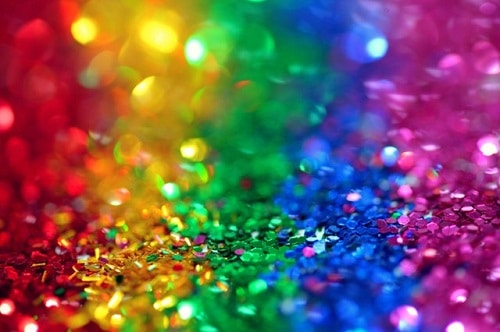 Welcome to Your Chakra System
I learned about this meditation technique through the Indian chakra system. It's a great way to begin, so I'd like to share a few thoughts with you about the chakras. This system is intricate and complex, but rests upon two main concepts:
Human beings, like everything in the physical universe, are essentially made of energy and this energy can be dormant or expressed. In tantra, this energy is known as kundalini or kundalini shakti.
The primary energy system within the body moves vertically, up the spine, through seven main energy centers or chakras. These centers can be anywhere on a continuum of fully functional and balanced to dysfunctional and imbalanced.
Check out our Chakra Meditation Script below:
[embedyt] https://www.youtube.com/watch?v=yPATfHzsyIE[/embedyt]
So the practice is two-fold:
To harness and release the power of your kundalini Shakti, in order to
Unblock and balance the chakras.
Practices of Tantric Meditation
There are a whole range of practices to guided you on this journey, each using a different part of our human energy system.
Just like the colors of the rainbow, there are many shades of energy within us, with different purposes and effects. Here are some practices:
Yoga asanas
Pranayaama or breath exercises
Bandhas, body "locks" to hold breath within the body
Mudras, hand and body positions to evoke certain energies and qualities
Mantra or other sounds to resonate with certain energies inside you
Yantras or physical symbols that will resonate with other energies
What are Some Tantric Meditation Benefits You Can Expect?
Let's go back for a moment to the idea that energy is the core element of everything that exists.
If energy is the most basic level of who you are, then this meditation practice has the potential to affect you in every way: physically, psychologically and spiritually.
Here are just some of the effects of these practices:
Physical: To infuse energy into your metabolism and nervous system. The natural healing powers of the parasympathetic nervous system can be put on "high" to help you balance, heal and rejuvenate.
Mental: To bring more clarity and openness to your mind. More energy means more ability to "think outside the box," to be creative and see things more holistically.
Emotional: To bring emotional balance and clarity through clearing the chakras that govern the heart and self-expression, just to name a few.
Spiritual: To enable all seven of them to function more fully individually and together as a whole. Spiritual awakening is not finding a state of perfection, but a state of wholeness.
Many of us are doing "core work" on our bodies these days, knowing that a strong core supports just about everything else in our bodies.
It is the ultimate core work! A strong and balanced energy system will strengthen every part of your body, mind, and spirit.
How You Can Learn Tantric Meditation
Traditionally, meditation practices, that were considered esoteric were reserved for monks or long-time devotees of spiritual practices. This may seem quite old-fashioned to us today, but there are some good reasons for this kind of caution.
For example:
Powerful experiences benefit from a context. Imagine you have an experience of intense energy rising up your spine, creating pressure in your head.

If you don't know about Tantra, the experience could be uncomfortable or even frightening. With the guidance of a teacher and knowledge of tantra, you would recognize the energy as a sign of rising kundalini and know ways to "work" with it.

Kundalini in our body

Unexpected mental and emotional experiences can be released with this meditation practice.

I once had a sudden wave of grief about my friend's death in meditation–even though he died many years before. Because I had some background in this technique, I understood the experience as simply an energetic opening.

I was able to ground myself and let the experience flow through, rather than trying to stop that flow.
Learning Tantric Meditation Today
So, a teacher and a deep grounding in philosophy, have formed the traditional environment to help people understand and assimilate their meditative experiences.
That said, most of us do not live in spiritual communities or have contact with spiritual masters. But, this does not mean you can't explore tantra. It only means it's useful and wise to gain some background in tantra before you begin a meditation practice.
Here are some suggestions on how to explore the world of this meditation practice.
Learn About the core concepts and what this meditation practice has to offer. I hope this article has given you a good place to begin!
Explore teachers and groups online. Like any online group, read comments from members, learn about their goals and programs for you as a learner, and go with what feels right for you.
Find books by experienced teachers. I give you a few places to start later in this article.
A Deeper Dive into Your Chakras
I mentioned earlier that the best way for beginners to understand this technique is to learn about and practice with the chakras.
I've found it helpful to think of the chakras as the Energy Highway.
All roads inside of us lead to and from the Energy Highway: the spinal cord and the chakra system.
This body map was developed by ancient teachers who experienced the body/mind/spirit as a series of centers, each with a different life lesson or task. Seven major centers are used in the most common map.
Moving up the body, these are the seven centers, their location and their task:
Root chakra. Base of the spine. Physical survival and safety.
Sacral chakra. The belly button. Abundance, pleasure, sexuality and well-being.
Solar plexus chakra. Where the ribs join together at your stomach. Personal power and confidence.
Heart chakra. Center of the chest. Love, compassion and joy.
Throat chakra. At the throat. Communication and self-expression.
Third eye chakra. Centre of the forehead. Imagination and intuition.
Crown chakra. Top of the head. Bliss and connection to spirit.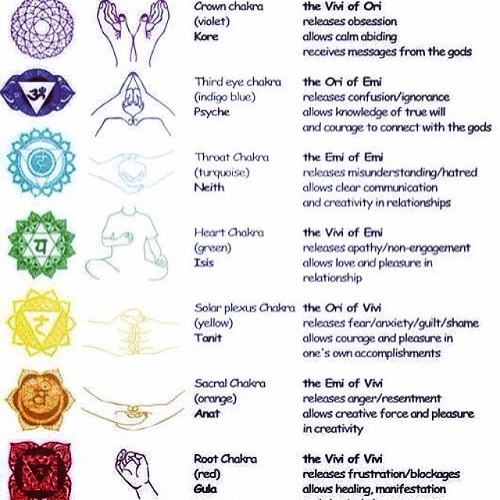 To the extent that we learn the lesson or satisfy the need of each chakra, it functions well with energy moving smoothly through it. It can then support the chakras above and below it.
Let's take one example.
The solar plexus chakra is the center for personal power and confidence.
When this chakra is functioning well and balanced, it can support the heart chakra in its task of connection and compassion with others.
On the other hand, if the power chakra is blocked, it's much harder for us to be in healthy connection with others.
So, blockages or less-than-open energy in one chakra affects all the others.
The Weaving Together of Opposites
Anodea Judith, an author of Eastern Body, Western Mind, again describes the role of the chakras as a loom: the weaving together of divine and human through the chakras.
When you begin to release kundalini through meditation, it is an upward journey–starting from the root chakra and connection with our physical self, up through power, and heart and expression, to spiritual realization. We come to a place of wider vision about ourselves and about life.
But, says Judith, as with all journeys, there is a return. With this meditation, you don't stay at the top of the mountain, but come down with your expanded vision.
You bring it back down through all of the chakras to fulfill the purpose of each.
I deeply suggest her Chakra Healing Quest program because it's one of the best. She did this program in collaboration with Mindvalley.
You can get access to a free masterclass here.
This vision enables you to express with more compassion and clarity. To make decisions based on principles, rather than feelings. To consider the whole, rather than only your own comfort or safety.
Our sometimes inconsistent, self-centered actions can be transformed into stable, wise and compassionate actions.
Tantric Meditation Books
Curious to learn more? Here are three books that will introduce you to tantric meditation, kundalini, and the chakra system.
Clear Light of Bliss: A Tantric meditation manual by Geshe Kelsang Gyatso
For a heart-opening description of this meditation path, this is a book for you. The author is a contemporary Tantric master who will take you step-by-step through practices that balance energy, open compassion and create a clear mind.
This is a book for those with some experience in Buddhism or those who have a sincere interest in learning about it. It has a deep grounding in the Buddhist tradition, and each page is steeped in compassion.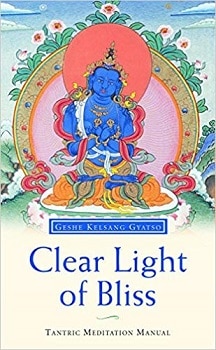 Tantric Transformation: When Love Meets Meditation (OSHO Classics) by Osho
Don't be misled by the title to think this book is about tantric sex. Osho does discuss how relationships and sex can be transformed through meditation, but his focus is on complete inner transformation.
Basic tantric principles are explained simply and deeply, and how we can all experience an energetic evolution through meditation. The goal: more compassion and more love for ourselves, and for everyone we meet.
Eastern Body, Western Mind: Psychology and the Chakra System As a Path to the Self by Anodea Judith
For a book written in a more clearly Western voice, you can make no better choice than this book by Anodea Judith.
She weaves together a deep understanding of the traditional chakra system, with psychological traits and situations Western readers can easily relate to. Her book is full of common sense interpretations of how the chakras work, how they affect us and how we can unblock them to live our fullest, richest lives.
A Tantric Meditation for Couples – A Meditation Guide
Introduction and Preparation
Here is a basic guide you can do with a partner. The goal of this practice is to use your breath to bring your energies more and more into sync. Approach the meditation as an exploration of connection, rather than something you can do "right" or "wrong."
Before you start, create a peaceful, quiet space for your practice. It does not have to be elaborate or take up a lot of room. The idea is to create a "space apart"– a space away from your daily concerns and activities. It can be as simple as a small table with a nice fabric, a candle and a single flower in a vase.
Please turn off any technology that could interrupt you and let any housemates know you're "offline" for a few minutes.
The Tantric Meditation Script
Sit down on the floor, close to your partner, but not touching. Take a minute to physically and mentally let go of your day so far. Feel your bodies settling into the surface under you, and take a few deep relaxing breaths. Really let go on the outbreath.
To begin the exercise, look into each other's eyes, the left eye specifically–this keeps your eyes from moving back and forth. Take a few breaths simply looking at each other, with love, not forcing anything, just paying attention to your breath.
Notice how it feels when your breath and your partner's breath are moving at different rhythms. Just notice, without any judgment about it.
Then, over the next few breaths, allow your breaths to synchronize. You may notice there's a kind of magnetism as if your breath wants to move as one.
Keep connecting with your partner through a gentle, loving gaze as you breathe. When thoughts or distractions come up for you, it's not a problem. Just do your best to bring your attention back to your partner and breathing as one.
Be aware of energy moving within you and between you.
Again, there is no force needed. You may notice that your breath moves in and out of sync as you practice. When it is not in sync, see if you can use the gentlest attention to allow your breath to synchronize again.
Enjoy the experience of connection for as long as you like.
When you would like to finish, bring your hands to your chest at Namaste. Thank your partner for being here with you.
Final Thoughts
Imagine what it would be like to be filled with energy. What would change for you physically, psychologically or spiritually? What could you do that you find difficult to do now?
It is not a magic bullet. But, it offers a whole range of wonderful and creative ways for you to energize your body, mind, and spirit. Find a practice that lights up your curiosity and your heart, and try it. Take your first step on the journey of tantric meditation.