The Wheel of Fortune, holds number 10 and it is the eleventh Tarot Card of the Major Arcana cards. In its core this card usually represents a sudden change on a current situation, usually for the better. This card is ruled by planet Jupiter.
The Wheel of Fortune Meaning
When drawing tarot cards, usually they are put in a vertical setting, spread on a timeline of the past, present and future. In this kind of drawings, The Wheel of Fortune may come up straight, as well as reversed. Some psychic readers do like to read reverse tarot cards, some don't. Either way, the other tarot cards in the drawing will make up for the way the psychic readers conducts their readings, because a Tarot Card deck is connected to the energy of the psychic reader, so it 'talks' to them.
Upright Position
The Wheel of Fortune card would represent:
| | |
| --- | --- |
| Approaching destiny | Things come together |
| Fate | Unexpected opportunity |
| A turning point | Changing directions |
| Altering events | Getting involved |
| Being awaken | Making progress |
| Karma | Expansion |
Reverse Position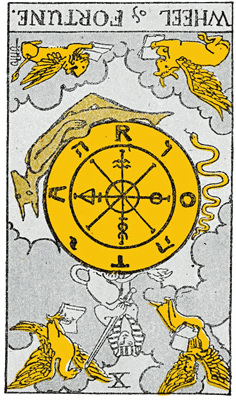 In a reverse position The Wheel of Fortune would mean exactly the opposite of its core qualities, bringing in the drawing:
| | |
| --- | --- |
| Bad luck | Disorder |
| Facing delays | Unwelcomed change |
| Things coming apart | Lack of control |
| Experiencing setbacks | |
Horizontal Position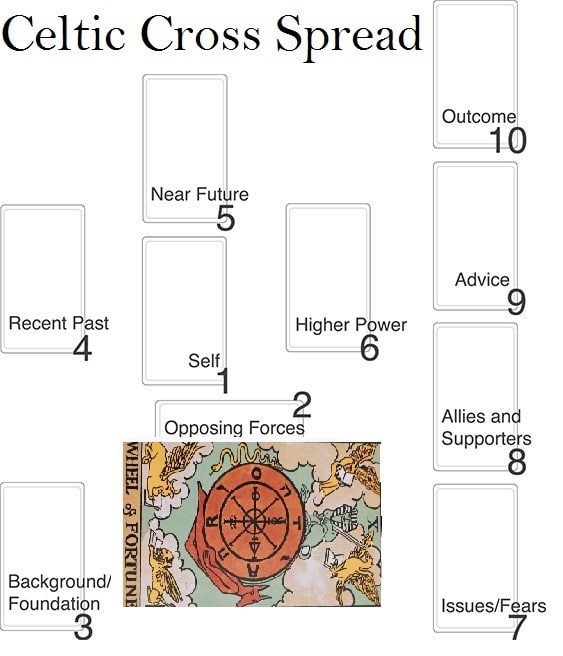 There are also spreads where the tarot cards pulled are placed on vertical as well as horizontal position. If The Wheel of Fortune would sit in a horizontal position, it reminds you that you should take your wheel of life in your hands.
You may be allowing someone else to make decisions for you, like what to wear, where to go, how to behave, what career to choose, where to work, who to associate with, etc. If you don't like what someone else is imposing on you, or if you are just letting things roll, you should wake up and take the wheel on your own hands. You know for yourself what you like and what works best for you, so if you don't live your life how you want it, no one is going to live it for you. If you feel you are falling apart, that is because you are not doing what fulfills you. You have to impose your own terms upon your life.
The Wheel of Fortune – One card pull [Yes or No]

A One Card Reading is usually done when you need a fast, straight to the point answer, you wish not to see the future events, or the past events, you just need a specific answer on the question, for a present situation that is bothering you. You shuffle the cards, then choose only One Card, or you read the One Card that falls out while you are shuffling. Whichever method you use to pull the card, listed below are some of the questions and answers you may get when you pull The Wheel of Fortune.
Yes or No Answer
Upright Position: If you pull the card in an upright position, it means Yes.
Reversed Position: If you pull the card in a reverse position, it means No.
For a Yes or No answer, The Wheel of Fortune represents Yes.
The Wheel of Fortune – Love and Relationships

The Wheel of Fortune can indicate two different situations depending on your relationship status. As it signifies change and destiny, this means that whatever you are doing right now, will change. If you are unhappy in your relationship, not spending quality time with your partner, arguing all the time, etc, but you want to make things better, then The Wheel of Fortune indicates that these situation will change for the better and you both will find a common language and how to work with each other.
If on the other hand, you are willing to break up with your partner but you are not doing so yet, then this card indicates that the change you have been seeking is here.
How someone sees you or feels about you?
The answer would be they see you as someone who likes to always be in control of their life and what they get out of a situation. This may not be very positive for your partner because it may also make them feel like you control their life too, the relationship and the family. If any changes take place it is you who decide so. They may feel like their opinion is not valid.
Just starting dating?
If you have starting dating this new person, they see you as someone who may be their destiny, their soulmate. In fact, when single, The Wheel of Fortune indicates that you may meet someone who is destined for you, so if you are dating this one person, then that will change to a relationship and even a bigger commitment later on.
What not to do?
In terms of what not to do, it would advise you to not be the one always in charge. Sometimes you have to let the other person take the decisions, even simple ones like where you are going to eat, or where you are going for vacations, etc. It also remind you to talk with your partner about your relationship, what you want or need out of it, and where you see it going.
Reverse Position (Love and Relationships)
If you pull The Wheel of Fortune, reversed, it may indicate that you feel stuck in your relationship, or your relationship is not moving at the speed you want it to. It may also be that you feel this way, because you tend to jump to conclusions way too soon. If it feels like your relationship is stagnant right now, it may not be because it won't evolve to something more, but it can indicate a passing phase before you and your partner decide for a commitment, marriage, or children.
The Wheel of Fortune – Finance, Business and Career

In business and career, The Wheel of Fortune card may indicate that if you wanted a change in your job position or changing jobs, now is the time that you will be given the promotion you were seeking or you will have a new opportunity coming your way.
The new opportunity may seem challenging to you, but this is only is because better things are in store for you. These changes are destined to be and you will get the most positive outcome for yourself.
Regarding finances, it also indicates that you will witness positive changes, if you were in debt, you will get out of it, and if you wanted to make more money, you may find the new job paying you more, or you will start to make money from a side hustle.
What not to do?
The Wheel of Fortune would advise you that you should keep your faith up and keep working because things will start to change soon. It also reminds you to make the changes you want yourself and not wait on someone else or outside forces to make it happen for you. You should choose to change careers if you want to, or get out and find another job if you are not feeling satisfied at the current one. You should also be more open to the possibility of change.
Reverse Position (Business and Finance)
In this case, it can indicate that you are experiencing setbacks in your career path. Maybe you are feeling stuck at your job and if you are trying to manifest a better opportunity it seems that it is not working for you. If you have been looking for another business opportunity and not finding one that fits you, you should wait it out, bite your tongue and try to be more patient. Sometimes things need time to change and current setbacks are only temporary. Regarding finances, it may indicate that you have brought the financial issues upon yourself by not being careful on your spending.
The Wheel of Fortune – Timing
When will something happen answer?

If it is a question that involves around the timing of an event and you pull The Wheel of Fortune, it foretells that there is not timing given or you should not know the time, but anyway, this card is a lucky sign that whatever you want will happen.
The Wheel of Fortune – The Message Answer

Sometimes, we don't have a specific question, we just want to know how our day will look like, or how we should approach the day ahead. This reading is usually done in the morning so you form an idea of what that day will bring you.
Upright
The Wheel of Fortune would foretell a day when you may see some unexpected changes or choose to change directions for yourself and you will be met with positive results. You will notice your luck changing for the better.
Reversed
If you pull The Wheel of Fortune in reverse, it indicates a day when you may feel stagnant and bored. No important changes taking place. This day can be very monotonous and boring.
The Wheel of Fortune – Cards Combinations

In a psychic reading there's at least a 6 cards drawing and each tarot card's meaning is interpreted along with the other cards, always bearing in mind the first question upon which the reading is conducted and aims to give answers to. A psychic will see the tarot cards in a symbiotic relationship with one another, never try to read them one by one, but the whole drawing as a whole.
That's why it is important to have a look on how The Wheel of Fortune communicates with the other Tarot Cards. Taking into account there are 78 Tarot Cards in a deck, we will have a look on how The Wheel of Fortune would be interpreted and affect the outcome of the reading in the light of Suits.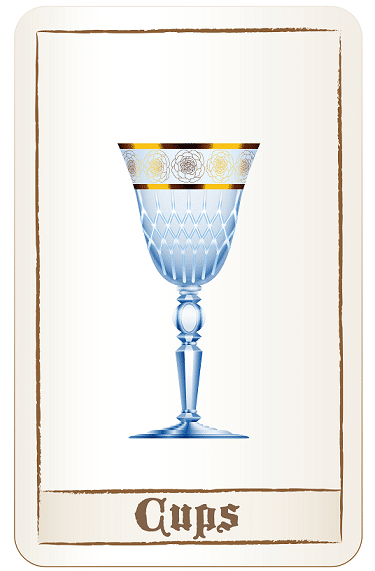 Interaction with the Cup Suits
The Cup Suits represent emotions, feelings, relationships and contract-ships. This is a Suit associated with the Water element. If we were to draw The Wheel of Fortune along with the Cup Suits, this is a spread that indicates you will experience some changes regarding relationships, family or friendships. Depending on what you want out of your relationships with your closed ones, the Wheel of Fortune indicates that you will get the changes you seek. It may also indicate a destined meeting with a suitor.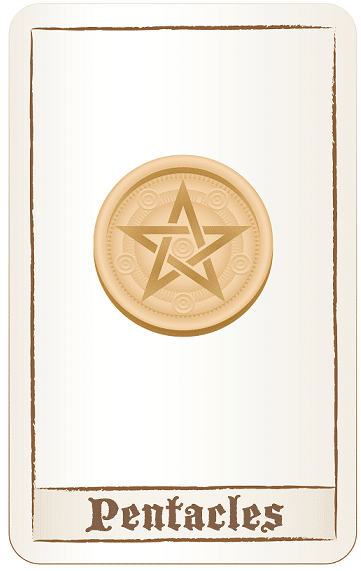 Interaction with the Pentacles Suits
The Wheel of Fortune along with another card of the Pentacles Suit, would foretell positive changes in business and finances. If you have been suffering from low income or no job, this spread indicates that your situation will change for the better. A job opportunity will present itself, and it will be the one you want. If you value the experience more, that's what you're getting, and if you want to make money, that's what you are getting.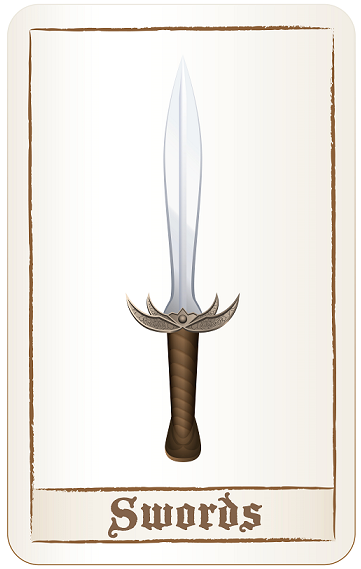 Interaction with the Swords Suits
The Swords Suit along with The Wheel of Fortune is also an interesting drawing. The Swords Suit gets its own share of being a negative suit. This spread would indicate that the setbacks, the heartaches and the sleepless nights you have been experiencing, will soon change direction for better. You will find yourself healing gradually, embracing life, forgetting about the past, and finally being able to move forward. It also indicates that Karma will be served to the ones who wronged you and you will be served your own dish.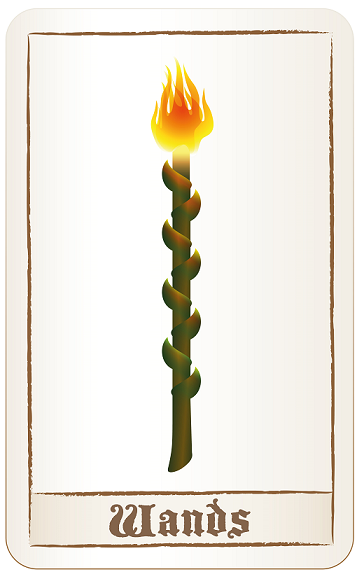 Interaction with the Wands Suits
The Wheel of Fortune and the Wands Suit is a combination that foretells action that is destined. This spread indicates that even if you are not willing to make changes in your life right now, these changes will happen rather you want them or not. Either way, this spread indicates that this is destiny and you are meant to walk the path in order to learn something you need to, to gain the experience you need, or because you deserve to reap the rewards of your hard work.
Overall, The Wheel of Fortune, either by itself or pulled in a tarot card drawing, is a card of destiny, fated events, meeting a soulmate and unexpected changes for the best.