Returning to this ancient energy practice called Water Meditation, we return to a natural state–formless, flowing, powerful, calm, clear, and pure. And coincidentally or not, our natural state happens to reflect the same qualities of this sacred substance itself.
Water appears throughout many spiritual traditions, revered and regarded as holy. It's a core theme of Taoism where water meditation is used as a vehicle to transport us back to our essence.
What is Water Meditation
It is possible that water as a style of meditation is so appealing because deep down we yearn to be more like it. Its effects are so powerful that the mere sight, sound, or touch of it alone is enough to bring us into a peaceful state.
After all, water makes up over half of who we are. The average human adult is made up of about 50-65 percent of it (even more as an infant). The very rock which we sit upon is 71 percent water. There is no question that this fundamental-to-life substance is deeply connected to us all.
Across cultures and religions, the element of water is used as an analogy for the sacred – signifying purity, clarity, and calmness.
In Christianity, water is used in baptism to symbolize purification; a rebirth of a new man/woman in Christ.
As well as purifying, in Islamic culture water is seen as life-giving and sustaining. The act of giving water to another living thing is considered noble and greatly rewarded.
In the Shinto religions of Japan, water is used for purification rituals; such as standing under cold waterfalls in the forest. Shinto practitioners view water as a symbol for the flow of life.
Hindus and other religions of India view water in a similar light. In these cultures, it's seen as a method for purification and the washing away of sin, with the devout flocking to holy rivers en masse to bathe.
Water is an occurring theme in Zen Buddhism, possibly because of its close ties to Taoism. Zen's founder, Dogen, was known to treat water as precious; making sure to never waste a drop and often using it as a metaphor in his teachings.
Water is most easily associated with and famously attributed to philosophical Taoism; an ancient Chinese tradition that can be traced back over 2,500 years to its founder Lao Tzu and his book the "Tao Te Ching".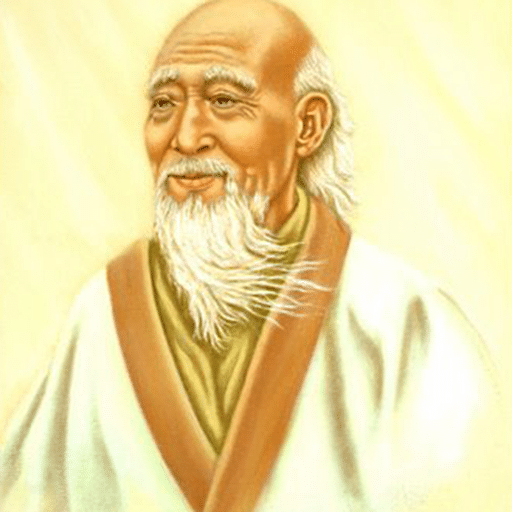 But rather than focusing on the actual substance of water, in Taoism, it's primarily used as an analogy – dissolving what blocks it, flowing, taking shape to, and becoming one with whatever it touches.
Water as "The Way" (or "The Tao") can be summed up by Bruce Lee, who was deeply inspired by the teachings of Taoism when he was famously quoted as saying:
"Be like water making its way through cracks. Do not be assertive, but adjust to the object, and you shall find a way around or through it. If nothing within you stays rigid, outward things will disclose themselves.
Empty your mind, be formless. Shapeless, like water. If you put water into a cup, it becomes the cup. You put water into a bottle and it becomes the bottle. You put it in a teapot, it becomes the teapot. Now, water can flow or it can crash. Be water, my friend."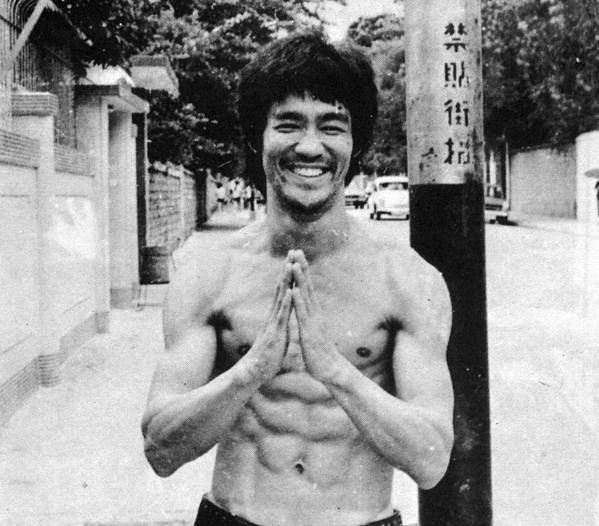 How Does The Water Meditation Work?
In the Taoist Watercourse Way, water meditation is done by stilling the mind and becoming internally aware. It's an energy-based meditation which uses awareness to wash away what is energetically stuck inside of our bodies. In water meditation we awaken our chi (qi, or life-force energy), allowing it to flow in a healthy manner.
The constriction of chi is responsible for many health problems which weaken our organs and cause pain in our bodies. Through regular practice, we can develop optimal health.
The sweetness of it all may lie in the fact that a water meditation practice is transferable from off of our meditation mats and into our daily lives. This manifests as the ability to flow with what is and to dissolve whatever is placed on our path with relative ease.
Through a regularly maintained Taoist water meditation practice we are able to:
Release traumas (both mental and physical).
Integrate body, mind, and soul.
Calm the mind.
Relieve stress.
Have more energy.
Promote inner mastery.
Clear out ailments in the body.
Relax our nervous system.
Reverse/slow down the aging process.
Open up to life.
Become more adaptable.
Become more productive.
Why Water Meditation?
Practicing water meditation is fairly simple. Much like other meditations, the water method helps with improving focus, concentration, and fostering healthy mental states. A bonus of water meditation is that it also connects us to our body and the life-force energy inside of it. Compared to other meditations; the water method leaves us feeling healthier, more revitalized, and full of energy.
How To Learn The Water Method?
In the current age of technology, meditation has been made accessible to the masses through a variety of outlets such as videos, apps, online guides and courses, forums, social media, and other material.
Our reach is longer than ever, where at one point in time we had to be devoted and fortunate enough to break away from our daily lives to search for masters to teach us. Now, such masters are only a Google search away.
One could possibly learn the water method of the Taoist Watercourse Way by traveling to the remote regions of China to practice under teachers from traditional lineages.
While some Westerners have done this, I assume that it is out of the realm of possibility for most of us. Fortunately, those Westerners who have made the trek, tend to come back home as initiated lineage holders – teaching these ancient practices to the rest of us.
While it's easy to throw a rock and hit a yoga studio or to be aware of what Buddhist meditation groups are currently present in our city or town, finding a place or person who offers classic Chinese spiritual practices may seem at first glance difficult and a bit off the beaten path.
To locate someone who teaches the water method one could ask around or become pleasantly surprised by running an internet search for local Qi Gong teachers.
Qi Gong is a holistic system of practices rooted in ancient Chinese medicine that teaches movement, breathing, and meditation to cultivate and balance qi (or chi, life-force, inner-energy). Qi Gong instructors are known to offer water meditations, by class and by appointment.
Here's a great Qi Gong course on Udemy.
If the above is not an option for you, or if you are more of a solitary spiritual seeker, there are plenty of books on the subject as well. Below I have listed 4 key books that serve both the beginner and the continuing practitioner alike.
The Great Stillness, A Water Method of Taoist Meditation Series Volume 2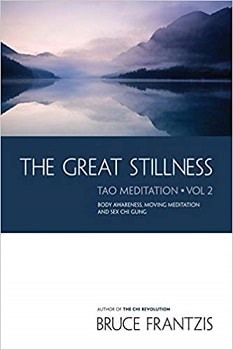 "The Great Stillness, A Water Method of Taoist Meditation Series Volume 2" is the most comprehensive and detailed book on the water method of its kind. It's author, BK Frantzis, has written several other books on Taoism and Chinese energy practices – also having intensively studied in a variety of meditative and contemplative spiritual traditions.
Number Two of The Great Stillness series is the volume which details the self-dissolving water meditation process that we're discussing here – as well as covering other meditations, both seated and moving.
The Great Stillness series is the perfect gateway into a water meditation practice.
Opening the Energy Gates of Your Body: Qigong for Lifelong Health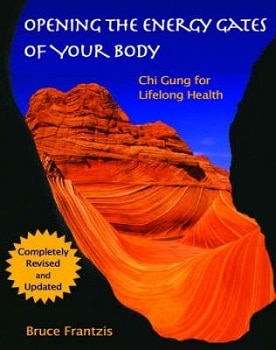 "Opening the Energy Gates of Your Body: Qigong for Lifelong Health" is another classic text by BK Frantzis, who is often revered as the West's greatest Tao master.
BK's book guides the reader through more meditation practices and touches upon the science of chi and how it operates in the body in greater length and depth. This book reads a lot drier and heady than The Great Stillness.
It's a slow-read that takes time to understand and to adopt its practices, while worth the effort.
Tao: The Watercourse Way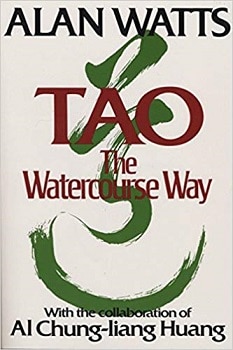 Alan Watts may no longer be with us, but his works remain to be considered the gold standard as far as the interpretation of Eastern thought to a Western audience goes. Not only are the Asian languages difficult to translate to English, but the explanation of their worldviews are also tough tasks as well. To this day I believe Eastern religions to be largely, and sadly, misunderstood by most.
This is especially true with Taoism, which may make no sense to the average Westerner; going against our hyper-rational minds and our individualistic-get-things-done-with-sheer-force conditioning.
Taoism in itself is complex enough without having to translate it. This can make the tradition difficult to navigate.
Alan is informative and entertaining in what would become his last book published. "Tao: The Watercourse Way" is a mixture of translation, personal interpretation, and historical information.
The only downside is that it doesn't offer any practices; rather, it is purely philosophical.
"Tao Te Ching"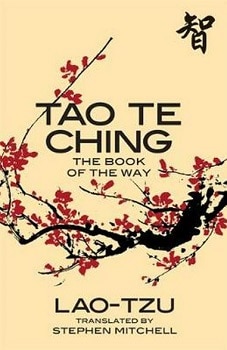 Much about this book has been widely debated over the years; when and how it was written, and who or what (or if) the author was. Be that as it may, it's widely accepted that this classic text–which serves as the backbone for Taoist thought and religion–was written in 6 BC by Confucius predecessor, Lao Tzu.
The Tao Te Ching is the bible of Taoism. It's the basis of the thought and the inception of the Watercourse Way. It's been likened by translators to be the "great puzzle" of our time and depending on which translated version we have its ease of digestion varies.
While the Tao Te Ching is a must-have for any water meditation practitioner, the reason above is why I recommend Alan Watts "Tao: The Watercourse Way" as a comprehensible starting point into Taoist insight and philosophy.
How to do a Water Meditation?
Here's a free water meditation script for everyone.
To practice water meditation we can either sit or stand; preferably in a quiet, comfortable place.
We begin by closing our eyes. Now, we take a few moments to clear our minds and connect with our breath. Differing from other forms of meditation, in water meditation, we want to breathe from our lower belly. In Taoism and Qi Gong, this region is referred to as the "lower dantian".
Next, we place our awareness at the top of our head, at the crown; becoming familiar with what we feel, or sense, with our awareness.
Again, as a friendly reminder, it's important that we explore our bodies with our awareness and not with our logical, rational minds. In other words, don't "think" about it, but "sense" it.
From the top of our head, we move to our forehead, eyes, ears, nose, back of head, jaw, tongue, mouth, neck, throat, shoulders.
We feel the sensations, thoughts, qualities, emotions, states. We become aware of our internal life.
As we move down our entire bodies we sense our stress tension blockages and wash them away with our awareness. Pushing anything blocking us from the top on down.
We move to our armpits, chest, upper back, upper arms, ribs, elbows, lungs, lower belly, lower back.
We release the tension, washing it away with awareness.
We move to our hips, pelvis, our hands, upper legs, thighs, hamstrings, fingers, knees, shins, calves, ankles, feet, toes.
It is important that we do this with ease. In water meditation, we act like water: flowing without struggle; soft, allowing, while not getting stuck to anything.
Lastly, we open up our eyes slowly.
Before getting up and moving on we want to take a few moments to become reacquainted with our surroundings.
After our first attempt, if we feel that we weren't able to go deep enough inside of ourselves, it's OK. With a regular and repetitive water meditation practice, we're able to penetrate deeper layers with each sitting.
Just keep at it.
Final Thoughts
Taoism has always been one of the lesser-known paths of Eastern spirituality while being one of the richest in philosophy and fruitful of practices. It has undoubtedly inspired and left its mark on "Eastern thought" as a whole.
At one time the Watercourse Way was seemingly esoteric, nowadays it's more present to us than ever. It is my sincere hope that seekers who read this delve more into the philosophies of Lao Tzu and the Tao – as well as the practices of water meditation, to at the very least adopt aspects of them into our daily routines.