So what are the gamma brain waves benefits? What's special about them? Let me show you.
Gamma brain waves are the highest-frequency brain waves known — for now. While brain waves were first detected and studied in the early 20th century, it wasn't until the late 1980s that gamma brain waves were discovered.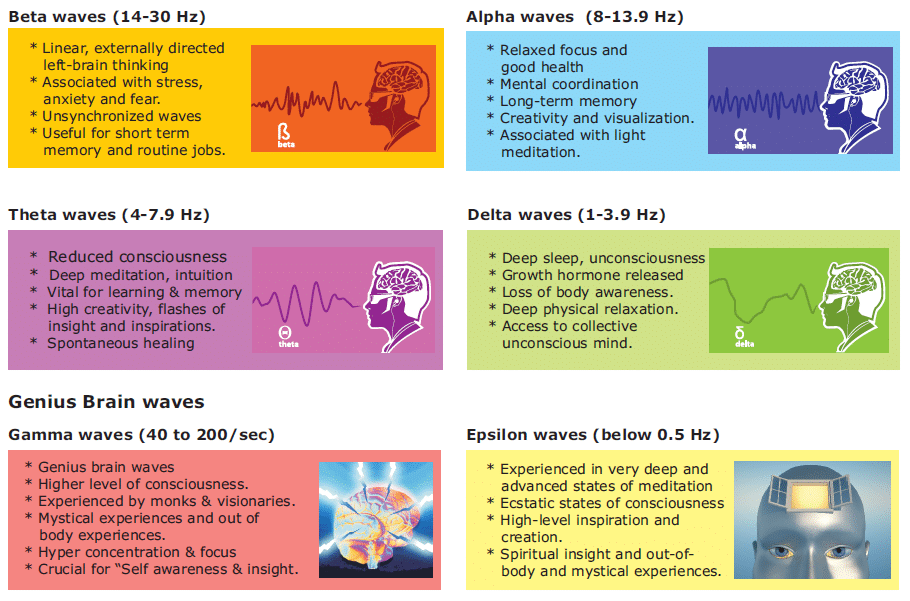 High-frequency brain waves like beta waves are typically associated with highly alert states. Too much beta wave activity is associated with feelings of stress and anxiety. So it would stand to reason that even higher frequency brain waves — between 25-100hz — would produce more anxiety, surely?
Surprisingly, no. In fact, gamma brain waves are associated with creativity and complex communication between various parts of the brain. The frequency of the waves are high, but their amplitude is low, like an excited whisper.
Here's how Gamma Waves sound:
[embedyt] https://www.youtube.com/watch?v=clwVxrQ3vFo[/embedyt]
7 Fascinating Gamma Brain Waves Benefits
Improved memory
People with high gamma brain wave activity are known to have a vivid memory and better memory recall.
Improved sensory perception
Gamma brain waves are produced when multiple parts of the brain are active and communicating. High gamma brain wave activity heightens the senses — better taste, sight, hearing, even smell. You perceive reality sharper and clearer than ever before when your brain is alive with gamma wave activity.
Improved focus across multiple tasks
We typically associate sharper focus on a single subject with the slower alpha brain waves. Alpha waves are observed during states of relaxed arousal, like waking up in the morning or just before sleeping. The focus provided by gamma wave activity is more attention to overall sensory input. The ability to recall many distinct things together, rather than sharp clarity on a single thing, is increased.
Improved thinking speeds
The high activity of gamma brain waves makes processing information much easier.
Improved mood
People who display high gamma brain wave activity are generally happier and calmer than those with reduced gamma brain wave activity. Increased gamma brain wave activity functions as an antidepressant; people suffering depression typically have lower gamma activity.
Improved creativity
Gamma activity is associated with REM sleep, dream states, and visualizations. Increased gamma brain wave activity is shown to aid in creative problem solving and design processes.
Improved sense of compassion.
Increased gamma brain wave activity creates a feeling of being "blessed", leading to an increased sense of oneness with one's surroundings.
Increasing Gamma Brain Wave Activity
Meditation has been shown to be able to increase gamma brain wave activity, helping to unlock gamma brain wave benefits.
This is particularly interesting, as meditation is, again, associated with lower-frequency brain waves. Alpha brain waves are particularly active during meditation. Delta brain waves, the lowest frequency, can be achieved through particularly deep meditative states.
But gamma brain waves, with their incredibly high frequencies, can also be stimulated by meditation. The focus and mindfulness achieved in meditation helps all of the areas of the brain connect, increasing sensory perception, creativity, and the ability to visualize as we meditate.
Final Thoughts
Gamma brain wave benefits are many. They open up a whole new state of awareness and consciousness within our minds. We see, hear, touch, and think better with increased gamma brain wave activity. We're more focused, but not on a single thing — on everything, on all of our experiences within a given moment.