I've written about how to increase delta waves — waves associated with deep, restorative sleep — but what about alpha waves? What are their properties and benefits? Is it known how to increase alpha waves?
Brain waves are a kind of measure of activity of neurons within the brain. Sometimes they fire slowly, but strongly — these are delta waves. Sometimes they're incredibly active — the gamma waves. And sometimes they're in the middle — awake, but not terribly alert. Half-asleep, almost. These are the alpha waves, and they're what we often see in the brain during meditation.
[embedyt] https://www.youtube.com/watch?v=GEgSBuYlSoA[/embedyt]
(One of the most popular alpha waves videos on a YouTube.)
Come with me, and I'll answer all of your questions below.
3 Fascinating Benefits of Alpha Brain Waves
So what are the benefits of alpha brain waves?
Alpha brain waves are brain waves with a frequency between 8-13.9Hz. They're typically detected upon waking, or before going to sleep. They're also noticed during meditative states.
Alpha brain waves are associated with:
Increased relaxation. Alpha brain waves are associated with relaxed alertness; not quite awake, not quite asleep, but in a pleasant mid-ground often sought after in meditation.
Decreased mind fog. Increased alpha brain wave activity is shown to help people clear their minds of unwanted thoughts and focused. Alpha brain waves can be stimulated using machines using what's known as biofeedback; by inducing more alpha brain waves in test subjects, researchers found they found focusing much easier.
Increased openness. People with naturally higher alpha brain wave activity are shown to be more outgoing. Extroverts are usually those with high alpha brain wave activity, as opposed to introverts with less alpha brain wave activity.
These are some great benefits — more relaxed, more focused, and more outgoing. So how to increase alpha waves? How can we get these benefits?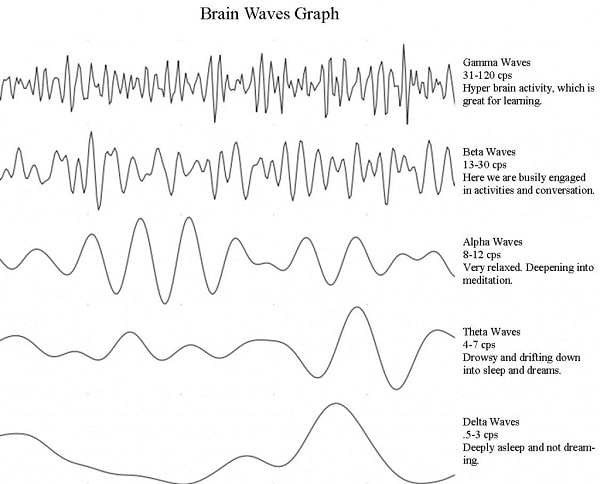 5 Easy but Effective Ways to Increase Alpha Brain Waves
Regular exercises, saunas, massages, yoga, binaural beat programs, and meditation are the most effective ways to effectively increase alpha brain waves in a matter of minutes.
Plain Exercise
With their association for relaxed states, alpha brain waves aren't increased during exercise. Rather, alpha brain wave activity is found to be increased after exercise, resulting in sharper focus.
Saunas and Massages
Saunas and massages are both good ways of relaxing the whole body. This relaxation is reflected in increased alpha brain wave activity during and following these activities.
Yoga
Yoga is found to decrease serum cortisol, which in turn aids in providing increased alpha brain wave activity. Cortisol is a stress hormone which produces many of the negative effects stress causes on the body. By lowering the release of this hormone, the body is more readily able to relax.
Binaural Beats
Binaural beats are musical tones which can interact with, and influence the functioning of, the brain. Binaural beats are created from two sine waves of frequencies lower than 1500hz. Each wave is played into a separate ear, and each wave is offset from the other by up to 40hz. This creates a phantom third tone with a frequency equal to the difference between them.
It's all very complicated, but the end result is that when that binaural beat is in the alpha brain wave frequency range, it actually synchronizes the brain's alpha wave pattern to the music.
Meditation
Mindfulness and meditation have been shown to be the two activities with the clearest connection to alpha waves. Closing your eyes, deepening your breath, and focusing all increase your alpha brain wave activity — and are all vital steps of meditation. Experienced practitioners of meditation can produce even slower — and thus more relaxed and focused — brain waves than alpha.
Final thoughts
Alpha brain waves are released during states of relaxed focus; that in-between state when we just wake up, or are about to fall asleep. Stimulating alpha brain waves can help us feel relaxed and focused, and we can achieve this through binaural beats, exercise, and most powerfully, meditation.