In medieval art, Archangel Gabriel is often depicted as a female angel. She is often seen holding a trumpet, which she blows to bring attention whenever God's word is to be delivered.
Archangel Gabriel is widely regarded as God's communicator in a variety of forms, including poetry, painting, music, verbal speech, emotional expression, and general communication. The ultimate talent she possesses is the ability to relay messages from God.
Her aura is graceful and uplifting. Her thoughts are still upbeat, uplifting, and insightful. She interacts with the goal of development and transformation.
She is faithful to God, passing only the messages necessary for one's advancement in life. You may contact her for assistance in comprehending, receiving, and transmitting messages, especially from the human to the spiritual realms.
What's Archangel Gabriel story?
Gabriel appears to the prophet Daniel, in the Hebrew Bible, to explain her visions, and deliver messages. The archangel is also mentioned in the Book of Enoch and other early Jewish texts. Gabriel, along with Archangel Michael, is portrayed as Israel's guardian angel, protecting its citizens from the angels of other nations.
Gabriel is associated with the Gevurah sephirah in Kabbalah. Gabriel is also a leading figure in Kabbalah literature as one of God's archangels. Gabriel is depicted as a member of God's court, serving alongside Michael. Gabriel is not to be prayed to because only God is capable of answering prayers, and she sends Gabriel to act as her representative.
According to the Jewish legend, there is the tree of life also known as the "Tree of Souls" in the Garden of Eden, that blossoms and creates new souls, which fall into the Treasury of Souls. Then, Gabriel reaches into the treasury and pulls out the first soul she comes across. The Angel of Conception, known as Lailah, looks after the embryo, until the person is born.
What are Archangel Gabriel's powers?
Archangel Gabriel serves as a muse, sending inspirational messages to all on Earth in order to spur development and birth new ideas. With that energy comes a deep trust in one's own ability to complete the objectives and goals. Archangel Gabriel will help with spiritual accessibility and the opportunity to use the simplicity, confidence, and innocence we have as children.
Invoke Archangel Gabriel for assistance with ideas, creative inspiration, and the strength, possibilities, and resources needed to complete projects. The lion's energy, which represents the courage, dedication, and playfulness brought to us by Archangel Gabriel, aids us in achieving our goals while also reminding us to rest when necessary to restore our mind, body, and spirit to full potential.
Some spiritualist will also link Archangel Gabriel with motherly features, depicted as the Archangel that will look after the mother, and the child, and assist during birth. You can also call upon Archangel Gabriel on matters on conception, especially if you have had troubles getting pregnant, or you have a difficult pregnancy.
Archangel Gabriel Powers
| | |
| --- | --- |
| Inspiration | On all forms of art |
| Communication | Finding the right way to project your ideas |
| Courage | Tackle any obstacle |
Signs that Archangel Gabriel is visiting you.
If Archangel Gabriel is near you, or wants to work with you, these are some of the signs that you would see in your daily routine:
A Dream – the most common sign that an archangel would give you, is appearing in a dream. They would guide you in your dream, or just appear as a vision. If you do remember the dream vividly when you wake up, this is a sure sign that they are trying to contact you.
Breadcrumbs sprinkling – this may be a subtle sign, but nonetheless important. You may not figure it out the first time around, but this sign will continue to appear until you understand the message.
Vivid colors or auras – If you happen to see vivid colors in the corner of your eye, or when directly looking at something, you may not have an illness, but you are getting signs that Archangel Gabriel is near you. You may want to distinguish the colors that you see. If Archangel Gabriel is contacting you, you may see golden, or coppery light.
A sensation on your skin – you will be amazed of all the ways the Spirits will contact you. You may feel cold in a warm room, or warm in a cold room. If you suddenly feel warm, especially in the area of your heart chakra it may be very well Archangel Gabriel trying contact you.
How to know if it is a trickster spirit rather than Archangel Gabriel?
When you first start on your spiritual journey, you may not know yet how to protect yourself, or your Spirit Guides have yet to adapt to protecting you on your new journey. This is the time when you are most vulnerable to trickster spirits, even though it happens all the time, to even more advanced spiritual practitioners.
These are the definite signs you are dealing with a trickster spirit:
Feeling a presence when you are in a vulnerable position (grieving someone, fearing abandonment, fighting with your loved ones, anger issues, doubting everything, etc.). A trickster spirit will feed on these emotions, and also fuel them even more.
Trickster spirits are those spirits who appear to be as someone else, trying to get something from you, while making you think you are talking to the Spirit you want to talk. In most cases, trickster spirits are not dangerous, they won't affect your life, but they will play games with your mind. If you are in a vulnerable position,
for example, you are triggered by the loss of a loved one, or you want to know what your partner is doing when they're not with you, it is easier for trickster spirits to come in, and play with you.
You will be asked to offer something to them, straight away. The first thing a trickster spirit will ask of you, is for you to offer something to them. They will usually start with asking for small things like a fruit, or a flower, or a cup of milk, or go for big ones like a dog, a goat, and other animals. They will push you to fulfill their desire, because they will in turn, give you the information you have been seeking. If you are in a vulnerable position, you are desperate for that answer, and they can feel that.
However, any spirit will usually be bound to tell you the truth, but you have to ask the right question. If they claim to be Archangel Gabriel, you shall ask more personal question, like what's her favorite color, what's yours, what's in your heart, what's your tomorrow going to be like, what's Archangel Gabriel going to help with, what prayer should you speak, etc. If you are dealing with a trickster spirit, you will notice that they won't make sense, or they will focus on what they want, rather than the question posed.
Trust your intuition. If you feel the answers from your spirit are tricky, or they don't make sense, it's because a trickster spirit doesn't really know the truth, so they are trying to confuse you with half-answers, or nonsense answers.
A Spirit that holds power, such is Archangel Gabriel, will answer straight away. If they can't provide an answer, they will give you the reason for it. You won't have to try, and decipher what they may be saying, and you won't get answers that don't make sense, or that do not relate to the question at all.
How can you work with her?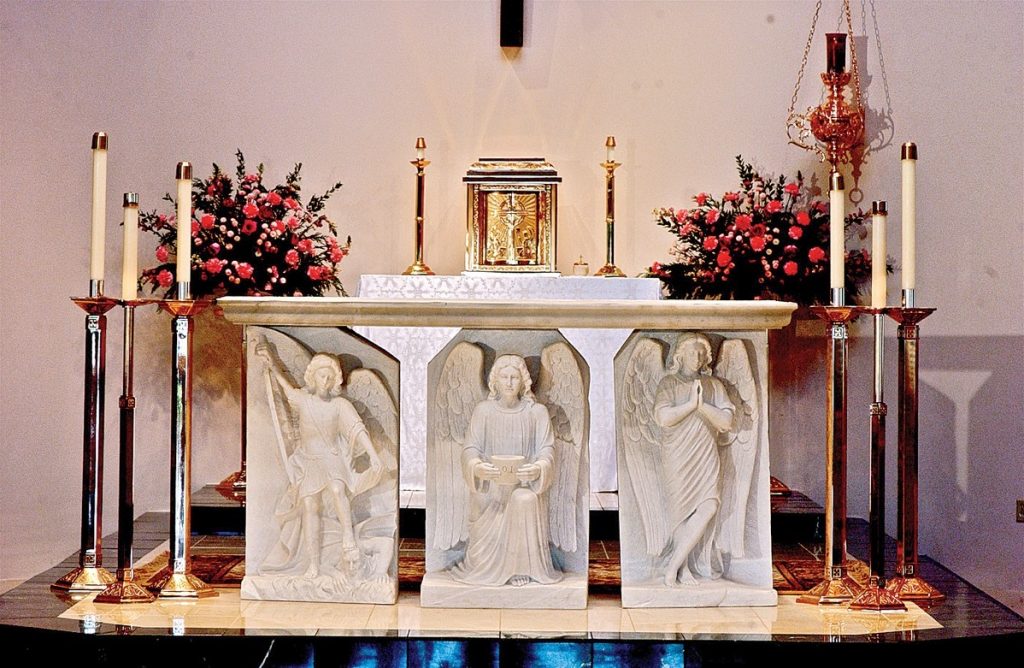 As with any Archangel, if you want to work with them on the long term, you should build an altar for them. Archangel Gabriel's blessed day is Friday, so you would want to start building her altar on Friday. You should approach your spiritual work with Archangel Gabriel following these steps:
Place the Altar. You have to find a high table, that won't be disturbed, and cover it with a white cloth. Then, you have to put a statue of Archangel Gabriel, or a photo of her. You can also use stones with their name, or gifts that represent them. If you can't afford a quality statue, it is just fine if you print a photo of her from the internet. You only have to make sure that the Spirit in the picture is Archangel Gabriel.
Dedicate a candle to her. You may need to get a white candle to light for her, and ideally light it every day. You should set a cup of water on the altar, which you change, and refill every other week. You may also want to put a cross on your altar. This is the basic altar, but if you want, you may share your daily food with your Archangel, or leave flowers on her altar.
Spiritual Work on your Altar. All the spiritual work that you want to invoke the Archangel Gabriel's powers, you should do in front of, or on, the altar. You may write a petition, or light a candle, and pray on what you want to manifest. Your Archangel will hear your wishes, and if it is on your best interest, she will grant it.
What can you work with her on?
Archangel Gabriel represents communication, and delivering messages. You may want to work with her whenever you need a little help with expressing your thoughts clearly, so you don't create any misunderstandings. She can also assist when you are confused about your feelings, or you don't know what's true or not, so Archangel Gabriel can help your clarify your position, and your feelings.
You may also ask her to give you the strength to achieve your goals or just get through the day. Archangel Gabriel is said to have a high willpower, which she needs on a regular basis to defend the human realm. You may want to adopt the same determination to accomplish your own tasks or realize your dreams.
Another spiritual work you can do with Archangel Gabriel is working on fertility matters, or motherhood problems. It doesn't necessarily mean that you have to be a woman to work with Archangel Gabriel on these issues, because the motherly nature of her, reflects the mother energy. This means that you can work with her on protecting your children, or to assist you in embracing the female energy, to take care after your children. You can also invoke the Archangel Gabriel when you have fertility issues, or you can't get pregnant.
You can work with her on healing, for all aspects of your life. Archangel Gabriel will help you to heal past traumas, release negative energy trapped in your body, and revive your own energy.
Prayer for Archangel Gabriel
You can pray at the church, or you can light a candle and say your prayer to Archangel Gabriel, asking of her what you need in your life. You don't necessarily need an altar for her, even though it is advised to build an altar for the Archangel if you wish to work with her every now and then.
The prayer for Archangel Gabriel:
"Blessed Saint Gabriel, Archangel, we beseech you to intercede for us at the throne of divine mercy. As you announced the mystery of the Incarnation to Mary, so through your prayers may we receive strength of faith and courage of spirit, and thus find favor with God and redemption through Christ Our Lord. May we sing the praise of God our Savior with the angels and saints in heaven forever and ever. Amen. Archangel St. Gabriel, pray for us!"
If you want to pray on a wish of yours, you need to light a candle for Archangel Gabriel, and this is the candle that will represent her, and the light that will guide her to come to you. If you pray at a church, you don't need a candle for her.
Other than the candle that represents Gabriel, you will need to light another candle that represents your prayer, or desire.
Healing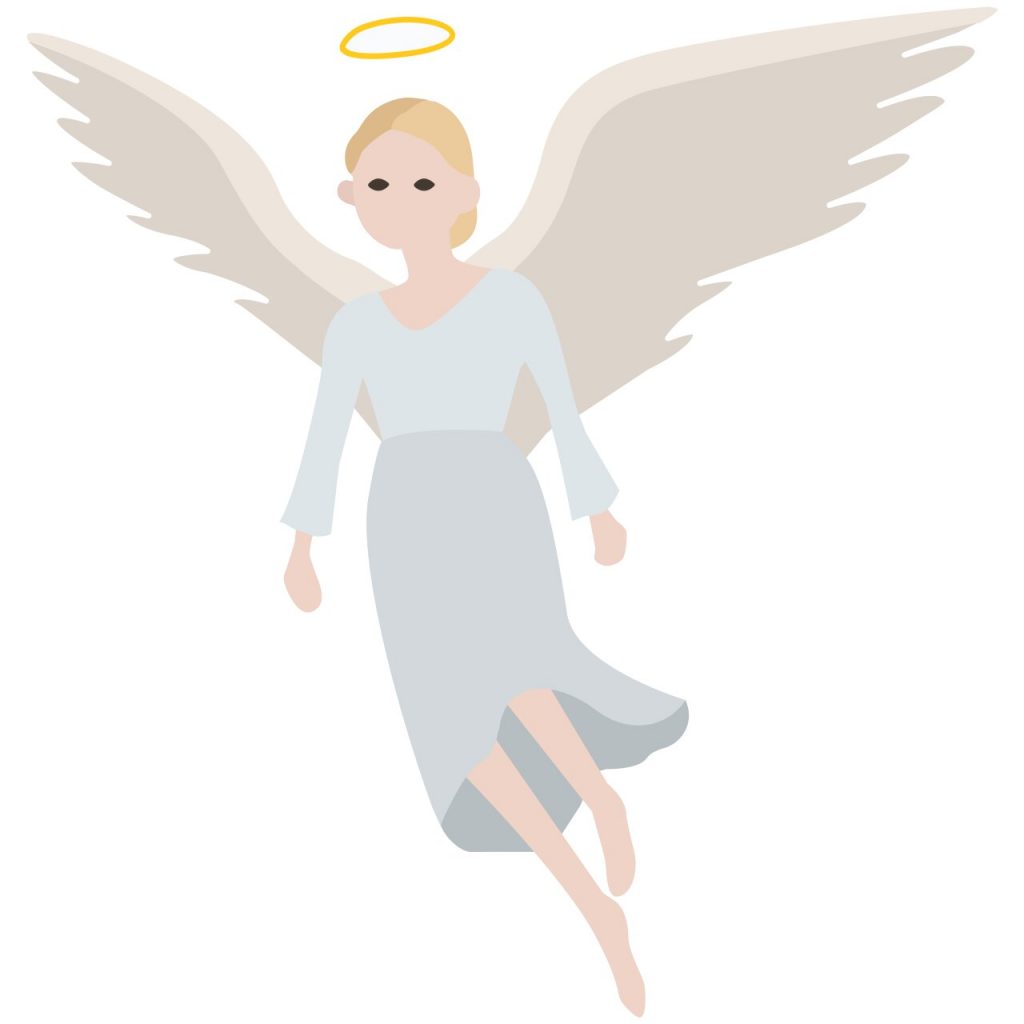 When you are in need for healing, either for yourself, or somebody else, you can pray to Archangel Gabriel to allow you to heal yourself or others, or for her, to use her healing powers for you. You may speak a prayer like:
"Archangel Gabriel, hear my prayers, guide me through the struggles of daily life and help me develop my intuition, and trust my feelings. My heart may heal, and I may live in harmony, and spread the love that I have within, to all who I meet on my path. Mighty Gabriel, bless me. Amen."
You may light a blue candle, or a green one, which represent healing, cleansing, and grounding. You want to nurture yourself, and bring life back to something that was touched by a disease. If you don't have these colors, a white candle is just fine.
Finances

If you are in need for help regarding your financial situation, or to open your path to the career that you want to follow, you can pray to Archangel Gabriel, using the following prayer:
"St. Gabriel, I surrender to the Christ consciousness light of abundance, which contains all goodness. Assist me in completely connecting to the purest Divine light so that I can understand my abundant and prosperous existence. Terminate any agreements with darker energies or people in my physical life that aren't working for my highest and best interests. Take away all that is preventing me from gaining true prosperity from source light energy. Help me to see how deserving I am of all the blessings, love, light, and protection that God has in store for me. Thank you. Amen."
You may light a green, or yellow candle, because these colors represent abundance, wealth, and joy. If you don't have them handy, you may always light a white candle. Make sure to have a separate candle lit for the Archangel Gabriel.
Love

If you have been having a hard time finding love, or you can't seem to get along with your partner, you may ask upon Archangel Gabriel to settle the situation between you and your partner, and bring true love your way.
You will need to light a pink, or red candle, to represent your wish for love, and speak this prayer:
"Great and strong Archangel Gabriel, I ask you to grace me with your love and protection during my day. Please stick by my side and guide my actions and words to come from a place of love. Please cleanse my vibrations and energies of all negative beliefs and emotions. Help me to feel completely and fully the warmth, love, and happiness that exists in every minute, and guide me to my highest good. Amen."
What to be cautious about?
You may think that Archangels are Angels of light, and they intent to help you become your best self, and manifest your best dreams. This is true. However, what you may fail to realize, is that Archangels do not take into account what you may lose along the way.
For example, you may ask to settle a situation between you and your partner, but after you pray to the Archangel, you and your partner break up. Your prayer was answered, even though it may not have been what you meant. Or another example would be, if you ask for a larger amount of money to come your way, and then your grandparents die, and you inherit their legacy. Your desire was answered, but not in the way that you wished it to be.
Therefore, you have to be cautious what you wish for. If you want more money, you should always make it clear that you don't want anybody to get hurt, or you may name the exact sources that you want your money to come from (business, job promotion, etc.).
On another note, you should always be careful not to make promises that you can't keep, or that you don't intend to keep. These are the promises that you don't fulfill, after your desire has been granted, and it is as simple as bringing them flowers, or offering food everyday for a week. These may also be promises like you will stop smoking, or drinking, if they grant you the promise. If you fail to uphold any promise that you make them, at the best, the Archangel won't work with you anymore, and at the worst, they will take whatever they granted you, and more.