Archangel Jophiel is believed to have feminine traits, and to be one of the most beautiful angels. The Archangel Jophiel is often portrayed wielding the "Sword of Wisdom," a blazing sword. Some representations show Jophiel protecting the Tree of Life with the Flaming Sword of Wisdom.
When we are at our most vulnerable, Jophiel comes to our aid. She gives us beauty and instills it in our hearts, never dwelling on our physical appearance. She encourages people to look deep inside themselves, giving us the courage to experience and convey beauty from the heart. She can also assist us in appreciating and being thankful for what we have by assisting us in seeing the beauty in others and our surroundings.
Her aura is welcoming, humid, and elegant. To raise your self-esteem, she speaks quietly and just says short sentences. She is always reminding people of who they are on the inside and what they can become if they choose to be optimistic. If you want to grow your soul in a better way, you can contact her.
What's Archangel Jophiel story?
Another name for Jophiel is Dina, according to the pseudepigraphal Revelation of Moses. Jophiel/Dina is portrayed as a seventh-heaven angel, a Cabalistic guardian of the Torah (and wisdom itself) who taught 70 languages to souls at the beginning of time. She is described in the Zohar as a Great Angel Chief in charge of 53 legions who supervise Sabbath Torah readings. Jophiel is believed to be the Archangel Metatron's companion.
Jophiel is regarded as an archangel in the Anglican and Episcopal faiths. In iconography, she is often portrayed wielding a blazing sword. Jophiel is believed to have been the Angel who banished Adam and Eve from Heaven.
What are Archangel Jophiel's powers?
Jophiel's power to break through the delusions of your thoughts by illuminating the real essence of your spiritual self is symbolized by the blazing blade she holds. Jophiel uses her sword to combat misunderstandings that lead to ignorance. If you need help interpreting a complicated situation, personal dynamic, or conceptual idea in your life, you can reach out to Jophiel.
Jophiel, the Archangel of Elegance, will assist you with a number of issues. She accomplishes this in a number of ways, one of which is transformation. Connecting with Jophiel is a fantastic way to transform negative feelings and emotions into optimistic, constructive ones. Since thoughts become acts, replacing negative thoughts with positive ones is the first step in turning the struggle into something radiant.
Archangel Jophiel Powers
| | |
| --- | --- |
| Breakthrough | Break through illusions, learn the truth |
| Free will | Sharing the wisdom, and teaching the power of free will |
| Inspiration | Creativity, inspiration, motivation, ideas |
| Transformation | Raising your vibration, and changing personal beliefs to positive, powerful ones |
Signs that Archangel Jophiel is visiting you.
Archangels may give you specific signs to let you know that they want to work with you. They may also give signs that they are near, protecting you, and opening your roads.
If Archangel Jophiel is near you, or wants to work with you, these are some of the signs that you would see in your daily routine:
A Dream – the most common sign that an archangel would give you, is appearing in a dream. They would guide you in your dream, or just appear as a vision. If you do remember the dream vividly when you wake up, this is a sure sign that they are trying to contact you.
Vivid colors in the corner of your eye, or auras of light – If you happen to see vivid colors in the corner of your eye, or when directly looking at something, you may not have an illness, but you are getting signs that Archangel Jophiel is near you. You may want to distinguish the colors that you see. If Archangel Jophiel is contacting you, you may see yellow, or golden lights.
A sensation on your skin – you will be amazed of all the ways the Spirits will contact you. You may feel cold in a warm room, or warm in a cold room. If you suddenly feel warm, it may be very well Archangel Jophiel trying contact you.
A swift change of thoughts – if you notice that your thought pattern changes from negative to positive thoughts without you even putting the intent to do so, it may be a sign that Archangel Jophiel wants to help you, and work with you.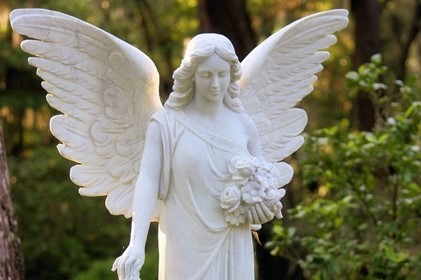 How to know if it is a trickster spirit rather than Archangel Jophiel?
When you first start on your spiritual journey, you may not know yet how to protect yourself, or your Spirit Guides have yet to adapt to protecting you on your new journey. This is the time when you are most vulnerable to trickster spirits, even though it happens all the time, to even more advanced spiritual practitioners.
These are the definite signs you are dealing with a trickster spirit:
Feeling a presence when you are in a vulnerable position (grieving someone, fearing abandonment, fighting with your loved ones, anger issues, doubting everything, etc.). A trickster spirit will feed on these emotions, and also fuel them even more.
Trickster spirits are those spirits who appear to be as someone else, trying to get something from you, while making you think you are talking to the Spirit you want to talk. In most cases, trickster spirits are not dangerous, they won't affect your life, but they will play games with your mind. If you are in a vulnerable position,
for example, you are triggered by the loss of a loved one, or you want to know what your partner is doing when they're not with you, it is easier for trickster spirits to come in, and play with you.
You will be asked to offer something to them, straight away. The first thing a trickster spirit will ask of you, is for you to offer something to them. They will usually start with asking for small things like a fruit, or a flower, or a cup of milk, or go for big ones like a dog, a goat, and other animals. They will push you to fulfill their desire, because they will in turn, give you the information you have been seeking. If you are in a vulnerable position, you are desperate for that answer, and they can feel that.
However, any spirit will usually be bound to tell you the truth, but you have to ask the right question. If they claim to be Archangel Jophiel, you shall ask more personal question, like what's her favorite color, what's yours, what's in your heart, what's your tomorrow going to be like, what's Archangel Jophiel going to help with, what prayer should you speak, etc. If you are dealing with a trickster spirit, you will notice that they won't make sense, or they will focus on what they want, rather than the question posed
Trust your intuition. If you feel the answers from your spirit are tricky, or they don't make sense, it's because a trickster spirit doesn't really know the truth, so they are trying to confuse you with half-answers, or nonsense answers.
A Spirit that holds power, such is Archangel Jophiel, will answer straight away. If they can't provide an answer, they will give you the reason for it. You won't have to try, and decipher what they may be saying, and you won't get answers that don't make sense, or that do not relate to the question at all.
How can you work with her?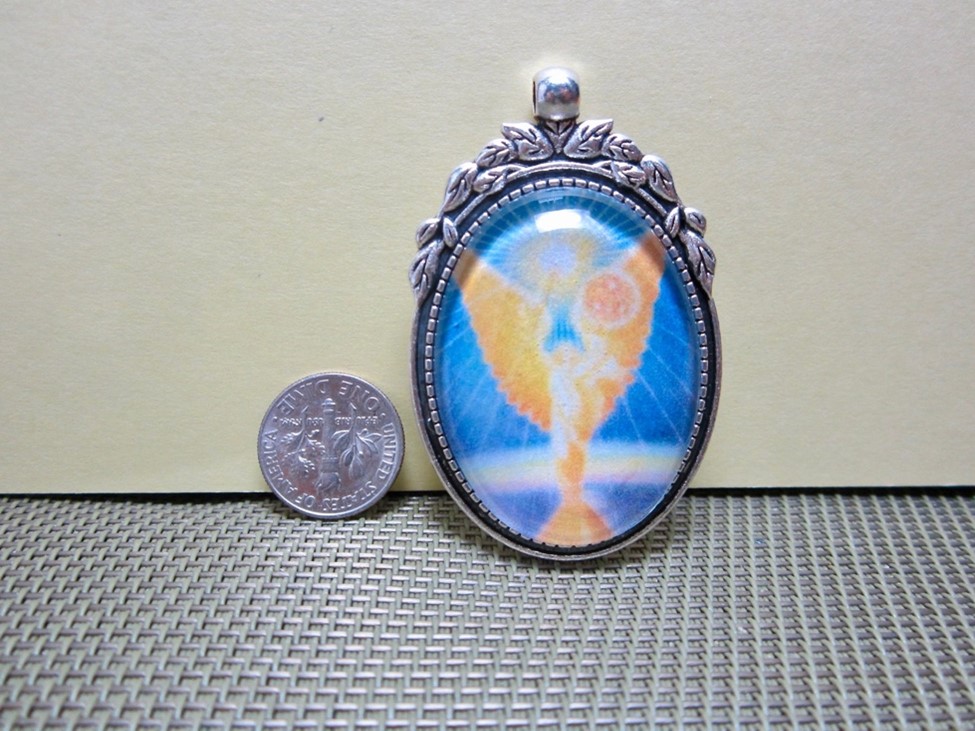 As with any Archangel, if you want to work with them on the long term, you should build an altar for them. Archangel Jophiel's blessed day is Sunday, so you should build her altar on a Sunday. You should approach your spiritual work with Archangel Jophiel following these steps:
Place the Altar. You have to find a high table, that won't be disturbed, and cover it with a white cloth. Then, you have to put a statue of Archangel Jophiel, or a photo of her. If you can't afford a quality statue, or photo, it is just fine if you print a photo of her from the internet. You only have to make sure that the Spirit in the picture is Archangel Jophiel.
Dedicate a candle to her. You may need to get a yellow candle to light for her, and ideally light it every day. You should set a cup of water on the altar, which you change, and refill every other week. You may also want to put a cross on your altar. This is the basic altar, but if you want, you may share your daily food with your Archangel, or leave flowers on her altar.
Spiritual Work on your Altar. All the spiritual work that you want to invoke the Archangel Jophiel's powers, you should do in front of, or on, the altar. You may write a petition, or light a candle, and pray on what you want to manifest. Your Archangel will hear your wishes, and if it is on your best interest, she will grant it.
What can you work with her on?
Jophiel will assist you in manifesting joy and happiness in your life, as well as blessing all of your artistic endeavors. Make sure you're not asking Archangel Jophiel for assistance in a situation that you can manage on your own.
Archangel Jophiel, as a high vibrational ascendant spirit, works at the pace of our thoughts to lift our individual vibration to the level required for artistic and spiritual enlightenment. Archangel Jophiel is credited for assisting in the healing of negative thoughts and tumultuous circumstances. Her lovely and calm mind will help us organize our homes and workspaces by bringing us peaceful thoughts.
Jophiel can assist anyone who seeks her assistance in absorbing knowledge, bringing order and serenity to their minds, and providing creative and intellectual encouragement to complete artistic projects. On a spiritual level, we can strengthen our bond with our higher self and communicate with our Spirit Guides and angels who can assist us in our spiritual growth with Jophiel's support.
Jophiel can assist us in achieving professional success, especially if we work in an artistic field such as the beauty industry or any other creative occupation.
Prayer for Archangel Jophiel
You can pray at the church, or you can light a candle and say your prayer to Archangel Jophiel, asking of her what you need in your life. You don't necessarily need an altar for her, even though it is advised to build an altar for the Archangel if you wish to work with her every now and then.
The prayer for Archangel Jophiel:
"Archangel Jophiel! I thank God for making you such a blessing to people who seek beauty in their lives, Jophiel, angel of beauty. Please assist me in seeing and appreciating how our Creator's beauty is embodied in every aspect of life, including myself. Help me to see myself as God sees me—as someone whose body, mind, and spirit are all absolutely beautiful because they represent God's work in making me and loving me unconditionally. Empower me to react appropriately to the daily onslaught of messages from society telling me that I'm not beautiful enough. Remind me that I am beautiful whenever I come across one of those messages (from ads to social media posts). Help me to concentrate my mind on what God says about me rather than what other people think about me. Amen."
If you want to pray on a wish of yours, you need to light a candle for Archangel Jophiel, and this is the candle that will represent her, and the light that will guide her to come to you. If you pray at a church, you don't need a candle for her. Other than the candle that represents Jophiel, you will need to light another candle that represents your prayer, or desire.
Healing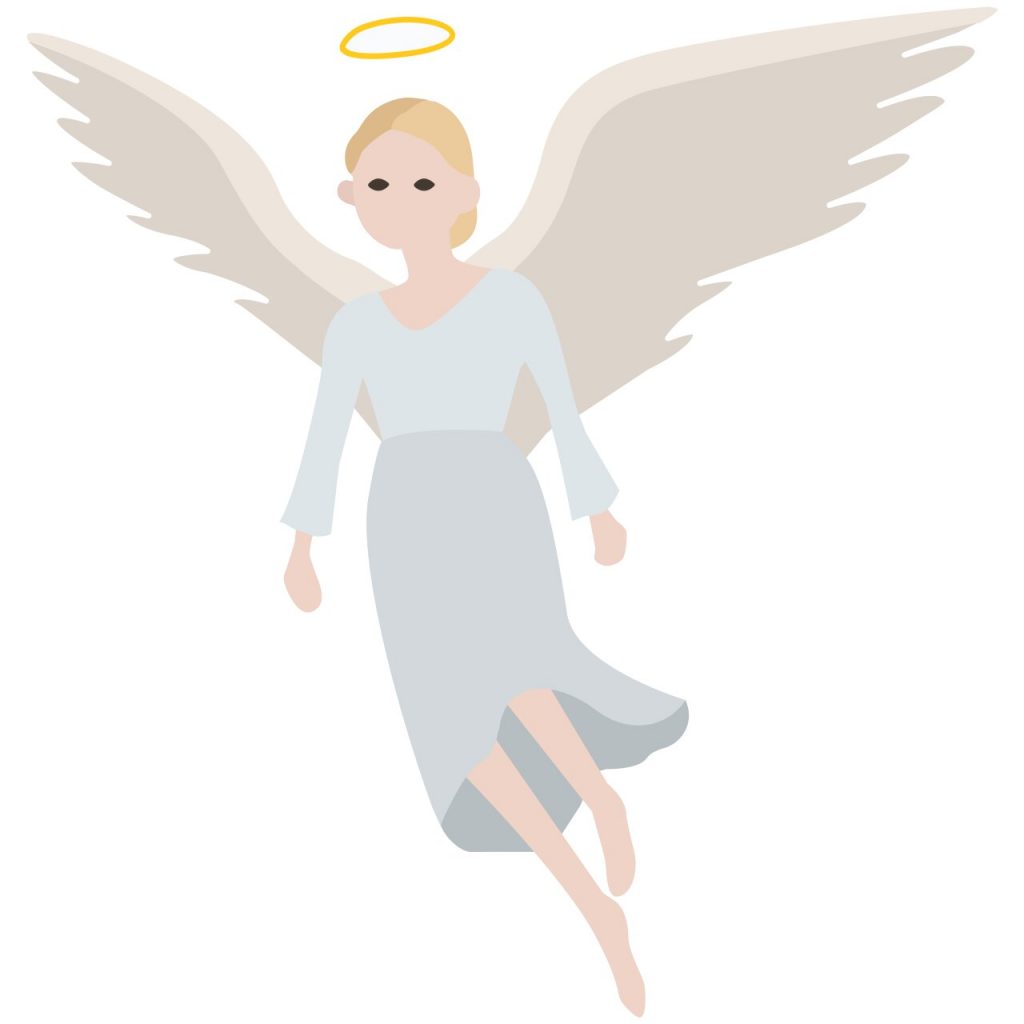 When you are in need for healing, either for yourself, or somebody else, you can pray to Archangel Jophiel to allow you to heal yourself or others, or for her, to use her healing powers for you. You may speak a prayer :
"Please, Archangel Jophiel, give me the strength I need to keep my mental attention on God's healthy and optimistic ideals rather than on ugly thoughts. Teach me to question the thoughts that invade my mind so that I can learn to identify which ones are truly valid, focus on them, and let the rest go. Empower me to change negative thought habits that fuel addictions that God wants me to overcome. Help me focus, learn, and grasp what's most important when my mind is bombarded with knowledge every day. Allow me to learn something new that God wants me to know on a regular basis. Give me new innovative ideas for solving problems, working on projects, and sharing my thoughts and feelings in ways that make me and everyone around me happy every day. Amen."
You may light a blue candle, or a green one, because these colors stand for healing, cleansing, and grounding. You want to nourish yourself, and bring life back to something that was touched by a disease. If you don't have these colors, a white candle is just fine.
Finances

If you are in need for help regarding your financial situation, or to open your path to the career that you want to follow, you can pray to Archangel Jophiel, using the following prayer:
"Great Archangel Jophiel, , assist me in letting go of the doubts that prevent me from receiving your gifts. Please assist me in experiencing feelings of happiness, appreciation, and financial stability, as well as knowing that I have been blessed abundantly. I now keep an open mind to divine guidance, which leads me to circumstances, people, and opportunities that are conducive to my financial well-being. My heart overflows with appreciation and joy at the abundance you make, and I now see and feel myself and everyone else as truly financially comfortable. Amen."
You may light a green, or yellow candle, because these colors represent abundance, wealth, and joy. If you don't have them handy, you may always light a white candle. Make sure to have a separate candle lit for the Archangel Jophiel.
Love

If you have been having a hard time finding love, or you can't seem to get along with your partner, you may ask upon Archangel Jophiel to settle the situation between you and your partner, and bring true love your way.
You will need to light a pink, or red candle, to represent your wish for love, and speak this prayer:
"I am everything I am, in the name of the Divine. Be gone, powers of anti-love, and be replaced with true love and light, in the name of Archangel Jophiel. I need your love to restore my relationships and build a happy world. Assist me in bringing stability to the situation and achieving a state of happiness in my life. Replace the negative and judgmental feelings in my head with thoughts of unconditional love for everyone. Assist me in revitalizing my current relationships and forming new ones with people all over the world. Assist me in raising my vibration to a love frequency so that I can consistently attract love, harmony, and joy. Thank you. Amen."
What to be cautious about?
You may think that Archangels are Angels of light, and they intent to help you become your best self, and manifest your best dreams. This is true. However, what you may fail to realize, is that Archangels do not take into account what you may lose along the way.
For example, you may ask to settle a situation between you and your partner, but after you pray to the Archangel, you and your partner break up. Your prayer was answered, even though it may not have been what you meant. Or another example would be, if you ask for a larger amount of money to come your way, and then your grandparents die, and you inherit their legacy. Your desire was answered, but not in the way that you wished it to be.
Therefore, you have to be cautious what you wish for. If you want more money, you should always make it clear that you don't want anybody to get hurt, or you may name the exact sources that you want your money to come from (business, job promotion, etc.).
On another note, you should always be careful not to make promises that you can't keep, or that you don't intend to keep. These are the promises that you don't fulfill, after your desire has been granted, and it is as simple as bringing them flowers, or offering food everyday for a week. These may also be promises like you will stop smoking, or drinking, if they grant you the promise. If you fail to uphold any promise that you make them, at the best, the Archangel won't work with you anymore, and at the worst, they will take whatever they granted you, and more.