Just like the universe and everything around you, your body is made up of energy too. And probably nobody knows this more than those of us who practice meditation and other mind-body techniques. If this sounds like you, you may be wondering how to harness and direct the flow of this energy. Since ancient times people in Eastern religions have been doing just this through the use of mudra's, such as the cosmic hand mudra.
What is a Mudra?
A mudra is a symbolic gesture that is used within the Dharmic cultures and religions of India: Hinduism, Jainism, and Buddhism. Mudra's are most commonly thought of as a hand and finger gestures; but are also used as a symbolic face and full body gestures in ritual, spiritual, and artistic practices throughout Asia.
Through their wide variety of philosophical systems, people in India have been studying meditation and the bodies energy for thousands of years. The Chakra systems are greatly detailed and much of what is done in practice (yoga, meditation, or devotional) seems to revolve around this knowledge.
The idea behind mudra is that your body is made up of energy and that you have "energy outlets". By forming a hand mudra you are able to conceal this energy within by sealing the outlets at the tips of your fingers. The specific mudra formed will dictate the outlets that are sealed, which aid in the flow of internal energy towards specific aims.
Such as:
Calming the mind
Concentrating the mind
Removing fear and other hindrances
Grounding yourself
Stabilizing emotions
Promoting the flow of wisdom
Relaxing the mind and relieving stress
Promoting health and well-being
Enhancing mood
Fostering spiritual awakening
And for other more esoteric purposes.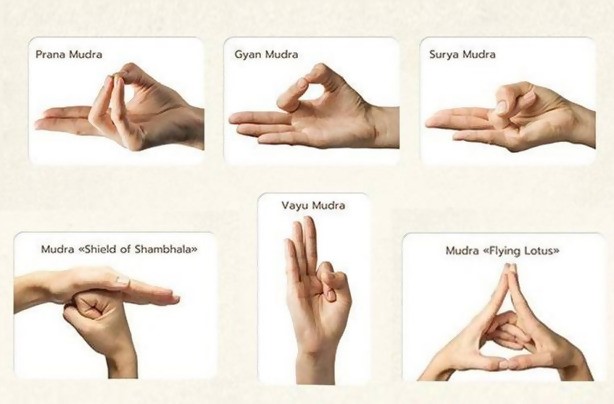 According to Vedic thought, the universe is made up of five elements. This includes your body. Mudra's become even more symbolic if you look at each of the five fingers as representing one of these elements.
Thumb: Agni, or fire. Agni represents digestion, vision, etc.
Index finger: Vayu, or air. Vayu represents thoughts, emotions, touch, and other sensations in the body.
Middle finger: Aakash, or space. Aakash represents all of the bodies cavities and their functions, such as: the mouth, ears, sinuses, etc.
Ring finger: Prithvi, or earth. Pritvhi represents skin, nails, bones, and muscle.
Pinky: Jala, or water. Jala represents the blood, sweat, tears, saliva, urine, and other bodily fluids.
Through mudra practice, you can purify and balance the five elements within you to promote health, well-being, and meditation.
Zen Buddhism and Other Uses of The Cosmic Hand Mudra
The Cosmic Mudra is the hand gesture that is used for Zazen (seated meditation) in Zen Buddhism. While it is often thought of as an exclusive mudra to Zen, the cosmic hand mudra shares many similarities to another ancient yogic mudra called the dhyana hand mudra.
The dhyana hand mudra looks much like the cosmic hand mudra and supports meditation and promotes concentration. In the dhyana hand mudra, the back of one hand rests on the other hands palm, so that both palms are facing upward. Often the circle is made with the thumbs like the cosmic hand mudra, but sometimes it is not.
Outside of yogic systems, the dhyana hand mudra can be seen in other Buddhist traditions and is said to be the same mudra that The Buddha was using at the time of his enlightenment under the Bhodi Tree.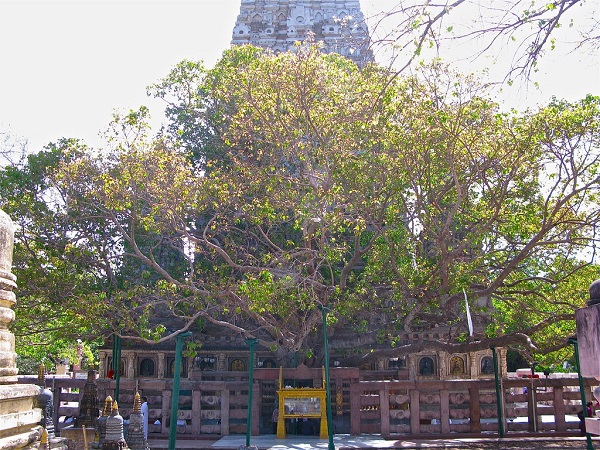 Dhyana translates to "meditation", as does the word "Zen". It's only fitting that a religion that literally translates to "meditation" uses the meditation mudra.
If you couldn't tell by its meaning, Zen is a meditation-heavy school of Mahayana Buddhism which originated in China during the Tang dynasty. In China it was called "Chan" – Zen being the Japanese adaptation, which is still infused with Chinese Taoist concepts, and (mostly) credited to Master Dogen: the founder of the Soto Zen lineage.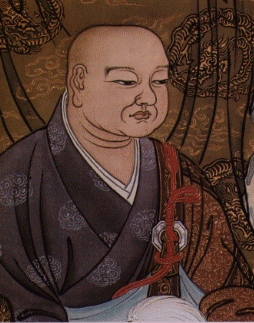 Zen is popular for its "Dharma outside of the sutras" approach. This means that Zen relies less on scripture and more on experiential insights and face-to-face transmission passed on to students by Zen masters.
Zazen
Zazen translates to "seated meditation" and is the meditation style which is core to the Zen Buddhist schools. Zazen is also the practice in which the cosmic hand mudra is used.
In Zen Buddhism there are a few types of zazen, which include:
Koans
Concentration
And shikantaza
Shikantaza
Shikantza is probably the most widely practiced style of zazen. The goal of shikantaza is… well, no goal. The word itself translates literally to "just sitting".
Shikantaza is, "thinking, non-thinking".
This sounds completely counter to absolutely everything. But somehow Zen understands life's many paradoxes and contradictions, and it works quite well for those seeking enlightenment through its path.
In Shikantaza meditation there is no object, not even the breath. It's an "open awareness" form of meditation practice where the practitioner drops their attachment to everything, even the mind, and the body. This dropping of any and all grasping puts you into a non-dual state—only resting in awareness–where you can directly experience your "true nature", or "enlightenment".
Shikanzta is very accessible. It is practiced all over the world in zendos. In the traditional way of practice; you would be seated facing a wall, with your back upright, head slightly titled, looking down and ahead, with eyes half-open.
Traditionally, shikantaza is practiced in 20 minutes "sittings" along with walking meditation, chanting of the Heart Sutra, tea, followed by a Zen talk.
Cosmic Hand Mudra
The cosmic hand mudra creates what is supposed to be a circle, but may actually look more like an oval. The circle/oval shape of the cosmic hand mudra is to symbolize the completeness and the emptiness of the entire universe, which is a central theme to Zen Buddhist teachings. In other Buddhist schools, the circle represents fire that burns away impurities.
Using the cosmic hand mudra in seated zazen meditation helps you to bring your attention inward. This mudra promotes self-awareness and helps you to build and maintain concentration during meditation.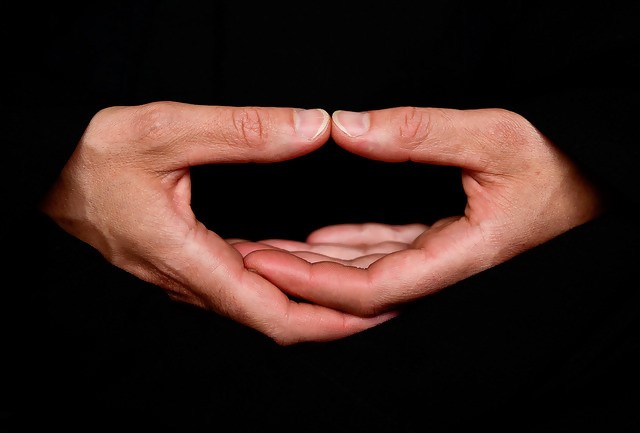 As you develop concentration in zazen, you can use the circle within the cosmic hand mudra to gauge the quality of it. The circle within the cosmic hand mudra will begin to collapse when your mind wanders or becomes drowsy. Your thumbs will begin to rise when the mind is unfocused.
It serves as a reminder for you to adjust your posture and to remain alert.
The cosmic hand mudra can also serve as an instrument to balance yourself while meditating because it stabilizes your lower body. It has other physical pluses as well, the mudra helps to relax your body and to relieve tension in your shoulders.
In Taoist practices and in forms of zazen; the cosmic hand mudra assists with focusing energy in the hara, the center of the energy (or chi) body. The hara is located in the stomach and abdomen and is associated with the function of the organs in this area, such as the digestive system.
Check out the Tummo Meditation guide
Benefits of The Cosmic Hand Mudra
The cosmic hand mudra is an ideal mudra for:
Promoting concentration, mindfulness, and cultivating a meditative state
Facilitating the flow of wisdom and knowledge
Relaxing your mind
Stabilizing your body
Relaxing your upper body and relieving tension in the shoulders
A gauge for the quality of alertness/concentration
Focusing energy inward
Harnessing energy in the hara
Aiding in digestion
Here's How to Do it
The cosmic hand mudra can be used in zazen and in other meditations as well, or it could be used simply anytime you find yourself just sitting around.
You may begin practicing the cosmic hand mudra by cradling your dominant hand underneath your other hand with both palms facing up.
Then, bringing the tips of your two thumbs together to make an "oval-ish" shape.
Next, place your hands onto your lap, resting the cosmic hand mudra against your belly, about 1.5 inches below the belly button in the hara.
If using the cosmic hand mudra in meditation you will go about your normal meditation time. If just sitting, it's recommended that you hold the hand mudra for a least a few minutes, and up to fifteen minutes to be the most productive.
Final Thoughts
Whether your aim is to balance yourself during meditation, relieve physical tension, to remain focused, or to harness hara energy: the cosmic hand mudra is a popular and simple hand mudra to support your efforts.
The pure meditative and contemplative benefits of the cosmic hand mudra make it an ideal mudra for helping you along your way to enlightenment.