For some, sitting still in Vipassana (or any) meditation can be a difficult task – quite uncomfortable, and painful even. While for others, sitting meditation may come as a breeze. It doesn't really matter where you fall along these lines, because there is more than one Vipassana sitting position out there to meet your needs – making your spiritual journey a more comfortable and productive one while ensuring that you receive the highest benefit from the practice.
Introduction
Vipassana has become wildly popular over the years with the explosion of its donation-based ten-day retreats, which are continuously being held around the globe. Jumping into a retreat one might not know what to expect other than a whole lot of meditation is involved. In fact, retreats are ten days of silent ten-hour meditation, which—while well worth the payoff—can seem like a grueling endurance test on the body.
Thankfully, this isn't the only way to practice Vipassana. But who knew that sitting still could be so hard?
Because it's an ancient Buddhist meditation technique, Vipassana is well out of the test-run phase. No matter the issue that may arise, chances are that many others have dealt with it before you and that the solution isn't too far out of reach either. This includes the sitting, which has had plenty of time to work itself out through the years so that the practitioner receives the maximum benefits of both the body and mind.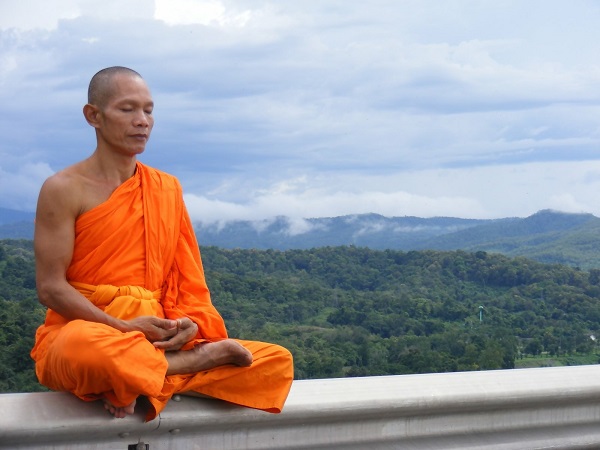 What is Vipassana?
If your body and your behind ache just reading about sitting Vipassana for long lengths of time, you can rest easy knowing that ten-day retreats aren't the only way to practice Vipassana meditation.
Vipassana is a technique that's practiced by solo meditators and devote Buddhists alike. It's said to have been around since ancient times, for over 2,500 years, and is the most closely associated meditation style to what was taught by The Buddha himself.
Vipassana–or Pali for "insight", "to see things as they really are"–is a meditation technique where one investigates with clear awareness into the impermanent nature of reality and its phenomenon: thoughts, feelings, sensations, states of consciousness, etc.
This technique is geared towards self-transformation, awakening, and liberation through self-observation–which results in us seeing clearly how it is that we manufacture our own suffering–and conversely; how to free ourselves from it.
Tracing back Vipassana in its various forms, we find that its roots lie in ancient India. It has since taken on new shapes, having trekked across the world, and molding itself to modern-day seekers while keeping its heart alive.
It is central to the Theravada Buddhist tradition, which is the oldest surviving Buddhist school. In this particular tradition, Vipassana is widely practiced by the monks who are aiming to achieve enlightenment and is only relatively new to laypeople.
How to Learn Vipassana
Practicing Vipassana is easier now more than ever; with retreats, groups, teachers, books, and online material available in abundance.
It used to be that you would have to travel to Southeast Asia (Thailand, Myanmar, Sri Lanka, etc.) to stay monastically with a Buddhist order to learn the Vipassana technique. In other words: it was exclusive to people who had taken the monastic Buddhist vows.
Luckily for us; in the 1960s and 70s, many Westerners made the pilgrimage East. These Buddhists became "empowered" by their respective teachers, meaning that they were granted the ability to teach the Dharma (Buddhist teachings) to others. These Buddhists then returned home to spread the knowledge and accompanying techniques to those residing on the other side of the globe.
These teachers include notable figures such as; Jack Kornfield, Gil Fronsdal, Sharon Salzberg, Joseph Goldstein, and many others who then gave birth to the "Insight Movement" in the United States. The "Insight Movement", which is a Vipassana based meditation group, has opened centers across the West which have only expanded into today.
And probably what has become the most popular are the ten-day retreats held internationally by S.N. Goenka. The retreats are what the common person may think of when hearing the mention of Vipassana, possibly having known someone who has attended. The Goenka retreats have become as large and widely spread as they are today thanks to their donation-based business model.
S.N. Goenka doesn't promote his retreats as religious Buddhism either, which is why appeals to such a diverse crowd who are simply seeking solutions to the stresses of life and inquiry into spiritual matters. But make no mistakes, even if it is decorated as "secular", S.N. Goenka retreats are The Buddha's teachings in action.
Why Vipassana
Aside from Vipassana's availability, it has a strong pull too many because of its close association to The Buddha and early Buddhism. People are attracted to this style of meditation as they feel it brings them closer to the heart of the Buddhist philosophy in its purest form.
Vipassana is:
The practice most associated with the Buddha.
Offers accessible teachings and material.
Practiced by one's self.
Or, practice with supportive communities.
An effective means to create peace, harmony, and balance.
A technique that reduces stress and "suffering".
A facilitator for compassion.
Beneficial in helping us to understand and overcome addictions.
Great for better sleep (or needing less sleep)
Liberation and freedom from suffering (awakening, nirvana)
Importance of Vipassana Sitting Position
Posture during meditation is often stressed in the Buddhist traditions. In Vipassana movements this rings true as well, only Vipassana asks the practitioner to "be comfortable".
Being comfortable is necessary for you to be able to relax and to endure sitting for longer periods (if you choose to). But while being comfortable is important, there are still other key factors to the positions that you must keep in mind in order for it to work for you.
Equanimity and balance are the backbones of Vipassana and a lot of the Theravada teachings in general. The Buddha taught what was called "The Middle Way", which is to avoid extremes and to exercise balance in our daily lives. For this reason, you don't want to become "too comfortable".
In becoming too comfortable you also become too relaxed. As a consequence you end up losing your focus, becoming drowsy, and even falling asleep.
This is because the mind and the body are one. Your body reflects your mind and vice versa. An alert body is an alert mind. By sitting upright, while remaining comfortable—not too stiff–you are able to stay clear-headed and to keep your mind from wandering too far.
After sitting for a while your body may start to collapse. You might find yourself swaying and slumping over. If you become "too relaxed" this will eventually become a problem.
This is a lot easier than it sounds if you can remember that balance is key.
6 Sitting Positions Explained
Vipassana is a seated meditation. It's not expected for anyone who is just jumping into meditation to be able to get into a full lotus position right away. Sitting full lotus does take some practice (and flexibility). And while it looks pretty cool, it's not absolutely necessary for practicing Vipassana.
Below are some of the sitting positions that are the most popular.

Full Lotus
This is the more difficult of the poses. It does take minor flexibility to accomplish. In full lotus you sit crossed leg, but with both feet placed onto the lap.
Half Lotus
This is a bit easier to get into than the full lotus. It's the basic crossed leg position, only with one foot placed on the lap instead of both.
Burmese
The traditional position of Burma (Myanmar), which is basic crossed leg, or "Indian Style" in the United States.
It may be difficult to sit in a crossed-legged position for those with pain, injury, disability, and other issues that come with age. In these instances, you are more than welcome to use a pillow, stool, or chair
Stool
Meditation stools are available in stores, for use at meditation centers, and retreats. A Google search will offer a wide variety of meditation stools to choose from. They are typically a wooden plank on one or two legs so that you can sit with your knees extended out and your feet tucked under the stool—below your butt.
Pillow
A pillow could be used as a replacement for a stool – placing the pillow between your butt and your calves. Or, a pillow can be used in any of the seating positions pictured above.
Take a look at my favorite pillows.
Chair
Due to difficulties that come naturally with age, chronic pain, an injury, or disability; a chair may be the best option for you. It allows you the comfortability of being seated; while being able to keep your posture upright, your body balanced, and pressure off of your legs and upper body.
A chair may be used with a pillow or a cushion to place on the back of the chair, underneath your rear end, or under your feet
Final Thoughts
No matter your skill level there is a position for you. Whether you are an experienced yogi with flexibility or suffer from age-related pains or disability, you can still participate in a productive Vipassana meditation practice.
All that is required of you is that you have a body, a mind, a willingness to awaken, and to always remember that balance is the key to any productive Vipassana sitting position.