Eight of Pentacles Tarot Card, in its core, represents a commitment to your dreams and putting in the effort to manifest at all costs. This card is associated with the Earth element, representing the Zodiac signs of Taurus, Virgo, and Capricorn, and its season is Autumn.
The first card of the Pentacles Suit, the Eight of Pentacles, carries all the qualities of the number 8. In a psychic reading, it translates to moving from one step to the next, re-evaluation, moving forward in a structured, planned way, evolution, progress, making priorities, fast movement, change, achievements.
Eight of Pentacles Meaning
When drawing tarot cards, usually they are put in a vertical setting, spread on a timeline of the past, present, and future. In this kind of drawing, the Eight of Pentacles may come up straight, as well as reversed. Some psychic readers do like to read reversed tarot cards. Some don't. Either way, the other tarot cards in the drawing will make up for the way the psychic readers conduct their readings because a Tarot Card deck connects to the energy of the psychic reader, so it 'talks' to them.
Upright Position
Merging the qualities of number one, "Eight" and the qualities of the "Pentacles Suit," the Eight of Pentacles card would represent:
| | |
| --- | --- |
| Making an effort | Being diligent |
| Proof of hard-working | Being absorbed with work |
| Dedicating yourself to the task | Getting resultss |
| Gaining knowledge | Taking a course on a new skill or craft |
| Getting practice, doing research | Getting or doing a better expertize |
| Being detail-oriented | Taking a methodical approach |
| Rechecking everything | |
Reverse Position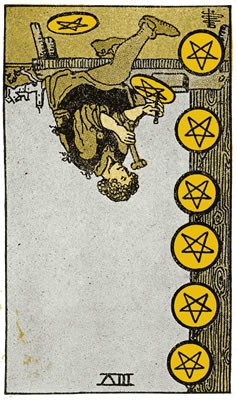 In a reverse position, the Eight of Pentacles would mean precisely the opposite of its core qualities, bringing in the drawing:
| | |
| --- | --- |
| Repetitive and boring job | Lack of commitment or focus |
| No ambition | Poor quality or concentrationp |
| Getting scammed | Poor financial status |
| A career that is not going anywhere | |
Horizontal Position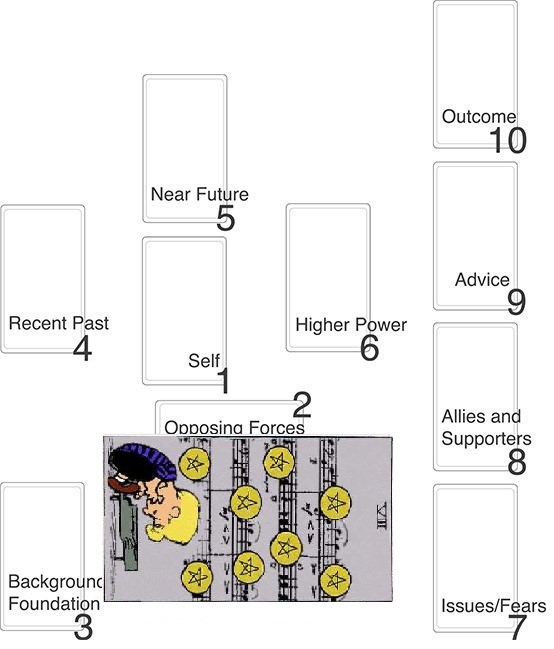 There are also spreads where the tarot cards pulled are placed on vertical as well as horizontal position. If the Eight of Pentacles would sit in a horizontal position, it advices you to expand your knowledge by dedicating yourself to learning more about your craft.
You may have some experience and you may have the will to learn and practice more, but if you do not actually dedicate yourself and put more effort on research, studying, reading and practicing, you will not get far. The will does not add up to anything unless is backed up by action.
Eight of Pentacles – One card pull [Yes or No]

A One Card Reading is usually done when you need a fast, straight to the point answer, you wish not to see the future events, or the past events, you just need a specific answer on the question, for a present situation that is bothering you. You shuffle the cards, then choose only One Card, or you read the One Card that falls out while you are shuffling. Whichever method you use to pull the card, listed below are some of the questions and answers you may get when you pull the Eight of Pentacles.
Yes or No Answer
Upright Position: If you pull the card in a upright position, it means Yes.
Reversed Position: If you pull the card in a reverse position, it means Yes, but you may need to put more effort in it that you expected to.
For a Yes or No answer, the Eight of Pentacles represents Yes, as a card of the Cups Suit.
Eight of Pentacles – Love and Relationships

Pulling The Eight of Pentacles in a relationship reading means that you are building and growing your relationship together. It may also indicate that you are working on creating a stable financial future together so you will be able to fulfill bigger goals and live the life you dream of together.
This card indicates commitment and dedication from both of you, which is a good omen for the relationship growth. It may also indicate that you have allowed yourself to be absorbed by the relationship that all you think about or talk about is your relationship. In this case you should consider filling your time with extra activities, a job, a new course, friends, reading articles or books everyday and let your relationship breathe.
How someone sees you or feels about you?
The answer would be they see you as someone who is hard working, dedicated and committed to the relationship. They may also feel that you spend a lot of your time and thoughts on the relationship which in turn may cause them to feel like suffocating because your world is revolving around them. Other than that, they like that you take your relationship seriously, there is no lack of effort from you and your point of focus in your partner and your life together. But you also need to create some space for both of you.
Just starting dating?
If you have starting dating this new person, the Eight of Pentacles means that your person sees you as someone who is detailed oriented, for example you are very attentive to how they talk, how they behave, eat, drink or react. You may also have this behavior yourself, being too cautious of yourself. Also they see that you are not someone to fool around and you want to invest in a serious relationship.
What not to do?
In terms of what not to do, it would advise you to let your relationship breathe. Everything good becomes bad if there is too much of it. You may be fooling yourself or that's all you know, to strictly commit and dedicate yourself to your partner, turning them into the center of your universe, but this behavior will only result in a suffocating relationship.
If you feel the need to double check everything your partner does or says, if you feel the need to control the course and the pace of the relationship, or your partner, maybe it is time to let it go.
Reverse Position (Love and Relationships)
If you pull the Eight of Pentacles, reversed, it indicates that there is a lack of commitment in the relationship. Maybe one of you or both of you are too lazy to work in the relationship and you are just letting it flow however it goes. The boredom is sitting in, or maybe you have let so many problems pass by without communicating and solving them with each other that the anger and resentment has grown to the point where you don't care anymore. If you are single, it indicates that you are lacking the confidence to date someone.
Eight of Pentacles – Finance, Business and Career

In business and career the Eight of Pentacles is a good omen that foretells a new job or having your own business. If you are still to graduate, it would indicate a great opportunity or a scholarship. This card indicates that not only you have the ambition to become great, but you also have the expertise or at least you are investing to become the expert in your field.
This approach will benefit you greatly and it will be recognized and appreciated by others. In your own business, it means that your ambition, hard work, paying attention to details and careful approach will lend you some great contracts and other financial benefits.
What not to do?
In terms of what not to do the Eight of Pentacles advises you to reconsider your job if it fulfills you, If it matches your experience goals or profession, or if it satisfies you financially, and if you can see a brighter future in that environment, like a promotion, another opportunity, making some connections, etc. If you do not find yourself in it, then you don't need to invest as much energy and work, and forget about looking for another job that may do you much better.
Sometimes you commit to something and you find yourself stuck in it, but also anxious to change direction because you may feel like betraying your current colleagues or boss. You are only deceiving yourself, because it is just right to think and move for yourself.
Reverse Position (Business and Finance)
In reverse, the Eight of Pentacles is a bad omen because it indicates that you have found yourself in a repetitive, boring job that is not offering you any space to grow. It may also indicate a lack of commitment and therefore achievements in your field. You may not be working hard on your job because you don't see yourself becoming an expert on that field or staying too long at that job. On the other hand, you may lack self-esteem, or you are too anxious and doubt your experience. If you have applied for a new job, it can mean that you are not going to be called in for an interview because you may be lacking the needed qualifications or experience.
Eight of Pentacles – Timing
When will something happen answer?

If it is a question that involves around the timing of an event and you pull the Eight of Pentacles, this would mean that whatever you desire or wonder about will manifest but it will take time, as an Earth element indicates growth, but a steady and long one.
How soon is that, it would be kind of complicated because it could mean Autumn time, or that of a Zodiac Sign season Taurus, Virgo or Capricorn.
It would also be counted in months, or around the 8rd, 17th , 26th, of a month. The way you want to interpret this, is keeping in mind that whatever you are asking about is coming slowly but surely, from there you would figure out the time.
With the Pentacles Suit, the best way to go around figuring out the time, would be to always think 2-6 months later, and it would go something like this: If it is already Autumn, your best bet would be around Capricorn or Taurus season, which is 6 months away, or around 6 months away. Either way is coming, but it need time to fully grow into what you desire.
Eight of Pentacles – The Message Answer

Sometimes, we don't have a specific question, we just want to know how our day will look like, or how we should approach the day ahead. This reading is usually done in the morning so you form an idea of what that day will bring you.
Upright
The Eight of Pentacles would foretell a day when you will have to work harder than usual, or at least deal with more problems than usual. It also foretells a day when you will need to pay more attention to your work, especially if you have to deal with official papers or files because you may make some mistakes.
Reversed
If you pull the Eight of Pentacles in reverse, it indicates a day when you may be tired and bored. You may also find yourself complaining a lot about your tasks and deciding it is not worth it, at least for the day. You may be better taking the day off or making sure to take some extra care of yourself at the end of the day.
Eight of Pentacles – Cards Combinations

In a psychic reading there's at least a 6 cards drawing and each tarot card's meaning is interpreted along with the other cards, always bearing in mind the first question upon which the reading is conducted and aims to give answers to. A psychic will see the tarot cards in a symbiotic relationship with one another, never try to read them one by one, but the whole drawing as a whole.
That's why it is important to have a look on how the Eight of Pentacles communicates with the other Tarot Cards. Taking into account there are 78 Tarot Cards in a deck, we will have a look on how the Eight of Pentacles would be interpreted and affect the outcome of the reading in the light of Suits.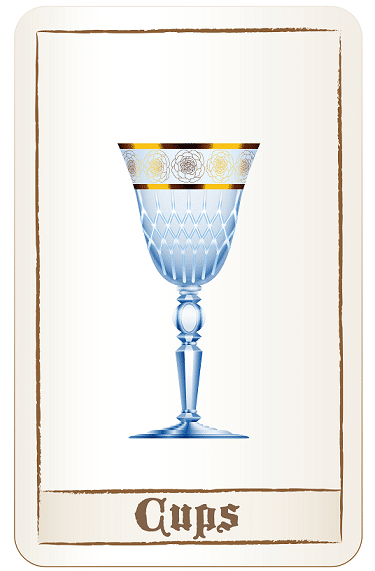 Interaction with the Cup Suits
The Cup Suits represent emotions, feelings, relationships and contract-ships. This is a Suit associated with the Water element. If we were to draw the Eight of Pentacles along with the Cup Suits, this indicates that you are overlooking your relationships and emotions and you are working hard to make everyone work together. You may find yourself torn between two or more close persons who are having issues and they ask you to take a side. Also, you may have wronged your close persons and now it is time to make it up to them.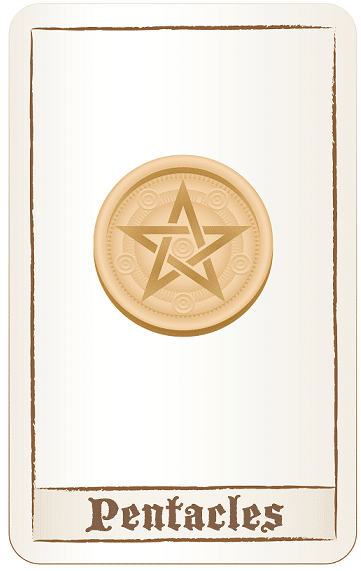 Interaction with the Pentacles Suits
The Eight of Pentacles along with another card of the Pentacles Suit, foretells your finances and business goals manifestations. This is a good spread for your finances because it indicates that your hard work is paying off. You may have recently found yourself in bad financial situation, or you may even have a stable flow of income, but you have been working for more for some time. The time has finally come to reap the rewards of your efforts.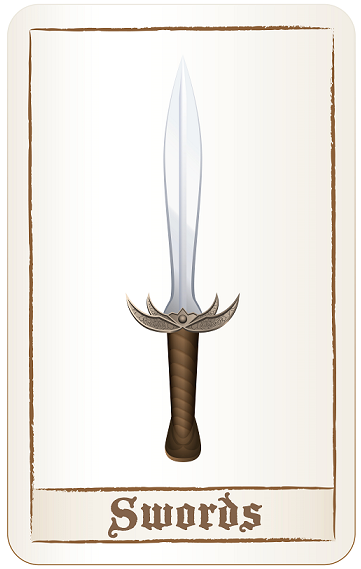 Interaction with the Swords Suits
The Swords Suit along with the Eight of Pentacles is also an interesting drawing. The Swords Suit gets its own share of being a negative suit. This spread foretells you have been weighing yourself down with so many problems. You don't know how to prioritize the problems or ask for help, so you are burdening yourself with all of them at the same time, trying to solve them out simultaneously. It only results in more problems and chaos. You need to learn how to prioritize and evaluate which problem needs to be solved faster than the others. You don't need to lose sleep if you know or learn how to work efficiently.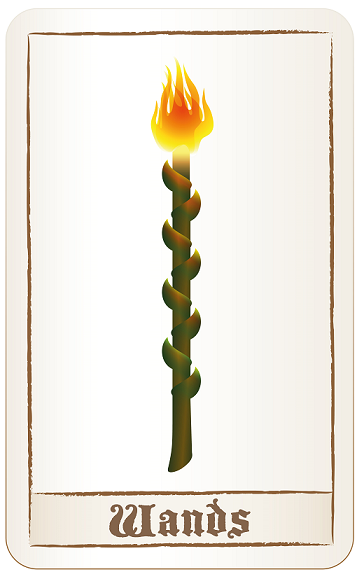 Interaction with the Wands Suits
The Eight of Pentacles and the Wands Suit is a beautiful combination that foretells well-thought action and dreams manifestation. This spread foretells great rewards for your hard work. It may indicate that the actions you have taken have proven to be beneficial, but it may also indicate that if you have been in your head too much thinking and rethinking everything, you need to take action. If you find yourself in a crossroad, just choose one road and keep going, because it serves you nothing to stay in the middle.
Overall, the Eight of Pentacles, either by itself or pulled in a tarot card drawing, is a card of working hard and getting results by the efficient approach and actions you have taken due to experience or earned knowledge through your will to learn and practice more until you are the expert.