This healing gratitude meditation script will help rediscover an emotion of connectedness. We will try to remind ourselves that we are more than just "us". We are a part of the universe.
The most optimal way to prepare for guided gratitude meditation is to adjust this session to the time you have available. This means that you shouldn't feel like you're in a hurry.
Gratitude Meditation Script
Find yourself in a comfortable seated position. Use whatever seated relaxing position makes you feel comfortable, whatever makes you feel at ease and it is completely pain-free.
Take your time to get comfortable, use a meditation cushion if you need, and when you are ready, open your chest…
Sit up nice and tall, keep your shoulders relaxed, close your eyes and breathe. Feel free to lay your arms down softly on your thighs…
Once you find your moment take some deep breath in through your nose and exhale out from your mouth…
If you need some extra tool to enhance your meditation you can try binaural beats… they are a powerful tool to help you focus on the present moment and go with the flow…
Now take some time to focus on the world around you and feel gratitude. Feel the magic that is embracing you… Feel the energy of this safe place.
Embrace yourself, your mind, your body, your emotion…
This is a place where you need to stop… a place where you just have to feel and work with your own light… nourish your passions… nourish what you love and find what feels right…
Feel the warm light of the candles surrounding you… having your back… showing you the light and the path in a gentle caring way.
Live the present without obsession by being connected all the time… really feel yourself… you can enjoy the small things you have and that you don't need anything else… you already have everything you need to make the most of your time here.
Even if you feel some negative emotions, and you don't feel the calm and the peace you want to have in your life, be grateful… you more than others can feel… feel the world around you, your emotions, the bad and the good, you can feel everything at its best.
You have a house… a place you can call home… a place where you can shut the world out and just focus on your real world the world made up of the things you love, the things you care of, the things making you happy.
Feel its warmth… feel the energy around you…feel its vibes… its positivity…its lively energy surrounding you… having your back… becoming a sacred place where you can get back to something familiar, something you know so well… a nice known place where you can relax.
In this moment of pure connection, you finally open yourself up to what's beside you… all the incredible, amazing things you usually cannot see because of the crazy rhythm of your daily life and routine… now it's the time to be thankful for all you have… acknowledging all those things and the way they make you feel…
You got this… feel the gratitude and acknowledge everything around you. Ignore the endless quest of searching for something you don't have…
You are exactly where you need to be… Namaste
Download Free Gratitude Meditation Script PDF
You can also download this gratitude meditation script as a separate PDF file. You'll need to have a free Adobe Reader to view the PDF file (many computers have this already).
Get it here: Gratitude Meditation Script
How can you improve Gratitude Meditation?
Over the years of researching various meditation programs, I've found out that some of them work better than the others. I did spend vast amounts of money on these programs, so you don't need to.
What I've found in my research is that specific brainwave sounds stimulate specific points of your brains and help you achieve desired results faster and stronger.
For gratitude meditation script I suggest that you enhance your experience with a unique brainwave sound called Happiness Shot.
Your brainwaves create a unique pattern when your brain feels good and releases endorphins. Happiness shot replicates this pattern with special brainwave sounds that stimulate your energy centers and improve your meditation experience.
Let's get into more details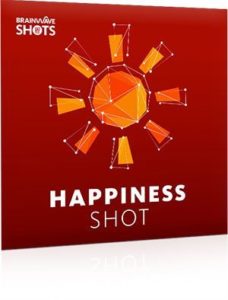 A Happiness shot is a 15-minute and 30-minute audio program, that will help you rediscover a state of bliss and inner satisfaction. It alternates between 10 and 12 Hertz beta, raising to 38 Hz gamma.
This program was made to help you lift your spirits, improve your mood, and fill you with hope, gratitude, and positivity.
Using this program is as easy as it gets. You can simply download the Happiness Shot MP3 and use it however you like; on your phone, MP3 player, radio, etc.
Is it safe to use the Happiness Shot?
It 100% is. As I mentioned it only activates your natural brain's frequencies.
A quick preview of Happiness Shot program
I hope you liked my Guided Gratitude Meditation Script and don't forget to check other meditation scripts as well.