King of Cups Tarot Card, in its core, usually represents stability that comes from knowing your emotional self. This card is associated with the Water element, representing the Zodiac signs of Cancer, Scorpio, and Pisces, and its season is Summer.
King of Cups Meaning
When drawing tarot cards, usually they are put in a vertical setting, spread on a timeline of the past, present, and future. In this kind of drawing, the King of Cups may come up straight, as well as reversed. Some psychic readers do like to read reversed tarot cards. Some don't. Either way, the other tarot cards in the drawing will make up for the way the psychic readers conduct their readings because a Tarot Card deck is connected to the energy of the psychic reader, so it 'talks' to them.
Upright Position
Merging the qualities of "King" and the qualities of the "Cups Suit," the King of Cups card would represent:
| | |
| --- | --- |
| Being a good adviser | Being wise and handling matters calmly |
| Having a grasp of human nature | Teaching through love |
| Seeing right to the heart of the matter | Helping others grow |
| Maintaining composure, calm | Being diplomatic |
| Balancing the needs of others | Saying the right word at just the right time |
| Having a subtle influence | Being a natural healer |
| Being a caring persona | Doing charity, volunteer work |
| Responding well to emotional needs | Being open-minded, tolerant |
| Accepting others limitations | Allowing others their freedom, patient |
Reverse Position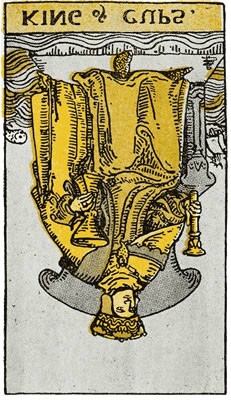 In a reverse position, the King of Cups would mean precisely the opposite of its core qualities, bringing in the drawing:
| | |
| --- | --- |
| Emotional immaturity | Being insecure |
| Lacking trust | Being bitter, revengeful |
| Manipulating others | Being disloyal, unfaithful |
| Blocked intuition | Lacking direction |
Horizontal Position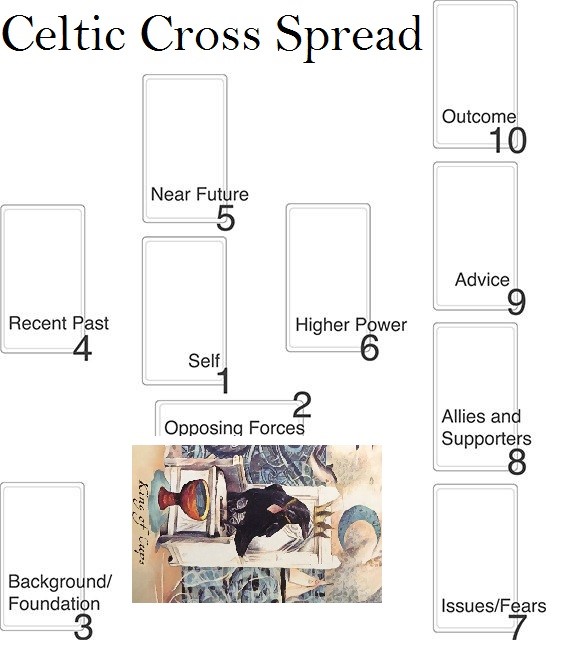 There are also spreads where the tarot cards pulled are placed on vertical as well as horizontal positions. If the King of Cups would sit in a horizontal position, it advises you to be mindful of your emotional needs.
You may always be taking care of others and putting your needs on the side, or disregarding your feelings as not crucial in the face of other's problems. This may cause havoc in your emotional field, though you may be trying to deal with it calmly, sometimes you also need to have someone to support you. The King of Cups sitting in a horizontal position reminds you that you are about to lose your emotional stability if you don't take some time for yourself, away from other people's problems, or if you ignore your problems to be there for others.
King of Cups – One card pull [Yes or No]

One Card Readings are usually done when you need a fast, straight to the point answer, you wish not to see the future events or the past events, you just need a specific answer on the question, for a present situation that is bothering you. You shuffle the cards, then choose only One Card, or you read the One Card that falls out while you are shuffling. Whichever method you use to pull the card, listed below are some of the questions and answers you may get when you pull the King of Cups.
Yes or No Answer
Upright Position: If you pull the card in an upright position, it means Yes.
Reversed Position: If you pull the card in a reversed position, it means No.
For a Yes or No answer, the King of Cups represents Yes, as a card of the Cups Suit.
King of Cups – Love and Relationships

The King of Cups would signify that your relationship has reached a level of emotional stability. You may be finding a lot of emotional fulfillment in your relationship now, and arguments seem to be non-existent, or at least, you do not have big fights or conflicts that linger on the relationship. You both have reached the emotional maturity and security that you need in your relationship.
This could be a relationship that has been on for many years, but you can find the same maturity even in new relationships. The most important value is to know how to communicate with each other, and if you figure it out, you will have a much more relaxed and loving relationship.
How someone sees you or feels about you?
The answer would be they see you as someone who is mature and likes to deal with issues calmly. They appreciate your way of dealing with things without making a big deal out of nothing. You may help them to heal their trauma from the past, and maybe they have learned from you how to communicate calmly and collected.
They are grateful for your presence in their life, and they wish to provide the same calm and healthy environment that you create. This is a mature love that has grown over the years, or if in a new relationship, you both may have found a way to learn from the past and express love in a better way.
Just starting dating?
If you have started dating this new person, the King of Cups may indicate that your date sees you as someone calm, collected, straightforward, and knows what you want. They notice your diplomatic manners and communication, which they may not like all the time, because sometimes they may need you to burst out of your bubble and show more emotion. Still, in the big picture, they do appreciate your way of seeing right through the heart of things and managing to solve them.
What not to do?
In terms of what not to do, it would advise you not to be so diplomatic and contained all the time. The relationship needs the emotional stability and maturity, just as much as it needs all the other ways of expressing love and care. It is ok to express jealousy or uncertainty from time to time. It makes both of you build a stronger bond and intimacy.
If your partner is more emotionally expressive than you, your calm manners may make them feel like they are expressing too much, and eventually, they may start walking on eggshells around you. Your ability to see right through the heart of the matter may aid you in understanding what is going on with your partner, but you also have to find the love language they talk for them to feel loved, cared, and heard.
Reverse Position (Love and Relationships)
If you pull the King of Cups, reversed indicates that you or your partner may not be in a good place in your relationship, and you may be lacking the necessary emotional maturity and control to deal with issues on hand. It may indicate that one of you is dealing with internal matters, that are not being communicated to the other, and as a result, you are not treating the other partner with the love and care they need. It can also indicate cheating or perverted sexual behavior, which may have caused the relationship to turn toxic and not a safe place to be.
King of Cups – Finance, Business and Career

In business and career, the King of Cups is a good omen that indicates you are respected in your field and among your colleagues. Your skills in diplomacy and mature communication help create a healthy work environment, and you tend to build strong, healthy relationships with others. You know how to handle issues and conflicts, and you do not manage to allow arguments to escalate.
If you own your own business, it may indicate that your business partners trust your knowledge and expertise, and they believe your word. Regarding finances, it suggests that you have financial stability, but you don't like to risk much. You may have worked hard to reach this goal, but you are not risking to make more, or you lack the drive to invest in your material health.
What not to do?
IThe King of Cups would advise you to try to build healthy connections with your colleagues. If they come to you for advice, you can provide that by telling them what they need to know but not everything you know. If they try to gossip around you, you can handle that by walking away.
It is always best to have a healthy connection in place with your colleagues as you spend most of the day with them, plus they do have an impact on how others will perceive you, or how healthy your work environment is.
Reverse Position (Business and Finance)
In this case, it could indicate that you may have lost your calm, or you are emotionally unstable, which is being leaked in your work environment. As a result, you cannot focus on your work, or you tend to procrastinate a lot even while at work, and you fall behind on deadlines.
You may have a cold nature that makes your colleagues fear you, they may not approach you, and at some point, they may start hiding things from you because they do not know how to deal with you or how you would react. Regarding finances, it may indicate that you are not financially stable, or you may fall for the tricks of a con artist and lose a lot of money.
King of Cups – Timing
When will something happen answer?

If it is a question that involves around the timing of an event and you pull the King of Cups, this would mean that whatever you desire or wonder about will manifest slowly. Still, it will grow inflow, as a Water element indicates steady but assertive flowing movement.
How soon is that, it would be kind of complicated because it could mean Summertime, or that of a Zodiac Sign Season Cancer, Scorpio and Pisces.
The way you want to interpret this is keeping in mind that whatever you are asking about is coming, slowly growing over time and becoming a steady flow of blessings. With the Cups Suit, the best way to go around figuring out the time, would always be to think at least one later, and it would go something like this: If it is already Spring, your best bet would be around Scorpio season.
King of Cups – The Message Answer

Sometimes, we don't have a specific question. We just want to know how our day will look like, or how we should approach the day ahead. This reading is best performed in the morning, so you form an idea of what that day will bring you.
Upright
The King of Cups would foretell a day when you may be more in your power, feel emotionally stable, and be able to handle things with care and empathy. You may be approached for advice or guidance by others, or you may be noticed in your work environment for your good qualities.
Reversed
If you pull the King of Cups in reverse, it indicates a day when you may act cold and resentful towards others. You may feel jealous of what others own, what they are doing, or hold grudges towards them. It can also be a day when you may lose money unexpectedly or get conned, so be careful.
Ace of Cups – Cards Combinations

In a psychic reading, there are at least six cards drawn, and each tarot card's meaning is interpreted along with the other cards, always bearing in mind the first question upon which the reading is conducted and aims to give answers to. A psychic will see the tarot cards in a symbiotic relationship with one another, never try to read them one by one, but the whole drawing as a whole.
That's why it is essential to have a look at how the King of Cups communicates with the other Tarot Cards. Taking into account, there are 78 Tarot Cards in a deck. We will have a look at how the King of Cups would be interpreted and affect the outcome of the reading in the light of Suits.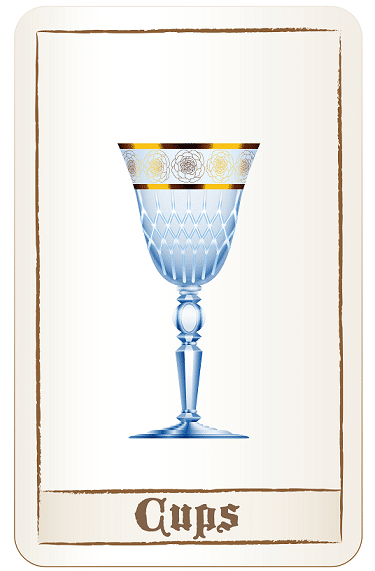 Interaction with the Cup Suits
The Cup Suits represent emotions, feelings, relationships, and contract-ships. This is a Suit associated with the Water element. If we were to draw the King of Cups along with the Cup Suits, this is a spread that indicates you are surrounded by love and care, either romantically or otherwise. In your circle, you are seen as someone to whom others can rely on. In the romance field, you may execute the aura of a man who is collected and values commitment. You can also be the father figure in your family, or become a father figure to others.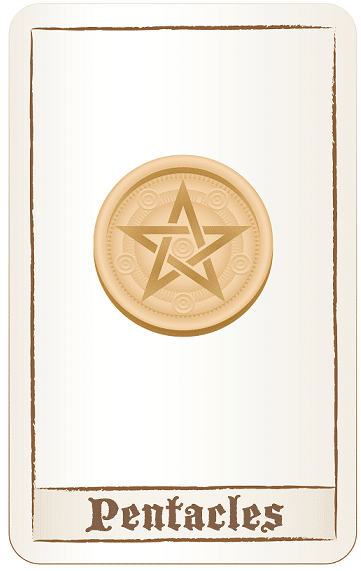 Interaction with the Pentacles Suits
The King of Cups, along with another card of the Pentacles Suit, would foretell job and business success. This spread indicates that you have a grip on your finances, and you are not someone to spend money on vain. You like to maintain a certain financial status, as long as you can provide for everyone in your family. It can also indicate that if you have started a new job or a new business, you may soon reach stability and ground yourself in the chosen career for the years to come.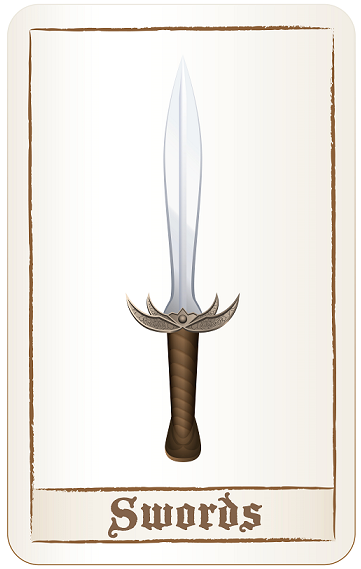 Interaction with the Swords Suits
The Swords Suit, along with the King of Cups, is also an interesting drawing. The Swords Suit gets its share of being a negative suit. This spread would indicate that the problems and conflicts have worn you out and caused misbalance in your emotional field. You will need to put your diplomacy in place to deal with the issues on hand and also calm the situation around you. Maybe you will need to take some time for yourself and deal with your inner self before dealing with outside influences.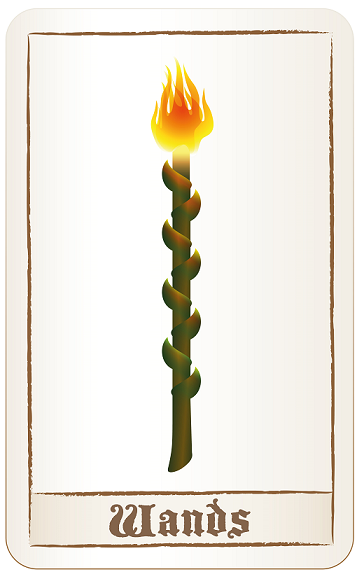 Interaction with the Wands Suits
The King of Cups and the Wands Suit is a combination that foretells you have decided, or you are carefully considering taking action on something new. You are not someone to jump from one thing to the next or take uncalculated risks. If you have been thinking about a new opportunity, you have already done your research, and you will possibly succeed because you have tackled all issues beforehand.
Overall, the King of Cups, either by itself or pulled in a tarot card draw, is a card of emotional maturity and stability, providing for others and yourself, being collected, calm, and seeing right through the matter.