Knight of Cups Tarot Card, in its core, usually represents an opportunity for romance and new relationships. This card is associated with the Water element, representing the Zodiac signs of Cancer, Scorpio, and Pisces, and its season is Summer.
Knight of Cups Meaning
When drawing tarot cards, usually they are put in a vertical setting, spread on a timeline of the past, present, and future. In this kind of drawing, the Knight of Cups may come up straight, as well as reversed. Some psychic readers do like to read reversed tarot cards. Some don't. Either way, the other tarot cards in the drawing will make up for the way the psychic readers conduct their readings because a Tarot Card deck is connected to the energy of the psychic reader, so it 'talks' to them.
Upright Position
Merging the qualities of "Knight" and the qualities of the "Cups Suit," the Knight of Cups card would represent:
| | |
| --- | --- |
| Emphasizing love and feelings | Very romantic |
| Seeing life as a poetry | Remembering special events and dates |
| Having a wild imagination | Being a visionary |
| Being sensitive, empathic | Being diplomatic |
| Valuing inner self | Trying to understand |
Reverse Position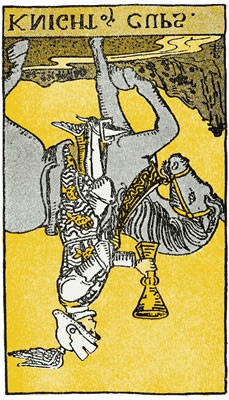 In a reverse position, the Knight of Cups would mean precisely the opposite of its core qualities, bringing in the drawing:
| | |
| --- | --- |
| Overly jealous or emotional | Being melodramatic |
| Acting hot and cold | The ideas coming to be nothing |
| Shading the truth, manipulator | Being temperamental, moody |
| Getting offended quickly, depressed | Very introverted avoids participation |
| Withdrawing from social life | |
Horizontal Position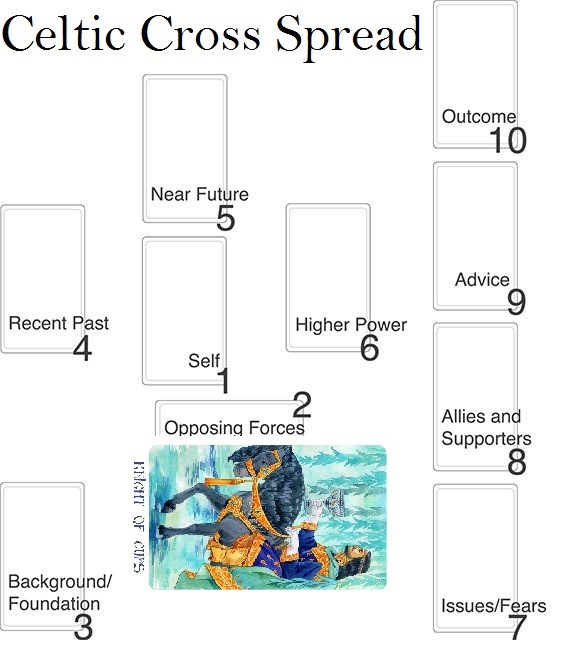 There are also spreads where the tarot cards pulled are placed on vertical as well as horizontal positions. If the Knight of Cups would sit in a horizontal position, it advises you to be more positive, empathic, but also apply logic to your actions.
You may tend to be someone who tends to take everything to heart and also make movements according to your heartbeat, as you are a romantic person, who is usually driven by their feelings. You rely a lot on your intuition and handle issues with diplomacy. This card in a horizontal position would indicate that you need to apply logic to what you are doing. Following your heart and understanding, people from a more profound level is an ability that few have, but if you don't do your calculations, or if you lack all the information you need, you may easily make a wrong move. You don't always know what is going on behind the scenes, even though your energetic perception of others might be right.
Knight of Cups – One card pull [Yes or No]

One Card Readings are usually done when you need a fast, straight to the point answer, you wish not to see the future events or the past events, you just need a specific answer on the question, for a present situation that is bothering you. You shuffle the cards, then choose only One Card, or you read the One Card that falls out while you are shuffling. Whichever method you use to pull the card, listed below are some of the questions and answers you may get when you pull the Knight of Cups.
Yes or No Answer
Upright Position: If you pull the card in an upright position, it means definitely Yes.
Reversed Position: If you pull the card in a reversed position, it means No
For a Yes or No answer, the Knight of Cups represents Yes, as a card of the Cups Suit.
Knight of Cups – Love and Relationships

The Knight of Cups would signify that your relationship is light and fun right now. You are passionate, caring, and gentle towards one another. You may be feeling romantic and arrange activities to please one another. You may be experiencing the first stages of the relationship again, feeling like you are on a honeymoon once again.
This may also indicate a more profound commitment, depending on the status of your relationship, such as marriage, moving in together, children, etc. If you were to have done all that, it could indicate quality time alone, finding one another again because you spend more time with each other or falling in love again.
How someone sees you or feels about you?
The answer would be they see you as their life partner, no matter the stage of the relationship. They see you through rose-colored glasses, which means they love and adore what they see in you. It could indicate that your partner may have been thinking about making a gift to you, or propose for marriage, or make time to be just the two of you together to rekindle the romance and passion in the relationship. They see you as a gentle, romantic person who wears their heart on the sleeve and tends to handle every issue with heart and care, which in turn makes them feel better and understood by you, no matter the problem present.
Just starting dating?
If you have started dating this new person, the Knight of Cups may indicate that your date is going to make a move and ask you to build a relationship together. You may appreciate their caring ways, the chivalry, and treating you like royalty. They see you as someone sensitive, very much in touch with your feelings, and they may see this as a sign that you are honest, straight-forward, and that you appreciate a loving relationship where both partners care and share.
What not to do?
In terms of what not to do, it would advise you to jump into anything just because somebody knows how to manipulate it or market it as a beautiful thing, sweeping you off of your feet. Sure, you want a magical life, but you also want to make sure nothing is hiding behind a caring smile or grand gestures of love. The Knight of Cups tends to rely too much on feelings and emotions, which means they are emotional people, but also they know how to manipulate others through emotions.
Make sure you know who you are dealing with before building a relationship with them, or if you are already in a relationship with them, try to see where they are going with it.
Reverse Position (Love and Relationships)
If you pull the Knight of Cups, reversed, indicates that your relationship is taking a pretty bad turn. Maybe you did not have these issues in the beginning. Still, now you or your partner are showing signs of being toxic, controlling, jealous, and even abusive towards the other, either emotionally or physically. Maybe you were very committed to each other in the beginning, or you made up your mind later, but suddenly one of you or both of you are commitment-afraid, trying to find a way out of it, or postponing it. It can also indicate a breakup, calling off the wedding or finding out that one cheated.
Knight of Cups – Finance, Business and Career

In business and career, the Knight of Cups is a good omen that represents success in your job. It can foretell an unexpected offer like a promotion, a business deal, etc. It can be good news for you, especially regarding finances. It can also indicate that you will be dealing with a situation at work but applying your creative ways. You will make a better outcome. The Knight of Cups suggests that any deals you have will make a positive impact on your finances, reputation, and education.
If you are still thinking about what career to follow, it may indicate that you will choose to focus on an artistic field or the profession that will allow you to use your intuition, creative side, and own skills better.
What not to do?
The Knight of Cups would advise you to find a job where you can apply your skills and creative ideas, a position where you will feel fulfilled. If that's not the case, or if your chosen career path doesn't allow you to be much creative, you should nourish a hobby on the side. Take advantage of the benefits technology has to offer, as you are someone who needs to feed their spirit with creative work, to feel content with your life. It also reminds you to check all the facts before jumping into a new opportunity.
Reverse Position (Business and Finance)
In this case, it could indicate that you are in a job that is limiting to you, or it doesn't make space for you to use your creative side. Maybe the job or the boss you work for asks for things to be done a certain way, and you have to work like a robot, or they will not allow you to participate in any project where you could create and build something yourself. It can also indicate missed opportunities or offers that have fallen through, either by outside impact, or your own choice to withdraw your application.
Knight of Cups – Timing
When will something happen answer?

If it is a question that involves around the timing of an event and you pull the Knight of Cups, this would mean that whatever you desire or wonder about will manifest slowly. Still, it will grow inflow, as a Water element indicates steady but assertive flowing movement.
How soon is that, it would be kind of complicated because it could mean Summertime, or that of a Zodiac Sign Season Cancer, Scorpio and Pisces.
The way you want to interpret this is keeping in mind that whatever you are asking about is coming, slowly growing over time and becoming a steady flow of blessings. With the Cups Suit, the best way to go around figuring out the time, would always be to think at least one later, and it would go something like this: If it is already Spring, your best bet would be around Scorpio season.
Knight of Cups – The Message Answer

Sometimes, we don't have a specific question. We just want to know how our day will look like, or how we should approach the day ahead. This reading is usually done in the morning, so you form an idea of what that day will bring you.
Upright
The Knight of Cups would foretell a day when you may receive an unexpected gift, offer, or opportunity. It may come as a job offer or a new suitor trying to build a connection with you.
Reversed
If you pull the Knight of Cups in reverse, it indicates a day when you may feel overly jealous about other's successes or lives. You may even feel as bad as pitying yourself and thinking others have it better than you.
Knight of Cups – Cards Combinations

In a psychic reading, at least six cards are drawn, and each tarot card's meaning is interpreted along with the other cards, always bearing in mind the first question upon which the reading is conducted and aims to give answers to. A psychic will see the tarot cards in a symbiotic relationship with one another, never try to read them one by one, but the whole drawing as a whole.
That's why it is essential to have a look at how the Knight of Cups communicates with the other Tarot Cards. Taking into account, there are 78 Tarot Cards in a deck. We will have a look at how the Knight of Cups would be interpreted and affect the outcome of the reading in the light of Suits.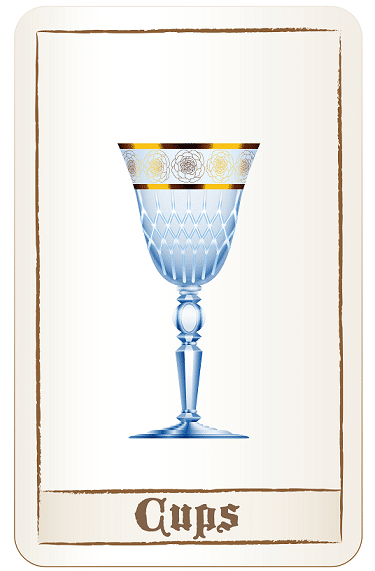 Interaction with the Cup Suits
The Cup Suits represent emotions, feelings, relationships, and contract-ships. This is a Suit associated with the Water element. If we were to draw the Knight of Cups along with the Cup Suits, this is a spread that indicates a romantic proposal, a marriage, or children. It may be unexpected, or you may have talked it out and already committed, but they may decide to arrange a surprise proposal that will sweep you off your feet.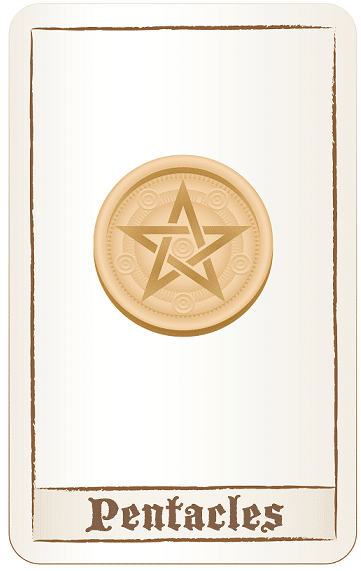 Interaction with the Pentacles Suits
The Knight of Cups, along with another card of the Pentacles Suit, would foretell job and business deal that will turn out pretty well for you. This spread may also indicate that you will find a job, or a side-hustle that will fulfill your creative side and other skills you may not be able to apply at your current job. It also indicates that you will earn an income from this, even if your primary purpose is to entertain yourself.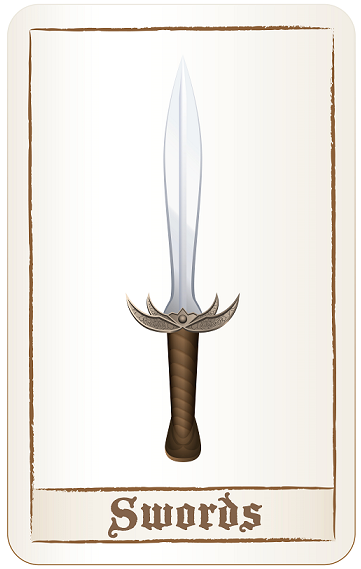 Interaction with the Swords Suits
The Swords Suit, along with the Knight of Cups, is also an exciting drawing. The Swords Suit gets its share of being a negative suit. This spread would indicate that someone may offer you a helping hand to get you out of a situation you have emerged in and have been crying over. You may see this person as your Knight of Cups in shining armor because they will come unexpectedly, they won't ask anything from you, and they will help you solve all your problems.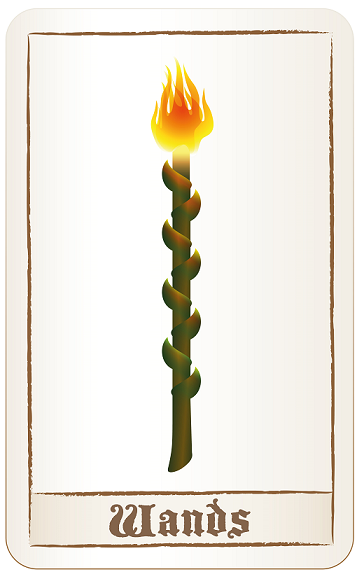 Interaction with the Wands Suits
The Knight of Cups and the Wands Suit is a combination that foretells you may be guided to a new journey. This could indicate that you have decided to follow your heart, or if you have not yet decided anything, it suggests that you have felt the need to make something different. You are listening to your intuition, and you know that soon a change will take place. Make sure to educate yourself on what you're considering before making a move.
Overall, the Knight of Cups, either by itself or pulled in a tarot card draw, is a card of unexpected proposals, grand romantic gestures, being creative and intuitive, and always looking forward to the next big thing where intuition guides you.