Knight of Swords Tarot Card, in its core, represents an opportunity to take decisive action. This card is associated with the Air element, representing the Zodiac signs of Gemini, Libra, and Aquarius, and its season is Winter. The Knight represents someone between the ages of 20-35 years, usually a male figure.
Knight of Swords Meaning
When drawing tarot cards, usually they are put in a vertical setting, spread on a timeline of the past, present, and future. In this kind of drawings, the Knight of Swords may come up straight, as well as reversed. Some psychic readers do like to read reversed tarot cards. Some don't. Either way, the other tarot cards in the drawing will make up for the way the psychic readers conduct their readings because a Tarot Card deck connects to the energy of the psychic reader, so it 'talks' to them.
Upright Position
Merging the qualities of "Knight" and the qualities of the "Swords Suit," the Knight of Swords card would represent:
| | |
| --- | --- |
| Being frank, direct and outspoken | Getting straight to the point |
| Providing honest answers | Being authoritative and commanding attention/td> |
| Being the leader comes naturally | Being keen, practical |
| Getting to the core of the issue | Being knowledgeable, sought as an expert |
| Being logical and reasonable | |
Reverse Position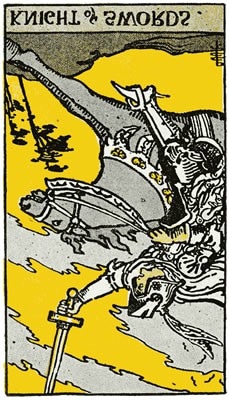 In a reverse position, the Knight of Swords would mean precisely the opposite of its core qualities, bringing in the drawing:
| | |
| --- | --- |
| Being blunt, tactless | Acting rude |
| Acting in a brusque manner | Being overbearing |
| Forcing a position on others | Does not welcome dissent |
| Being sarcastic on excess | Lacking sensitivity |
| Being opinionated, thinking you're always right | Must have the last word |
| Undervaluing intuition | Treating people like numbers |
Horizontal Position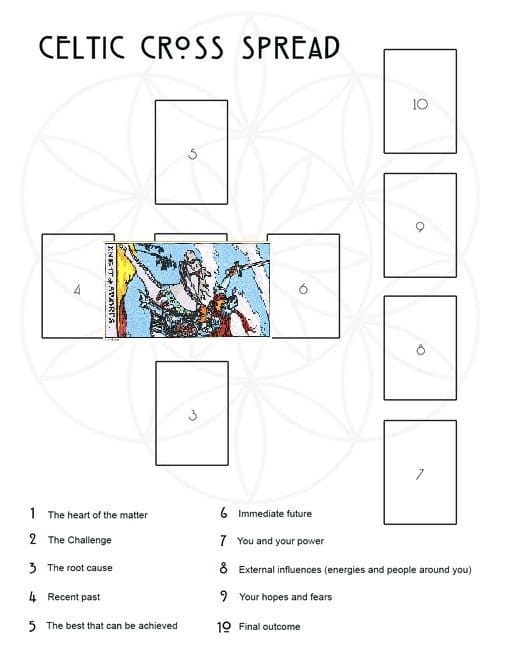 There are also spreads where the tarot cards pulled are placed on vertical as well as horizontal positions. If the Knight of Swords would sit in a horizontal position, it advises you may need to go against the flow.
In a horizontal position, the Knight of Swords indicates that you have found yourself in a new position, needing to take a different approach, thinking outside the box. Maybe you find yourself disagreeing with everyone's else perception. This card indicates that you may be correct. Even though you are not supported right away, results will soon affirm it. You need to believe in yourself, in your wisdom, and be decisive in your approach.
Knight of Swords – One card pull [Yes or No]

One Card Reading are done when you need a fast, straight to the point answer, you wish not to see the future events or the past events, you just need a specific answer on the question, for a present situation that is bothering you. You shuffle the cards, then choose only One Card, or you read the One Card that falls out while you are shuffling. Whichever method you use to pull the card, listed below are some of the questions and answers you may get when you pull the Knight of Swords.
Yes or No Answer
Upright Position: If you pull the card in an upright position, it means No.
Reversed Position: If you pull the card in a reversed position, it means there is a chance of Yes, but you may need to take some risks.
For a Yes or No answer, the Knight of Swords represents Yes, as a card of the Cups Suit.
Knight of Swords – Love and Relationships

The Knight of Swords in a relationship reading indicates that your partner has the qualities mentioned above, he is a leader, a thinker, tends to apply logic to his actions and he is honest with you and his feelings. It can also indicate a quick change in your relationship, one that you will need to jump in with both your feet, be it either an engagement, marriage or even breaking things off.
How someone sees you or feels about you?
They may see you as someone whom they have to fight to keep. It may be the case where they have not been honest about how they feel regarding you in a long time. They may not have found the courage to express how much they want you or where they see both of you going in the future.
Things will rapidly change for you as they have decided to take the plunge and express their feelings towards you. They are coming with the truth, and their heart on their sleeve, so brace yourself to receive it.
Just starting dating?
If you have started dating this new person, the Knight of Swords indicates that your person is coming to you shortly. They have decided they want you, and possibly they are not someone to take no for an answer. It means they will fight for you, please you, and try hard to have you. It could also mean that at some point, they may push themselves in you or manipulate you into having them.
Still, in this case, you should be careful of their manipulation and decide for yourself if this person is sweeping you off your feet and not catching you when you fall.
What not to do?
It advises you to be frank about how your partner makes you feel, and not allow them to dictate how you should feel, love, or how much pain you should be in. It also advises you to remind yourself of your values and grow your self-esteem, as someone represents by Knight of Swords, as an air sign, is very talkative, demanding and sometimes can become too much for you to handle. You should come back at them with the same sword they come to you, meaning if they are sarcastic or have dark humor, if you can't talk back to them in the same manner, they are not someone for you.
Reverse Position (Love and Relationships)
If you pull the Knight of Swords, reversed, it is an indicator of a relationship that has become stagnant. Your partner may be abusive, trying to assert dominance. It can also indicate that you are out of the depth of love and the relationship, and you may need to put the brakes on and analyze the relationship in a different light if you wish to understand where you stand better.
You may be with a partner who is very opinionated and lacks empathy, a behavior that leads you to feel underappreciated or in a cage, always told what to do.
Knight of Swords – Finance, Business and Career

In business and career, the Knight of Swords indicates that you have the ambition, determination, and drive. You are bold, and you don't take no for an answer. You love to take risks, and you are always up for a challenge. These moves are not rapid or action-oriented, but they are logically oriented. In someone else's eyes, you seem just to keep moving to the next big thing or always jumping into another opportunity, but only you know how much thought and preparation you have put in your action.
It can also indicate that you may get promoted or you are moving to a different branch of career or traveling for work in another state where there's another branch of the same company you work for. A job in the military could suit you. Regarding finances, it could indicate an unexpected upgrade in your financial status, or significant opportunities coming your way.
What not to do?
The Knight of Swords, advises you to be careful who you trust your business projects or ideas, or who you trust your money. It can indicate criminal actions, for which you may not be in the loop, but someone may have manipulated you into thinking you can trust them to earn you some more money or trust them with your investments. It can indicate that a close person may be sharing your ideas with others, or making you doubt your dreams, while they claim your projects as theirs.
Reverse Position (Business and Finance)
In this case, it indicates that you may have lost your touch. You are either acting arrogant or not able to get a hold on your projects. You are not seizing the opportunities coming because you are not sure if you can handle them or if you deserve them at all. On the other hand, it could indicate that you feel very much in power, but you are leading yourself to failure because you have not done all the research you should have done, you have miss calculated your moves as a result of self-bragging, or being too full of yourself. Regarding finances, it can indicate a sudden loss.
Knight of Swords – Timing
When will something happen answer?

If it is a question that involves around the timing of an event and you pull the Knight of Swords, this would mean that whatever you desire or wonder about will manifest, but it will take time, as an Air element indicates movement, and a swift one.
How soon is that, it would be kind of complicated because it could mean Wintertime, or that of a Zodiac Sign season Gemini, Libra or Aquarius.
The way you want to interpret this is keeping in mind that whatever you are asking about is coming, though it could come in a breeze or not stand for long.
With the Swords Suit, the best way to go around figuring out the time would always be to think at least one later, and it would go something like this: If it is already Winter, your best bet would be next month or around Aquarius season.
Knight of Swords – The Message Answer

Sometimes, we don't have a specific question. We just want to know how our day will look like, or how we should approach the day ahead. Do this reading in the morning, so you form an idea of what that day will bring you.
Upright
The Knight of Swords would foretell a day when you may find yourself taking action, or coming with the truth to someone you care about. It may also indicate that you have decided to shed some light in a particular situation because you need people to know, or you need to assert your position.
Reversed
If you pull the Knight of Swords in reverse, it indicates a day when you may feel low energy, stagnant, therefore acting out, being arrogant, asserting dominance, so that others don't see you failing to maintain your composure. You may even decide to take the day off.
Knight of Swords – Cards Combinations

In a psychic reading, there are at least six cards drawn, and each tarot card's meaning is interpreted along with the other cards, always bearing in mind the first question upon which the reading is conducted and aims to give answers. A psychic will see the tarot cards in a symbiotic relationship with one another, never try to read them one by one, but the whole drawing as a whole.
That's why it is essential to have a look at how the Knight of Swords communicates with the other Tarot Cards. There are 78 Tarot Cards in a deck. We will have a look at how the Knight of Swords would be interpreted and affect the outcome of the reading in the light of Suits.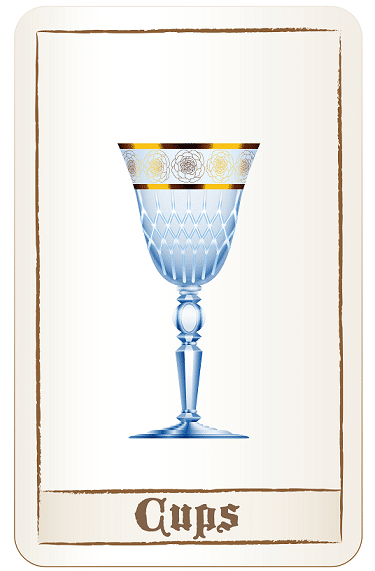 Interaction with the Cup Suits
The Cup Suits represent emotions, feelings, relationships, and contract-ships. This suit is associated with the Water element. If we were to draw the Knight of Swords along with the Cup Suits, it would indicate your close circle sees you as a hero. You are always there to help others, to guide and lead, even when you don't feel like going anywhere for yourself.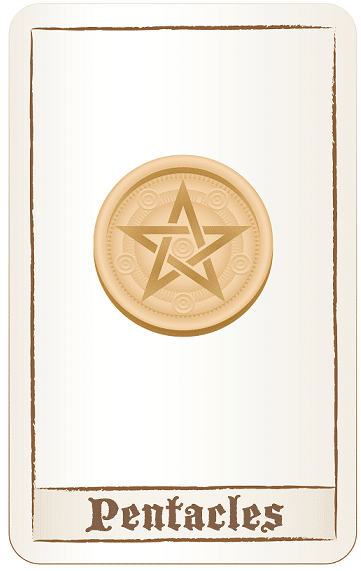 Interaction with the Pentacles Suits
The Knight of Swords, along with another card of the Pentacles Suit, would bring attention to financial matters and business ideas. This spread indicates that you will see a sudden growth in your finances, be it because you will start a new business project or job, along with the other one you have, or you may see significant investments turning in. It can also indicate that you have decided to make a particular investment or have your own business.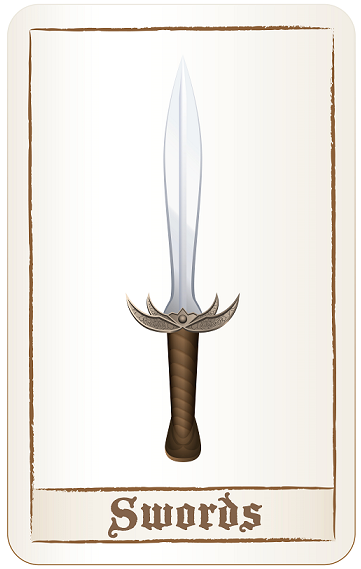 Interaction with the Swords Suits
The Swords Suit, along with the Knight of Swords, is also an exciting drawing. The Swords Suit gets its share of being a negative suit. This spread would indicate that you have gone through dark times that have challenged you. It suggests you are not someone to accept less for yourself or dwell in the dark, but you refuse to give up or let yourself and others down. It may also indicate a risky situation for you, but that's necessary to help you grow.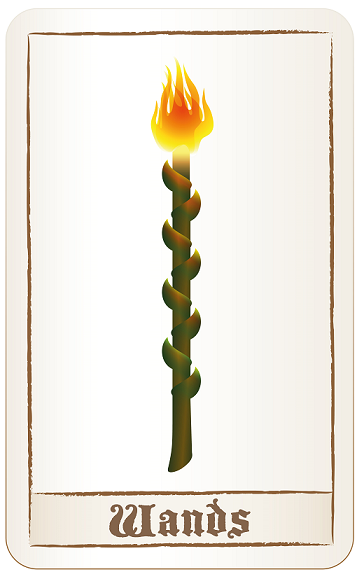 Interaction with the Wands Suits
The Knight of Swords and the Wands Suit is a combination that foretells action that maybe not well thought through. Even though the Knight of Swords represents leading with logic, paired with the Wands Suit, it may indicate forgetting about applying pure logic, instead of jumping in the first opportunity you get. It can also indicate that you have been waiting for things to fall into place and when it happens just as you wanted, you jump.
Overall, the Knight of Swords, either by itself or pulled in a tarot card draw, is a card of quick wit, taking on the world by yourself, being seen as the leader, the hero, and the expert.