Seven of Pentacles Tarot Card, in its core, represents a reflection on your action. This card is associated with the Earth element, representing the Zodiac signs of Taurus, Virgo, and Capricorn, and its season is Autumn.
Seven of Pentacles, being the first card of the Pentacles Suit, carries all the qualities of number 7, which in a psychic reading translates to work ethic, discipline, struggling, changing course, trust, and commitment, patience, faith, thinking long term, reflecting, wisdom, understanding.
Seven of Pentacles Meaning
When drawing tarot cards, usually they are put in a vertical setting, spread on a timeline of the past, present, and future. In this kind of drawing, the Seven of Pentacles may come up straight, as well as reversed. Some psychic readers do like to read reversed tarot cards. Some don't. Either way, the other tarot cards in the drawing will make up for the way the psychic readers conduct their readings because a Tarot Card deck connects to the energy of the psychic reader, so it 'talks' to them.
Upright Position
Merging the qualities of number one, "Seven" and the qualities of the "Pentacles Suit," the Seven of Pentacles card would represent:
| | |
| --- | --- |
| Having assets | Evaluating status |
| Reflecting on progress achieved | Checking results |
| Checking the course of action | Being rewarded |
| Getting some results | Receiving payoffs |
| Reaping first fruits | Reaching a milestone |
| Changing direction | Considering a new or different approach |
| Pondering some alternatives | Doubting your choices |
| Being open to new strategies | Finding yourself standing at crossroads |
Reverse Position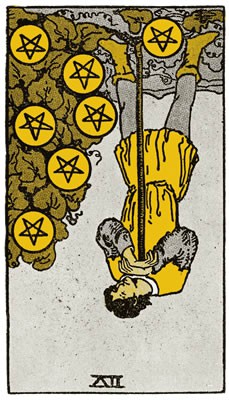 In a reverse position, the Seven of Pentacles would mean precisely the opposite of its core qualities, bringing in the drawing:
| | |
| --- | --- |
| Bad financial management | Procrastination |
| Not finishing what you have started | Lack of reflection |
| Delay, setbacks | Change of plans |
| Cash flow problemse | Financial waste |
Horizontal Position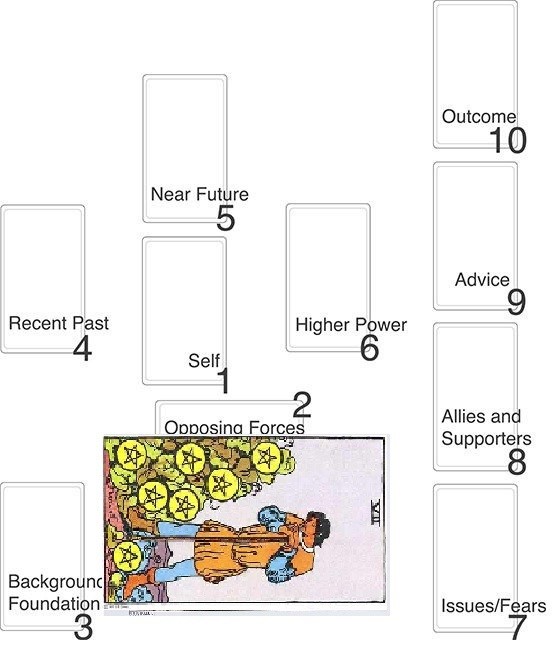 There are also spreads where the tarot cards pulled are placed on vertical as well as horizontal positions. If the Seven of Pentacles would sit in a horizontal position, it advises you to keep moving.
Sure, it is essential to check your progress, evaluate objectively where you have arrived and how much you still have to do, reflect on your next steps. But, at this moment in time, you have to keep moving, you may be stalling yourself by not taking action. Maybe you are anxious about your next steps, and you are cheating yourself by convincing yourself that you still have research to do or you still have time, and you don't.
Seven of Pentacles – One card pull [Yes or No]

For a Yes or No answer, the Seven of Pentacles represents Yes, as a card of the Pentacles Suit.
Yes or No Answer
Upright Position: If you pull the card in an upright position, it means Yes.
Reversed Position: If you pull the card in a reversed position, it means Yes, but it may cause you to change your initial plans.
For a Yes or No answer, the Seven of Pentacles represents Yes, as a card of the Cups Suit.
Seven of Pentacles – Love and Relationships

Pulling The Seven of Pentacles in a relationship reading means that you are nurturing each other. It indicates perseverance and cultivation in the relationship, which, in return, affects the healthy growth. If you have been putting a lot of effort into the relationship, you will reap the benefits very soon. It may also indicate taking on significant financial moves together. Such may be buying a house, throwing a wedding, or even considering a long traveling.
If you happen to be single, this card indicates that you are evaluating past relationships to see where your faults were, what do you want in the future, what do you need, how your person should behave like, etc. This is a time of reflection for you if you are single, so take your time and do not jump in the next relationship if you are not clear on what you want yet.
How someone sees you or feels about you?
The answer would be they see you as someone considerate, thoughtful, wise, independent, serious but tolerant, objective, and reflective. They know not to lie to you or try to manipulate you. They also know that you do the best you can, and you always try to walk in their shoes before making a decision. Because of all these qualities, they find their home in you.
Just starting dating?
If you have started dating this new person, the Seven of Pentacles means that your person sees you as someone who can not be fooled by funny jokes or showing off. They see you need someone stable, you have done your reflection, and you are sure about what you want. If they hold the same qualities as you, they will be a good match for you, because they value and appreciate your hard work on yourself and your commitment to others.
What not to do?
In terms of what not to do, it would advise you to make some moves and free your mind. Maybe you are focusing too much on some situations, rethinking everything, overlooking details, words, actions, and there is nothing there. You may be even trying too hard to keep together a relationship that is falling apart, but you refuse to accept the fact. You may need to make a decision and break things off if the only one caring for the relationship is you.
Reverse Position (Love and Relationships)
If you pull the Seven of Pentacles, reversed, it indicates that the relationship is hitting a rough patch. This may come as a result of both of you or one of you focusing on other things outside the relationship. It may also indicate that you need time for you, you both may be feeling the need to take a break and evaluate the relationship.
It may also suggest that the relationship is not moving as fast as you want to, maybe you have been together for years, and you are expecting a proposal, or moving in together, or having children. Your partner, or vice versa, is not in. In this case, you need to stop and put some effort into the relationship if you want to keep it together or make a decision.
Seven of Pentacles – Finance, Business and Career

In business and career, the Seven of Pentacles foretells manifestation of your dreams, the culmination of a project, or a time to rest. You may find you have the time to take a vacation or take a couple of days to reflect on your progress, see how much more you have to do if you can adjust your approach and if it's worth it to keep going with the intention that the final results will match your goals. It may also indicate that the retirement is approaching, or that you will finally have the luxury to work for fewer hours and get paid more.
What not to do?
In terms of what not to do, the Seven of Pentacles advises you to work harder. You may be taking too many days off, or you may go to work and do nothing all day. Maybe you are exhausted, perhaps you are stressed with all the other problems outside of work, but if you do not put the effort in and commit to your duties, you may soon find yourself without a job.
You may be procrastinating, while deadlines are approaching, which will come to pass, and you will miss your opportunities if you keep convincing yourself you have time. You don't move now. Finish your job, contact those investors, push your colleagues or bosses to apply that project.
Reverse Position (Business and Finance)
In reverse, the Seven of Pentacles is a bad omen because it indicates that you are not putting enough work in, and you are not reaping the benefits that you would like. It may even suggest that you have no idea how to pull something off. It also indicates that you have miscalculated your finances, or not saving money at all. You need to refocus your energy on achieving what you want. If you need someone to help you or provide information, ask for it.
Seven of Pentacles – Timing
When will something happen answer?

If it is a question that involves around the timing of an event and you pull the Seven of Pentacles, this would mean that whatever you desire or wonder about will manifest. Still, it will take time, as an Earth element indicates growth, but a steady and long one.
How soon is that, it would be kind of complicated because it could mean Autumn time, or that of a Zodiac Sign season Taurus, Virgo or Capricorn.
It would also be counted in months, or around the 7th, 16th, 25th, of a month.
The way you want to interpret this is keeping in mind that whatever you are asking about is coming slowly, but surely, from there, you would figure out the time.
With the Pentacles Suit, the best way to go around figuring out the time would always be to think 2-7 months later, and it would go something like this: If it is already Autumn, your best bet would be around Capricorn or Taurus season, which is seven months away, or around seven months away. Either way is coming, but it needs time to grow into what you desire.
Seven of Pentacles – The Message Answer

Sometimes, we don't have a specific question. We just want to know how our day will look like, or how we should approach the day ahead. This reading should be done in the morning, so you form an idea of what that day will bring you.
Upright
The Seven of Pentacles would foretell a day when you will have time to reflect and rest. You may have been working hard and not even finding time for yourself. You may still have lots to do, but this card advises you to take a couple of hours from the day and objectively evaluate your results.
Reversed
If you pull the Seven of Pentacles in reverse, it indicates a day when you may find yourself hitting blockages and falling behind. You may lack the knowledge or the money to push your projects, but that does not mean you also lack support. If you need someone to share some insight, ask for it.
Seven of Pentacles – Cards Combinations

In a psychic reading, there are at least seven cards drawn, and each tarot card's meaning is interpreted along with the other cards, always bearing in mind the first question upon which the reading is conducted and aims to give answers. A psychic will see the tarot cards in a symbiotic relationship with one another, never try to read them one by one, but the whole drawing as a whole.
That's why it is essential to have a look at how the Seven of Pentacles communicates with the other Tarot Cards. There are 78 Tarot Cards in a deck. We will have a look at how the Seven of Pentacles would be interpreted and affect the outcome of the reading in the light of Suits.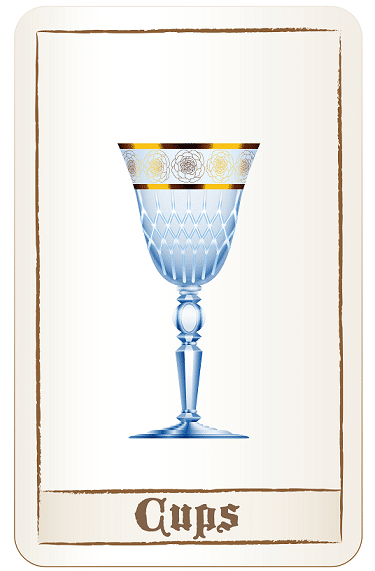 Interaction with the Cup Suits
The Cup Suits represent emotions, feelings, relationships, and contract-ships. This suit is associated with the Water element. If we were to draw the Seven of Pentacles along with the Cup Suits, this indicates that you are seriously evaluating your relationships with family, friends, or partner. Maybe you feel the need to put some boundaries in, or they have communicated their feelings of missing you, and you are reflecting on how you can have more quality time with them or if you need to cut them out completely.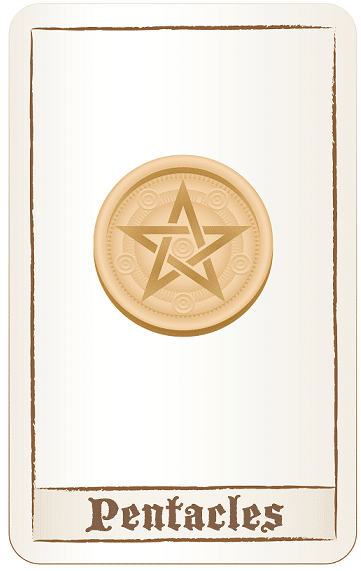 Interaction with the Pentacles Suits
The Seven of Pentacles, along with another card of the Pentacles Suit, foretells the need to evaluate your finances and business approach. It could indicate that your finances may be stable, but you need more. Maybe you have not reached your financial goal yet, or you have a big goal in your mind like buying a house or a car, and you are considering the best approach to owning a property. You may also be evaluating your business deals and colleagues. If you are not doing it, then this card advises you to focus on your current wealth as a first step when considering the ways to grow it.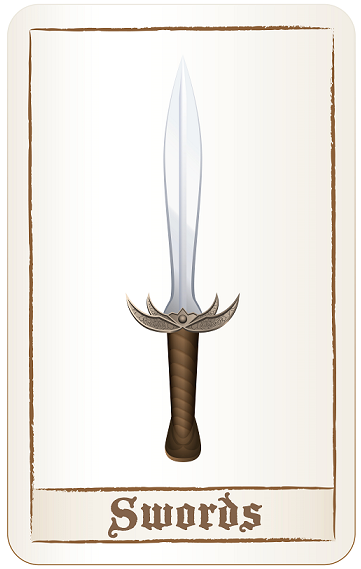 Interaction with the Swords Suits
The Swords Suit, along with the Seven of Pentacles, is also an exciting drawing. The Swords Suit gets its share of being a negative suit. This spread would indicate that you may have been going through some hard times that have come as a result of you being too tolerant, allowing yourself to be deceived or closing your eyes to the truth right in front of you. You should take your time to reflect on your mistakes on the red flags that you have allowed to pass and on the next steps. You need to avoid making the same mistakes in the future, and now it is the perfect time to get to know yourself again.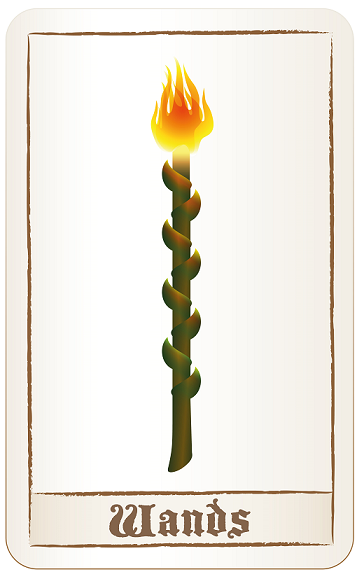 Interaction with the Wands Suits
The Seven of Pentacles and the Wands Suit is a beautiful combination that foretells prosperous action. This spread indicates that you have taken some well-thought action towards your dreams. It doesn't necessarily mean that they have turned out great, but it does mean that you have gained experience and knowledge to make better decisions in the future. It may also indicate that you are standing at a crossroads and considering which road to take. Maybe you still have a couple of opportunities, so make sure to consider them all.
Overall, the Seven of Pentacles, either by itself or pulled in a tarot card draw, is a card of a process of well thinking, reflecting and reconsideration of steps, situations, approaches, and lifelong goals.