Ten of Pentacles Tarot Card in its core represents following order placed by society rules and traditions and exercising your influence to establish your own set of rules in your family. This card is associated with the Earth element, representing the Zodiac signs of Taurus, Virgo, and Capricorn, and its season is Autumn.
Ten of Pentacles, being the tenth card of the Pentacles Suit, carries all the qualities of number 10, which in a psychic reading points to karma, end of cycles, the end of the journey, taking responsibility, consequences, and rewards reaped, lesson learned, transformation.
Ten of Pentacles Meaning
When drawing tarot cards, usually they are put in a vertical setting, spread on a timeline of the past, present, and future. In this kind of drawing, the Ten of Pentacles may come up straight, as well as reversed. Some psychic readers do like to read reversed tarot cards. Some don't. Either way, the other tarot cards in the drawing will make up for the way the psychic readers conduct their readings because a Tarot Card deck connects to the energy of the psychic reader, so it 'talks' to them.
Upright Position
Merging the qualities of number one, "Ten" and the qualities of the "Pentacles Suit," the Ten of Pentacles card would represent:
| | |
| --- | --- |
| Being an influential person | Having material abundance |
| Creating a strong foundation | Feeling secure in the now |
| Thinking and planning long-term | Leading an orderly lifes |
| Strategizing business plans | Established guidelines and order |
| Following and obeying the rules | A traditional person, conservative |
| Following known patterns, the tried and true | |
Reverse Position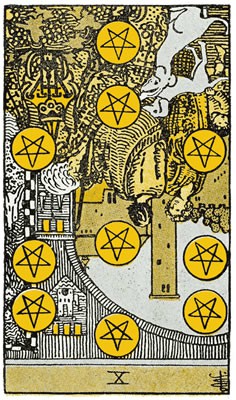 In a reverse position, the Ten of Pentacles would mean precisely the opposite of its core qualities, bringing in the drawing:
| | |
| --- | --- |
| Being excluded from a will | Unexpected change for worse |
| Falling of an empire | An illegal activity like money laundering |
| Domestic debates and disputes | Fighting over financial issues |
| Divorce | Breaking traditions |
| Faking wealth and order | Marrying for money |
Horizontal Position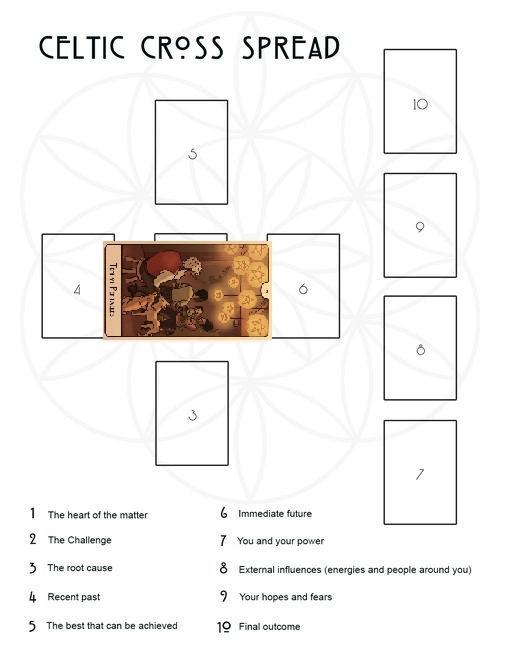 There are also spreads where the tarot cards pulled are placed on vertical as well as horizontal positions. If the Ten of Pentacles would sit in a horizontal position, it advises you to reflect on how your established rules are working for you.
You may be someone who loves to set standards, and you don't like working without order. However, times evolve, traditions slowly accept in new approaches, and so should you think about adjusting your rules and order to the changes happening outside of you. If you are one to strictly follow familiar traditions, like always celebrating a religious feast at home, maybe you should consider celebrating at a restaurant with all your loved ones this year or changing the place where you all gather together. Perhaps you are the head of the family, and your son or daughter announces they want to marry someone of the same gender. Take your time to process the changes.
Ten of Pentacles – One card pull [Yes or No]

One Card Readings are performed when you need a fast, straight to the point answer, you wish not to see the future events or the past events, you just need a specific answer on the question, for a present situation that is bothering you. You shuffle the cards, then choose only One Card, or you read the One Card that falls out while you are shuffling. Whichever method you use to pull the card, listed below are some of the questions and answers you may get when you pull the Ten of Pentacles.
Yes or No Answer
Upright Position: If you pull the card in an upright position, it means Yes, it is intended for you.
Reversed Position: If you pull the card in a reversed position, it means Yes, but you may need to adapt your rules.
For a Yes or No answer, the Ten of Pentacles represents Yes, as a card of the Cups Suit.
Ten of Pentacles – Love and Relationships

Pulling The Ten of Pentacles in a relationship reading means that you are in a relationship that has a solid foundation, offering you both stability and security. This card indicates harmony in your relationship. It is built traditionally, which means you may have married someone of your religion, status, or you share the same traditional values in your family setting.
For example, you don't allow your children to party until a certain age, or wearing certain things, etc. You and your partner have followed the traditional way of getting to know each other, getting engaged, and getting married. You may also have secured your life together by purchasing a house, or one of your families has provided a home for you by your family. This card also indicates that you are marrying into a wealthy family.
How someone sees you or feels about you?
The answer would be they see you as someone that is very strict, always following the rules and guidelines. They may like this part of you as long as it plays nice in the family life because you know how to take care of them, you always put them before you, you take care of the house, you know when to talk and when not.
However, it can get pretty tiring. On the other hand, if your partner is someone that loves adventures, that doesn't live by the rules, that is always doing things his way. It all comes down to sharing the same values. If they also apply the characteristics of the Ten of Pentacles, you are good with each other.
Just starting dating?
If you have started dating this new person, the Ten of Pentacles means that your person sees you as someone who may make a great wife or husband, because you seem to be family-oriented for them. Depending on what they want, they see your limits and boundaries, and either they will take advantage of them, or cherish you in the same way you admire them. If both of your core values match, they see you as someone with whom they can create a future with, like the perfect wife or husband they can bring home.
What not to do?
In terms of what not to do, it would advise you to consider merging your family traditions with your partner's or even create new ones that fit both of your values, beliefs, and ways of life. Also, if you are the one making the rules in your household and you are noticing your family members feeling restrained or continually putting up fights and disobeying, you may need to consider a different approach and set of rules that work for all.
Reverse Position (Love and Relationships)
If you pull the Ten of Pentacles, reversed, it indicates that the relationship lacks stability, security, and it's possibly headed to divorce. Disputes and the lack of harmony will turn the relationship into a burden, and the financial issues may add up to it. This card can also indicate marrying for money, as well as un-matching traditions or core values.
Ten of Pentacles – Finance, Business and Career

In business and career, the Ten of Pentacles is a good omen that foretells your business, strengthening, growing, and possibly turning into an empire. It can also indicate that you are going into a family business. This card can represent that you are feeling at your best, safe, and stable at your current job situation.
Ten of Pentacles can also indicate that your career is on the right path. You may be working for a company that does business the traditional way, or traditional values may be the niche of the business. For example, a restaurant that offers traditional meals or a business that operates on the field and taking no or little advantage of the technology.
What not to do?
In terms of what not to do, the Ten of Pentacles advises you to try and break out of the guidelines or change the way you have always done things by changing your perspective. The known patterns provide you security because you know the outcome, but if you want to grow, you have to take some risks. It also advises you to think outside the box, and if you have a dream or a vision, go for it, even if no one else is doing it. You know how to strategize a plan, and you can calculate your finances, so in case your project doesn't work, you won't lose much.
Reverse Position (Business and Finance)
In reverse, the Ten of Pentacles foretells bad business and your business empire falling apart. If you are working a 9-5 job, it may also indicate you are being fired, or your job position will see unexpected changes. You are no longer feeling safe and stable in your work environment. It may also indicate illegal activities or risky business deals that put you in an awkward position or compromise your values and reputation. You should be careful of getting yourself into debts you won't be able to get out of, or that may cause you significant financial losses.
Ten of Pentacles – Timing
When will something happen answer?

If it is a question that involves around the timing of an event and you pull the Ten of Pentacles, this would mean that whatever you desire or wonder about will manifest. Still, it will take time, as an Earth element indicates growth, but a steady and long one.
How soon is that, it would be kind of complicated because it could mean Autumn time, or that of a Zodiac Sign season Taurus, Virgo or Capricorn.
It would also be counted in months, or around the 10h, 19th, 28th, of a month.
The way you want to interpret this is keeping in mind that whatever you are asking about is coming slowly, but surely, from there, you would figure out the time.
With the Pentacles Suit, the best way to go around figuring out the time would always be to think 2-6 months later, and it would go something like this: If it is already Autumn, your best bet would be around Capricorn or Taurus season, which is six months away, or around six months away. Either way is coming, but it needs time to grow into what you desire.
Ten of Pentacles – The Message Answer

Sometimes, we don't have a specific question. We just want to know how our day will look like, or how we should approach the day ahead. This reading is usually done in the morning, so you form an idea of what that day will bring you.
Upright
The Ten of Pentacles would foretell a day when you will feel on top of all your tasks. You know what you are doing, there is no unexpected situation shaking your ground. Overall your day will flow smoothly, and you may find yourself to be more relaxed than usual.
Reversed
If you pull the Ten of Pentacles in reverse, it indicates a day when you may find yourself compromising your values or being asked or forced to adapt to new changes in your work environment or family life. It may seem difficult for you at first, but with a positive mindset, you will see that the changes may prove to be beneficial in the long run.
Ten of Pentacles – Cards Combinations

In a psychic reading, at least six cards are drawn, and each tarot card's meaning is interpreted along with the other cards, always bearing in mind the first question upon which the reading is conducted and aims to give answers. A psychic will see the tarot cards in a symbiotic relationship with one another, never try to read them one by one, but the whole drawing as a whole.
That's why it is essential to have a look at how the Ten of Pentacles communicates with the other Tarot Cards. There are 78 Tarot Cards in a deck. We will have a look at how the Ten of Pentacles would be interpreted and affect the outcome of the reading in the light of Suits.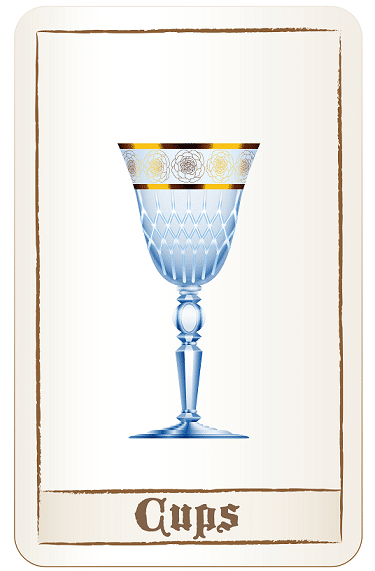 Interaction with the Cup Suits
The Cup Suits represent emotions, feelings, relationships, and contract-ships. This is a Suit associated with the Water element. If we were to draw the Ten of Pentacles along with the Cup Suits, this indicates that you are a family-oriented person. You love to live an orderly life, and you don't deal well with things that go in a different direction. You may be feeling the need to set some rules or boundaries, so you feel more secure and stable in your family and emotional life.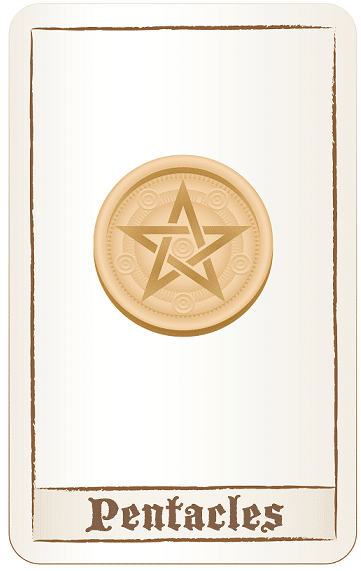 Interaction with the Pentacles Suits
The Ten of Pentacles, along with another card of the Pentacles Suit, foretells your finances and career may have come to reach the ultimate goals. You may have reached that point in your life when you have built the financial stability and security you have always envisioned, and now you are working to preserve it. You are not someone to always want more. You are happy and content with a certain level of financial security. You may also be someone that believes money is bad, and there is no need to have lots of it, just enough to meet your needs and sometimes fulfill your desires.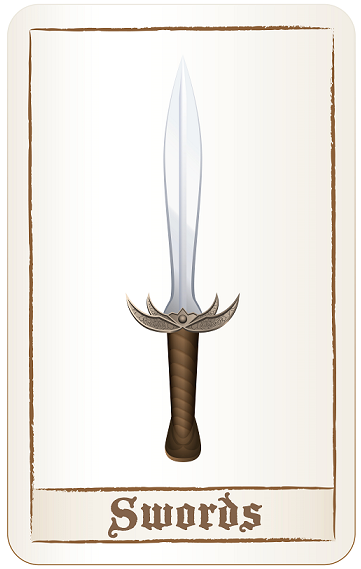 Interaction with the Swords Suits
The Swords Suit, along with the Ten of Pentacles, is also an exciting drawing. The Swords Suit gets its share of being a negative suit. This spread would indicate that you may be feeling like losing control over the perfect life that you have created for yourself. Problems may have arisen out of the blue that make you feel powerless. Taking into account that you are a person who wants to control everything and tries to keep a delicate balance on how you want your environment to be like, the recent issues have shaken the ground underneath your feet. You may need to change the way you look at things, so the things you look at, change.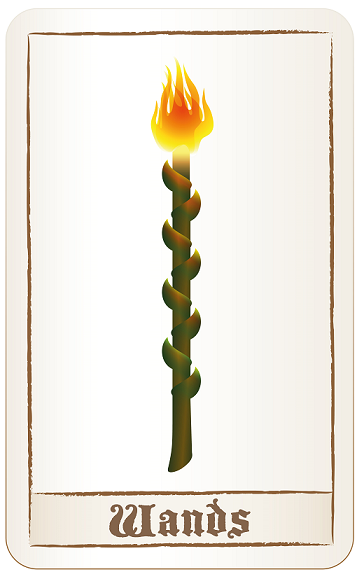 Interaction with the Wands Suits
The Ten of Pentacles and the Wands Suit is a beautiful combination that foretells well-thought action and goals achievement. You may be applauding for yourself how things turn out well, just because you follow specific guidelines, and you did not jump on the next trend as everybody did. It also indicates that you tend to think through a plan and talk it out before acting on it, so you make sure there are minimal risks, and if there are any, you know how to handle all of them.
Overall, the Ten of Pentacles, either by itself or pulled in a tarot card draw, is a card representing setting rules on how you want your life to flow. It means guidelines, society rules, and traditions provide a safety net for you, and this is the way you succeed in life.