The Emperor holds the number 4, and it is the fifth tarot card of the Major Arcana cards.
The Emperor Tarot Card, in its core, usually represents masculinity and fatherhood.
The Emperor Meaning
When drawing tarot cards, usually they are put in a vertical setting, spread on a timeline of the past, present, and future. In this kind of drawing, The Emperor may come up straight, as well as reversed. Some psychic readers like to read reversed tarot cards. Some don't. Either way, the other tarot cards in the drawing will make up for the way the psychic reader conducts their readings, because a tarot card deck is connected to the energy of the psychic reader, so it 'talks' to them.
Upright Position
The Emperor card would represent:
| | |
| --- | --- |
| The father figure | Displaying security and comfort |
| Setting the tone | Protector |
| Sticking to a structured plan | Creating order out of chaos |
| Authority figure | Being the leader |
| Meeting with officials | Dealing with legal matters |
| Following rules and guidelines | |
Reverse Position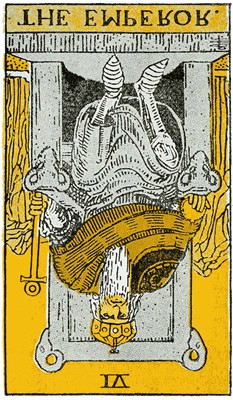 In a reverse position, The Emperor would mean precisely the opposite of its core qualities, bringing in the drawing:
| | |
| --- | --- |
| Being irresponsible | Having anger issues |
| Lacking strength | Abusing the power |
| Problems with the law | Lack of control or discipline |
| Absent father figure | |
Horizontal Position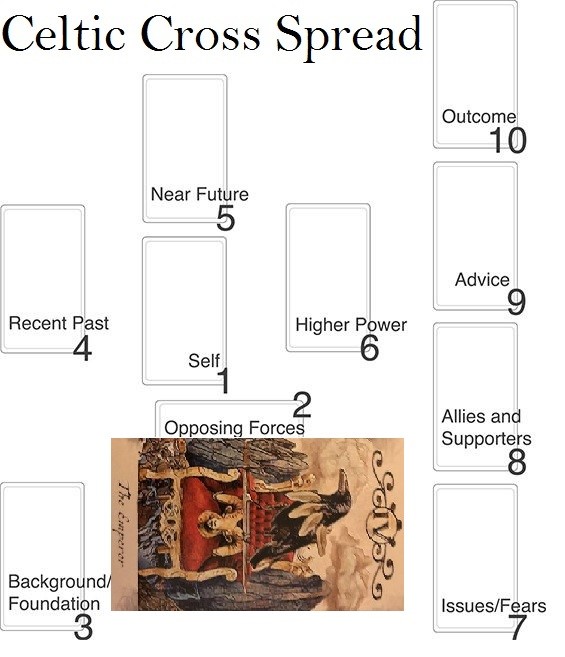 There are also spreads where the tarot cards pulled are placed on vertical as well as horizontal positions. If The Emperor would sit in a horizontal position, it advises you to reach for counsel before applying your authority. You may be lacking the mental clarity you need, or you may be too emotional about a case that hits home, so taking counsel from someone you trust before making a decision is the best thing you can do.
That way, you can see from a different perspective, and even if you don't change your mind, you will still be able to calculate more factors in your decision and also keep in mind the risks that you are taking. You need to evaluate all the possible outcomes if you want to make a decision or if you think you can put order in place.
The Emperor – One card pull [Yes or No]

One Card Readings are for when you need a fast, straight to the point answer. You wish not to see the future events or past events; you just need a specific answer on the question for a present situation that is bothering you. You shuffle the cards, then choose only One Card, or you read the One Card that falls out while you are shuffling. Whichever method you use to pull the card, listed below are some of the questions and answers you may get when you pull The Emperor.
Yes or No Answer
Upright Position: If you pull the card in an upright position, it means Yes.
Reversed Position: If you pull the card in a reversed position, it means No.
For a Yes or No answer, The Emperor represents Yes, as a card of the Major Arcana Suit.
The Emperor – Love and Relationships

The Emperor would signify that your relationship may lack passion or showing a lot of emotions. Instead, it is a relationship that follows some type of order and maybe even traditions of patriarchy or family traditions. You have created a functional relationship without too many emotions shared, or you don't often talk about intimacy and inner selves.
Although you do feel safe and protected in this relationship, and your partner is committed to it, you may be feeling the need to express more. The romance is not a strong point in this relationship.
How someone sees you or feels about you?
They see you as someone committed, practical, and logical. You follow a specific order of how you want things done, and you care and protect the family. You are the provider of the family. As the head of the family, you are the one who solves any problems as they arise.
It may leave your partner feeling like living in your shadow or being controlled by you. You may also have more masculine energy in you than your partner, and it drives you to be more action-oriented rather than emotion-oriented.
Just starting dating?
If you have started dating this new person, The Emperor may indicate that your date sees you as someone who lacks the romantic side. You may even give the impression of someone who does not like or appreciate romantic gestures. If your date is practical and down to earth like you, then it may turn into a relationship that satisfies both of you. It could even be the case where you are not as you appear to be. It is just a mask that you wear to protect your heart.
What not to do?
In terms of what not to do, it would advise you to be more open with your feelings, even if that is not something you do. You may show love through actions and taking care of others, but sometimes this is not perceived as love, instead of just another gentle act that may mean nothing. It comes as a result of talking about different love languages.
Sometimes people need to be reassured with words about love and emotions, rather than specific actions. If you always make decisions where to go for vacations, where to eat, what to do, etc., and your intentions are good, your partner may not care but you control them.
Reverse Position (Love and Relationships)
If you pull The Emperor, reversed, indicates that there is a power imbalance or energy imbalance in your relationship which is causing one of you to feel controlled and not heard by the other. You should learn to compromise if this comes as a result of misunderstanding or not being intimate with each other and sharing your feelings. This card could also indicate that your partner is controlling, abusive, manipulating, in which case you should seek help and get out of the relationship.
The Emperor – Finance, Business and Career

In business and career, The Emperor is a good omen that indicates your work is noticed and appreciated at your job, which will bring you great rewards in return. It also demonstrates that if you are looking for a job, you may find one that suits you, and that works in your daily schedule. You seek structure in your career, and you are perseverant and committed to what you promise, so you need to have the same commitment from others as well.
It could also indicate that you have reached stability in your job and career. Regarding finances, it suggests that you are not struggling with money, but you may be struggling with the way you spend it because you tend to be controlling and tend to spend as little as possible even when you have unfulfilled needs.
What not to do?
The Emperor would advise you not to accept a job just for the sake of money or experience if you feel it is not suited for you. If you require an income, then take the offer, but keep looking for a job that suits you. Down the road, you will start failing to complete simple tasks at a job you don't like, or it won't feel like the place you desire to stay.
Regarding finances, it advises you to be mindful of how much you spend, put some money aside, but also do not obsess overspending for things that you genuinely need. There are cases when people are so controlling over money and sacrifice on buying a necessity, then go and buy something expensive they don't need at all.
Reverse Position (Business and Finance)
In this case, it could indicate that you are finding it hard to work at your job because there's a lack of structure and business plan. As a result, you lack focus and consistency. You take more notice of your work environment and how things are accomplished, and it has bothered you. You should consider switching to another job. Regarding finances, the Emperor reversed suggests that you may have lost control over your money. Either by spending too much or not being able to keep a steady flow of income.
The Emperor – Timing
When will something happen answer?

If it is a question that involves around the timing of an event and you pull The Emperor, it indicates that your desire will manifest on the Zodiac Season of Aries (March 20 – April 21).
King of Swords – The Message Answer

Sometimes, we don't have a specific question. We just want to know how our day will look like, or how we should approach the day ahead. This reading is usually done in the morning,g so you form an idea of what that day will bring you.
Upright
The Emperor would foretell a day that maybe you have planned out, and you already know what you are going to do. You may be handling a lot of tasks, but that is not something to bother you, rather excite you because you are following a structure, and you thrive when things are done in order.
Reversed
If you pull The Emperor in reverse, it indicates a day when you may face many issues or setbacks or delays that throw off your planned day or your timetable. This may cause frustration and a lack of balance within yourself.
The Emperor – Cards Combinations

In a psychic reading, there are at least six cards drawn, and each tarot card's meaning is interpreted along with the other cards, always bearing in mind the first question upon which the reading is conducted and aims to give answers. A psychic will see the tarot cards in a symbiotic relationship with one another, never try to read them one by one, but the whole drawing as a whole.
That's why it is essential to have a look at how The Emperor communicates with the other tarot cards. Taking into account, there are 78 tarot cards in a deck. We will have a look at how The Emperor would be interpreted and affect the outcome of the reading in the light of Suits.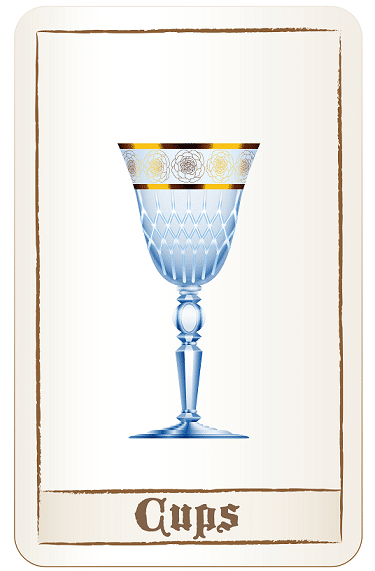 Interaction with the Cup Suits
The Cup Suits represent emotions, feelings, relationships, and contract-ships. This suit is associated with the water element. If we were to draw The Emperor along with the Cup Suits, this is a spread that indicates you are the father figure in your circle, even among friends. You may offer the same support, care, love a father provides. You are also someone who looks after everyone else, though your approach is more practical and not very emotional. You often choose the hard love approach.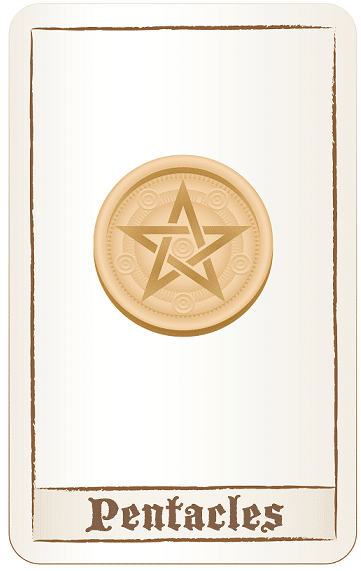 Interaction with the Pentacles Suits
The Emperor, along with another card of the Pentacles Suit, would foretell a job promotion or becoming an expert in your career field. This spread signifies that you have attained specific qualifications and experience for yourself that you are now recognized in your field and awarded for your achievements. It can also indicate that you have built a strong financial foundation that you don't have to worry about financial matters anymore, and neither does your family.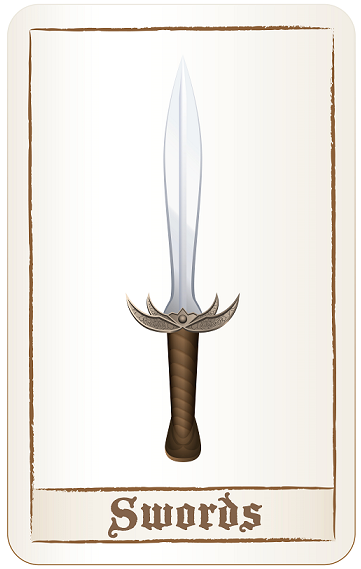 Interaction with the Swords Suits
The Swords Suit, along with The Emperor, is also an interesting drawing. The Swords Suit gets its own share of being a negative suit. This spread would indicate that you know how to handle whatever problems arise. You are not someone to be knocked down easy and, you manage to find a way to solve the issues keeping in mind how those affect not only you but everyone else around you. You should keep in check your emotional health because it may suffer from your ways of disregarding your feelings.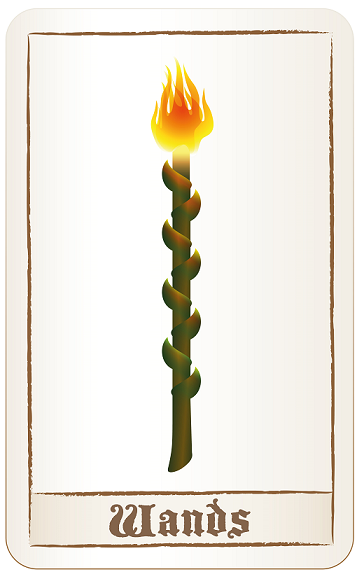 Interaction with the Wands Suits
The Emperor and the Wands Suit is a combination that foretells action based on experience and knowledge. You don't usually take risks, because you don't see the point on taking many risks just for the sake of it. Though when you do take risks, it is because you have to do so, and there is no other way to achieve a specific goal. You are usually successful in your endeavors, and your experience serves you well.
Overall, The Emperor, either by itself or pulled in a tarot card draw, is a card of the father figure, the logical and practical approaches, acting on common sense, and choosing to be assertive rather than vulnerable.