The Empress holds the number 3, and it is the fourth tarot card of the Major Arcana cards.
The Empress tarot card, in its core, usually represents femininity and motherhood. The Empress's planetary ruler is Venus.
The Empress Meaning
When drawing tarot cards, usually they are put in a vertical setting, spread on a timeline of the past, present, and future. In this kind of drawing, The Empress may come up straight, as well as reversed. Some psychic readers like to read reversed tarot cards. Some don't. Either way, the other tarot cards in the drawing will make up for the way the psychic reader conducts their readings, because a tarot card deck is connected to the energy of the psychic reader, so it 'talks' to them.
Upright Position
The Empress card would represent:
| | |
| --- | --- |
| Mother nature, connected to the Earth | Pregnancy and giving birth |
| Cherishing moments | Nourishing life |
| Enjoying abundance | Being rich |
| Luxurious rewards | Living in luxury |
| Senses being activated | Pleasure in intimacy |
| Enjoying vibrant health | Focusing on physical beauty |
| Following the natural rhythms | Accomplishment, evolution |
Reverse Position
In a reverse position, The Empress would mean precisely the opposite of its core qualities, bringing in the drawing:
| | |
| --- | --- |
| Being infertile | Infidelity |
| Lack of growth | Being negligent |
| Facing insecurities | Losing wealth and status |
| Not following the natural rhythm | Going against the flow |
Horizontal Position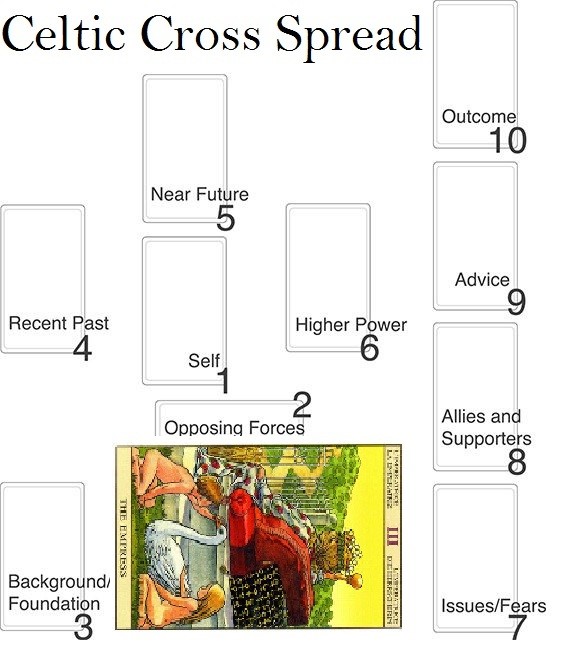 There are also spreads where the tarot cards pulled are placed on vertical as well as horizontal positions. If The Empress would sit in a horizontal position, it advises you to connect more to your inner self and earth.
You are not following the natural order of things, and that may have caused you some setbacks. It is not that you don't have the power to make changes, but you may still have to consider other factors that could affect your decisions and the outcomes.
By taking the time to look into yourself and strengthen the connection with your intuition, you will also give time to yourself before taking action. This period of inward-looking will allow things to roll as they should for a while, and you may see the bigger picture or the details that you missed before.
The Empress – One card pull [Yes or No]

One Card Readings are for when you need a fast, straight to the point answer. You wish not to see the future events or past events; you just need a specific answer on the question for a present situation that is bothering you. You shuffle the cards, then choose only One Card, or you read the One Card that falls out while you are shuffling. Whichever method you use to pull the card, listed below are some of the questions and answers you may get when you pull The Empress.
Yes or No Answer
Upright Position: If you pull the card in an upright position, it means Yes.
Reversed Position: If you pull the card in a reversed position, it means No.
For a Yes or No answer, The Empress represents Yes, as a card of the Major Arcana Suit.
The Empress – Love and Relationships

The Empress would signify that your relationship is in a positive state at the moment. It signifies that you have reached a certain level of commitment, which may be followed by marriage or kids. If you have wanted to expand your family for a while, this card indicates that you will have a child in the family soon.
If you have a family and you are not looking to have another kid, then this card would indicate that you have reached a new level of intimacy with your partner, or you may be rekindling the old flame of passion.
How someone sees you or feels about you?
The answer would be they see you as their partner in life, and they would not choose anyone else over you. They feel like you are their queen, their other half, the person meant for them since the beginning of time. They may see you being high-maintenance, and you taught them how to treat you and how to treat themselves better.
They work on cherishing you and seeing you smile because if you are happy, the whole family is happy. If you have children, they are grateful for the wonderful mother that you are. If you don't have children, they may believe that you will be a good mother, and they may be wishing to have kids with you.
Just starting dating?
If you have started dating this new person, The Empress may indicate that your date sees you as someone who would be a great partner and someone they would be glad to commit to. You may be getting in a relationship soon with the one you are dating. If you are on the first steps of the relationship, this card would indicate that you both are looking for a commitment, even if the timing has not yet come, this is a relationship that will grow into something more.
What not to do?
In terms of what not to do, it would advise you not to put other needs before your own. You can make time for yourself without bearing the guilt that you are not caring for others. If you ignore your own needs for too long, you may come to feel unattractive to yourself, be exhausted and angry all the time, and at some point blame your closed ones for what they had done to you when all this time it was you who chose not to take care of your own needs and desires. There is a balance between what you give and what you take and how you spend your time.
Reverse Position (Love and Relationships)
If you pull The Empress, reversed, indicates that you are not feeling in your power, you may be repressing your feminine side and its needs. Maybe for fear of disappointing your family or taking too much time for yourself from their time. You may feel like you have to exhaust yourself to make them happy. It can even be that your partner does not allow time for you to take care of yourself, or they may believe in the patriarchy rules which rule that women have to care endlessly for the family and their men.
The Empress – Finance, Business and Career

In business and career, The Empress is a good omen that indicates you are at a good place in your job. You will feel inspired, and you will inspire others. It may suggest that you have many ideas that you have been juggling for a while, and now you are ready to give birth to them.
It may also indicate that you will be working at an artistic field, or your job may look for your creative abilities. Regarding finances, it suggests that you will experience a cash flow. It also reminds you to listen to your intuition when it comes to investments.
What not to do?
The Empress would advise you to look into yourself and recall your strengths. If all you see are weaknesses, you have to remind yourself of your strengths. You need to listen to your intuition, and if it helps, apply your creative side to a hobby, a side-hustle, or find a way to make it work at your job. Once you have some experience and discover what you do best, your self-esteem may grow.
Reverse Position (Business and Finance)
In this case, it could indicate that you are not feeling fulfilled at what you do, either be it a nine to five job or your own business. You lack inspiration and motivation, or your job is not providing you with the necessary space for you to apply your creative side and ideas.
The Empress reversed sheds light on your inner world and how you are talking to yourself. You are feeling insecure, and you are not trusting yourself. Regarding finances, even if there is a flow of money, you have problems believing that the flow will last or that you know how to handle your money. Once you clear the self-doubts, you will see you can live in abundance.
The Empress – Timing
When will something happen answer?

If it is a question that involves the timing of an event and you pull The Empress, it indicates that the timing may depend on someone else's actions or divine timing.
The Empress – The Message Answer

Sometimes, we don't have a specific question. We just want to know how our day will look like, or how we should approach the day ahead. This reading is best performed in the morning, so you form an idea of what that day will bring you.
Upright
The Empress would foretell a day when you may follow your intuition and take the day for yourself. You may decide to enjoy a day at the spa, choose to travel somewhere, go shopping, or whatever. You will choose to cherish yourself and be grateful for another beautiful day.
Reversed
If you pull The Empress in reverse, it indicates a day when you may lose touch with yourself. You may not like to get to work, or you may struggle to solve simple problems, just because you don't feel like it, you may be having insecurities, or you may be listening too much to the outside voices.
The Empress – Cards Combinations

In a psychic reading, there are at least six cards drawn, and each tarot card's meaning is interpreted along with the other cards, always bearing in mind the first question upon which the reading is conducted and aims to give answers. A psychic will see the tarot cards in a symbiotic relationship with one another, never try to read them one by one, but the whole drawing as a whole.
That's why it is essential to have a look at how The Empress communicates with the other tarot cards. Taking into account, there are 78 tarot cards in a deck. We will have a look at how The Empress would be interpreted and affect the outcome of the reading in the Light of Suits.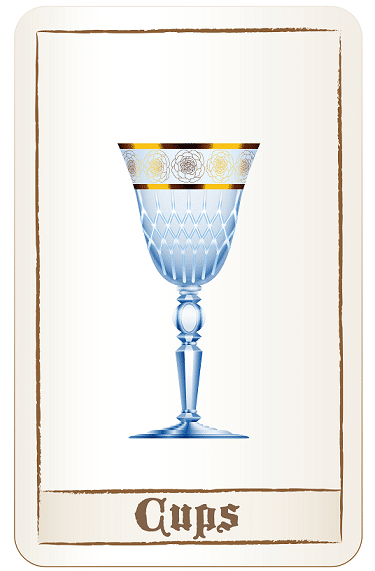 Interaction with the Cup Suits
The Cup Suits represent emotions, feelings, relationships, and contract-ships. This suit is associated with the water element. If we were to draw The Empress along with the Cup Suits, this is a spread that indicates you have a soft side for your family and loved ones. It can also mean pregnancy and expanding your family. Your closed ones see in you a mother figure that takes care of them, nourishes them, listens to them, and protects them just as a mother would, even if they are your friends or older family members.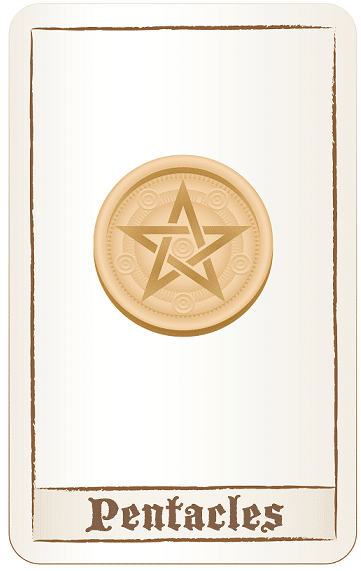 Interaction with the Pentacles Suits
The Empress, along with another card of the Pentacles Suit, would foretell finances and business expansion. This spread indicates that you may be birthing new ideas or new streams of income. You are creating a steady flow of money to support your needs and desires but also to make it possible for you to invest in more important things. You are manifesting the luxurious life that you want, and money is coming to you from all around. It could also indicate a sudden or unexpected flow of income.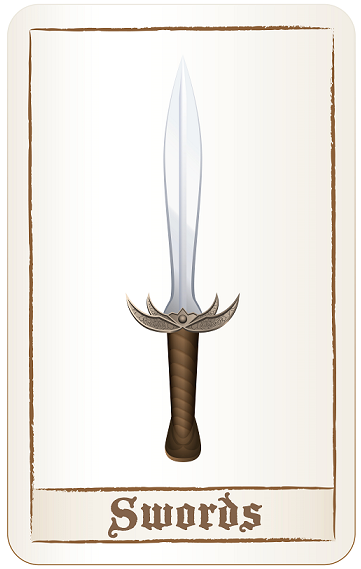 Interaction with the Swords Suits
The Swords Suit, along with The Empress, is also an interesting drawing. The Swords Suit gets its share of being a negative suit. This spread would indicate that even though your life may be falling apart around you and you are facing many problems, you still manage to breathe calmly and guide yourself and your family out of trouble. During such hard times, it is vital to keep yourself together. If you have not reached this state yet, the spread signifies that's how you get out of the mess you are in.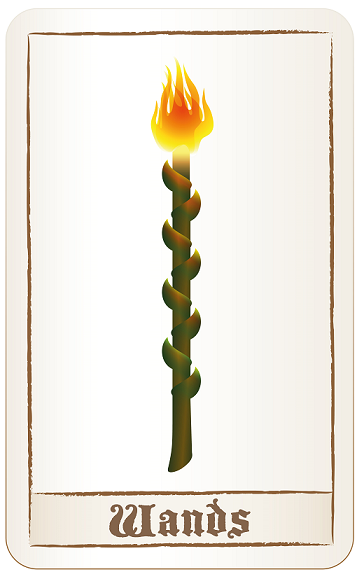 Interaction with the Wands Suits
The Empress and the Wands Suit is a combination that foretells taking action on fresh ideas. This spread indicates that you are about to or have taken steps to put an idea into action. You are giving birth to your ideas, and that's all you have to focus on right now. These are plans that have been brewing inside you for a long time. It is time to turn the focus onto your achievements and goals.
Overall, The Empress, either by itself or pulled in a tarot card draw, is a card of connection to your inner self, the mother figure, pregnancy, and birthing new ideas.