I'm a massive fan of Mindvalley's programs. I often check their page, and one day I stumbled upon a new Mindvalley's course called "The Habit of Ferocity".
I was fascinated with the topic and decided to book the course.
The course is currently 68% OFF if you use a special discount code.
You can find information about this offer here.
Even though I noticed that the official start for this program was a few days later than I purchased the program, I wanted to start with the quest right away.
So, I bought lessons in advance to study them. Mindvalley recommends, doing the quest at the same time as everyone else, but I couldn't wait. I was inspired, and a little impatient, so I decided to get a head start.
My Opinion First
When someone says: "Mindvalley Course", there are two essential things you need to consider:
1. High Price
2. High Quality
Mindvalley is known to work only with top achievers, so when you see that a course costs a few hundred dollars or euros or pounds, you need to bear in mind that you won't be lectured by some "wannabe."
Steven, in this case, is one of those personalities that could lift your career to the next level probably by just looking at you. He has written a few bestsellers, he has spoken to and consulted with some of the most popular companies in the world, and help others build their careers.
I mean, just look at this:


Now let's talk about the price a little. This course isn't just a course. One thing that I find almost more valuable than the course alone is access to a private Facebook group.
Being connected with like-minded people is the most valuable step in building a career. These people can give you tips, connect you with other people that can help you… basically, you become a part of the community… a part of the high-achievers team. This is priceless!
I would wholeheartedly suggest that you at least try and after ten days, you can always get your money back if you won't be satisfied.
Click here to get a special discount code.
Who is Steven Kotler?
Steven Kotler is a bestselling author and an award-winning journalist. He is considered a leading expert on high performance. He writes self-help books that help people to rethink their lifestyles and change it to a more productive, satisfying, and meaningful way of life. He is also the author of "Flow".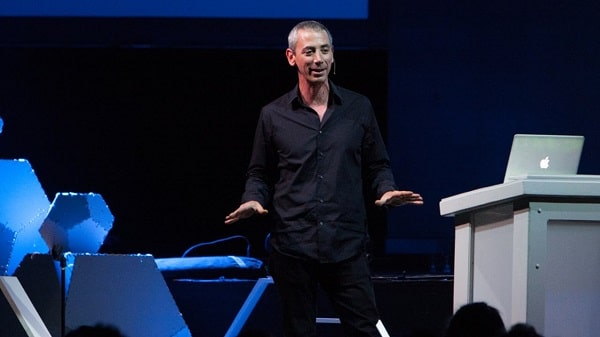 What Exactly is The Habit of Ferocity?
Steven Kotler, in his books and courses, teaches people about optimizing one's performance. I think it's pretty apparent to us, our potential; This is regardless of how talentless you claim to be.
In our heads, we know that if we put in the effort, it will pay off. Reluctance to put in the work for whatever reasons be it fear of failure, pain, etc., is what keeps us from achieving what might have been our prize.
It is a course designed to help you reason with your well-meaning brain that tries to protect you, from failure, pain, and discomfort. An example Kotler gives in his lessons is how we are reluctant to go to the gym.
He asks us what the hardest part of going to the gym is. Then, proceeds to tell us that it is the internal resistance in our head. In a sense, sometimes just showing up is the hardest part of going to the gym.
The basic outline of the program teaches:
Productivity & Focus
Here you will learn how to get yourself to a space where you can give it your best, enabling you to optimize performance.

Psychological Triggers Explained. (Source: The Habit of Ferocity E-book)

Problem Solving
Here you will learn problem-solving skills and how to achieve that clarity you will require to solve problems.
Creativity & Intuition
You will be taught to channel your intuition and creativity; This will help you come up with brilliant ideas and solutions.

Creative Triggers Explained. (Source: The Habit of Ferocity E-book)

Communication
The lessons will help you communicate your thoughts with charisma and clarity. Being a good communicator is a plus for anyone.

Social Triggers Explained. (Source: The Habit of Ferocity E-book)

Grit & Motivation
You will be taught how to be resilient and how to push forward in the face of adversity.
Learning & Growth
The program will help increase your learning capacity. You will have the capacity and ability to absorb new information by practicing what is taught in the lessons.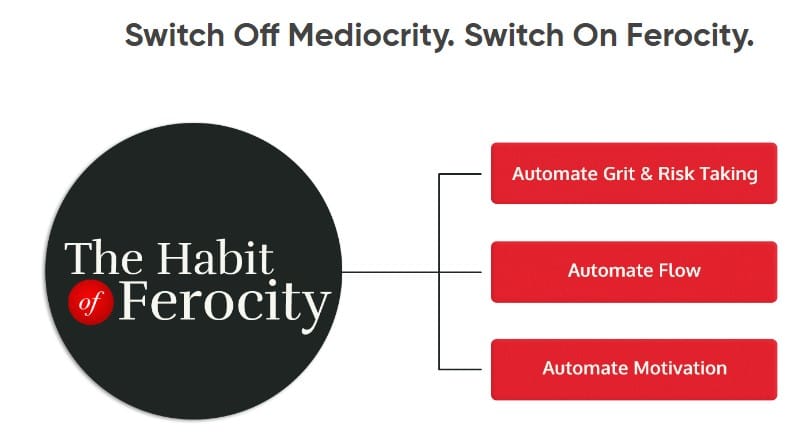 The Core of the Habit of Ferocity Course
Your Ferocity Primer
The first chapter the ferocity primer teaches us how to get ourselves into a state of mind where we can perform our best. This chapter lays down the foundation and makes it easier for you to use the information by laying down the groundwork.
When I went through the course's website, it looked like a few things were missing in the description for Chapter 1, i.e. the ferocity primer.
So, to sum things up and so I don't spoil too much, you learn about the Flow, since flow is the part of mastermind formula, along with the grit, and motivation.
Flow is the optimal state of consciousness. In this state, you can perform at peak levels. The flow is also commonly known as the zone. These lessons helped me access my flow.
You know you are in the flow when you are performing your best. When your focus is on nothing else but the work you are doing.
Automating Motivation
Unbreakable motivation is a crucial pillar of ferocity. You will find yourself doing better work, getting more done, and always looking forward to the next challenge and opportunity. With this lesson staying motivated will no longer be a struggle of willpower.
Highlights of this chapter include:
The 5-step mind hack will help you get clarity and help you find your passion. Using neurobiology, you will be able to turn curiosity to passion.
You will discover the secrets of being an 'Expert'. Expertise is not about talent and intelligence. You will learn to channel your focus into becoming the best in your field.
You will learn the effect of social reinforcement and how connecting with others can help increase motivation through the science of biology.
The formula to take your passions and turn them into your audaciously big purpose and in the process will multiply your motivation.
Automatic Flow
Flow is a state of mind when your consciousness peaks to greatly amplify productivity, focus, and skill. Steven Kotler is known for his study of this subject. This lesson taught me about the various way to get into the zone.
Highlights of this chapter include:
Automating flow will help you get to this state of mind with ease. Without even thinking about it, you will be able to achieve this state; This will help you perform your best every day.
The neuroscience of achieving goals- Steven Kotler teaches us his method of setting a goal. I assure you this will be the last time you will ever need to learn a method for setting good goals.
Goals need to have a flow of sorts. Goals that will push you forward and goals that will you set you back are the two types of goals. This lesson taught me to weigh my goals and pick the one that suits my progress.
Here's one amazing video that I found on Youtube, about the Flow and how to get into one.
[embedyt] https://www.youtube.com/watch?v=XG_hNZ5T4nY[/embedyt]
Automatic Grit
When you get to this lesson, you will realize why I so wholeheartedly recommend. This chapter; automatic grit, will teach you to have this firm determination.
You will be able to get to this state of mind and remain there every day without having to lean on constant hype. You will no longer require someone else to help motivate you.
Highlights in this chapter include:
The six types of grit: Most people when they think of grit they think of perseverance and so did I before the lesson. After the lesson, though, it was a whole different story. I learned about the types of grit and how to use grit to your advantage.
Fear can be crippling, but his lesson taught me how to channel them into helping increase my motivation towards my goals.
We require a mindset that has not only goals but also growth in mind. This lesson teaches us how to fortify our grit; This will help to empower and enable us to focus on rewards rather than the fear of failure.
A Lifetime of Ferocity
This lesson is the final chapter. Here you will learn how everything comes together to turn this habit, into an everyday phenomenon to empower your life.
Highlights in this chapter include:
How to cement this habit in your life. This lesson will teach you how to use elements in your environment, your time and effort to permanently take advantage of this new knowledge.
In this step, you will discover yourself and learn how to take the ideal steps. Molding your outlook to strengthen and support your goals.
The lessons that helped me the most from this master class were the lessons that help enable me to peak my creativity and intuitions; This was important for me as an author. If you are a creative person, you know how frustrating a writer's block can be.
I needed this so I could help people in my therapy sessions. The creativity that I needed and the sensitivity to my intuition are what helps me every day. Interaction in the work environment feels more productive than it used to before I took these lessons.
Is it worth buying the "The Habit of Ferocity"?
I've been following Steven for a while now, and because I loved Flow. I wasn't even in the slightest doubt when signing up for this new course.
Just like Flow, this course amazes me every time I watch it.
Also and you can get a 68% discount if you enroll by specific dates. Basically, this discount will save you hundreds of dollars.
The program comes with full lifetime access to "The habit of ferocity" quest.
I recommend you begin the quest at the appointed time that Mindvalley recommends. You will be able to start your journey with thousands of others.
This way, you will be able to support and uplift each other.
Some other freebies you get with the course includes
Access to a Mindvalley Tribe Facilitator.
Tribe Facilitator will help guide and optimize the experience before, during, and even after the journey.
Lifetime access to the private "The Habit of Ferocity" Facebook group.
Pre-recorded live Question and answer calls with Steven himself.
As I already mentioned, being in a Facebook group is definetly worth the cost of the full course.
Mindvalley also has award-winning customer support to back you up. If you want, you can even get a printable digital certificate for just 50 dollars extra on the completion of your quest.
[embedyt] https://www.youtube.com/watch?v=T0GNPYj8dDs[/embedyt]
Who Should Consider Buying the 'Habit of Ferocity'?
This course can be taken by anyone who desires to be the best at what they do. It will enable you to be able to perform at your peak.
It is for professional that seek methods to boost productivity and maximize their problem-solving capabilities. Whether you are a CEO, an artist, or any creative soul, these lessons will help improve and help you become established as an expert in your field.
Whether you want to achieve a personal or a professional goal, adopting the systems and habits taught in this course will facilitate you. It'll prepare you to achieve your goals with greater ease, confidence, and joy.
Final Thoughts
The Habit of Ferocity is a 35-day long crusade. Every day you will join Steven on bite-sized training periods of 15 to 20 minutes. You will embark on this journey with students from all over the world.
Steven himself will support the whole journey, along with a community. You and your fellow students will form this community. Also, what's better than having the leading expert himself tutor you?
By the end, it will help you challenge and conquer your biggest goals. You will be conditioned with the Habit of Ferocity, empowering you only to give your best in whatever you choose to do. No challenge will be impossible to tackle.
The unique combination of micro-learning and community support daily is Mindvalley's course design to maximize engagement and transformation. Once you take on the quest, you are most likely to finish the course when compared to traditional courses.
Mindvalley is the number one company in this field. The thousands who have completed the course can attest their worth, including me.
Steven is an experienced lead expert in this field. His regular fees are 5000 dollars with a waiting line for his services, booked months ahead. However, this course can get you access to his brilliant mind.
There are thousands of people who are satisfied with the course. If you are still a little bit skeptical, there is a 10-day money-back guarantee with no risk.
Two Famous people who praise his vision, just off the top of my head are Bill Clinton and Elon Musk.
Elon Musk is a very outspoken person, and we all know about his views on AI despite his hand and expertise in that field. I believe he wouldn't just give out a testimonial without a firm cause.
For me, I believe that "The Habit of Ferocity" quest gave me motivation and ideas to write about even more topics and discover new spiritual development techniques.
Once I started writing ideas down when I was listening to this course, I couldn't stop.