The fight to muster up energy had hit me particularly hard one August morning right before going for my run. I was in my kitchen browsing on my laptop when I remembered that my friend John had been telling me to check out The Longevity Blueprint Quest at Mindvalley.
It's a sad day indeed when it's only Monday and you're already tired from the week. It's tough to come to grips with not having "it" like you used to; the "it" of a 20-something going non-stop all the time.
I figured then that now was as good of a time as any.
John had been telling me for a while what I already knew: that I needed to chill out with the long and grueling work out sessions; he was always pushing me towards what he claimed was a smarter way. It's true: I knew that what I needed was a method that was styled to enhance my entire well-being – from inside out body, mind, and soul.
To my luck and John's credit, looking up The Longevity Blueprint reviews I found that this was exactly what instructor Ben Greenfield was teaching.
After reading about Ben Greenfield and his philosophy, I wanted to start my quest immediately. Even though the official start date for his program was set for September 27, I went ahead and bought the lessons to go at it alone anyway. Mindvalley recommends that you start the quest at the same time as others, but I already had the momentum going. I had to start then, and so I did.
With tons of programs that seem legit and teachers whose expertise I yield to; I still find myself being picky about which ones I actually take up, let alone spend money on. What I liked about renowned coach Ben Greenfield is that he spoke about cutting-edge ideas like "bio-hacking" and "brain and body performance".
I liked that Ben was teamed up with Mindvalley, which has been one of my favorite brands in personal development for some time; and that his progressive methods were being taught to people operating at high levels like professional athletes and CEO's.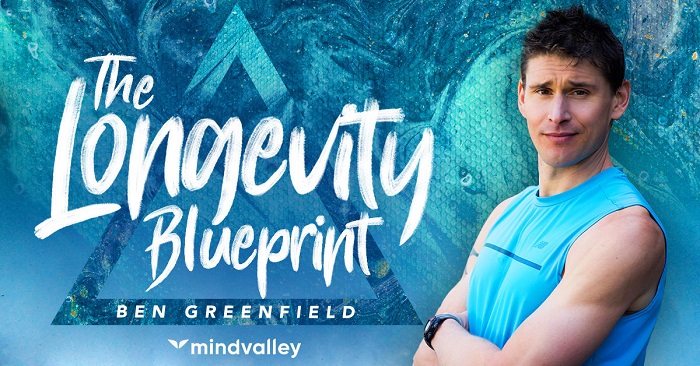 But most of all, what pulled me to Ben and his program was his own story: how at just 34 he found out that his biological age was actually much-much older (while today it is closer to that of a 20-year-old). If Ben was by all appearances a healthy and fit 34-year-old, then I knew this could be the solution to my very own plaguing low energy crises.
Ben's talk on Mindvalley Talks
[embedyt] https://www.youtube.com/watch?v=p7ccaKmoSfM[/embedyt]
What exactly is The Longevity Blueprint Quest?
If you're looking for another intense gym work out regimen or a do-nothing feel-good approach, then this probably isn't for you.
The Longevity Blueprint Quest is truly a middle-way; the best of both worlds. It explains a process that's backed by science; a method to enhance your entire physiology in stress-free style – to achieve the results that you've been chasing with long hard hours at the gym.
It's a mixture of the short and explosive and relaxing and easy workouts; mixed with simple bio-hacks and the knowledge of your body's science for maximum efficiency – all while taking your safety and well-being into regard.
To put it simply: it's a system of approaches to enhance your entire body, mind, and soul that knocks years off of your biological age. It's 7 days of daily lessons from Ben; including easy-going and effective workouts, short and intense workouts, and tons of simple hacks to relieve pain, energize, and shorten the length of your recovery time.
And because I've benefited so deeply from this course, and truly believe in what coach Ben Greenfield is teaching; I decided to write my own The Longevity review.
My Opinion on this program and results
I know now that the goal isn't about becoming a bodybuilder necessarily (well, unless you're a bodybuilder); rather I'm taking my entire well-being into consideration, by knowing my body and the science on how to most effectively work with it. To have my well-being intact and my energy back absolutely trumps anything else that I could be accomplished at the gym.
Plus, right now at it's $696 off and it's really unbelievable that you get the entire 7-week course with access for life, the Q and A with bio-hacking coach Ben Greenfield, the app, the workout and diet guides, and the support of a lovely community to grow and expand with.
My experience with the program has been so great, that it's led me down the path of exploring other Mindvalley programs (like the Habit of Ferocity) and broaden my spiritual and personal development horizons. What I've been able to learn and teach others has been so great that it's given me a purpose to write about more of these approaches in the hopes that I can help others.
It's given me my spark of youth back and much more. Mainly, I now benefit from having a much more effective way of working out that just makes sense.
You can find a special discount here.
You can also take a free 60-Minute Masterclass (like I did) before you buy this program. You can find this free masterclass here.
The Core of Rapid Transformational Therapy Course
To kick off the review, I'll be taking you through a brief overview of the programs 7 weeks, so you'll know more-or-less what to expect on your quest…
Here's a quick preview of what you'll learn:
And here we'll get into details.
Week 1 of The Longevity Blueprint is basically preparation.
But what I hadn't expected to learn in week 1 was so much about myself…
Such as: the most effective ways for me as an individual to find my specific spot of strength to increase my muscle mass, how to elevate my metabolic efficiency; and how to enhance mitochondrial density to increase longevity, accelerate my recovery time, and rebound much quicker than ever before.
Week 2 simplified is about kick-starting metabolism to burn fat throughout the day.
This includes simple hacks for energy and revitalization, easy exercises that awaken your "fat-burning mode"; and more scientific approaches to relieve pain, improve your flexibility, and speed up your recovery time.
Week 3 of the quest, Ben deploys what he calls "the super-slow strength protocol"; used to develop strength and muscle growth rapidly, effectively, and safely.
Also introduced is a hot therapy technique that improves blood flow and leaves you feeling revitalized; effective kettlebell exercises to build lean muscle and an Olympic style foundation training that works miracles on strengthening your core.
Week 4 and I was already feeling good.
This was a notable week for me since I believe it was when I got over the threshold to develop more energy throughout the day, which I'd noticed after doing the Quest's extended High-Intensity Interval Training. With such intense training, it's only suitable that in week 4 Ben taught us isometric strength to improve joint and muscle health; and stretch routines to decrease the risk of injury.
Week 5 is all about stamina.
These teachings took me to the next level and I can now safely say that I have my endurance back. I learned methods to keep my peak-performance going for longer which has served me well in my usual workout routines. In week 5, Ben gives you a fast and simple plank exercise for abs and building a strong core, sprint HIIT for increasing stamina, as well as a yogic deep breathing exercise to increase the bodies oxygen; which I use throughout my day to give me more energy.
Week 6 is about cardio and weight routines.
What's notable about week 6 is that the bodyweight exercise that Ben teaches is super convenient, and you don't even need to go to the gym to do it.
Week 7 and you've already learned a lot.
It's impossible to think that you're going to use every technique that Ben Greenfield teaches you in this course, although you will have many to store in your arsenal. This is why week 7 is crucial. It's important to work with Bento craft your own tailor-made workout routine using some of the techniques that you've learned. You'll also be taking an assessment to measure your final post-course results.
Find out what students are saying about this program.
[embedyt] https://www.youtube.com/watch?v=VAALQnUc5go[/embedyt]
When you take this quest you will..
Feel youthful, revitalized, and energetic once again. Your natural spark of endurance will be back like it had never left you.
The way you exercise will be drastically different from before. Instead of wasting hours at the gym, working out will feel fun and natural while much more gets accomplished in half the time.
You'll find pleasure in the simple; knowing the science behind what your body is accomplishing through these relatively easy and enjoyable workouts.
And lastly, you will spend less—way less—time in recovery, injuring yourself, and post-workout pain will be a thing of the past for you. Not because you've learned to be an unstoppable beast at the gym, but because you're now smarter; exercising with cutting-edge science on your side.
Is it worth buying The Longevity Blueprint Quest?
Any quality program that I've taken in the past which has brought me real and lasting change has been an investment. My philosophy is always that investments in things like my spiritual growth, learning new career skills, and especially my health – any investment in myself is always money well spent.
This is certainly the case with The Longevity Blueprint Quest, which was costly for me; but luckily for you right now it isn't.
You can now take the quest with coach Ben Greenfield for only $449, which is $696 off the full price that I paid (and still found it entirely worth it).
That's the entire 7-week course, and included in the package is:
Full access to the entire 7-week course with famed bio-hacking coach and longevity expert Ben Greenfield.
A live coaching call with Ben Greenfield which usually costs people upwards of $1,000.
Support of a community with individuals thriving just like you.
Free mobile app and an Ipad app.
A Guide to Deeper Sleep and Healthy Diet which is compiled by the head of Mindvalley Health and Fitness, Ronin Oliveira.
Done For You Workout Program to incorporate into your daily workout routine. And if you sign up and you find out that this quest isn't for you, you are…
Always eligible for a 10-day money-back guarantee.
Signing up for the program grants you access to retake the course as many times as you'd like as well.
At even the price that I paid, I don't regret the purchase at all; even recommend it to others whenever I get the chance – telling my friends the same things I've written about above.
The impact that it's had on my life and the way that I approach my workouts is priceless, plus it's granted me the ability to pass these teachings off along to my friends like John had been attempting to do for me. It's really a small price to pay when you're considering the longevity of your health and well-being.
Frequently Asked Questions
It's my hope that my The Longevity review covered a lot of your questions already, but who knows; you may have some more…
How exactly does this course work?
This quest is an online 7-week course with the popular longevity fitness coach Ben Greenfield; made up of daily 15-20 minutes lessons online, with 30-60 minutes set aside each day for your workouts. I found that the amount of time paled in comparison to the time I was spending on my exercise routines before.
Why is this program better than other, similar programs?
This program is completely unique; having access to experienced and famed bio-hacking coach Ben Greenfield's teachings alone is priceless. It is brought to you by Mindvalley; the number one trusted source for education and personal development, and a brand that I've admired from afar for some time.
Thousands, who I am proud to stand with, have taken this course that addresses the person's entire well-being; for a life of complete transformation, health, and longevity.
Do I need to sign up for a gym membership or buy any equipment?
No, a gym membership is not necessary. But if you have one and are like me, you can certainly make use of the equipment at the gym when you go. The equipment needed for The Longevity Blueprint course includes a pair of dumbbells, one set of kettlebells, a yoga mat, and a foam roller. So, not a whole lot of equipment will be necessary – all of which can be found online or at a local sporting store.
What level of fitness do I need to be at to take the Quest?
This program is for all; regardless of fitness level, age, etc. The only thing that is recommended by coach Ben Greenfield is that if you have an injury, or any pre-existing conditions, that you speak to a physician first.
Can I go through the quest at my own pace?
Yes, you can. One of the many wonderful things about purchasing the course is that it's made available to you for an entire lifetime.
Don't miss out on the discount. Find it here.