The Hanged Man holds number 12, and it is the thirteenth tarot card of the Major Arcana cards.
The Hanged Man tarot card, in its core, usually represents changing directions and letting go. The planet ruler of this card is Neptune.
The Hanged Man Meaning
When drawing tarot cards, usually they are put in a vertical setting, spread on a timeline of the past, present, and future. In this kind of drawings, The Hanged Man may come up straight, as well as reversed. Some psychic readers like to read reversed tarot cards. Some don't. Either way, the other tarot cards in the drawing will make up for the way the psychic reader conducts their readings, because a tarot card deck is connected to the energy of the psychic reader, so it 'talks' to them.
Upright Position
The Hanged Man card would represent:
| | |
| --- | --- |
| Letting go | Accepting reality h |
| Emotional release | Surrendering to the situation |
| Putting an end to the struggle | Being vulnerable |
| Accepting divine will | Gaining a new perspective |
| Pausing to reflect | Waiting for a better opportunity |
| Sacrificing your own needs | Giving up for a higher cause |
| Facing abandonment | Readjusting yourself |
Reverse Position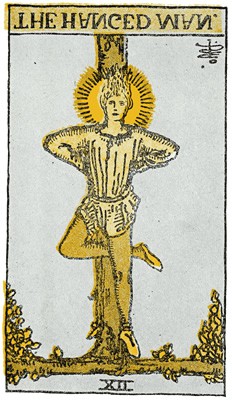 In a reverse position, The Hanged Man would mean precisely the opposite of its core qualities, bringing in the drawing:
| | |
| --- | --- |
| Dealing with depression | Being punished |
| Being delusional | Detaching yourself |
| Following negative patterns | Apathy |
| Disconnecting from your self | |
Horizontal Position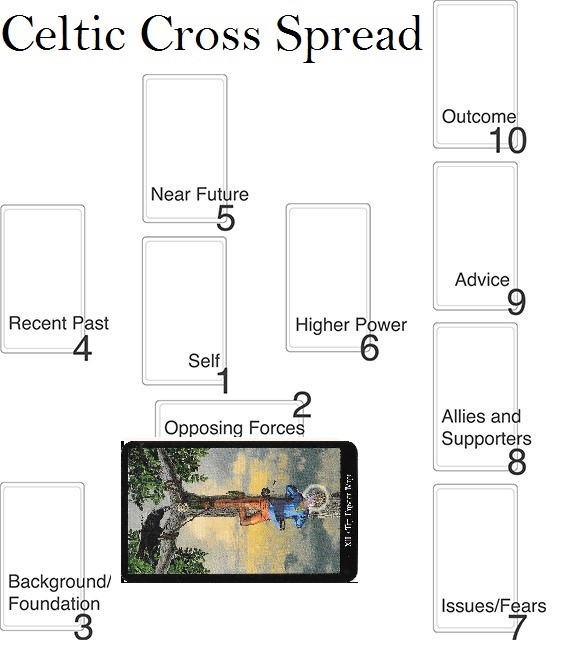 There are also spreads where the tarot cards pulled are placed on vertical as well as horizontal positions. If The Hanged Man would sit in a horizontal position, it reminds you that you should let go of things you can't control anymore.
The obsession with changing something you are not happy about won't help you change it unless it is totally in your control. If a situation is not in your control, you can't force it. You would rather let it go. It helps to gain a new perspective or change your mindset about something that is weighing you down.
For example, if you don't want to break up with someone, or you refuse to accept their decision, the relationship is not something you can force to be. In this case, a change of direction or perspective would help you move forward, like being grateful for the lessons, the experience, and trusting what the future has on hold.
The Hanged Man – One card pull [Yes or No]

One Card Readings are for when you need a fast, straight to the point answer, you wish not to see the future events or the past events. You just need a specific answer to the question for a present situation that is bothering you. You shuffle the cards, then choose only One Card, or you read the One Card that falls out while you are shuffling. Whichever method you use to pull the card, listed below are some of the questions and answers you may get when you pull The Hanged Man.
Yes or No Answer
Upright Position: If you pull the card in an upright position, it means Yes.
Reversed Position: If you pull the card in a reversed position, it means No.
For a Yes or No answer, The Hanged Man represents Yes, as a card of the Major Arcana Suit.
The Hanged Man – Love and Relationships

The Hanged Man would indicate that your relationship is going through a rough patch at the moment. It doesn't matter whose fault it is, because the both of you can't seem to make it work and set the record straight, but you may be blaming each other back and forth until you have nothing left to say.
This card signifies that the problems in the relationship can be resolved. Both of you must make peace with yourselves for your mistakes and also try to communicate with each other in a healthy manner. It signifies that maybe all you have to do is accept the faults and arguments, but change the way you approach your partner and your relationship. You should be in a more positive mindset.
How someone sees you or feels about you?
The answer would be they see you as someone who is easy going and who does not tend to overthink life much. You take life as it comes, and you choose to respond to each situation as it happens. When problems arise in the family or relationship, you decide to accept your fault or mistakes where there are any and cause a big fight over nothing. They appreciate the side of you that treats problems with care and positive energy.
Just starting dating?
If you have started dating this new person, they see you as someone willing to try something new or reinvent themselves. Maybe they get the feeling by talking to you, and you may have just decided to get back to the dating world, or you have expressed your desire to try something new. They see you as someone who always has an opinion about everything and also eager to learn about things you don't know. You like to fill your mind with every bit of interesting information you can get, and your date feels heard and appreciated.
What not to do?
In terms of what not to do, it would advise you not to ignore your responsibility when it comes to problems in the relationship or arguments with your partner. It advises you to accept your faults and shortcomings and also be more open-minded when talking with your partner. A change of perspective and how you see things would help you.
It doesn't mean to accept cheating, dishonesty, abuse, or any other behavior that hurts your integrity and personality. Still, you must accept the fact that your partner has a life and personality of his own, so you shall accept for them what you would like yourself to be accepted by them
Reverse Position (Love and Relationships)
If you pull The Hanged Man, reversed, it may indicate that you are still repeating your mistakes and relieving the same old problems and dysfunctional relationship because you have not learned from the past or you are unwilling to change. It can also indicate that you or your partner have already given up on the relationship, but you have not decided to break up in fear of the future or to be alone.
The Hanged Man – Finance, Business and Career

In business and career, The Hanged Man card may indicate that you feel stuck in your career, and you are rethinking your career choices or your job opportunities. You may be struggling to make a decision or figure out the next steps to make advancements in your career. Maybe you should give yourself more time, until your head is clear, or you have more information on hand.
Regarding finances, it can indicate that you are not happy with your finances, and you perceive your financial situation being worse than it is. It could come as a result of you focusing solely on the money, but you could have other things in your life that fulfill you that are not getting any gratitude or attention.
What not to do?
The Hanged Man would advise you that you have to raise your arms and reach for what you want. Surrounding the situation as it is will not help you get to the top or create the life you want for yourself. Also, it reminds you that no one is going to help you out of the mess you are in unless you help yourself. You should take control of your finances and career matters.
Reverse Position (Business and Finance)
In this case, it can indicate that things are not going well in your career, and this situation may have been going on for a while now. You are very much aware of how bad the situation is, but you are not taking any steps to make positive changes. You may be choosing to blame others for your losses and not take the responsibility yourself. Unless you hold yourself accountable, not much will change, and things may get even worse.
The Hanged Man – Timing
When will something happen answer?

If it is a question that involves the timing of an event and you pull The Hanged Man, it foretells a delay, and gives no indication of how long.
The Hanged Man – The Message Answer

Sometimes, we don't have a specific question. We just want to know how our day will look like, or how we should approach the day ahead. This reading is best performed in the morning, so you form an idea of what that day will bring you.
Upright
The Hanged Man would foretell a day when you may need to embrace a new mindset and take control over your situations. You may experience a sudden revelation or inner knowing that will completely change your perception.
Reversed
If you pull The Hanged Man in reverse, it indicates a day when you may feel stagnant and weak. You may accept the dire situation by crying over your bad luck and refusing the responsibility to change it.
The Hanged Man – Cards Combinations

In a psychic reading, there are at least six cards drawn, and each tarot card's meaning is interpreted along with the other cards, always bearing in mind the first question upon which the reading is conducted and aims to give answers. A psychic will see the tarot cards in a symbiotic relationship with one another, never try to read them one by one, but the whole drawing as a whole.
That's why it is essential to have a look at how The Hanged Man communicates with the other Tarot Cards. Taking into account there are 78 tarot cards in a deck. We will have a look at how The Hanged Man would be interpreted and affect the outcome of the reading in the light of Suits.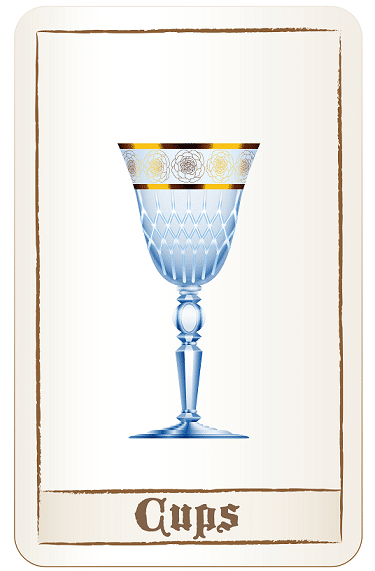 Interaction with the Cup Suits
The Cup Suits represent emotions, feelings, relationships, and contract-ships. This suit is associated with the water element. If we were to draw The Hanged Man along with the Cup Suits, this is a spread that may indicate you may be sacrificing yourself and your own needs for your family, friends, or partner. You may feel they need the support or the care more than you do, or you may get the 'being the hero' feeling. You may not even realize your pattern, and even if you do, you can't help it, because that's how you were designed.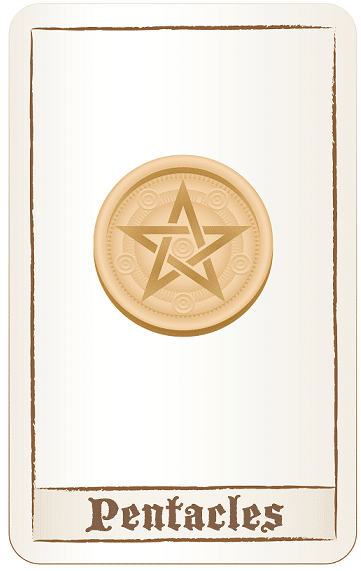 Interaction with the Pentacles Suits
The Hanged Man, along with another card of the Pentacles Suit, would foretell business or job change of direction. This spread indicates that you may need to or already chosen to change direction regarding your career. It means that you may be choosing to work for another company or change your business niche. Depending on the surrounding cards, you can realize if the changes will bring you a better income or not.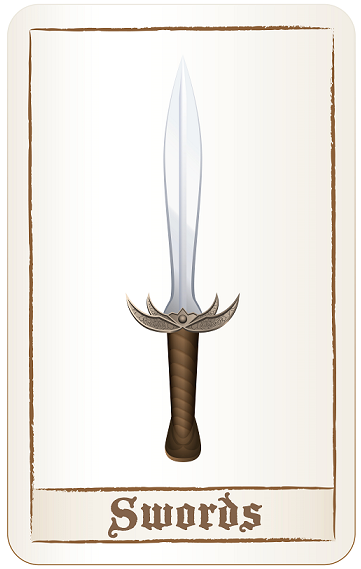 Interaction with the Swords Suits
The Swords Suit, along with The Hanged Man, is also an interesting drawing. The Swords Suit gets its share of being a negative suit. This spread would indicate that you are suffering from problems of the past, and you have accepted you are unlucky. While you are contemplating about your misery, you are forgetting that all you need to do is change the way you deal with your problems or the people causing your issues. If you gain a positive attitude, you will notice those problems are not even that big. It is all in your mind.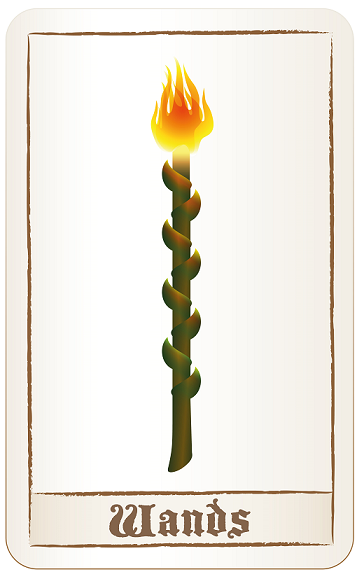 Interaction with the Wands Suits
The Hanged Man and the Wands Suit is a combination that foretells a choice that you are forced to make. This spread may indicate that you have tried your best to solve a situation or make the best out of a particular problem. No matter how hard you have tried, the outcome has not changed. The only thing you are left with is walking away and letting go of it. It is an action forced by the situation, and if things were different, you wouldn't have made the same choice.
Overall, The Hanged Man, either by itself or pulled in a tarot card draw, is a card of different perspectives, accepting reality and responsibility, surrounding the situation, and trying to make the best of it.