The Hierophant holds number 5, and it is the sixth tarot card of the Major Arcana cards.
The Hierophant tarot card, also known as The High Priest, usually represents what is meant to be, and obeying the Universal Law.
The Hierophant Meaning
When drawing tarot cards, usually they are put in a vertical setting, spread on a timeline of the past, present, and future. In this kind of drawing, The Hierophant may come up straight, as well as reversed. Some psychic readers like to read reversed tarot cards. Some don't. Either way, the other tarot cards in the drawing will make up for the way the psychic reader conducts their readings, because a tarot card deck is connected to the energy of the psychic reader, so it 'talks' to them.
Upright Position
The Hierophant card would represent:
| | |
| --- | --- |
| Pursuing education and knowledge | Seeking answers |
| Having a belief system | Tradition, cultural heritage |
| Honoring a ritual | Being a guide of faith |
| Showing compassion | System adapting |
| Following a program | Being committed to a cause |
| Teamwork | Building a legacy |
| Being a fanatic | |
Reverse Position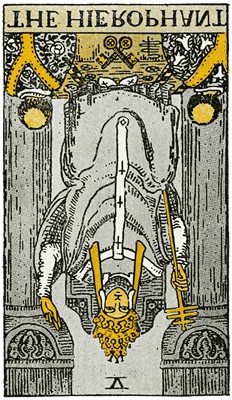 In a reverse position, The Hierophant would mean precisely the opposite of its core qualities, bringing in the drawing:
| | |
| --- | --- |
| Challenging cultural traditions | Not conforming with rules |
| Unconventional lifestyle or relationships | Not adapting to the system |
| Breaking the rules and order | |
Horizontal Position
There are also spreads where the tarot cards pulled are placed on vertical as well as horizontal positions. If The Hierophant would sit in a horizontal position, it advises you to take into account how things are done traditionally.
Or the order it occurs. There is a reason why rules and proceeding exit, and that is because they have been proven to work. Sure some procedures could be changed and adapted, but putting your logic and common sense in place, you don't always need to invent a new approach when there is already one in place. When it comes to relationships, and you are against marriage, let's say, you can still find common ground between what you want and what tradition demands, if you're going to satisfy all parties involved.
The Hierophant – One card pull [Yes or No]

One Card Readings are for when you need a fast, straight to the point answer, you wish not to see the future events or the past events. You just need a specific answer to the question for a present situation that is bothering you. You shuffle the cards, then choose only One Card, or you read the One Card that falls out while you are shuffling. Whichever method you use to pull the card, listed below are some of the questions and answers you may get when you pull The Hierophant.
Yes or No Answer
Upright Position: If you pull the card in an upright position, it means Yes.
Reversed Position: If you pull the card in a reversed position, it means No.
For a Yes or No answer, The Hierophant represents Yes, as a card of the Major Arcana Suit.
The Hierophant – Love and Relationships

The Hierophant would signify that your relationship is very much a traditional one. If that's not the case, it could indicate that you and your partner share the same core values. You have the same expectations and visions on how to raise your children, and how to keep the family together, etc.
If you are not already married or with children, it can mean that you are going to commit to each other and meet each other's expectations on relationship matters. The Hierophant would also signify this relationship is intended to be, and you have gotten lucky enough to find your other half.
How someone sees you or feels about you?
The answer would be they see you as someone who is committed to the family and do the utmost to care and look after each member of the family. You are a compassionate partner, and you both value teamwork as the main factor that dictates how a relationship is going to work out and improve.
They also see you being guided by faith, having a generous heart, and not letting the relationship fall apart because you believe that if you are committed to something, you work on solving problems out and saving the relationship. You don't choose the easy way out.
Just starting dating?
If you have started dating a new person, The Hierophant may indicate that your date sees you as someone who is very traditional and likes to uphold their cultural heritage. By seeking a partner that your parents would approve. By seeking to build a relationship like the one that you have seen your parents have. It could also signify that your date is the one with whom you find common ground. It could lead to a commitment.
What not to do?
It would advise you to not settle in the relationship because your family says so, or because your tradition says so. You can work on finding a middle ground with your partner, so you satisfy both parties. Still, you can also choose to mix and match. For example, you won't get married, but you will honor the family gathering traditions on feast days, holy days, etc.
Reverse Position (Love and Relationships)
If you pull The Hierophant, reversed indicates that your relationship may be suffering because you and your partner are not on the same side, or you don't share the same values or thoughts on how to raise the family. In another case, it could signify that you are choosing to go against tradition and not get married. It could also indicate that the gender roles are reversed, or that you are in a relationship with someone of the same gender.
The Hierophant – Finance, Business and Career

In business and career, The Hierophant may signify that you will be educating yourself on your job or career path you have chosen. It can indicate that you are going to find a mentor to guide you in your desired career education, or if you have the expertise, you may be the mentor to someone else.
It would also foretell that you are going to work on team groups, in which you will have to follow specific rules. Regarding finances, it indicates that now is the time to invest in low-risk financial systems and follow the conventional methods of saving money without risking too much on more significant investments.
What not to do?
The Hierophant would advise you to be more receptive to other's recommendations or guidance. You should use your common sense and your experience when dealing with work problems or when exercising your functions, but at the same time, you should be more open-minded and accept other's advice. It does not mean that you have to follow what they say because they might be wrong, but it serves you to learn more. Even if their advice is not accurate, you will still learn how tasks are performed.
Reverse Position (Business and Finance)
In this case, it could indicate that your boss is giving you a hard time by watching over your head and leading you into everything you do, a behavior that is quite restricting and nerve-racking. It could also indicate that you are involved in a team project, in which the other parties follow a specific guideline or solution that you don't deem right.
Still, you can't do anything because others outnumber you. It can also signify that you may be guided by a mentor who challenges your belief system or your knowledge, and you may feel the need to prove them wrong.
The Hierophant – Timing
When will something happen answer?

If it is a question that involves around the timing of an event and you pull The Hierophant, it foretells that the event you are asking about will happen in the Zodiac Season of Taurus (April 19 – May 20).
The Hierophant – The Message Answer

Sometimes, we don't have a specific question. We just want to know how our day will look like, or how we should approach the day ahead. This reading is best performed in the morning, so you form an idea of what that day will bring you.
Upright
The Hierophant would foretell a day when you may find comfort in following specific guidelines put in place by others. You won't feel the need to challenge society rules. You may even enjoy certain traditional events and feel part of a big community that accepts and supports you.
Reversed
If you pull The Hierophant in reverse, it indicates a day when you will feel the need to challenge orders. You may decide to push harder on some ideas of yours or try to change rules by applying a new approach to an individual situation.
The Hierophant – Cards Combinations

In a psychic reading, there are at least six cards drawn, and each tarot card's meaning is interpreted along with the other cards, always bearing in mind the first question upon which the reading is conducted and aims to give answers. A psychic will see the tarot cards in a symbiotic relationship with one another, never try to read them one by one, but the whole drawing as a whole.
That's why it is essential to have a look at how The Hierophant communicates with the other Tarot Cards. Taking into account, there are 78 tarot cards in a deck. We will have a look at how The Hierophant would be interpreted and affect the outcome of the reading in the light of Suits.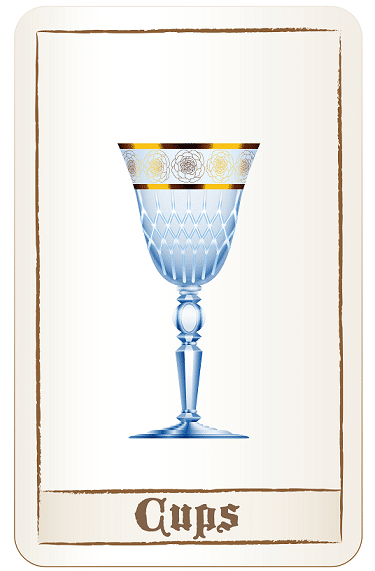 Interaction with the Cup Suits
The Cup Suits represent emotions, feelings, relationships, and contract-ships. This suit is associated with the Water element. If we were to draw The Hierophant along with the Cup Suits, it is a spread that indicates you like to do things a certain way. You have very well placed boundaries when it comes to family, relationships, and friendships. You do not confuse friendship for something else, and you choose to keep things separated between family and other closed ones. You may be closed off, and you don't usually like big gatherings of people that have nothing to do with each other, like friends and cousins. You know how to give everyone the place they deserve in your life.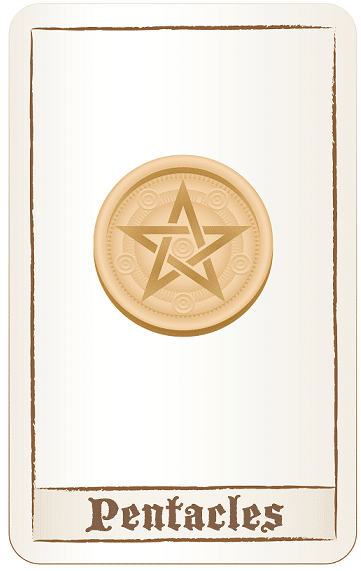 Interaction with the Pentacles Suits
The Hierophant, along with another card of the Pentacles Suit, would foretell an advancement of career or low-risk investments. This spread indicates that you have managed to create a decent income for yourself. You may be employed or owning your business, but you are not someone to take significant risks. You have chosen to follow the conventional ways, like holding down a job, or focusing on a niche business and not making any changes to it, or not looking for another job that could pay better. Your commitment may have paid out well, and you have built a steady income for yourself.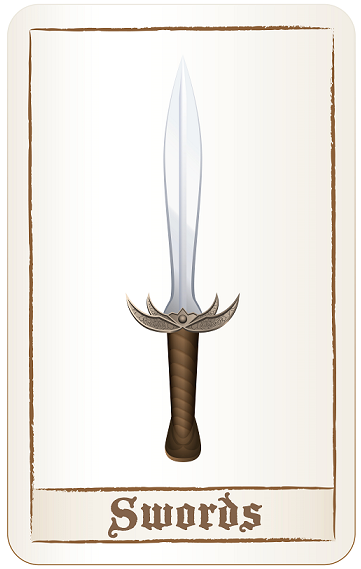 Interaction with the Swords Suits
The Swords Suit, along with The Hierophant, is also an exciting drawing. The Swords Suit gets its share of being a negative suit. This spread would indicate that whatever happened, happened for a reason. The reason usually is to learn and grow more. The experience that you went through, or are going through, no matter how painful or hard, was put on your path for you to outgrow yourself and evolve as a human being. It serves you lessons that if you are willing to take as such, you will be able to emerge from the darkness you feel drowned in.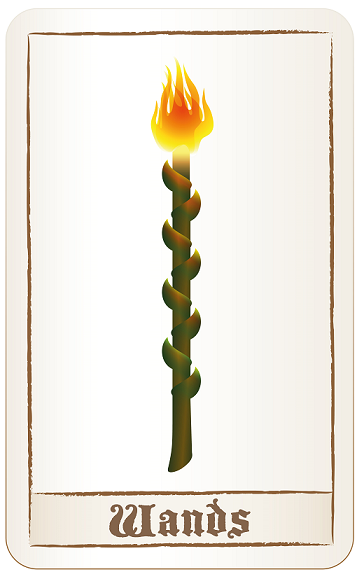 Interaction with the Wands Suits
The Hierophant and the Wands Suit is a combination that foretells a well-thought action that you have decided to take, rather than what you want to do. It could also indicate that you are choosing a specific path for yourself because you believe it is the right thing. It can also signify that if you decided to attain a particular goal, change career paths or jobs, travel somewhere, etc., it is what you are meant to be doing and that you are on the right track.
Overall, The Hierophant, either by itself or pulled in a tarot card draw, is a card of following traditions, guidelines, orders, being a mentor, educating yourself, and experiencing what is meant to be.