The High Priestess holds the number 2, and it is the third Tarot Card of the Major Arcana cards.
The High Priestess Tarot Card in its core usually represents inner knowing and letting things unfold to respond at a later moment. The High Priestess's planetary ruler is the Moon.
The High Priestess Meaning
When drawing tarot cards, usually they are put in a vertical setting, spread on a timeline of the past, present, and future. In this kind of drawing, The High Priestess may come up straight, as well as reversed. Some psychic readers like to read reversed tarot cards. Some don't. Either way, the other tarot cards in the drawing will make up for the way the psychic reader conducts their readings, because a tarot card deck is connected to the energy of the psychic reader, so it 'talks' to them.
Upright Position
The High Priestess card would represent:
Staying passive, watching from a distance
Allowing events to happen
Not involving unless you have all the information
Patiently waiting
Inner knowing, working the unconscious mind
Following your intuition
Having great potential
Duality, being open to all possibilities
Hidden skills or talents
Being a mystery to others, they can't read you easily
Seeking hidden knowledge or information
Acknowledging the shadows
Divine knowledge and wisdom
Reverse Position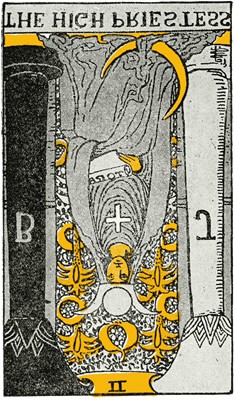 In a reverse position, The High Priestess would mean precisely the opposite of its core qualities, bringing in the drawing:
| | |
| --- | --- |
| Not listening to intuition | Repressed spiritual powers |
| Lacking self-esteem | Being impatient |
| Emotional outbursts | Acting too soon |
| Being guided by other's words and opinions | |
Horizontal Position
There are also spreads where the tarot cards pulled are placed on vertical as well as horizontal positions. If The High Priestess would sit in a horizontal position, it advises you to look deeper into yourself and others.
All you need to know about yourself or other people, you can draw for your intuition. If you are not in tune with your intuition, you see it in their behavior, Their behavior shows their soul's deepest desires, and a repeated behavior shows a pattern of choice. If you need to make a decision, it is easier first to notice the choices you or others make to perceive where their desires and intentions lie. You may not be able to always decipher your intuition correctly.
That'swhy you should take a step back and observe from a distance. You need to keep an open mind and accept things as they come, without justifying any actions, and without judging beforehand.
The High Priestess – One card pull [Yes or No]

One Card Readings are for when you need a fast, straight to the point answer. You wish not to see the future events or tast events; you just need a specific answer on the question for a present situation that is bothering you. You shuffle the cards, then choose only One Card, or you read the One Card that falls out while you are shuffling. Whichever method you use to pull the card, listed below are some of the questions and answers you may get when you pull The High Priestess.
Yes or No Answer
Upright Position: If you pull the card in an upright position, it means Yes.
Reversed Position: If you pull the card in a reversed position, it means No.
For a Yes or No answer, The High Priestess represents Yes, as a card of the Major Arcana Suit.
The High Priestess – Love and Relationships

The High Priestess would signify that your relationship has reached a certain level of intimacy where you both have learned to balance each other out. A relationship is never 50/50. Sometimes you give more. Sometimes it is your partner who does.
The High Priestess indicates that you choose to look further into the future, not to invest yourself in petty arguments that in the big picture won't have any effect. You both have learned how to communicate with each other, when to tolerate and when to raise your voice. It indicates that you have found peace and security in your relationship.
How someone sees you or feels about you?
You come across as someone who knows their worth. You know how to put boundaries in place, respect yourself and your partner. Others may appreciate you being understanding and outspokenness. Sometimes, they do not even need to talk that much because you can see right through them and see that they do not feel like talking. They know you are upfront, honest, and loyal.
Just starting dating?
If you have started dating a new person, The High Priestess may indicate that your date may see you being sensual and mysterious. They may not be able to figure you out because you are always talking about something else. You are knowledgeable about different things, and you have an open mind approach.
They appreciate your calm energy, collected posture, and your education and diplomacy. They may want to propose to you, but they may also hold back a little because they don't know you very well, or your abilities scare them.
What not to do?
In terms of what not to do, it would advise you to control your emotions before you talk with your partner if you feel a rising of anger, jealousy, controlling behavior. You may not be the type to act that way, but in the course of a relationship, there will be times when you will act out. You need to understand what you value most, the relationship, or you being right because, in a moment of anger, you may say things you do not want to achieve.
Also, it advises you to be mindful of your behavior because you may not be the person to cause a jealousy scene, but if you come to be that person, you should look into yourself if you are that person or if your partner has pushed you to that point. In each case, you know the answer, if that's who you are, you need to work on yourself. If it is your partner's behavior driving you crazy, then you need to break it off.
Reverse Position (Love and Relationships)
If you pull The High Priestess, reversed indicates that you or your partner are causing conflicts. Both or one of you may not be in control of your emotions and are causing havoc out of nothing. You may be very controlling, jealous, and overall toxic for the other person. You lack structure and understanding in your relationship. You do not know how to balance each other out because you do not have that kind of connection with each other.
It does not mean that any of you lack anything, but it may mean that the other is not your type, or you have gotten yourself so wrapped up in petty debates that you do not know how to get yourself out of it, so you just keep fighting.
The High Priestess – Finance, Business and Career

In business and career, The High Priestess is a good omen that indicates you are putting your skills and abilities to work. It can indicate that you have a good mentor who is helping you to push forward or is teaching you the tricks of the trade. Regarding finances, it can indicate that you may get some good opportunities, which you need into consideration of how much money you are going to make.
What not to do?
The High Priestess would remind you that a work environment can turn toxic pretty soon because careers, jobs, and money are on the line. If you notice the situation shifting, you should consider if it is worth it getting into conflicts, or if you need to ignore your colleague's petty fights and keep your eyes on the prize, which may be the experience, the promotion, or the income.
You know how to handle issues and how to communicate effectively and get your point across, so do not fall into the trap of debates unless you need to protect yourself, your reputation, or your work.
Reverse Position (Business and Finance)
In this case, it could indicate that you may not be finding yourself in your job, or you lack all the information you need to make a decision. It can be regarding opportunities or solving a situation at work. It may leave you confused and lead you to create conflicts at work. You may find yourself driven by other people's opinions or lacking the self-esteem to pull off a project.
Regarding finances, it may indicate that you are going to make a financial mistake. It could be by investing your money in a financial scheme, taking a job opportunity without proper knowledge, or know who you're working for. It could also lead to a miscommunication on how much income to expect from such an endeavor.
The High Priestess – Timing
When will something happen answer?

If it is a question about the timing of an event and you pull The High Priestess, it indicates that the timing is hidden. You are not supposed to know when something is going to happen. Or how it is going to happen. It means that you may get the opportunity you wanted but in an unexpected way. You may achieve even more than what you set your intentions for in the first place. It may also indicate that things are still moving behind the scenes. You need to keep your faith.
The High Priestess – The Message Answer

Sometimes, we don't have a specific question. We just want to know how our day will look like, or how we should approach the day ahead. This reading is usually done in the morning, so you form an idea of what that day will bring you.
Upright
The High Priestess would foretell a day when you may feel more objective than usual, not wanting to participate in any situation and maintaining your inner balance in the face of adversary. It may also indicate that you will get some news on what's going on behind the scenes.
Reversed
If you pull The High Priestess in reverse, it indicates a day when you may feel exhausted, lacking mental clarity, and having emotional outbursts. You may feel like you know nothing about what's going on around you, people may be keeping secrets, and you can't handle the situation because you think you need to know everything. It causes you anxiety. Try to stay calm.
The High Priestess – Cards Combinations

In a psychic reading, there are at least six cards drawn, and each tarot card's meaning is interpreted along with the other cards, always bearing in mind the first question upon which the reading is conducted and aims to give answers. A psychic will see the tarot cards in a symbiotic relationship with one another, never try to read them one by one, but the whole drawing as a whole.
That's why it is essential to have a look at how The High Priestess communicates with the other tarot cards. Taking into account, there are 78 tarot cards in a deck. We will have a look at how The High Priestess would be interpreted and affect the outcome of the reading in the light of suits.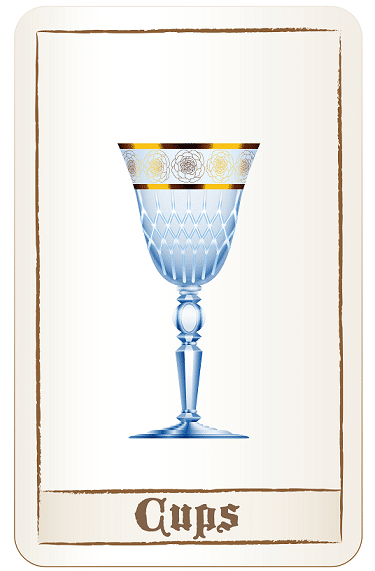 Interaction with the Cup Suits
The Cup Suits represent emotions, feelings, relationships, and contract-ships. This suit is associated with the water element. If we were to draw The High Priestess along with the Cup Suits, it is a spread that indicates you may be the one to whom your partner, family, or friends rely upon and confide. You may know how to keep secrets, so they feel safe sharing. They also see you as a wise person who knows how to balance things out. You know how to do the right thing at the right time. It also indicates that the significant element in your life should be nurturing your inner feelings, your inner world, and not allowing yourself to be affected by other's emotions.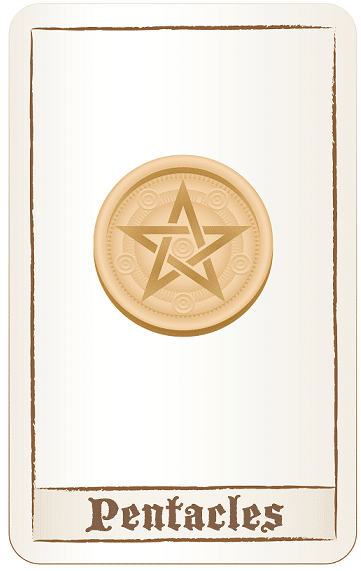 Interaction with the Pentacles Suits
The High Priestess, along with another card of the Pentacles Suit, foretells job and business opportunities. This spread indicates that you are receiving lots of offers, that may be job opportunities or business partners coming to you with deals. You are in a position to make your own decision without being pushed to accept an offer. They are coming to you, so you have the advantage of choosing the best opportunity for you.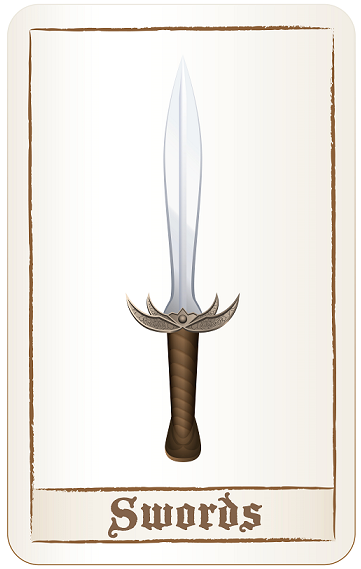 Interaction with the Swords Suits
The Swords Suit, along with The High Priestess, is also an interesting drawing. The Swords Suit has a reputation for being a negative suit. This spread would indicate that you are someone who knows how to deal with every situation that comes their way. It does not mean that dark times do not catch up with you, but you know how to emerge out of it and how to maintain your calm in the middle of the storm. Your objective approach to problems and the ability to see all sides to a story saves you from failures and helps you get yourself out of the mess.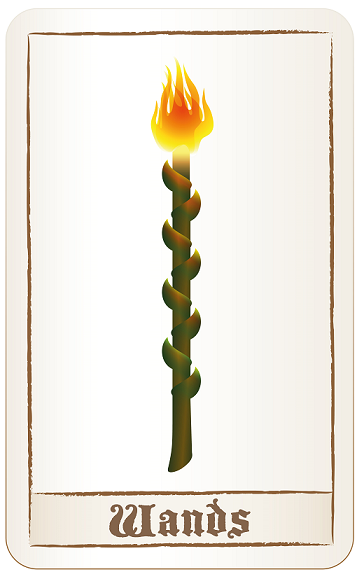 Interaction with the Wands Suits
The High Priestess and the Wands Suit is a combination that foretells action that you have calculated and strategized carefully. This spread indicates that it is time for you to take action on whatever you have thought out and planned. You should listen to your intuition and acknowledge your desires. The path you have chosen may drive you away from some people, but that's not something you have not taken into consideration. The High Priestess indicates that you will be successful, and whatever you choose will be the right one meant for you.
Overall, The High Priestess is a card of hidden knowledge, listening to your intuition, and choosing the high road. Have faith in your abilities and choices.