The Moon holds number 18, and it is the nineteenth tarot card of the Major Arcana cards.
The Moon tarot card, in its core, usually represents walking blindfolded in a path that hides secrets and truths, with people that may hide their true selves from you.
The Moon Meaning
When drawing tarot cards, usually they are put in a vertical setting, spread on a timeline of the past, present, and future. In this kind of drawing, The Moon may come up straight, as well as reversed. Some psychic readers like to read reversed tarot cards. Some don't. Either way, the other tarot cards in the drawing will make up for the way the psychic reader conducts their readings, because a tarot card deck is connected to the energy of the psychic reader, so it 'talks' to them.
Upright Position
The Moon card would represent:
| | |
| --- | --- |
| Releasing inner demons | Suffering from phobias |
| Fearing the upcoming events | Giving in to the shadow self |
| Hidden events, secrets | Being over-anxious |
| Dealing with illusionss | Accepting a false picture |
| Deceiving yourself | Being unrealistic |
| Chasing a fantasy | Losing purpose |
| Being manipulated, trickery | Betrayal |
Reverse Position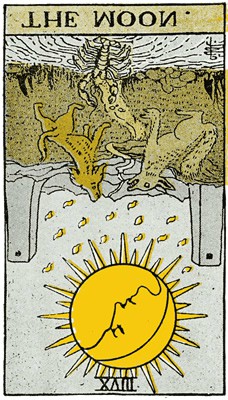 In a reverse position, The Moon would mean precisely the opposite of its core qualities, bringing in the drawing:
| | |
| --- | --- |
| Releasing fear | Getting to know secrets |
| Finding out the truth | Having blocked intuition |
| Deceiving yourself | Subsiding anxiety |
Horizontal Position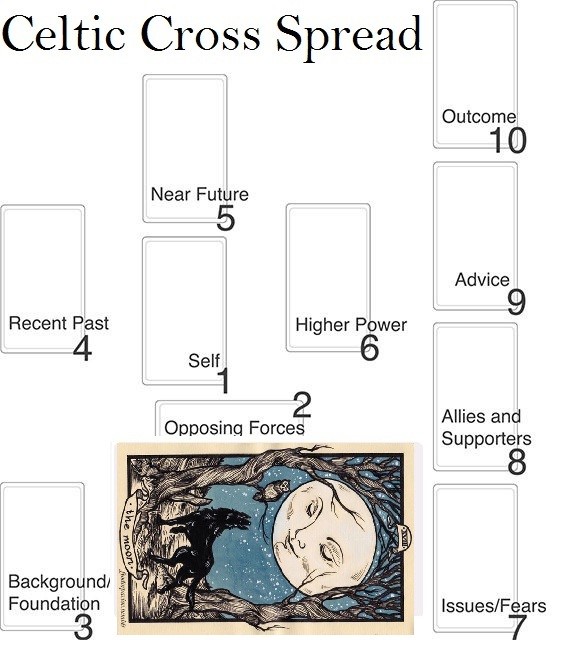 There are also spreads where the tarot cards pulled are placed on vertical as well as horizontal positions. If The Moon would sit in a horizontal position, it advises you to keep an open mind and open eyes for what is going on around you.
You may think that you know all, but things are happening behind the scenes that you don't know anything about. There may be secrets purposely hidden from you or something that you don't know yet. If you are to make a decision, be mindful of all the ways it may fall short, or try to get more information if you can.
The Moon – One card pull [Yes or No]

One Card Readings are for when you need a fast, straight to the point answer, you wish not to see the future events or the past events. You just need a specific answer to the question for a present situation that is bothering you. You shuffle the cards, then choose only One Card, or you read the One Card that falls out while you are shuffling. Whichever method you use to pull the card, listed below are some of the questions and answers you may get when you pull The Moon.
Yes or No Answer
Upright Position: If you pull the card in an upright position, it means No
Reversed Position: If you pull the card in a reversed position, it means Yes.
For a Yes or No answer, The Moon represents Yes, as a card of the Major Arcana Suit.
The Moon – Love and Relationships

The Moon would signify that your relationship is lacking sincerity and transparency. It can also represent betrayal and cheating, so for example, if you are thinking about committing to someone, you should still get to know them better because there may be things they are hiding from you that would change the way you see them if you knew.
It can indicate that you are not true to yourself and your intuition because you may see your partner making tricky moves, but you choose to believe their justification, and you choose to be blind towards facts. It can also be that you have been tricked into a relationship that, over time, is nothing that it seemed at first.
How someone sees you or feels about you?
The answer would be they see you as someone who your partner may be unable to figure out. They may feel like you are always hiding something, or that you are wondering in your world. It can indicate that you both have created this ideal relationship for the outside world, but behind closed doors, your relationship is falling apart. It may be abusive, unhealthy, and a toxic place to be.
Just starting dating?
If you have just started dating a new person, The Moon may indicate that your date sees you as someone who is shady or who gives in to ideal perceptions that don't match the reality. They may also be curious about your personality and your real character or thoughts because you may not share much with them, and you may have a mist of mystery surrounding you.
What not to do?
In terms of what not to do, it would advise you not to fall for all the good your partner may show you and act blindly towards acts and patterns that hurt you. If you keep justifying your partner's disrespectful behaviors, or if you feel something is not right, but you don't speak up about it. Soon you will find yourself in a circle that you won't know how to escape.
The more time passes, the more difficult it is to break things off or to see things for what they truly are. If you need help from a psychic, get it, don't be afraid to ask the difficult questions. If you feel the relationship is over or you have been betrayed and gas-lighted, choose yourself before anyone else and let it go.
Reverse Position (Love and Relationships)
If you pull The Moon, reversed indicates that the veil of manipulation or illusions will fall, and you will see the truth for what your relationship is or who your partner is. If one of you has betrayed the other, or if you have kept a secret that could potentially cause a breakup, expect this secret to come to light.
The Moon – Finance, Business and Career

In business and career, The Moon is a card that indicates you are being manipulated and deceived at your workplace. It can be a situation created by your colleagues, or it can be because you have not interacted with others at your job, and when it comes to the time that you need more information on a case, you won't be able to get it. It can also indicate that you don't know what to do with your career or how you want it to advance.
Regarding finances, it can mean that you may become manipulated into investing in financial structures that are not beneficial to you. It can also indicate that someone may steal from you, not directly, but they may steal your financial identification, credit cards, etc.
What not to do?
The Moon advises you always to maintain good communication with your colleagues and business partners, so the possibilities of not knowing something are slimmer. You should also pay attention to shady movements by your colleagues or business partners that may cost you a lot down the road. It can be manipulated to get more money from you or steal right under your nose.
Reverse Position (Business and Finance)
In this case, it could indicate that you are about to find out some secrets about your colleagues or how things are done at your workplace. You will get your hands in the information that you have been looking for, or you will find out about unexpectedly, but it is information that you should pay attention to because it may serve you down the road, or it may save you from financial issues or legal issues. Regarding finances, you may find out who stole from you if it has happened, or how others may be using your money and what for.
The Moon – Timing
When will something happen answer?

If it is a question that involves around the timing of an event and you pull The Moon, it foretells that the event you are asking about will happen around the season of the Zodiac Sign of Pisces (February 21 – March 20).
The Moon – The Message Answer

Sometimes, we don't have a specific question. We just want to know how our day will look like, or how we should approach the day ahead. This reading is best performed in the morning, so you form an idea of what that day will bring you.
Upright
The Moon would foretell a day when you may feel like someone is trying to deceive you, or they are hiding important information from you, but you can't find out yet what it is. It advises you to be careful who you deal with and what you talk about with others.
Reversed
If you pull The Moon in reverse, it indicates a day when you might find out some secrets that have been long hidden, and you were not supposed to know. If this is a secret that will help you figure out some personal stuff, go ahead. If it is information about someone's else life that has nothing to do with you, do not put it to use.
The Moon – Cards Combinations

In a psychic reading, there are at least six cards drawn, and each tarot card's meaning is interpreted along with the other cards, always bearing in mind the first question upon which the reading is conducted and aims to give answers. A psychic will see the tarot cards in a symbiotic relationship with one another, never try to read them one by one, but the whole drawing as a whole.
That's why it is essential to have a look at how The Moon communicates with the other tarot cards. Taking into account, there are 78 tarot cards in a deck. We will have a look at how The Moon would be interpreted and affect the outcome of the reading in the Light of Suits.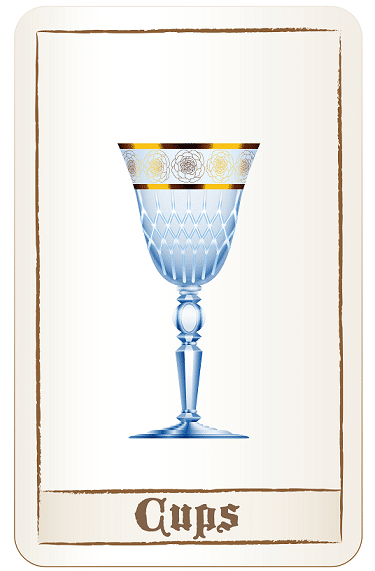 Interaction with the Cup Suits
The Cup Suits represent emotions, feelings, relationships, and contract-ships. This suit is associated with the water element. If we were to draw The Moon along with the Cup Suits, this is a spread that indicates you may tend to fall for illusions, or you don't know the people who are in your closed circle, be them your family, close friends, or love partner. You may be naïve and not see what they are doing behind your back, but your intuition is your best friend. If you feel you are being deceived, you should choose to distance yourself for a while so you can see better.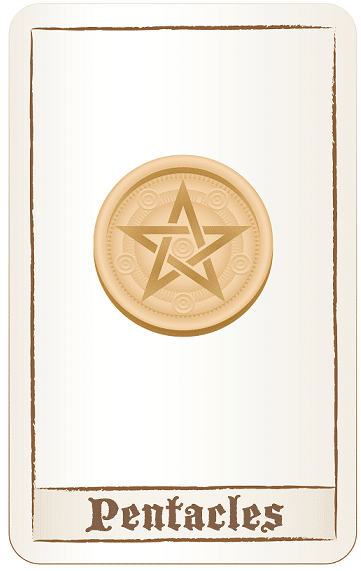 Interaction with the Pentacles Suits
The Moon, along with another card of the Pentacles Suit, would foretell financial issues that come as a result of lacking information. This spread indicates that you are not aware of how you are managing your finances, or who is handling your finances. It can also suggest that you lack essential information about your financial investments. Regarding job opportunities, it may indicate that you are not where you need to be, or the options coming to you are not as good as they seem.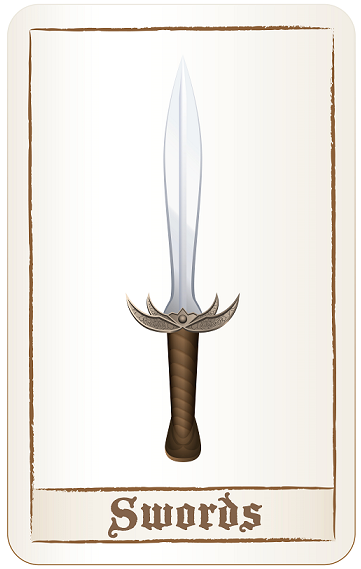 Interaction with the Swords Suits
The Swords Suit, along with The Moon, is also an interesting drawing. The Swords Suit has a reputation of a negative suit. This spread indicates you are dwelling on trauma and heartache. You are possibly suffering from anxiety. It all comes from you, but because of other actions that you can't figure out. You don't know what to do because you may fear taking steps that change your situation but may be the wrong ones. Your anxiety may also be driven by a lack of information on people's true intentions.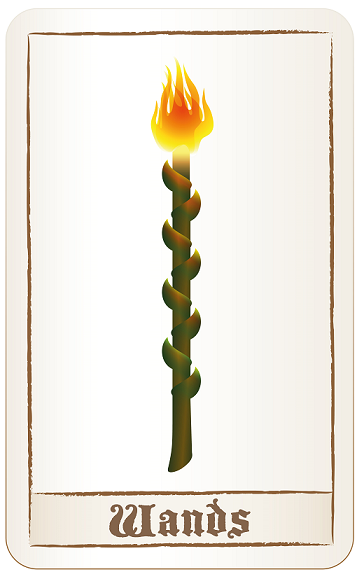 Interaction with the Wands Suits
The Moon and the Wands Suit is a combination that foretells hidden truth behind some paths or actions you want to take. This spread indicates that you may have to deal with new changes in your life, but they can make you anxious or put you in a risky position because there are hidden facts you don't know about, and if you knew, you would do things differently. It also reminds you to be careful before you take any action because not knowing the whole truth may cause you losses.
Overall, The Moon, either by itself or pulled in a tarot card draw, is a card of mystery, deception, manipulation, intuition but also finding out the secrets and seeing the whole truth.