Brain Evolution System (BrainEv) is a strong brainwave meditation program. It acts as a "gym" for your brain, strengthening and improving your mental "muscle."
What is Brain Evolution System program?
The Brain Evolution System is a groundbreaking, 6 month program designed to completely retrain your brain in 30 minutes a day, so that it performs at peak level at all times.
The program is composed of 6 months of beginner-friendly audio meditations – all you have to do is listen to your headphones and that's it.
The BrainEv program is wonderful for those who need help relaxing, who need increased performance and creativity at work, and it helps boost the immune system and improve relationships as a secondary effect.
There is a free demo for 30 days if you're looking to try it out with no strings attached.
How BrainEV System work?
The Brain Evolution System works by helping to retrain your brain with specific audio frequencies. When you listen to them, your brain automatically adapts to the situation. This particular program includes binaural beats, as well as rhythmic entrainment and temporal entrainment.
With BrainEV, there is a process using 3P DEAP technology to help organize your brain to optimal levels.
When we feel tired, overwhelmed, stressed, etcetera, this can take a toll on the brainwaves that are produced. It's easy to become out of balance.
Over a period of 6 months, you'll be exposed to different levels of brain entrainment programs – audio tracks that you'll listen to for 30 minutes a day. You can be sitting down or lying down, or walking around, even – the tracks work no matter your position.
You can use very little effort to reprogram your brain so that it performs optimally, enhances creativity, and relaxes when you want it to.
Our brains operate on frequency. If we listen to the frequency, our brains automatically "catch on," allowing us to enter varied states.
The BrainEV program comes with digitally mastered audio, and over 100 tracks per level (6 levels total). The sound quality is impeccable and has relaxing sounds of nature in each track.
The program is so easy; almost anyone can do it.
Brain Evolution System vs Zen12, OmHarmonics, Holosync, and Lifeflow
Before we dive deep into details, let's first compare the BrainEV program with other popular brainwave entrainment programs.
As you can see in the table above, there's a big difference between these programs.
What I like about the Brain Evolution System program is the number of different tracks, for the price you pay. And if I'm being honest I'm a bit of an old soul too. I enjoy holding things that were once a part of my childhood and are now almost forgotten (I'm looking at you CDs!)
My Honest Opinion
If you'd ask me in person, if I would recommend this program, I would ask you these questions:
Do you get quickly bored with brainwave entrainment audios?
If your answer is yes, buy this program (or at least try it).
If your answer is no, buy Zen12 program (a cheaper option) or OmHarmonics program (a more expensive option, but you can't beat the sound quality of tracks).
Do you have any experience with brainwave programs?
If your answer is yes, buy this program (or at least try it).
If your answer is no, buy Zen12 program (a cheaper option).
As you can see, Zen12 program (which was made by the same company as BrainEV), is a fine choice if you're looking for a cheap, entry-level brainwave entrainment program.
However, the Brain Evolution System is on the next level, compared to Zen12. As creators of this program said, BrainEV is basically "Zen12 on steroids".
It isn't a magical pill that will help you become enlighted in the first 30 minutes. It isn't some secret weapon of super-rich people. It also isn't an infinity stone that will give you superpowers.
In the end, it's a fantastic brainwave program that will help you, as it did help me when I needed some inspiration and motivation to keep up with my exhausting life.
Go get yourself a cup of coffee, because it's time to check the details of this program.
If you'd rather listen than read, I'd suggest that you try a free demo first, and see if you'll like it or not.
The 3-Point Dynamic Entrainment Audio Process Explained
Brainwaves change throughout the day
Brainwaves are always changing. Depending on your mood, your surroundings, previous conditioning, the brain is in a constant state of flux.
Because the brainwave state is ever changing, very specific programs need to be created around this fact. Most programs focus on one area of the brain, and not on the entire brain. What I like about the Brain Evolution System is that it helps the brain move and flow with life as it comes naturally.
Your brain can run multiple frequencies
On top of this, the brain has the ability to run multiple frequencies at one time. BrainEV focuses on all frequencies the brain produces. As demonstrated in the photo above, you can see the different states of the brain that are activated with the BrainEV system.
The 3 Point DEAP
The Brain Evolution System uses 3 separate technologies to help enhance brain function.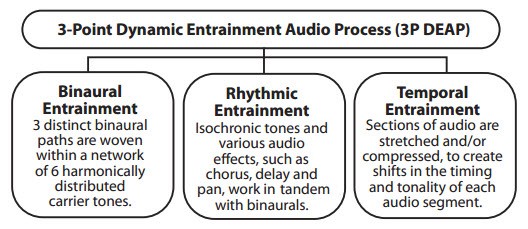 Binaural Entrainment
Binaural Entrainment is a popular technique that uses binaural beats to enhance an area of your brain. Whether you want more relaxation, more rest, or more focus, this is possible using this technique.
Binaural beats work by playing two separate frequencies into each ear, separated by 10 Hz or less. The brain picks up the difference between the two frequencies and automatically creates a third frequency – the binaural beat.
From here, the brain can enter into a different frequency brainwave state.
Rhythmic Entrainment
Rhythmic Entrainment uses specific beats or pulses to create and prolong sounds we naturally hear. If we create a beat that repeats 10 times per second, this creates the same 10 Hz frequency, thus creating the same entrainment effect on the brain.
Temporal Entrainment
Temporal Entrainment works by enhancing already existing sounds by stretching them out, so that they play slower longer, or by compressing the sounds. This forces our brains to operate in a different way, helping to entrain it.
For example, if you hear some nature sounds, they may be stretched out to enhance relaxation and allow for optimal brain synchronization. It's as though you're playing a song very slowly, which will trigger the brain to operate on a different level.
I love the Brain Evolution System because it helps us really train our brains to operate optimally, which leads to more alertness, quicker thinking, and deeper states of relaxation in the long run.
The Core of The Brain Evolution System – In-Depth Review
Level 1: TRANSCENDANCE
Level 1 sets the experiencer up for the rest of the modules. It's important that the Brain Evolution System audio files are listened to in their specific order, in order to achieve the proper results.
Transcendence prepares the listener for the future audio tracks. It helps to slow the brain down and prepare for deeper relaxation.
It also helps clear the thoughts in your head, to allow for more positive meditation experience.
You should listen to this level if:
You need help slowing down
You're feeling stressed
You need help learning how to relax
Level 2: LUCID ECHOES
Level 2 helps to deepen the relaxation state, and works on another level to help release distracting thoughts.
This level of the Brain Evolution System is designed to help take you to the theta wave state of the brain, thus allowing a deeper relaxation.
As an added feature, some light sounds are added in order to help train the brain to relax amongst some slight distraction.
You should listen to this level if:
You feel you can relax easily
You're ready for the next level
You can handle focusing on something with light distractions around you
Level 3: INFINITY
Level 3 goes into a much deeper brainwave state while taking the distractions up a notch. The goal is to help your brain maintain a calm feeling with the outside stimuli going on.
Subsequently, while there are beta waves playing, there will be hints of alpha, theta, and delta waves to help enhance your focusing and relaxation abilities.
This is the part where it gets really exciting because you can see the results of the brain evolution system at work already.
You should listen to this level if:
You are comfortable in Level 2
You're ready to get even more relaxed
You can handle some distraction comfortably
Level 4: CRYSTAL RAIN
Crystal Rain takes you to the deepest level of relaxation yet. While you are able to reach these deeper states of relaxation, it's important that you're able to stay balanced.
Here, you'll learn how to bridge your thoughts between deep relaxation and conscious thinking patterns. It will help you silence the mind amongst the chaos, and it is here where intuition is enhanced.
You should listen to this level if:
You have mastered Level 3
You're ready to dive into very deep relaxation
You would like increased intuition
Level 5: NEPTUNE'S CAVE
Neptune's Cave will take you into the deepest level of relaxation of the entire 6-month program. You'll enter delta waves and learn how to rest the mind in extraordinary ways.
This level of the Brain Evolution System takes you into that space in between being awake and asleep. It's that part where you can hear your surroundings, but you can't move – almost as though you are consciously unconscious.
Here is where the mental reset happens, and BrainEV will help stimulate the feel-good chemicals in the brain, which helps boost the immune system.
You should listen to this level if:
You feel comfortable in Level 4
You want a total mental reset
You wish to explore the state in between sleep and awake
Level 6: FUSION
The final level of the brain evolution system helps to integrate all your brain has done in the last 5 months. It's important to finish all the way through, so your brain can perform optimally in the future.
This level is constantly shifting from relaxing states to awakening states, which allows for enhanced creativity and a sense of awareness like you've never had before.
I love Level 6 because I feel my brain operating at different levels than it has in the rest of my life. It truly is a great experience.
You should listen to this level if:
You have finished Level 5
You are ready for increased intuition
You want extra creativity
Is it worth buying BrainEV system?
For me, yes. I have the program for life, and anytime I feel like my brain needs a "tune up," I can practice for another 6 months.
The price is listed at $495 for all 6 months; however, it's available for $99 a month for 3 months, and then you have it forever.
If you're on the fence about the program, you can always try it for free for the first 30 days. I love the program because compared to a few other similar programs, tracks are pleasant to listen to, and there's no chance that you get bored with this program since there are more than 100 different tracks.
Frequently Asked Questions
What are benefits of BrainEV program?
This program helps you live your optimal life. By helping rebalance your brainwaves, and helping you reach deep relaxation, it becomes easier to manage life.
When hurdles are thrown your way, your brain will be better trained to deal with these hurdles in a calm manner. This can also lead to a stronger immune system because as you are able to reach these deep states of relaxation, your body can get the rest and restoration it deserves.
How can I use BrainEV program once I buy it?
After purchasing, you can listen to the audio tracks for 30 minutes a day, 6 days per week.
Is there any way to first try the program?
Absolutely! There is a free trial guaranteed for the first 30 days. I did this at first to make sure I liked it. There is also a money back guarantee for the first 7 months of use.
You can get the free trial here.
What if I don't like the program I purchased?
If you don't like the program for any reason, simply ask for your money back! Within 7 months of purchase, you can get your money back, guaranteed.
I've never used brainwave entrainment before. How do I know if it'll work?
With over 75 years of research, the Brain Evolution System was designed to retrain the brain. Even if you can't feel it, it's always working.
Is the Brain Evolution System safe for everyone?
No. While side effects from using the Brain Evolution System are rare, those with epilepsy and those who are prone to seizures should not use BrainEV. Pregnant mothers, those with photosensitivity, and those wearing a pacemaker should also stay away from BrainEV.
All in all, I love using the Brain Evolution System.
Try BrainEV program here.