Did you know that you could get to the most profoundly relaxing states of meditation without doing anything other than listening? In this Zen12 Review, you'll learn why Zen12 is such an amazing product, and how it's helping people worldwide.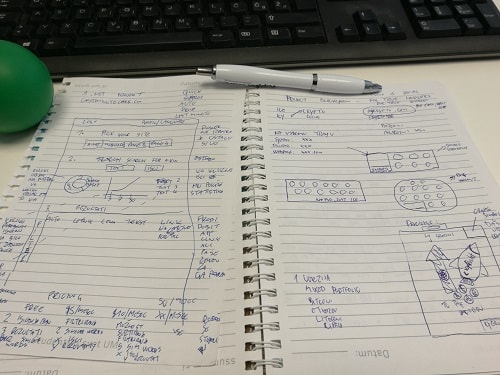 If you don't have time to meditate, Zen12 is perfect for you. All you need is 12 minutes and some headphones to get the same benefits as an hour's worth of meditation.
Through the use of binaural beats, the body is able to enter into a brain entrainment state, where the brain becomes trained to relax, with no effort at all.
What are binaural beats? How can it help? Do they even exist?
How it works is that the music plays slightly different beats (frequencies) in each ear, thereby creating a "third frequency" that the brain interprets.
From this, the brain is able to regulate naturally and enter into deep theta, delta, and occasionally epsilon waves to promote deep relaxation.
The Binaural Beat
The binaural beat is the technique of playing two slightly different beats (frequencies) in the ears.
Zen12 is a meditation program designed to bring quick and effective meditation to the public. With the use of this technology, it takes you into a deeply relaxing state, and you'll be able to get the same effect of meditating one hour in as little as 12 minutes.
The Zen12 Programs offer up to 12 months of support, with 4 new meditations each month, all set at 12 minutes each. Depending on which program you choose, you can have 24-48 meditations to last forever.
Here's a quick preview:

The Zen12 User Interface
The next great thing I'll talk about in my Zen12 review is the usability.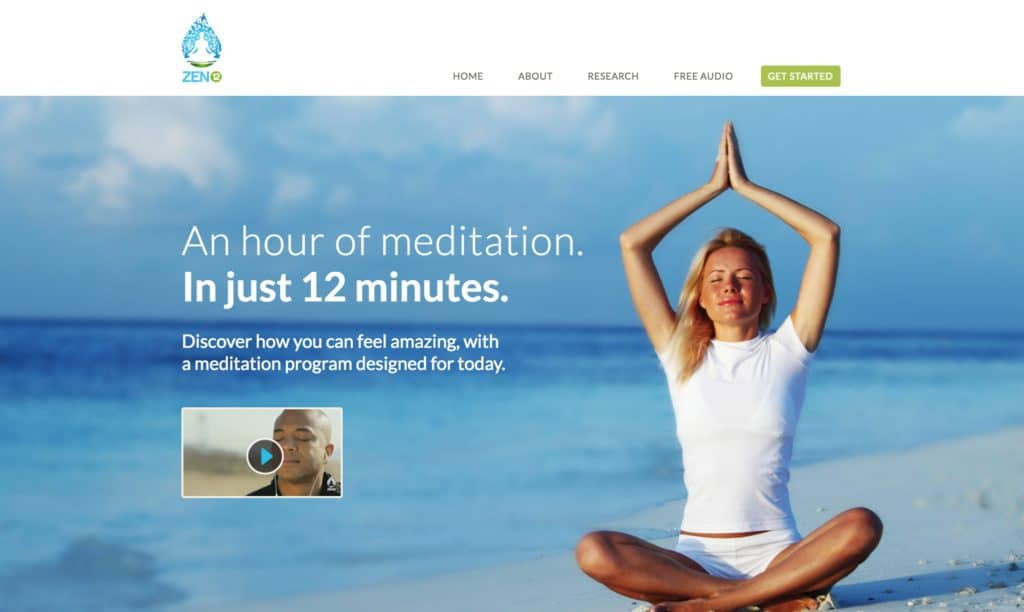 Upon arriving to the homepage, I'm greeted with a relaxing photo of a woman meditating on a beautiful beach. There are 5 tabs to choose from: home, about, research, free audio, and get started.
It's a really clean design and keeps it simple, so it's easy to begin the relaxation process as soon as I arrived.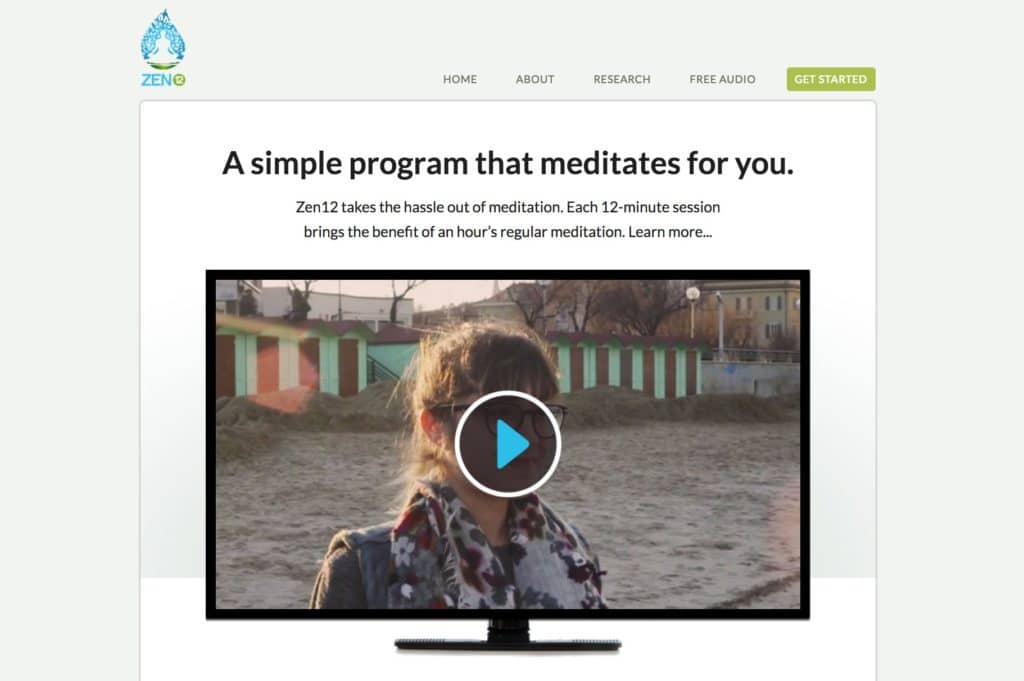 The about page welcomes me with an informative, brief video. There is also detailed text below that outlines what Zen12 is, and how it is beneficial.
Then, I was taken to a video that goes into detail about the research behind brainwave entrainment – the backbone of the Zen12 program.
The design stays clean and consistent the whole time, and the text below answers any questions I had about brainwave entrainment.
When I clicked on the Free Audio tab, I came across this scene of another woman meditating at the beach – this time, with headphones. It's really easy to sign up and receive my free audio meditation samples.
The Get Started tab takes me to the payment page along with a coupon for $50 off. This is nice, however, it only gives me the option of buying the Premium plan, and I can't select the 6-month option plans.
I was going to select the Premium plan anyway, but the fact that I need to dig through the site to get to the other plans doesn't seem user-friendly.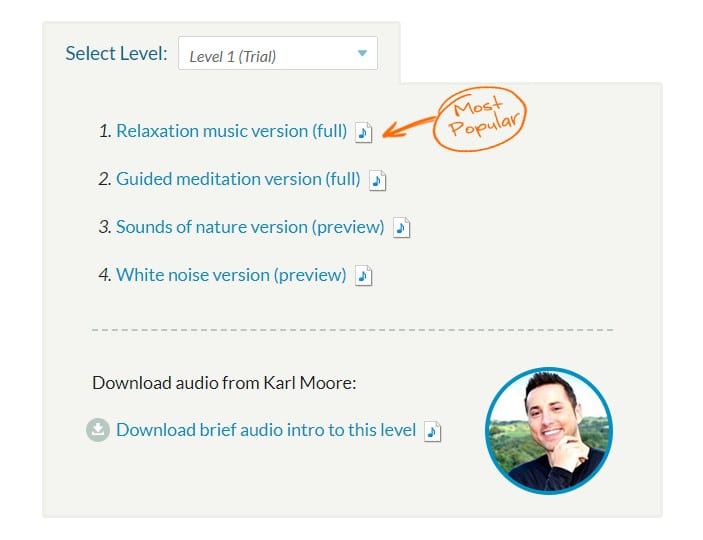 As you can see, the home screen once you log in is really user-friendly. I'm greeted personally along with an intro video to see how the Zen12 program works. Then, I can select which version of the binaural beats meditation I'd like to listen to.
There are only two available tabs up top, which helps keep the simplicity vibe needed to go into a deep meditation.
My Zen12 Review – Good and Bad things
Pros:
Each meditation is only 12 minutes, so I can easily find the time for that.
It doesn't require any effort (I only need my headphones).
I can listen online at home or work, or I can download the MP3s and listen to them on the go.
Increased energy, focus, and clarity.
Decreased stress levels.
Easier to fall asleep at night.
Very affordable as compared to Holosync or OmHarmonics.
Easy to use.
Cons:
Tracks last only 12 minutes (no longer than that, so if you want longer you'll have to repeat the track)
There's no customer service available on the phone (it's all digital)
Zen12 isn't as popular as Holosync and OmHarmonics (though Zen12 is gaining popularity rapidly)
I suggest that you also read my article which compares all programs here.
The Core of Zen12 Program
Continuing on with my review, we'll jump into the tracks. Each month in the 12 month program, there will be 4 new tracks released. That makes 48 tracks total in the program.
Track 1: Relaxation Music
The most popular track is relaxation music. This is great to help relieve stress, calm the mind and may help with inducing sleep as well. When listening to this track, a deep sense of peace fills my mind and body, and all the tension released from my shoulders.
Track 1 is for you if:
You feel stressed, tense, distracted, or "on edge".
You need help focusing or enhancing your productivity at work.
You'd like more relaxation in your life.
You're having trouble sleeping.
Track 2: Guided Meditation
The guided meditation is a 12-minute track of a combination of binaural beats with a man's voice to help set the intention for the meditation.
Track 2 is for you if:
You have long term stress built up.
You like guided meditations.
You feel "stuck in your head" often.
You want to feel refreshed before a meeting or presentation.
You want to calm down after feeling anger.
You want to clear your head and get more ideas.
You worry a lot.
Track 3: Sounds of Nature
I felt a feeling of serenity and hope when listening to the sounds of nature. It is uplifting in a way I can't describe.
Track 3 is for you if:
You want to feel uplifted.
You're looking for motivation.
You're working on a project for work or school.
You want increased happiness.
Track 4: White Noise
The white noise track is quite different from the rest. This is for those with an unsettled mind. It seems to be more effective than a white noise machine, because when the meditation track ends, and the silence ensues, there is an overwhelming sense of peace that fills me.
Track 4 is for you if:
You have a tendency to worry.
You're used to hearing background noise to help you sleep.
You want more peace.
You need help focusing in life.
Is it worth buying Zen12 program?
Totally! The effects are amazing and can only be felt when you try it out.
Zen12 comes with a free trial, so you can listen for yourself and try it out. After that, you can choose which program you like. There are 3 programs: Beginner, Advanced, and Premium.
The Beginner and Advanced Programs come with 24 audio files, and the Premium version comes with all 48 audio files.
If you use my code, you can get a discount of $50 on all of the programs. The value you get for the price is amazing.
Frequently Asked Questions About Zen12
What do Zen12 program include?
The premium package comes with the following:
The entire Zen12 Course: all 48 MP3s, covering all 12 levels.
Twelve months of levels: beginners, intermediate, and advanced levels.
Quick Start Guide.
User Manual.
Lifetime Support.
1-year money back guarantee.
Bonus Gifts.
Audio guides to each level.
Access to an exclusive 1-hour training call hosted by Karl Moore (creator of this program).
The beginner package comes with the following:
Opening Zen12 Course: 24 MP3s, covering the first 6 levels.
Six months of levels, covering the beginner and intermediate stages.
Quick Start Guide.
User Manual.
Lifetime support.
1-year money back guarantee.
Bonus Gifts.
The advanced package comes with the following:
Advanced Zen12 Course: 24 MP3s, covering the last 6 levels.
Six months of levels: covering advanced stages (last 6 levels).
Quick Start Guide.
User Manual.
Lifetime Support.
1-year money back guarantee.
Bonus Gifts.
How can I use Zen12 program once I buy it?
Once purchased, you'll have access to the MP3s for life. You can listen online or feel free to download your MP3s. You can see more when you sign up for the free trial.
Is there any way to first try the program?
Yes, there is a free trial that comes with a sample of all 4 different meditations in Level 1. This is the best way to see if the program is the right fit for you.
What if I don't like a course I purchased?
If you don't like the course you've purchased, you have up to a year to get your money back, no questions asked.
I've never used brainwave entrainment before. How do I know if it'll work?
In short, your brain will know what to do. The frequency of the binaural beats themselves is the same frequency that your brain produces when it goes into delta and theta mode.
Science proves that just by listening to these beats, the results are lower anxiety, increased creativity, and a decrease of negative emotions felt.
When in doubt, you can always try it for free to see for yourself.
Is Zen12 better than OmHarmonics or Holosync?
That's impossible to answer in a few sentences. That's why we prepared a huge article in which we analyze each program. Check the comparisons of Zen12, Holosync, LifeFlow, and OmHarmonics programs here.
My Honest Opinion on Zen12
After trying it out, I have to give an honest review. I absolutely love the effects it had on my mental state. Within seconds I was relaxed.
The great thing about Zen12 is that if I start to feel anxious again, all I need to do is slip on a pair of headphones and the anxiety fades immediately.
It's as if everything drops, and all within a matter of seconds, and my day is reset. In my opinion, the binaural beats have such healing powers, even if it's only giving peace of mind. Everything starts with the mind so this leads to full-body relaxation.
I also love that Zen12 is affordable. It comes with so many options, and new tracks each month that I can never get bored with it.
I actually felt like I was sleeping while sitting up, and found myself unable to even lift my arm. Any time a thought tried to come in, I couldn't complete it – it was gone as the music continued to play.
The great part is that I didn't have to sit for a half-hour or hour to feel the benefits of meditation right away. They literally came within seconds, and the peace it generated lasted for hours.
I hope you liked this article, and I hope it helps you make your choice in the future.