Eight of Swords Tarot Card in its core represents limitations, being trapped in a situation that you can't see the truth of or someone else is forcing these limitations on you. This card is associated with the Air element, representing the Zodiac signs of Gemini, Libra, and Aquarius, and its season is Winter.
Eight of Swords, being the eighth card of the Swords Suit, carries all the qualities of number 8. In a psychic reading, this would translate to moving from one phase to the next, re-evaluate, move forward, evolution, progress, straight priorities, steps of action, change, movement, attainment.
Eight of Swords Meaning
When drawing tarot cards, usually they are put in a vertical setting, spread on a timeline of the past, present, and future. In this kind of drawings, the Eight of Swords may come up straight, as well as reversed. Some psychic readers do like to read reversed tarot cards. Some don't. Either way, the other tarot cards in the drawing will make up for the way the psychic readers conduct their readings because a Tarot Card deck connects to the energy of the psychic reader, so it 'talks' to them.
Upright Position
Merging the qualities of number "Eight" and the qualities of the "Swords Suit," the Eight of Swords card would represent:
| | |
| --- | --- |
| Being restricted | Being fenced by obstacles |
| Feeling limited, in a cage | Situations that have trapped you |
| Being persecuted | Can't reach freedom |
| Being unsure which way to turn, confused | Having no direction |
| Feeling powerless, overwhelmed | Needing help, guidance, and clarity |
| Feeling like the victim | Waiting for someone to save you |
| Doubting your powers | |
Reverse Position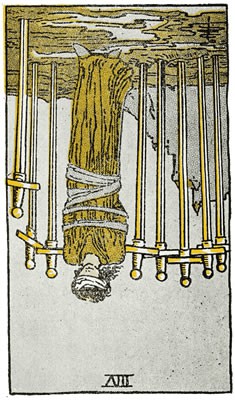 In a reverse position, the Eight of Swords would mean precisely the opposite of its core qualities, bringing in the drawing:
| | |
| --- | --- |
| Finding freedom | Escaping |
| Taking control of your own hands | Mental strength, clear view |
| Facing fears or the truth | Survivor, stand up to abuse |
| Being empowered | Believing in yourself |
Horizontal Position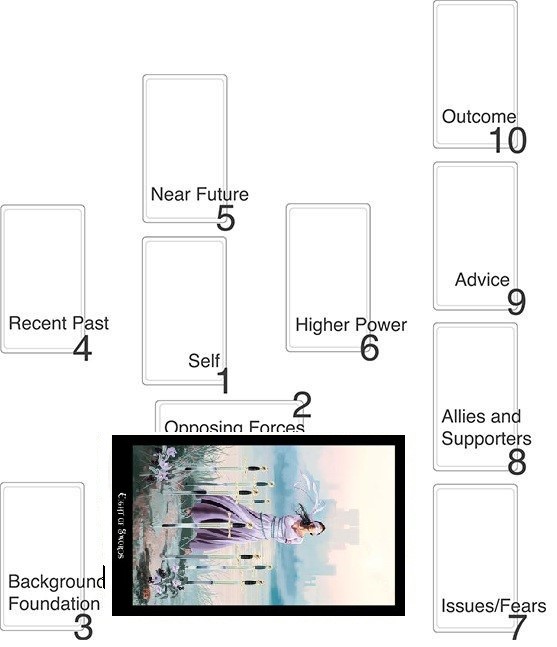 There are also spreads where the tarot cards pulled are placed on vertical as well as horizontal positions. If the Eight of Swords would sit in a horizontal position, it advises you to look at all the ways you have limited your power or given it over.
It may be the case when you have put your dreams and desires in a cage to please others or because you are afraid of outsiders' judgment, or it can be the case where someone else is controlling you, limiting you, stating you will always do how they please. Whatever is the case, you need to remember your life is only yours to live, and you are responsible for your own choices.
Don't believe the victim mindset they inflict on you. If you were abused, it wasn't your choice, and you are not the one to blame. When the opportunity comes to free yourself, take the risk.
Eight of Swords – One card pull [Yes or No]

One Card Readings are done when you need a fast, straight to the point answer, you wish not to see the future events or the past events, you just need a specific answer on the question, for a present situation that is bothering you. You shuffle the cards, then choose only One Card, or you read the One Card that falls out while you are shuffling. Whichever method you use to pull the card, listed below are some of the questions and answers you may get when you pull the Eight of Swords.
Yes or No Answer
Upright Position: If you pull the card in an upright position, it means definitely No.
Reversed Position: If you pull the card in a reversed position, it means there is a chance of Yes, but you will have to put a limit at what you will allow.
For a Yes or No answer, the Eight of Swords represents Yes, as a card of the Cups Suit.
Eight of Swords – Love and Relationships

The Eight of Swords in a relationship reading indicates that you are feeling trapped, put in the corner of the relationship, constraint there, almost feel like you have no voice or no one hears you. You may be feeling like you can't escape, but that's only your perception, or maybe you are forced to stay in a relationship you don't want to, for which you can try to find a way out.
If you feel powerless and hopeless in your relationship, seek help to get out of it if your partner has been abusing you. This card doesn't necessarily mean that there was abuse or that you are physically limited or controlled. It could mean that you feel trapped on an emotional level. You don't know what to do or what is going on around you, so you don't know how to react or if you may make the wrong decision.
How someone sees you or feels about you?
The answer would be they may see you as their property in the worst case. They may want to control you, dominate you, or just be the leader in the relationship. It could be the case where you feel like your partner can do anything they want to, but you will have to comply with their rules, even though they don't obey their rules themselves. They may try controlling you because they suffer from abandonment issues, jealousy, etc.
Just starting dating?
If you have started dating this new person, the Eight of Swords indicates that your person may become abusive, or is abusive, but you don't see it yet. It can suggest that they are also very judgmental towards you, and they go through their life by controlling others and showing them how they are to behave, once they have the partner in their arms.
It could also be that they see you trapped in your world, and you won't be able to commit to them, but you see them as a way to escape.
What not to do?
In terms of what not to do, it advises you not to try to control your partner and keep them in a cage because not only will you trap their personality, but you won't even know them anymore. There is no way to live in a relationship where one partner is dominated and controlled by the other. Also, if you are the one feeling trapped, it reminds you that you have the power just to remove the blindfold and make a decision not to live like that anymore.
Reverse Position (Love and Relationships)
If you pull the Eight of Swords, reversed, it is an indicator that you will finally find your freedom, from anxiety, stress, hidden truth, or the relationship and your abusive partner. It does indicate that you have chosen to see the truth in its eyes, and you have made a decision to free yourself, no matter what it takes. It can also represent that you are releasing your fears, your hurt, or you are expanding your perception and raising your vibration higher.
Eight of Swords – Finance, Business and Career

In business and career, the Eight of Swords indicates that you are having a hard time at work; you feel trapped in your job or work environment. This may come as a result of wanting to make a better income, or the wage is too good, but on the other hand, you are losing yourself every day on that job.
You are lacking creativity, commitment, and passion for doing your job that it doesn't matter if the wage is that good. If you manage to break free, it can happen even if you have found no other job. So take care of yourself and start looking now for a new job if you can't keep working at the one you are before it is too late and you take a rapid decision.
What not to do?
The Eight of Swords may indicate that you should be more honest with yourself and not allow your potential to go to waste. If you feel someone at work wants to be the leader for you, or your boss and colleagues are continually creating situations where you feel incapable or weak to deal with, then you should brace yourself and learn to say No.
If you feel you won't do any better at the current job because there is no higher position, or no one is promoting you. You are continually being tricked or bullied. It is time to find another job because obviously, this one is not working for you.
Reverse Position (Business and Finance)
In this case, it indicates that you have successfully managed some stressful times at work, and you are coming back stronger and happier. It can also mean that you finally made it through a big project that was consuming your time and your energy. Left unfinished, you couldn't commit to anything else. It can also indicate that you freed yourself, and now you have found a job where you feel inspired, and that doesn't restrict your potential.
Eight of Swords – Timing
When will something happen answer?

If it is a question that involves around the timing of an event and you pull the Eight of Swords, this would mean that whatever you desire or wonder about will manifest, but it will take time, as an Air element indicates movement, and a swift one.
How soon is that, it would be kind of complicated because it could mean Wintertime, or that of a Zodiac Sign season Gemini, Libra or Aquarius.
It would also be counted in months, or around the 8th, 17th, 26th of a month.
The way you want to interpret this is keeping in mind that whatever you are asking about is coming, though it could come in a breeze or not stand for long.
With the Swords Suit, the best way to go around figuring out the time would always be to think at least one later, and it would go something like this: If it is already Winter, your best bet would be next month or around Aquarius season.
Eight of Swords – The Message Answer

Sometimes, we don't have a specific question. We just want to know how our day will look like, or how we should approach the day ahead. Do this reading in the morning, so you form an idea of what that day will bring you.
Upright
The Eight of Swords would foretell a day when you may feel trapped, restricted, limited, in a cage, and not knowing what to do. You feel like you can't make a move because someone is withholding information and you fear a wrong move.
Reversed
If you pull the Eight of Swords in reverse, it indicates a day when you will find your voice to speak up and demand what you want. You may find that this is not hard at all to do and realize you always had the power to do it.
Eight of Swords – Cards Combinations

In a psychic reading, at least six cards are drawn, and each tarot card's meaning is interpreted along with the other cards, always bearing in mind the first question upon which the reading is conducted and aims to give answers. A psychic will see the tarot cards in a symbiotic relationship with one another, never try to read them one by one, but the whole drawing as a whole.
That's why it is essential to have a look at how the Eight of Swords communicates with the other Tarot Cards. There are 78 Tarot Cards in a deck. We will have a look at how the Eight of Swords would be interpreted and affect the outcome of the reading in the light of Suits.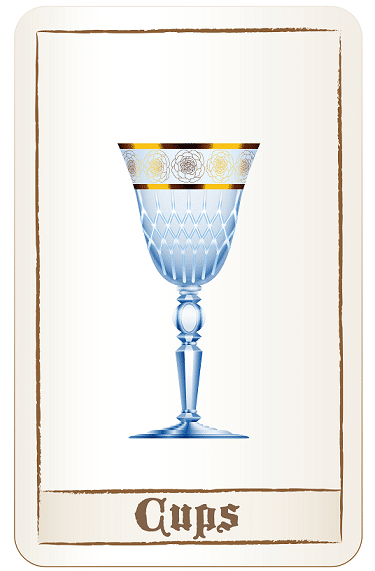 Interaction with the Cup Suits
The Cup Suits represent emotions, feelings, relationships, and contract-ships. This suit is associated with the Water element. If we were to draw the Eight of Swords along with the Cup Suits, this would foretell that you feel trapped on an emotional level, reflecting on relationships with a partner, closed ones, and family. You may feel judged for every move you make, or you may have been raised in a toxic environment that now you are afraid to make the wrong moves or disappoint them.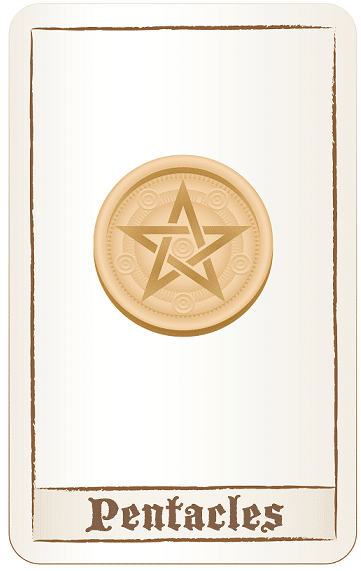 Interaction with the Pentacles Suits
The Eight of Swords, along with another card of the Pentacles Suit, would bring attention to work issues and financial problems. This spread would indicate that your financial situation has trapped you and restricted you from enjoying yourself and life. You feel like you can't spend on something nice for you because you can't afford it. It could also mean that you don't make your own money, and your partner or family is providing for you.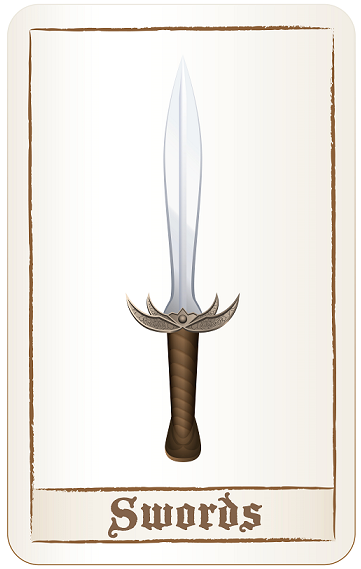 Interaction with the Swords Suits
The Swords Suit, along with the Eight of Swords, is also an exciting drawing. The Swords Suit gets its share of being a negative suit. This spread would indicate that whatever bad situation that has happened has left you to feel powerless and unable to make moves or make your own decisions. It may have even left you to feel like you can't make any right moves because your personal choices have brought you to this point. However, you can give yourself some time to reflect and see how things will unfold.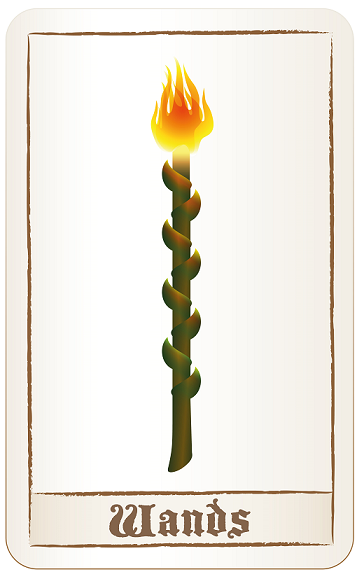 Interaction with the Wands Suits
The Eight of Swords and the Wands Suit is a combination that foretells action that face unexpected blockages. You may have taken some action on a project, or you may have chosen a path to walk on, and down that path, you realize that you may have taken too much in your plate that now you feel restricted, but you also feel you have to keep your promises and keep going. You may realize that there is help, support, or things are not as bad as they look right now.
Overall, the Eight of Swords, either by itself or pulled in a tarot card draw, is a card of emotional and physical limitations and restrictions put on place by your mindset or someone else does. Still, if you remember to pull off your blindfold, you will find you have your power in your hands.