Five of Swords Tarot Card in its core represents choosing to battle, always with your weapons raised and ready to fight off anyone that comes in your way. This card is associated with the Air element, representing the Zodiac signs of Gemini, Libra, and Aquarius, and its season is Winter.
Five of Swords, being the fifth card of the Swords Suit, carries all the qualities of number 5. In a psychic reading, it translates to conflict, hope, challenge, needs for spirituality, loss, a change of heart, or status, and to rebuild from what was destroyed.
Five of Swords Meaning
When drawing tarot cards, usually they are put in a vertical setting, spread on a timeline of the past, present, and future. In this kind of drawing, the Five of Swords may come up straight, as well as reversed. Some psychic readers do like to read reversed tarot cards. Some don't. Either way, the other tarot cards in the drawing will make up for the way the psychic readers conduct their readings because a Tarot Card deck connects to the energy of the psychic reader, so it 'talks' to them.
Upright Position
Merging the qualities of number "Five" and the qualities of the "Swords Suit," the Five of Swords card would represent:
| | |
| --- | --- |
| Prioritizing yourself | Thinking of your own needs |
| Indulging in power plays | Encountering ego and selfishness |
| Looking out for top performers, number one | Living in a hostile environment |
| Manifesting ill will | Choosing to battle |
| Losing a moral compass | Open dishonor, deception |
| Believing ends justify means | Sacrificing your integrity |
| Engaging in criminal activity (or will face some legal issues) | |
Reverse Position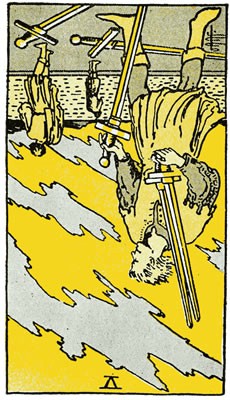 In a reverse position, the Five of Swords would mean precisely the opposite of its core qualities, bringing in the drawing:
| | |
| --- | --- |
| Surrendering to challenges | Peaceful resolutions |
| Open roads to communication | Humiliation |
| Risking everything, sacrifice | Uncovered crime |
| Having regrets or remorse | Compromising |
| Ending conflicts | |
Horizontal Position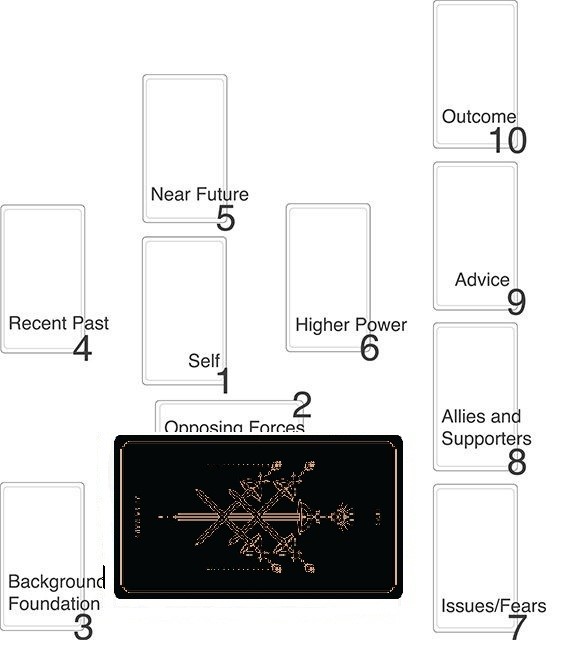 There are also spreads where the tarot cards pulled are placed on vertical as well as horizontal positions. If the Five of Swords would sit in a horizontal position, it advises you to acknowledge the challenges in front of you and strategize a plan.
You don't need to sacrifice anything or open conflicts with everyone that challenges you. Sometimes, you need to take your sword out and swipe it, but there is a strategy to that too. It could also indicate that an upcoming situation will present to you a challenge on whether to shift your moral compass or stay your ground and fight for the right thing.
Five of Swords – One card pull [Yes or No]

One Card Readings are done when you need a fast, straight to the point answer, you wish not to see the future events or the past events, you just need a specific answer on the question, for a present situation that is bothering you. You shuffle the cards, then choose only One Card, or you read the One Card that falls out while you are shuffling. Whichever method you use to pull the card, listed below are some of the questions and answers you may get when you pick the Five of Swords.
Yes or No Answer
Upright Position: If you pull the card in an upright position, it means definitely No.
Reversed Position: If you pull the card in a reversed position, it means there is a chance of Yes, but it is not worth it, so you should move on already.
For a Yes or No answer, the Five of Swords represents Yes, as a card of the Cups Suit.
Five of Swords – Love and Relationships

The Five of Swords in a relationship reading is a bad omen that indicates you are fighting a lot, purposely trying to hurt the other, causing conflicts and resentments that won't just go away. It could also indicate blocked communication roads, deception, and possibly a breakup or divorce.
In the worst-case scenario, it could bring attention to an abusive partner, who tries to manipulate and control you, dominate you, is violent and sexually abusive. This person could also be you. In either case, this is not a healthy relationship, and if any of you has the abusive traits, it is better to end the relationship before it ends you.
How someone sees you or feels about you?
The answer would be they feel you being hard to manage, talk to, cherish, or be with. They see your dark side, your rage, your anger issues, and the fact that you blow up anything that happens to the point of no return. They may fear your outbursts of anger, and secretly they may want you out of their life, but they may be afraid to say so, or there's still a little hope in them for a change.
If you recognize these issues in yourself, you should seek professional help, or do your work with your inner self and figure out why these issues are present.
Just starting dating?
If you have started dating this new person, the Five of Swords indicates that your strong personality may trigger the person you're dating. You may be the one who is attracted to those who have a dark side, who are potentially dangerous and deceptive. Maybe you both love the game, the mystery, and secrecy. You may feel the other ignites a fire in you because they put you through mental challenges, and it feels like an adventure.
Though you should keep in mind that down the road, both of you will look out for peace and comfort, thus this relationship won't work for long before actually turning pretty abusive, emotionally, mentally, or physically.
What not to do?
In terms of what not to do, it advises you to see the person for who they are. If you need to take a step back or talk it out with someone, you should do that. Maybe there's a new person you have been dating who you don't know well, but you had judged them before they had a chance to prove themselves.
Maybe there's a case of the ongoing conflict in the relationship, and you can't take it anymore, but being afraid of future changes, you don't know what to do. You need to put down your weapons and hear what the other has to say because if you are always in fighting mode, you won't see the truth.
Reverse Position (Love and Relationships)
If you pull the Five of Swords, reversed, it is an indicator that you may have decided to sit down with each other and communicate openly. You may have surpassed the past hurt, not because of talking it out or seriously putting in the work to heal it, just decided to forget it. This is not a healthy coping mechanism as the past can resurface and make things worse. It could also indicate that if you are in an abusive relationship, it will get violent soon, and you need to get out now that you have a chance. If there's a case of cheating or deceiving, it will come out.
Five of Swords – Finance, Business and Career

In business and career, the Five of Swords indicates that you are having a hard time at work, dealing with conflicts that have been going on for months and no one seems to want to make peace. This situation may have left you to feel defeated and push you to want to change jobs or even careers.
In a worse case, this card could indicate bullying and harassment at the work environment, or by your business partners whose deals you can't just quit, so you find yourself trying to ignore them and also feel powerless. You need to show them who you are and remember that you always have the power to change a bad situation and make better decisions for yourself and your business. In the work environment, you may find yourself applying to new jobs.
What not to do?
The Five of Swords may indicate that you are not careful, and you are not aware of the underhanded situations going on around you. Someone may be deceiving you or stealing from you. In this case, it advises you to open your eyes and not trust everyone that seems to be offering unsolicited advice or help. It would also encourage you to manage situations calmly, not to fight with everyone that comes your way, and try to resolve a situation through communication and other healthy means before grabbing your weapons.
Reverse Position (Business and Finance)
In this case, it indicates that conflict at work is coming to an end, slowly and steadily, you all are accepting each other's manners, shortcomings, and worst traits. On the other hand, if the conflict isn't resolved, it could indicate a worse dispute about to aggravate. It could also mean someone trying to sabotage you. Regarding finances, it may indicate that a financial crime or deception will come to light, possibly it will be made public, and the person responsible may be held legally accountable.
Five of Swords – Timing
When will something happen answer?

If it is a question that involves around the timing of an event and you pull the Five of Swords, this would mean that whatever you desire or wonder about will manifest, but it will take time, as an Air element indicates movement, and a swift one.
How soon is that, it would be kind of complicated because it could mean Wintertime, or that of a Zodiac Sign season Gemini, Libra or Aquarius.
It would also be counted in months, or around the 5th, 14th, 23rd of a month.
The way you want to interpret this is keeping in mind that whatever you are asking about is coming, though it could come in a breeze or not stand for long.
With the Swords Suit, the best way to go around figuring out the time would always be to think at least one later, and it would go something like this: If it is already Winter, your best bet would be next month or around Aquarius season.
Five of Swords – The Message Answer

Sometimes, we don't have a specific question. We just want to know how our day will look like, or how we should approach the day ahead. Do this reading in the morning, so you form an idea of what that day will bring you.
Upright
The Five of Swords would foretell a day when you may find yourself in a defensive mode, weapons raised, and pushing your way through. You may feel you need to protect yourself from outside harm and be extra aware of any deceptions or ill will.
Reversed
If you pull the Five of Swords in reverse, it indicates a day when you may find a way to resolve conflicts and approach others. You are laying down your weapons.
Five of Swords – Cards Combinations

In a psychic reading, at least six cards are drawn, and each tarot card's meaning is interpreted along with the other cards, always bearing in mind the first question upon which the reading is conducted and aims to give answers. A psychic will see the tarot cards in a symbiotic relationship with one another, never try to read them one by one, but the whole drawing as a whole.
That's why it is essential to have a look at how the Five of Swords communicates with the other Tarot Cards. There are 78 Tarot Cards in a deck. We will have a look at how the Five of Swords would be interpreted and affect the outcome of the reading in the light of Suits.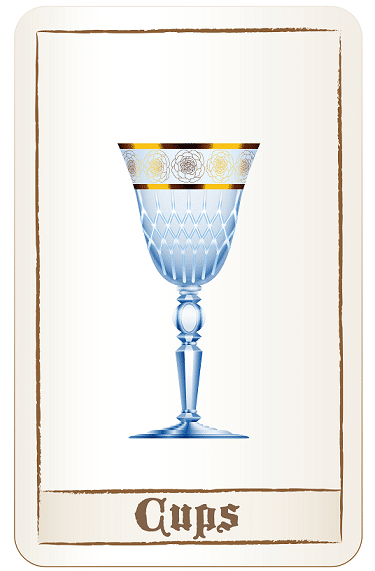 Interaction with the Cup Suits
The Cup Suits represent emotions, feelings, relationships, and contract-ships. This suit is associated with the Water element. If we were to draw the Five of Swords along with the Cup Suits, this would foretell that you are not in control of your emotional feelings or you are anxious about the choices of your closed loved ones, if they will choose you or not. You may doubt their intentions, or you may even be feeling that you need to protect your loved ones or fight for their love.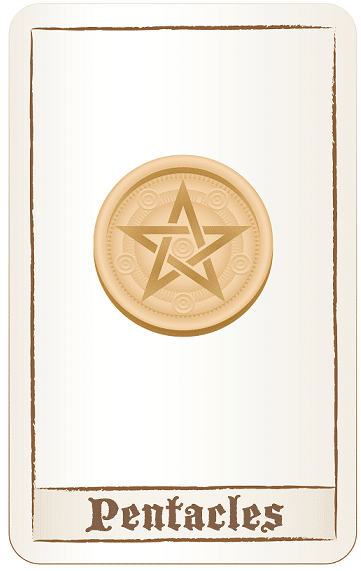 Interaction with the Pentacles Suits
The Five of Swords, along with another card of the Pentacles Suit, would bring attention to the toxic work environment and financial problems that are causing conflict with yourself and maybe making you question or adjust your moral compass. You may find yourself in a situation that you will need to adapt and perhaps even go out of your way, just because you need to push your business forward or make a better income through accepting work that goes against your values.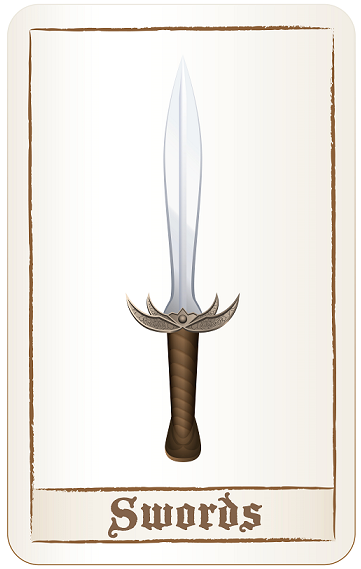 Interaction with the Swords Suits
The Swords Suit, along with the Five of Swords, is also an exciting drawing. The Swords Suit gets its share of being a negative suit. This spread would indicate that your nature and heated temperament have brought you to a point where you may find yourself lost, criticized, and in conflict will all your closed ones. It is your own wrongdoing, and you need to calm down and approach the situation with grace. You need to open the roads to communication and be more attentive to what the others have to say.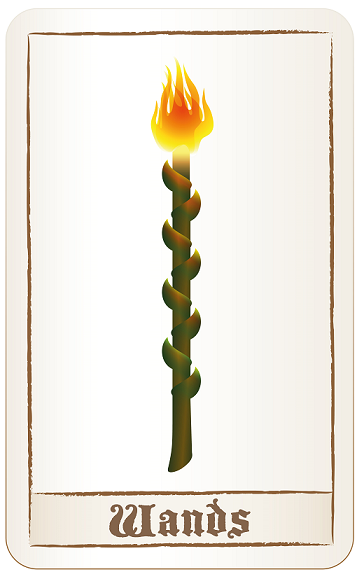 Interaction with the Wands Suits
The Five of Swords and the Wands Suit is a combination that foretells action that may be met with blockages, challenges, and people that try to sabotage you. In this case, this spread indicates that you need not allow others to pull you down, make you feel bad about yourself, weak or not wise enough to manifest your dreams. Whatever you do, you have to keep only your best interest in mind.
Overall, the Five of Swords, either by itself or pulled in a tarot card draw, is a card of heated conflicts, challenges, deception, and crime, encountering ego and selfishness.