Nine of Swords Tarot Card, in its core, represents losing sleep, overthinking, anxiety, and remorse. This card is associated with the Air element, representing the Zodiac signs of Gemini, Libra, and Aquarius, and its season is Winter.
Nine of Swords, being the ninth card of the Swords Suit, carries all the qualities of number 9, which in a psychic reading translates to luck, fulfillment, fate, a time of clarity, the achievement of a goal, culmination, and fruition.
Nine of Swords Meaning
When drawing tarot cards, usually they are put in a vertical setting, spread on a timeline of the past, present, and future. In this kind of drawings, the Nine of Swords may come up straight, as well as reversed. Some psychic readers do like to read reversed tarot cards. Some don't. Either way, the other tarot cards in the drawing will make up for the way the psychic readers conduct their readings because a Tarot Card deck connects to the energy of the psychic reader, so it 'talks' to them.
Upright Position
Merging the qualities of number "Nine" and the qualities of the "Swords Suit," the Nine of Swords card would represent:
| | |
| --- | --- |
| Worrying, anxiety | Being worked up |
| Feeling guilty | Losing sleep over a problem, insomnia |
| Being too hard on yourself | Having regrets or remorse |
| Not forgiving yourself regrets | Being on edge, desperate |
| Having reached your limits | Going through the night of the soul |
| Mental illnesses, depression | |
Reverse Position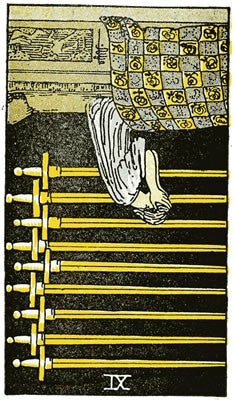 In a reverse position, the Nine of Swords would mean precisely the opposite of its core qualities, bringing in the drawing:
| | |
| --- | --- |
| Recovering | Light at the end of the tunnel |
| Letting go of negativity | Facing life and responsibilities |
| Handling problems well | Coming out of depression |
| Finding help | |
Horizontal Position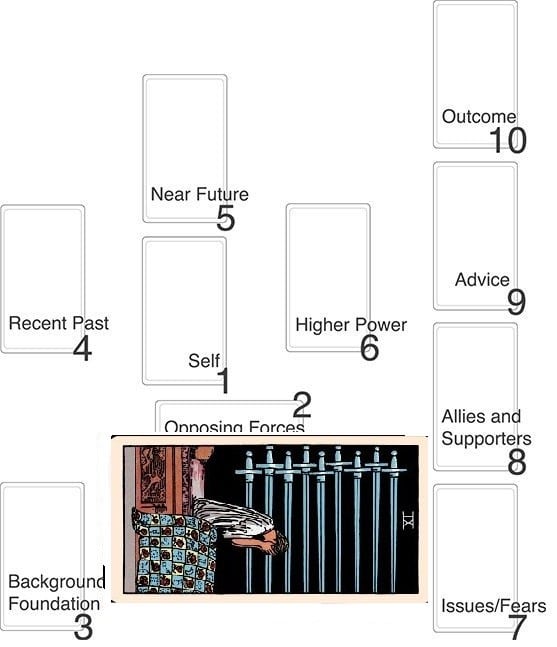 There are also spreads where the tarot cards pulled are placed on vertical as well as horizontal positions. If the Nine of Swords would sit in a horizontal position, it advises you to stop overthinking and putting yourself under much stress.
Maybe you are overthinking or doubting the truth of an issue all the time, causing your anxiety to flare up and consequently, to lose sleep over it. This card reminds you it is not worth it, and also, you are losing sleep and stressing yourself for nothing because things are not as bad as you think, and the truth is much simpler than you make it to be. You should focus on healing the part of you that gets triggered.
Nine of Swords – One card pull [Yes or No]

One Card Readings are done when you need a fast, straight to the point answer, you wish not to see the future events or the past events, you just need a specific answer on the question, for a present situation that is bothering you.
You shuffle the cards, then choose only One Card, or you read the One Card that falls out while you are shuffling. Whichever method you use to pull the card, listed below are some of the questions and answers you may get when you pull the Nine of Swords.
Yes or No Answer
Upright Position: If you pull the card in an upright position, it means definitely No.
Reversed Position: If you pull the card in a reversed position, it means there is a chance of Yes, but it may come with lots of headaches, so it's not as worth it as you make it to be.
For a Yes or No answer, the Nine of Swords represents Yes, as a card of the Cups Suit.
Nine of Swords – Love and Relationships

The Nine of Swords in a relationship reading indicates that your relationship is not a happy one at the moment. You may be filled with feelings of regret or guilt over a mistake of the past. You are held accountable for now. You may also doubt every move your partner makes to the point that you overthink and overanalyze every single thing, and it is driving you crazy.
This card can also signify that your partner is abusive, manipulating your perception and thoughts, thus driving you to mental illnesses, depression, and aid to your anxiety issues. It can also indicate that maybe there is no burden in the relationship itself. Still, one of you may be suffering from stress or anxiety because of other issues and pose a challenge to the relationship.
How someone sees you or feels about you?
They may see you as someone with lots of personal issues, anxiety, and stress. They may feel like none of your issues come from the relationship, so why should you put such a burden on the relationship and make it harder for both of you to function healthily. On the other hand, they may see you as a headache, a burden, or someone that makes them feel less than, thus they are the ones suffering for your love and losing sleep over it.
Just starting dating?
If you have started dating this new person, the Nine of Swords indicates that your person may see you as someone depressed, unstable, and having emotional issues that you just keep quiet about and put on a smiley face, which feels pretty fake for them. They may want to know more about you and find the solution to your problems. On the other hand, they may see you as someone who lives in the past, and they can't fulfill your desires or wishes at the moment.
What not to do?
It advises you to communicate with your partner how you feel and what is going on with you. They may not know how to treat you, take care of you or how to make you feel better, and even though they may commit to bring you peace unless they know your deep feelings or what you want to find relief, they won't be much of help.
Not everyone suffers from anxiety. For most people is a subject that they have heard about, but they don't know how it comes, or it goes, what triggers it, and what makes you feel better. If you fear something, ask them to clarify it for you. If you want to know something, talk about it. If you don't find answers, you should strategize your next steps, do not let yourself lose more sleep.
Reverse Position (Love and Relationships)
If you pull the Nine of Swords, reversed, it is an indicator that whatever you have lost sleep about, had anxiety and doubts, will come to light. Maybe there's a cheating situation, or any kind of deceiving, hidden feelings, whatever it is you will know about it. The truth may bring you other sleepless nights, but the truth will set you free because, finally, you will know what to do. It will either bring relief and a way to make the relationship better or break it off for the best interest of both of you.
Nine of Swords – Finance, Business and Career

In business and career, the Nine of Swords indicates that you are deeply unhappy in your job, career, or work environment. It may be because of the toxic environment or because you feel stuck at a job that you don't like, and that doesn't pay you well, but you have to keep pushing because there is no other opportunity for you at the moment.
You may have reached your breaking point, your mind going circles over finances that are not improving, and a job that is tearing you down. Financial worries are overwhelming you, you may have lots of debts, or you may have lots of expenses, you may need to take care of your family, and you may be the only provider.
What not to do?
The Nine of Swords, advises you to keep going, apply to other jobs, ask for help if you need it. You may overthink and stress yourself out all you want, but that is not going to help you or change your situation for better. The only thing that it does it's making you unable to make moves and think straight. You may need to find a business mentor or therapist. The sun will always come out.
Reverse Position (Business and Finance)
In this case, it indicates that your work and related financial worries are getting better. You may witness yourself coming out of a difficult financial situation all of a sudden, or you may get a positive result on a project that you have been losing sleepover. You may realize it wasn't all as bad as you thought. You may have found a way to cope with work overload or your stressful job. It will improve your work results, your reputation, and also your finances.
Nine of Swords – Timing
When will something happen answer?

If it is a question that involves around the timing of an event and you pull the Nine of Swords, this would mean that whatever you desire or wonder about will manifest, but it will take time, as an Air element indicates movement, and a swift one.
How soon is that, it would be kind of complicated because it could mean Wintertime, or that of a Zodiac Sign season Gemini, Libra or Aquarius.
It would also be counted in months, or around the 9th, 18th, 27th of a month.
The way you want to interpret this is keeping in mind that whatever you are inquiring is coming, though it could happen in a breeze or not stand for long.
With the Swords Suit, the best way to go around figuring out the time would always be to think at least one later, and it would go something like this: If it is already Winter, your best bet would be next month or around Aquarius season.
Nine of Swords – The Message Answer

Sometimes, we don't have a specific question. We just want to know how our day will look like, or how we should approach the day ahead. Do this reading in the morning, so you form an idea of what that day will bring you.
Upright
The Nine of Swords would foretell a day when you may feel overwhelmed, stressed out, at the point of a breakdown. Your anxiety may get triggered and make you feel restless and shaking all day long. It doesn't necessarily mean that something will go wrong; it is more of a problem on a mental and emotional level.
Reversed
If you pull the Nine of Swords in reverse, it indicates a day when you will feel more relaxed than usual. You will notice the relief from anxiety, or you may notice the black clouds lifting.
Nine of Swords – Cards Combinations

In a psychic reading, there are at least six cards drawn, and each tarot card's meaning is interpreted along with the other cards, always bearing in mind the first question upon which the reading is conducted and aims to give answers. A psychic will see the tarot cards in a symbiotic relationship with one another, never try to read them one by one, but the whole drawing as a whole.
That's why it is essential to have a look at how the Nine of Swords communicates with the other Tarot Cards. There are 78 Tarot Cards in a deck. We will have a look at how the Nine of Swords would be interpreted and affect the outcome of the reading in the light of Suits.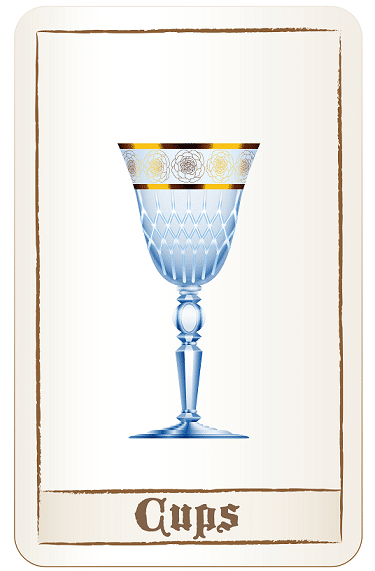 Interaction with the Cup Suits
The Cup Suits represent emotions, feelings, relationships, and contract-ships. This suit is associated with the Water element. If we were to draw the Nine of Swords along with the Cup Suits, this would indicate that all your emotional problems are re-surfacing and taking the form of anxiety, insomnia, stress, and inability to cope with simple issues. You don't have the emotional capability to deal with friends, lovers, or family, and this may stress you even more because they don't understand you, but you can't give them the attention they need on the other hand. You should think about yourself. Explain the latter.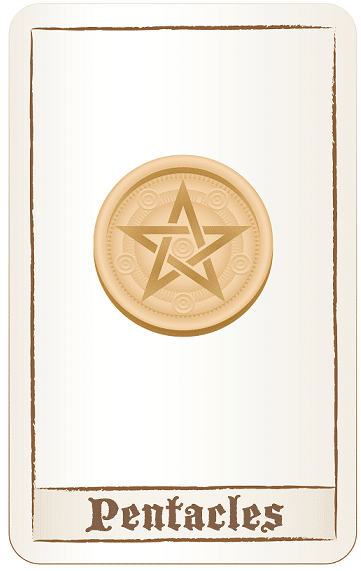 Interaction with the Pentacles Suits
The Nine of Swords, along with another card of the Pentacles Suit, would bring attention to work issues and financial problems. You may have deep-rooted money issues that don't seem to go away, no matter how much money you make or a better job. Maybe you have been raised poor or lacking the money to buy expensive things or fulfill all your desires. Now, you may have the income to satisfy any need or want, but the first moment you feel like your finances are fluctuating, the anxiety and stress re-surfaces.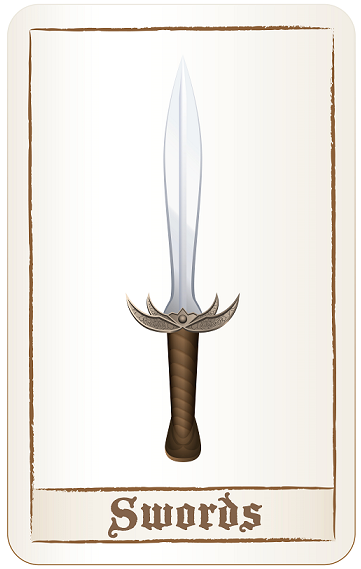 Interaction with the Swords Suits
The Swords Suit, along with the Nine of Swords, is also an exciting drawing. The Swords Suit gets its share of being a negative suit. This spread would indicate that you have reached the point of a mental breakdown. You have no desire or will to do anything. You can't push yourself out of bed even though you may not be able to sleep at all. You may be experiencing depression, and you are adding to it by feeling sorry for yourself and unable to make your situation better. Maybe you are focusing on the past though you can't change it, but you can change the future.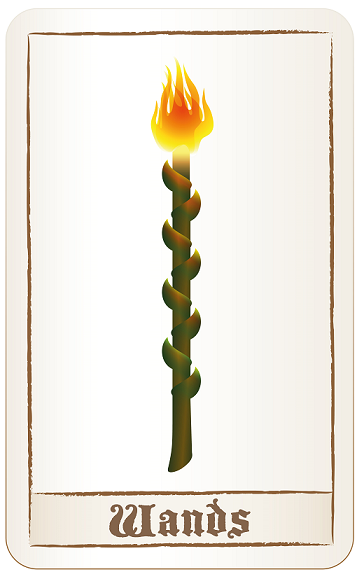 Interaction with the Wands Suits
The Nine of Swords and the Wands Suit are a combination that foretells action that may cause unexpected stress. The path you have chosen, the new project you have taken a risk on, or the person you have selected as your lover, may bring you unexpected stress or trigger your anxiety out of the blue. Maybe you have not foreseen it, and it bothers you. However, this spread indicates that you will make it through.
Overall, the Nine of Swords, either by itself or pulled in a tarot card draw, is a card of emotional and mental stress, anxiety and depression, the night of the soul, and shadow work.