Six of Swords Tarot Card, in its core, represents healing trauma bonds, picking up the broken pieces and creating a new whole figure. This card is associated with the Air element, representing the Zodiac signs of Gemini, Libra, and Aquarius, and its season is Winter.
Six of Swords, being the sixth card of the Swords Suit, carries all the qualities of number 6. In a psychic reading translates to reciprocated feelings, advancement, satisfaction, excitement, relax at the moment, reward, success, problem-solving mindset, harmonious environment.
Six of Swords Meaning
When drawing tarot cards, usually they are put in a vertical setting, spread on a timeline of the past, present, and future. In this kind of drawing, the Six of Swords may come up straight, as well as reversed. Some psychic readers do like to read reversed tarot cards. Some don't. Either way, the other tarot cards in the drawing will make up for the way the psychic readers conduct their readings because a Tarot Card deck connects to the energy of the psychic reader, so it 'talks' to them.
Upright Position
Merging the qualities of number "Six" and the qualities of the "Swords Suit," the Six of Swords card would represent:
| | |
| --- | --- |
| Pushing through the day | Feeling blue, low-energy |
| Trying enough to keep head above water | Avoiding shifts of highs and lows |
| Picking up the broken pieces | Recovering from trauma |
| Dealing with the after-effects of trauma | Starting to feel hope again |
| Travelling (paired with the World it can mean long road trips) | Going away, leaving a situation |
| Entering a new mindset | |
Reverse Position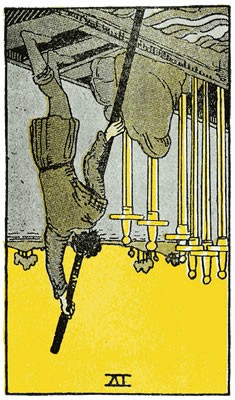 In a reverse position, the Six of Swords would mean precisely the opposite of its core qualities, bringing in the drawing:
| | |
| --- | --- |
| Being trapped | Dealing with delays |
| Slow progress | Rocking the boat |
| Abandoning plans | Instability |
| Accidents on water, or floods | Returning from a travel |
Horizontal Position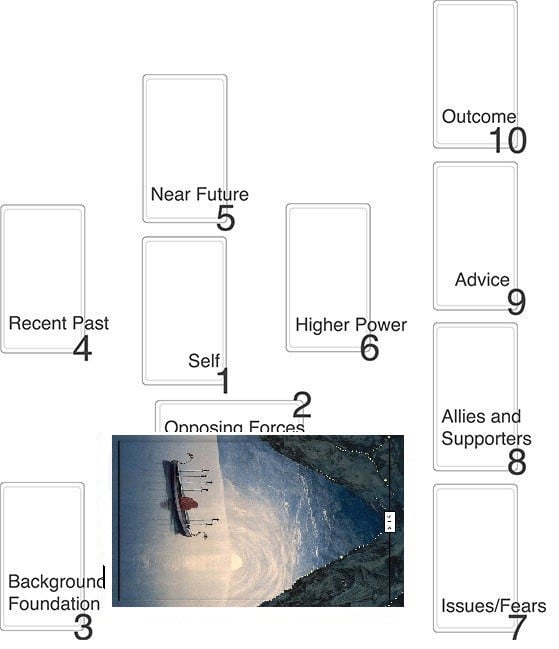 There are also spreads where the tarot cards pulled are placed on vertical as well as horizontal positions. If the Six of Swords would sit in a horizontal position, it advises you to gather your possessions and your strength.
You may be letting things slip through your fingers, or you are not sure what you have gained or lost along the way. You may find yourself in need to travel, leave a situation behind, or make radical changes. In each of these cases, you do need to make a list of things you want to take with you, and things that you want to leave behind.
Six of Swords – One card pull [Yes or No]

One Card Readings are done when you need a fast, straight to the point answer, you wish not to see the future events or the past events, you just need a specific answer on the question, for a present situation that is bothering you. You shuffle the cards, then choose only One Card, or you read the One Card that falls out while you are shuffling. Whichever method you use to pull the card, listed below are some of the questions and answers you may get when you pull the Six of Swords.
Yes or No Answer
Upright Position: If you pull the card in an upright position, it means definitely No.
Reversed Position: If you pull the card in a reversed position, it means there is a chance of Yes, but you may need to change your actual location.
For a Yes or No answer, the Six of Swords represents Yes, as a card of the Cups Suit.
Six of Swords – Love and Relationships

The Six of Swords in a relationship reading usually is a bad omen that indicates the relationship has reached a place where you want out of it, but you have not spoken up about it yet. You are considering the pros and cons of moving out or breaking up and kind of disappearing from the life of your partner.
Though, it can be a good omen other times because it may indicate that you have healed the past or you are resolving the conflicts slowly, and you will be moving into calmer waters. This is not the time to make significant changes or take big steps in the relationship. You have first to see where it goes.
How someone sees you or feels about you?
The answer would be they feel you may be too much in your head or wondering about other things. They may have even expressed to you the feeling that you don't listen to them, or you act like you are all ears, but your mind or heart is somewhere else. They may express the need to take some time off away from you, they may want some space, or they may be considering to leave the situation altogether. This card could also indicate traveling.
Just starting dating?
If you have started dating this new person, the Six of Swords indicates that your person sees you as someone who has a fight or flight situation going on. It seems to them like you always want to be somewhere else, or you are the escapist type. It may also indicate that they want to be adventurous with you, or they see you as a new beginning. They may also feel you are the one who will help them heal and move on, find joy and love again.
What not to do?
In terms of what not to do, it advises you not to get up, pack your bags, and go at the first sign of trouble. It is better to deal with things at a peaceful pace. Maybe choosing to go away, it is not the best solution right now, so you need to brace yourself and work on the situation on hand. This trouble is meant for you to grow, heal parts of yourself that need healing, and become the person you are meant to be.
Reverse Position (Love and Relationships)
If you pull the Six of Swords, reversed, it is an indicator that your relationship is stormy at the moment. You may both be feeling stuck or trapped in your relationship. It doesn't necessarily mean you want a way out of the relationship.
It does mean that you are looking for a way out of the heavy situation, maybe through booking a traveling, or finding a way to communicate, telling the truth, hand-holding nothing back. It could also indicate that someone is coming back to you, either a lover or someone you hold dear in your heart.
Six of Swords – Finance, Business and Career

In business and career, the Six of Swords indicates that heated situations at work are starting to calm down, and you will find yourself more at ease. You may have even just moved to a job that is better for you, where you find yourself more and exercise your functions with ease. It could also indicate traveling for business purposes or working on a project overseas for some time.
Regarding finances, it suggests that you will finally know peace of mind on that matter and start to enjoy life a little more. You have left behind you the days of trouble, by simply changing your mindset and perspective, or because you have leveled up.
What not to do?
The Six of Swords may indicate that you need to come up with a strategized plan on how you will pull off your work projects. Before deciding and making moves to change jobs or even careers, you should make sure that you have done all you could to provide positive results at your current job. If you find that's not the case, then you can move on. Regarding finances, it advises you not to travel and spend money you don't have, do not indulge in stuff you can't afford, and try to make better investments or add more into the savings account.
Reverse Position (Business and Finance)
In this case, it indicates that you feel trapped and stuck at work; you are starting to dislike very much the work you do or your position. It could also mean delays on projects you have been working on, which in turn will cause you some troubles and even financial losses. You may want to look for a new job if you find yourself constantly in a negative mindset at the job you already are. Regarding finances, they are not looking good. You may find yourself spending more money than you usually do unexpected things.
Six of Swords – Timing
When will something happen answer?

If it is a question that involves around the timing of an event and you pull the Six of Swords, this would mean that whatever you desire or wonder about will manifest, but it will take time, as an Air element indicates movement, and a swift one.
How soon is that, it would be kind of complicated because it could mean Wintertime, or that of a Zodiac Sign season Gemini, Libra or Aquarius.
It would also be counted in months, or around the 6th, 15h, 24th of a month.
The way you want to interpret this is keeping in mind that whatever you are asking about is coming, though it could happen in a breeze or not stand for long.
With the Swords Suit, the best way to go around figuring out the time would always be to think at least one later, and it would go something like this: If it is already Winter, your best bet would be next month or around Aquarius season.
Six of Swords – The Message Answer

Sometimes, we don't have a specific question. We just want to know how our day will look like, or how we should approach the day ahead. Do this reading done in the morning, so you form an idea of what that day will bring you.
Upright
The Six of Swords would foretell a day when you will see that the path in front of you is clear, and you can walk through it if you cut your trauma bonds. You may also feel you need to push through the day and just keep your head above water.
Reversed
If you pull the Six of Swords in reverse, it indicates a day when you may feel stuck, not able to resolve any conflict, or feel trapped by many attached strings and responsibilities pulling at you at all times.
Six of Swords – Cards Combinations

In a psychic reading, there are at least six cards drawn, and each tarot card's meaning is interpreted along with the other cards, always bearing in mind the first question upon which the reading is conducted and aims to give answers. A psychic will see the tarot cards in a symbiotic relationship with one another, never try to read them one by one, but the whole drawing as a whole.
That's why it is essential to have a look at how the Six of Swords communicates with the other Tarot Cards. There are 78 Tarot Cards in a deck. We will have a look at how the Six of Swords would be interpreted and affect the outcome of the reading in the light of Suits.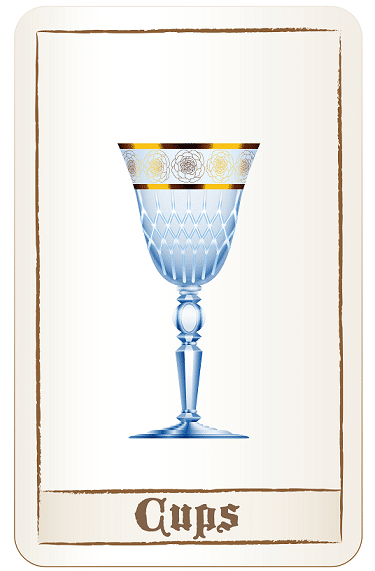 Interaction with the Cup Suits
The Cup Suits represent emotions, feelings, relationships, and contract-ships. This suit is associated with the Water element. If we were to draw the Six of Swords along with the Cup Suits, this would foretell that you have found yourself and you are standing your ground. It may be a case of coming out to your family and finding their full support, or deciding to communicate with your partner and healing your relationship.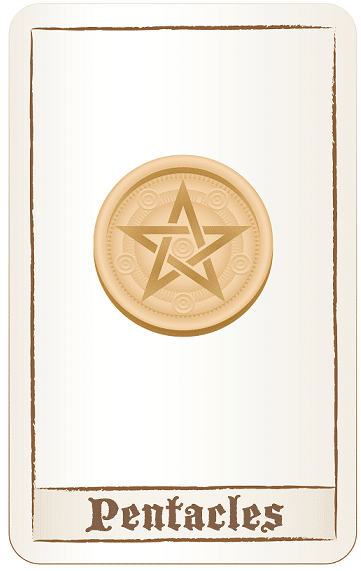 Interaction with the Pentacles Suits
The Six of Swords, along with another card of the Pentacles Suit, would bring attention to work and financial issues. This spread usually indicates money coming in, opportunities showing up, and even chances that you thought you lost for good, will come around again. The finances will improve, though this is a slow process; nonetheless, you will gradually see the steady success that in a couple of months will have improved your status a lot.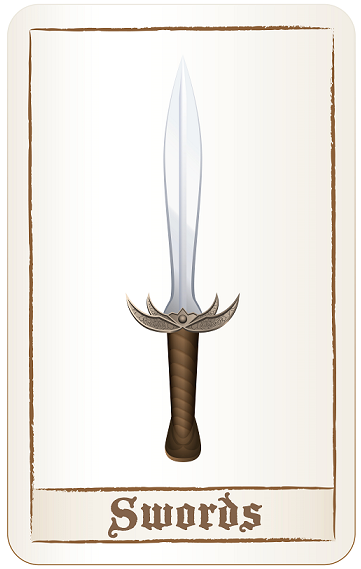 Interaction with the Swords Suits
The Swords Suit, along with the Six of Swords, is also an exciting drawing. The Swords Suit gets its share of being a negative suit. This spread would indicate that you may not be dealing well with trauma, heartbreaks, disappointments, anxiety, and loss, that you choose to go away and leave it all behind to breathe. You don't need to stay and deal with any problems right now, a way of healing would be going away for a while, or good. Whatever you choose to do, it will help you clear your thoughts.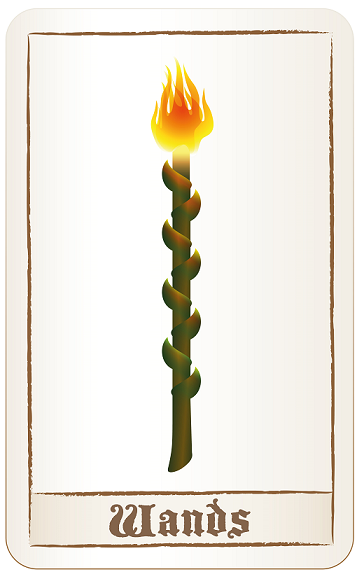 Interaction with the Wands Suits
The Six of Swords and the Wands Suit is a combination that foretells action that may be abrupt, but it will benefit you. Maybe you have not thought through or strategized your plan about the future, you just wake up one day and decide that's something you want to do, like choosing a career, changing jobs, breaking up, leaving old friends behind, opting to say No more, and just go with it. Every action comes with a reaction, and though the others may not find it pleasing, you need to think about your own best interest.
Overall, the Six of Swords, either by itself or pulled in a tarot card draw, is a card of storms that start to calm down, finding new ways to deal with old problems, or just going away and starting a new life.