Three of Swords Tarot Card, in its core, represents the major heartbreaks, betrayal, and cheating. This card is associated with the Air element, representing the Zodiac signs of Gemini, Libra, and Aquarius, and its season is Winter.
Three of Swords, being the third card of the Swords Suit, carries all the qualities of number 3. In a psychic reading translates to cooperation, growth, friendship, the results of cooperation, groups of people, and inspiration.
Three of Swords Meaning
When drawing tarot cards, usually they are put in a vertical setting, spread on a timeline of the past, present, and future. In this kind of drawing, the Three of Swords may come up straight, as well as reversed. Some psychic readers do like to read reversed tarot cards. Some don't. Either way, the other tarot cards in the drawing will make up for the way the psychic readers conduct their readings because a Tarot Card deck connects to the energy of the psychic reader, so it 'talks' to them.
Upright Position
Merging the qualities of number "Three" and the qualities of the "Swords Suit," the Three of Swords card would represent:
| | |
| --- | --- |
| Major heartbreaks | A third wheel in the relationship |
| Hurting and emotional suffering | Being disappointed |
| Feeling lonely and alone | Feeling lost, separated, isolated |
| Wandering far away from home | Being stabbed in the back, betrayal |
| Having to face painful truths | Turning against someone |
| Breaking your promises or word | |
Reverse Position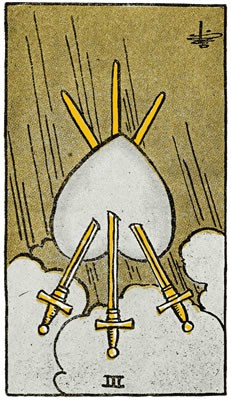 In a reverse position, the Three of Swords would mean precisely the opposite of its core qualities, bringing in the drawing:
| | |
| --- | --- |
| Healing a heartbreak | Releasing pain |
| Overcoming depression | Heading to a reconciliation |
| Suppressing memories | Getting over the worst |
| Overcoming pain, grief | Compromising, forgiveness |
Horizontal Position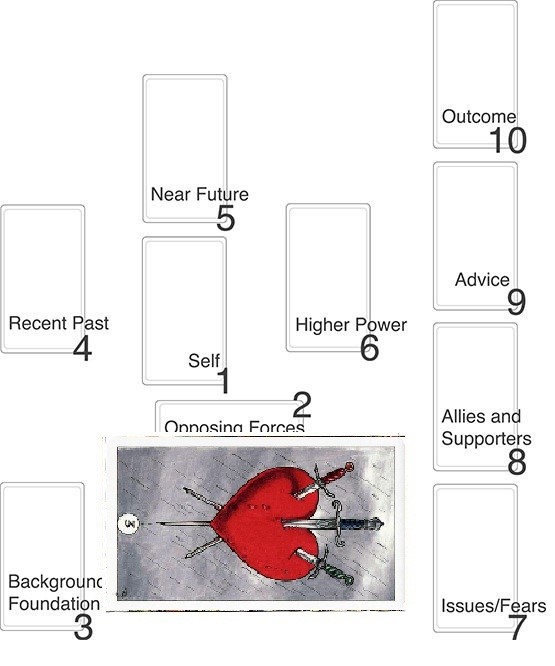 There are also spreads where the tarot cards pulled are placed on vertical as well as horizontal positions. If the Three of Swords would sit in a horizontal position, it advises you to be careful of other people getting involved in things they should not.
It indicates the possibility of other people finding their way in your relationship, business deals, family matters, and personal situations. It always happens because someone has left the door open for them to walk right in. You may also be unaware until it is too late. It calls for you to wake up and take the necessary measures to prevent a messy situation, or heal the relationship with yourself and your loved ones.
Three of Swords – One card pull [Yes or No]

One Card Readings are done when you need a fast, straight to the point answer, you wish not to see the future events or the past events, you just need a specific answer on the question, for a present situation that is bothering you.
You shuffle the cards, then choose only One Card, or you read the One Card that falls out while you are shuffling. Whichever method you use to pull the card, listed below are some of the questions and answers you may get when you pull the Three of Swords.
Yes or No Answer
Upright Position: If you pull the card in an upright position, it means definitely No.
Reversed Position: If you pull the card in a reversed position, it means there is a chance of Yes, if you are willing to forgive and forget.
For a Yes or No answer, the Three of Swords represents Yes, as a card of the Cups Suit.
Three of Swords – Love and Relationships

The Three of Swords is the ultimate cheating card in a relationship reading. Almost every time it comes up in a relationship question, it indicates unfaithfulness. Either you or your partner is cheating or betraying each other's trust and values. If the other was to find out, the relationship might be over in an eye blink.
Though, it sometimes indicates feelings of resentments and heartbreaks that have piled up during the years, which may have caused you to close yourself off and not invest much in the relationship. It foretells troubles and heated arguments that you may refuse to participate in, eventually leading to a breakup. If you don't want that, you should sit down and talk with your partner.
How someone sees you or feels about you?
The answer would be they feel betrayed by you, you don't have their back, you are not committed to them, and they may feel alone and lonely in the relationship. It could indicate that they know about you cheating on them or going behind their backs for essential matters.
Such a betrayal would be seeking outside help or advice when you could ask your partner or refusing to talk things out with your partner, but you share every single detail about the relationship with others. They may be disappointed, heartbroken because you don't keep your promises or disregard their needs.
Just starting dating?
If you have started dating this new person, the Three of Swords indicate that your person may be able to see through you to those past heartbreaks. You have not healed, and yet you seek to forget the pain by jumping in another relationship. You may talk so much about your past relationship that they wonder if you are searching for your ex in everyone you meet, even your date. They don't feel appreciated for who they are from you, and this will lead to you not forming a relationship at all. They may choose just to ghost you.
What not to do?
In terms of what not to do, it would advise you to stop pretending that everything is fine, or that something bad that happened never happened. To make it better, you have to face the real issue and talk it through. That is how you figure out if you can move forward with your relationship or end it there and then.
Also, you don't need to stay where you feel lonely, invalidated, betrayed, and disrespected. This card reminds you that it is your own heart you are breaking by your own choices and behavior. Sure, the other may have cheated on you, and that's their fault, but what you do with this information is your responsibility.
Reverse Position (Love and Relationships)
If you pull the Three of Swords, reversed, it is a significant indicator of reconciliation, forgiveness, and healing. It usually indicates someone coming back in your life and making a plead. If you are in a relationship, it indicates healing heartbreaks, leaving the past in the past, and moving forward with your partner. The lines of communication are open, and the relationship may be progressing again.
Three of Swords – Finance, Business and Career

In business and career, the Three of Swords indicates that you may have difficulty communicating correctly with your colleagues or you have been having disagreements or disapproval in your work environment for a long time. You should also be careful of backstabbing and gossiping about you to ruin your reputation and cause you to lose your job.
Even if you feel alone at work, you should have a positive mindset, such as at least you have a job and you are earning your living. As soon as you get the opportunity, you can get out of there. Meanwhile, try not to add more to the conflicts and disputes, maintain your composure, and remember that everyone is for themselves; it is not personal.
What not to do?
The Three of Swords, in business, advise you to approach your business with a smile, even when you know the people you are dealing with are trying to cheat on you. It is just good business. It is never personal, so do not treat it as an attack to your person, unless they state otherwise. No matter the difficult situation you find yourself in, do not give up. Also, the people you have around may not be the best to give you advice or ask them for help because they may do you dirt at the first given opportunity.
Reverse Position (Business and Finance)
In this case, it indicates that the conflicts in the work environment are starting to settle, and you may soon find peace. It could also suggest that you will find out the truth about most situations or colleagues. You may have to make little compromises, but that will benefit you in the long run.
If you can forgive someone for doing you wrong, you can make new friends and alliances, though you should not trust them because they did try to take you down before. Regarding finances, it indicates that you will finally see the light at the end of the tunnel. If you were in a bad financial situation before, you would gradually make positive changes.
Three of Swords – Timing
When will something happen answer?

If it is a question that involves around the timing of an event and you pull the Three of Swords, this would mean that whatever you desire or wonder about will manifest, but it will take time, as an Air element indicates movement, and a swift one.
How soon is that, it would be kind of complicated because it could mean Wintertime, or that of a Zodiac Sign season Gemini, Libra or Aquarius.
It would also be counted in months, or around the 3rd, 12th, 21st or 30th of a month.
The way you want to interpret this is keeping in mind that whatever you are asking about is coming, though it could happen in a breeze or not stand for long.
With the Swords Suit, the best way to go around figuring out the time would always be to think at least one later, and it would go something like this: If it is already Winter, your best bet would be next month or around Aquarius season.
Three of Swords – The Message Answer

Sometimes, we don't have a specific question. We just want to know how our day will look like, or how we should approach the day ahead. Do this reading in the morning, so you form an idea of what that day will bring you.
Upright
The Three of Swords would foretell a day when you may feel alone like no one has your back, you have no support. Thus you will feel betrayed by your close circle of colleagues, even if they take no such action. You should also be careful because you may find out about betrayal or cheater.
Reversed
If you pull the Three of Swords in reverse, it indicates a day when you will feel lighter than usual. You may be able to make improvements in the way you behave, feel, communicate, and also start to feel better about forgiving wrongdoing or reconciliation.
Three of Swords – Cards Combinations

In a psychic reading, there are at least six cards drawn, and each tarot card's meaning is interpreted along with the other cards, always bearing in mind the first question upon which the reading is conducted and aims to give answers. A psychic will see the tarot cards in a symbiotic relationship with one another, never try to read them one by one, but the whole drawing as a whole.
That's why it is essential to have a look at how the Three of Swords communicates with the other Tarot Cards. There are 78 Tarot Cards in a deck. We will have a look at how the Three of Swords would be interpreted and affect the outcome of the reading in the light of Suits.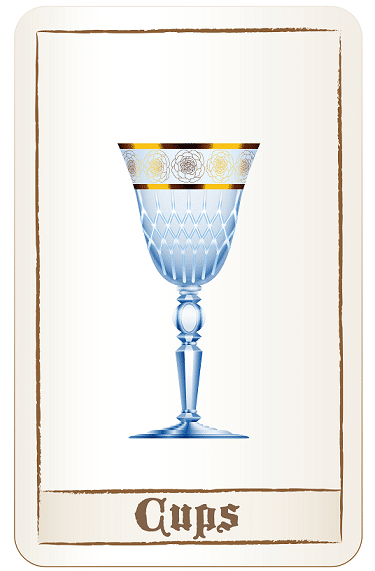 Interaction with the Cup Suits
The Cup Suits represent emotions, feelings, relationships, and contract-ships. This suit is associated with the Water element. If we were to draw the Three of Swords along with the Cup Suits, this would foretell heartbreaks by your close circle. It usually indicates cheating, but it can also mean heartbreak as a result of expecting your loved ones to choose your side only because they have to when you refuse to accept your wrongdoings or the truth.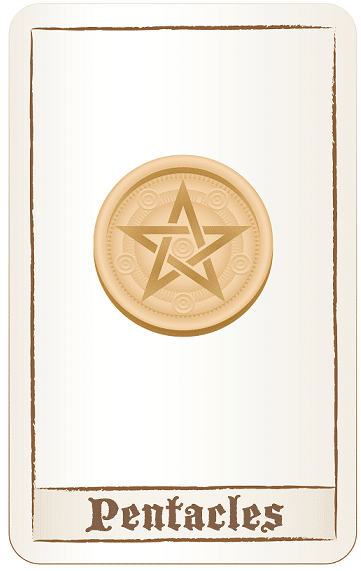 Interaction with the Pentacles Suits
The Three of Swords, along with another card of the Pentacles Suit, would bring attention to financial problems, disrespect, talking behind your back, losing money as a result of being manipulated. It could also indicate that financial issues have burdened you a lot, causing you to feel less than, incapable, a fool, or being weak. It could also indicate money issues and conflicts over money. Such would be in a divorce situation or sharing dividends.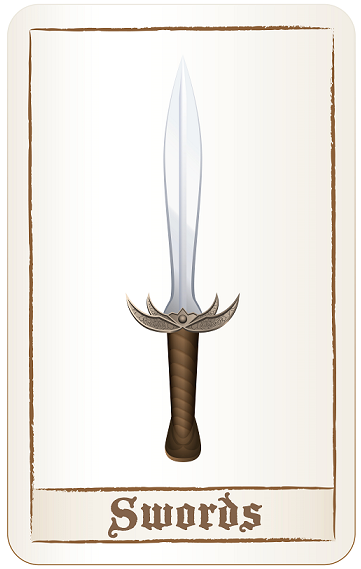 Interaction with the Swords Suits
The Swords Suit, along with the Three of Swords, is also an exciting drawing. The Swords Suit gets its share of being a negative suit. This spread would indicate that you are someone who takes everything that happens to heart, very personally, even if something is not aimed at you. More than that, you drive yourself into depression, knowing too well that the majority of the problems present are not even your responsibility. It could also indicate that you can't let go of the past, and it is affecting your behavior now.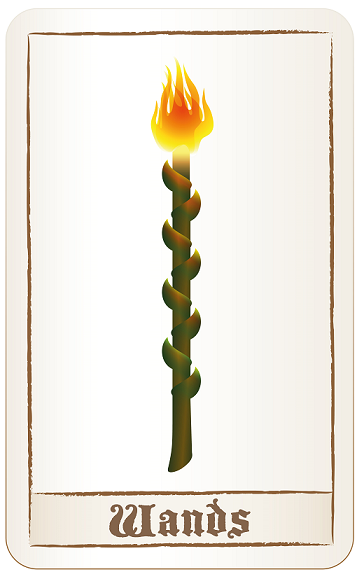 Interaction with the Wands Suits
The Three of Swords and the Wands Suit is a combination that foretells action that may be met with blockages or even stopped in its tracks. You may have made a decision, chosen a path, after thinking and reflecting on it for a long time, or hard enough to know you are sure about your choice, but unexpectedly, due to outside problems, it is cut through. It can happen, for example, if you choose between two people, and the one you want, who you thought was the best option, may cheat on you or not choose you. Or if you have decided to accept a job opportunity over another, you may find that your seat is taken by someone with connections, etc.
Overall, the Three of Swords, either by itself or pulled in a tarot card draw, is a card of heartbreaks, emotional blockages, past revelations, betrayal, but also the card that foretells coming out stronger and wiser than before.