Two of Swords Tarot Card in its core represents the need to make a decision but also the difficulties of making a choice, either because you don't want to, or because you don't see any opportunity. This card is associated with the Air element, representing the Zodiac signs of Gemini, Libra, and Aquarius, and its season is Winter.
Two of Swords, being the second card of the Swords Suit, carries all the qualities of number 2, In a psychic reading would translate to duality, reflection, balance, decisions, opposites, offers, and union.
Two of Swords Meaning
When drawing tarot cards, usually they are put in a vertical setting, spread on a timeline of the past, present, and future. In this kind of drawing, the Two of Swords may come up straight, as well as reversed. Some psychic readers do like to read reversed tarot cards. Some don't. Either way, the other tarot cards in the drawing will make up for the way the psychic readers conduct their readings because a Tarot Card deck connects to the energy of the psychic reader, so it 'talks' to them.
Upright Position
Merging the qualities of number "Two" and the qualities of the "Swords Suit," the Two of Swords card would represent:
| | |
| --- | --- |
| Dealing with blocked emotions | Denying your true feelings |
| Keeping a distance | Being or acting defensive |
| Refusing to listen to others | Hiding distress |
| Ignoring the facts | Avoiding the truth |
| Pretending to be fine | Being afraid to act |
| Ignoring the warning signs | Feeling and being stuck |
Reverse Position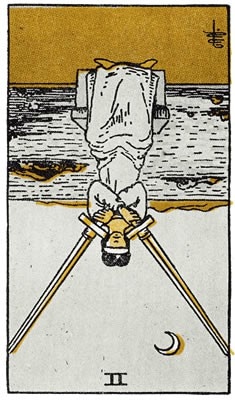 In a reverse position, the Two of Swords would mean precisely the opposite of its core qualities, bringing in the drawing:
| | |
| --- | --- |
| Exposing lies | Seeing and facing the truth |
| Being emotionally cold | Overloaded with information or emotions |
| Being too cautious | Not wanting to make a choice or decision |
| Unwilling to make moves | Staying on defense mode |
| Holding onto resentment | |
Horizontal Position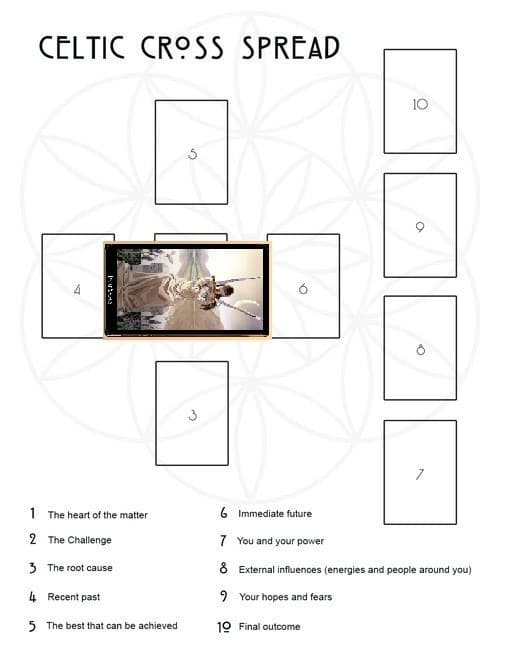 There are also spreads where the tarot cards pulled are placed on vertical as well as horizontal positions. If the Two of Swords would sit in a horizontal position, it advises you to be careful about what you are getting yourself into.
If you know that you have too much on your plate and you can't afford to take on another responsibility, then the wisest choice is not to do that. You may think you can handle two different responsibilities at the same time, like two different jobs, but those may be equally demanding, and down the line, you will be forced to choose only one or lose both of them.
You may even be in an established relationship, meanwhile entertaining a particular friendship that you know may soon turn into something else. If this is your case, you better stop in your tracks before it blows up in your face.
Two of Swords – One card pull [Yes or No]

One Card Readings are usually done when you need a fast, straight to the point answer, you wish not to see the future events or the past events, you just need a specific answer on the question, for a present situation that is bothering you. You shuffle the cards, then choose only One Card, or you read the One Card that falls out while you are shuffling. Whichever method you use to pull the card, listed below are some of the questions and answers you may get when you pull the Two of Swords.
Yes or No Answer
Upright Position: If you pull the card in an upright position, it means definitely No.
Reversed Position: If you pull the card in an inverted position, it also means definitely No, and possibly you will get stuck on that situation.
For a Yes or No answer, the Two of Swords represents Yes, as a card of the Cups Suit.
Two of Swords – Love and Relationships

The Two of Swords would signify that your relationship is at crossroads. You and your partner have been overthinking about the relationship lately, and you are not sure what's the right choice to make, to either break up or find a way to mend it.
At the moment, you are not making any decisions, maybe because some things have not yet been figured out, or because the pain that comes with the breakup is too much to handle at the moment. This card could also foretell the possible break up in the future.
How someone sees you or feels about you?
The answer would be they don't even know themselves how they see you or how they feel about you. The relationship may be too stretched and fragile right now, that your partner chooses not to dwell too much into it, rather let things flow and see where it goes. He or she may even be putting all the burden on you and letting you choose where you want the relationship to be.
It doesn't necessarily mean that it is your fault, or your partner's, that one of you did something wrong or whatever. It is usually a sign of a relationship where both parties have held onto resentments for too long, or it indicates a point in the relationship where you realize that you can't live with the other.
Just starting dating?
If you have started dating this new person, the Two of Swords indicates that your person may be in front of a choice to make between you and someone else, as you are not the only person they have been dating. Be careful to double-check their story, because they may even be in a relationship with someone else. This card advises you not to romanticize the other much and keep your distance until you are sure that your person is choosing you, or if you want them at all.
What not to do?
In terms of what not to do, it would advise you to stop tiptoeing around problems rather face them. Even if it makes you anxious or you fear confrontation, you should keep in mind that a stable relationship is built around communication, honesty, trust, and being vulnerable with your partner. If you fear your partner's reaction, maybe you should reach out for help. But there is no way of living, that of living between choices and decisions with fear and resentment. You should find the strength within, look for the truths you want to know, and make moves forward.
Reverse Position (Love and Relationships)
If you pull the Two of Swords, reversed, it indicates that you are experiencing an overload of emotions, making it hard for you to think straight or give a direction to the relationship. This emotional turmoil has left you completely indecisive, and you can't figure out what it is best for you right now. You are choosing to emotionally detach from your partner, letting heartbreaks pass instead of solving the problems, which is leading to more resentment and pain piling up.
On the bright side, the Two of Swords reversed can indicate that you know you can see the truth of the matter, leading you to a more emotionally stable place where you can make positive changes or finally make a decision.
Two of Swords – Finance, Business and Career

In business and career, the Two of Swords indicates that you may find yourself in the middle of a conflict in a work environment. You could be pleasing or siding with one colleague over another, or even a boss or other upper-level management. It may also indicate that you are handling two jobs that have come to demand the same attention and commitment from you.
Therefore you have to choose one of them. It could also be the case with career paths, profession, education, etc. Regarding finances, it indicates that you are refusing to accept your losses or financial lack for what it is, or you are about to invest, but you don't have all the facts or the information you need to make a good investment.
What not to do?
The Two of Swords, in business, advises you to be aware of any deals that may fall short, or you may find yourself in a contract that is not pulling through because the parties involved do not fall into an agreement. You should always keep your best interest in mind and move from there. If it does not interest you to choose a side, do not get yourself involved in those conflicts. Also, if you have financial problems, do not be in denial mode and continue to spend the same, just because you are influenced by outside opinion or trying to show off. You will ruin your own life.
Reverse Position (Business and Finance)
In this case, it indicates that the work environment or conflicts are causing you tremendous stress and anxiety, even if you are not directly involved, a negative environment will still bring down everyone. Though, it can also be a good omen because it can foretell that a work or business problem that has kept you up at night for months will soon be resolved as some truth will come to light, making it easier for you to make a thoughtful decision.
It could indicate the exposure of malpractice, corruption, or dodgy deals. Regarding finances, you are improving because you are mindfully accepting your financial problems and taking a practical approach to solving them.
Two of Swords – Timing
When will something happen answer?

If it is a question that involves around the timing of an event and you pull the Two of Swords, this would mean that whatever you desire or wonder about will manifest, but it will take time, as an Air element indicates movement, and a swift one.
How soon is that, it would be kind of complicated because it could mean Wintertime, or that of a Zodiac Sign season Gemini, Libra or Aquarius.
It would also be counted in months, or around the 2nd, 11th, 20h, or 29th of a month.
The way you want to interpret this is keeping in mind that whatever you are asking about is coming, though it could happen in a breeze or not stand for long.
With the Swords Suit, the best way to go around figuring out the time would always be to think at least one later, and it would go something like this: If it is already Winter, your best bet would be next month or around Aquarius season.
Two of Swords – The Message Answer

Sometimes, we don't have a specific question. We just want to know how our day will look like, or how we should approach the day ahead. Do this reading in the morning, so you form an idea of what that day will bring you.
Upright
The Two of Swords would foretell a day when you will find yourself torn between two choices, or even not being able to make a simple decision. It could also indicate feeling blindfolded towards a situation in which it is necessary to know the whole truth before making a move. Still, you may be feeling others hiding the truth from you.
Reversed
If you pull the Two of Swords in reverse, it indicates a day when you may make advancements, find the truth about something, and making hard decisions. It could also foretell a day when you feel emotionally drained and unable to make any kind of decision, like choosing a gift, or even choosing what to cook for dinner.
Two of Swords – Cards Combinations

In a psychic reading, at least six cards are drawn, and each tarot card's meaning is interpreted along with the other cards, always bearing in mind the first question upon which the reading is conducted and aims to give answers. A psychic will see the tarot cards in a symbiotic relationship with one another, never try to read them one by one, but the whole drawing as a whole.
That's why it is essential to have a look at how the Two of Swords communicates with the other Tarot Cards. There are 78 Tarot Cards in a deck. We will have a look at how the Two of Swords would be interpreted and affect the outcome of the reading in the light of Suits.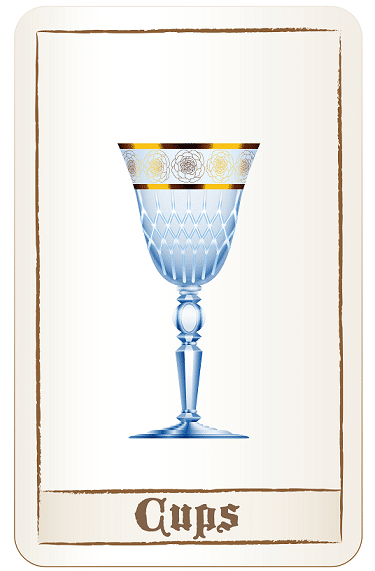 Interaction with the Cup Suits
The Cup Suits represent emotions, feelings, relationships, and contract-ships. This suit is associated with the Water element. If we were to draw the Two of Swords along with the Cup Suits, this would tell us that you are having an emotional turmoil. You may feel betrayed because others are hiding the truth from you. You may also find yourself in an uncomfortable position where you must choose a side between your loved ones.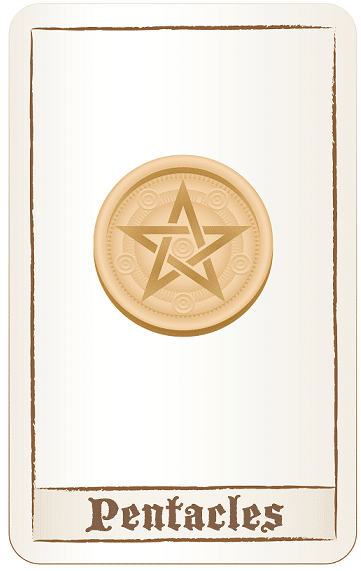 Interaction with the Pentacles Suits
The Two of Swords, along with another card of the Pentacles Suit, would bring attention to financial problems, dodgy deals, and lack of information on money investments. When it comes to financial matters, making a decision is much harder. It is harder to gain the money back, and an opportunity you passed is no longer available after you realize you should have taken it. The following cards will tell you how your decision will affect your finances. For example, if the Two of Swords is followed by a Five of Pentacles, it indicates that your choice will bring you losses, but if any other pentacles support it, it is a good omen.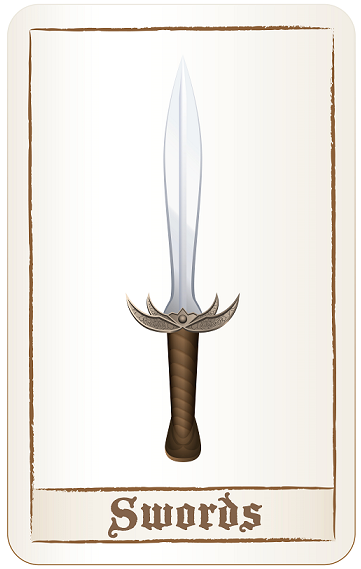 Interaction with the Swords Suits
The Swords Suit, along with the Two of Swords, is also an exciting drawing. The Swords Suit gets its share of being a negative suit. This spread would indicate that emotional burdens, problems, and choices have become too much for you. It also suggests that as a result, you have chosen to close your eyes and ignore them altogether, or someone is purposely keeping you in the dark and playing your cards for you.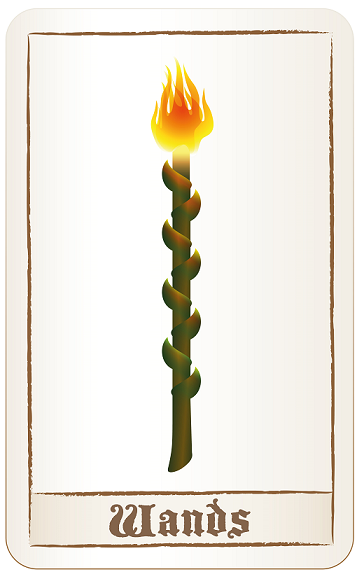 Interaction with the Wands Suits
The Two of Swords and the Wands Suit is a combination that foretells action that must be taken now. You know you have to make a choice or a decision soon, but you are dragging your foot, trying to buy yourself some more time because you fear the future and the unseen. The thing is that you either make a decision now, or you will be forced to make a decision soon, one that you may not like.
Overall, the Two of Swords, either by itself or pulled in a tarot card draw, is a card of hard decisions that you fear, but you have to make, the unwillingness to take action and being blindfolded to the truth of the matter. But it is always in your hands to remove the blindfold.