The name Anthony is "saintly" to say the least. The spiritual meaning on the name Anthony can be found rooted in many different cultures from the ancient Greeks to the old Christian monks of the desert. It's the name of empire rulers and leaders of monastic orders.
A name celebrated by Catholics across the world and a popular boy's name that will always be seen as spiritual, in modern times and well throughout the future.
The Name Anthony Spiritual Meaning and Origins
Because Anthony is a popular "Christian name" of great spiritual meaning, it can be found all over the world in different language variants. For example, Antonio, Antonello, Antoine, Anton, Antonin, etc.
Anthony's roots are Latin and come from the Etruscan language, derived from "Antonius", which was a last name used by the ancient Romans (Marcus Antonius, a Roman Empire ruled belonged to this family). The spiritual meaning of the name Anthony translates to "worthy of praise" or "priceless".
Although it doesn't appear in the Bible, Anthony is a popular Christian name. Religious Christians, namely Catholics, hold the name Anthony in high spiritual regard because of the Egyptian Saint, St. Anthony. Known as the "Father of the monks", St. Anthony is famous for being the father of Christian Monasticism.
The Name Anthony Character Analysis
The characteristics of the name Anthony are governed by Analysis and intelligence. The name represents Wisdom, knowledge, and the need to understand. This should be said for both material things and spiritual things.
While Anthony has a highly intellectual mind that allows him to analyze the outside world, he's also introspective, which brings him awareness and spiritual knowledge.
Because of Anthony's powerful mental facilities, he is clever and quick on his feet. But this powerful trait of Anthony's can sometimes make it difficult for others to relate to him.
Because of this, Anthony can feel alone and isolated. Anthony may find himself turning to music, literature, and the arts for company. This may even add a degree to self-consciousness or low self-esteem.
Anthony is sensitive and thoughtful. He may find himself contemplating in nature, connecting to it all. Anthony is a man of taste drawn to the finer things in life. This makes him mature and far beyond his age, an old soul who appreciates the beauty of life.
Anthony may be moved to serve others in a selfless way. He could find himself expressing himself best through poetry, writing, art, or music.
Health problems that Anthony should remain guarded against are heart and lung disorders.
Feel free to share this article on Pinterest!
[bg_collapse view="button-red" color="#fff" icon="arrow" expand_text="A Picture for Pinterest" collapse_text="Show Less" ]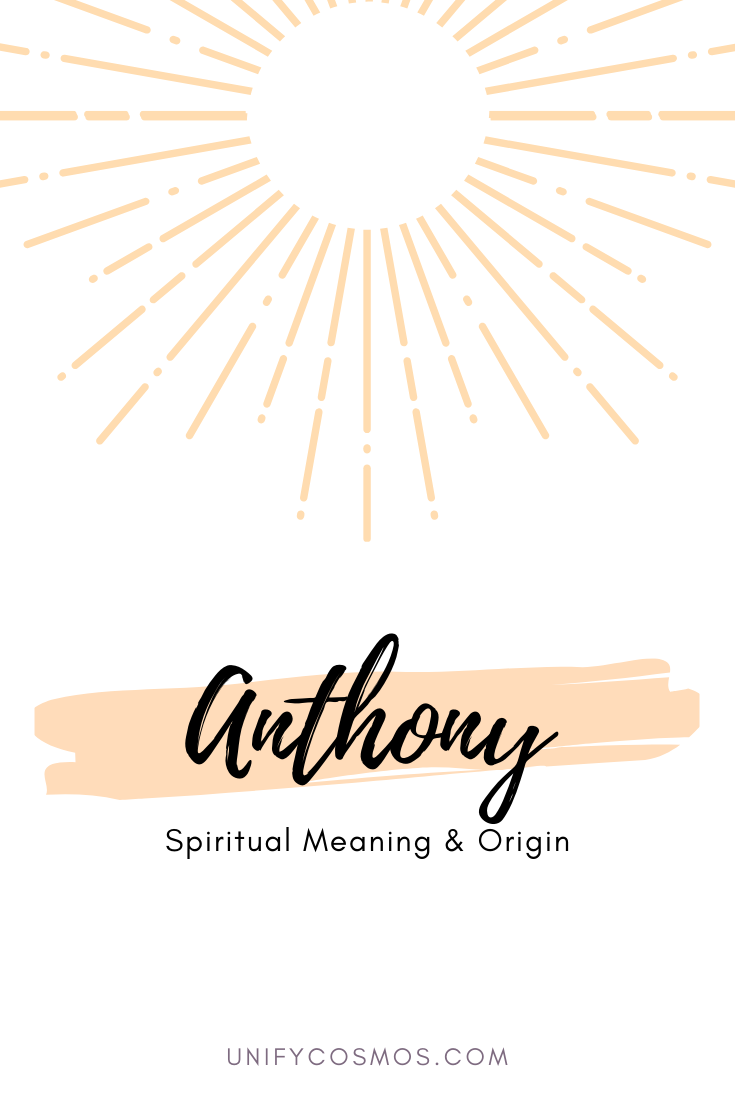 [/bg_collapse]
The Name Anthony in Numerology
The name Anthony has an expression number 7.
The number 7 points to an analytical and intelligent person. Anthony is a natural and skilled thinker. This is because Anthony is genuinely curious about things and has a strong pull toward figuring them out. He will have a rich intellectual life, often chasing after life's mysterious with a strong need to solve them.
Because of the intellectual powers of the number 7, Anthony will find it easier to grasp more difficult subjects with ease, oftentimes positioned at the top of his class.
It's recommended that Anthony balances out some of his headiness with exercise and physical activity to keep his health in check.
The name Anthony has a soul urge number 7.
Soul urge number 7 is a highly spiritual number. This points to Anthony having a sense of the spiritual at a young age. Soul urge number 7's are drawn to nature and their inner worlds, which they find necessary to connect with more than others do.
Anthony is thoughtful and introspective because of his number 7. It also makes him both contemplative and focused.
Careers for Anthony may include spiritual clergy work, teacher, scientist, writer, or philosopher.
The name Anthony has a personality number 9.
The number 9 represents an artist. It also represents compassion. Anthony is creative, a true dreamer in every sense of the world. Those with the number 9 personality numbers tend to be visionaries and with their compassionate natures, they are visionaries for the benefit of all. One should caution with personality number 9 that you can be overly-sensitive.
If left unchecked this could turn into a souring of the sweetness that Anthony brings to the table, the sweet and caring nature that others know and love about you.
The Name Anthony in Modern Day
Because of the name Anthony spiritual meaning, it never goes out of style. Today, around 1,248,425 people in the United States have the name Anthony, making it the 37th most popular name in the country.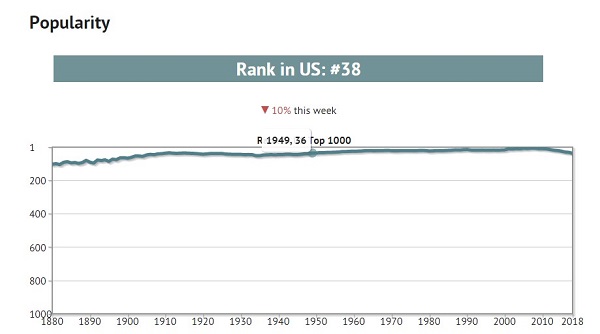 Click here to learn more about the spiritual meaning of other names.