No matter how we choose to look at it, we're a part of nature – people of the Earth becoming increasingly more alienated from it – our own natural habit. Earthy names that mean nature spirit were once seen as hippy, edgy, and on the fringe. Now, these names have become more popular than ever, as more and more of us strive to return our natural ways.
A List of 63 Names That Mean Nature Spirit
21 Boy Names That Mean Nature Spirit
Aidan – The Gaelic boy's name Aidan comes from the Celtic god of sun and fire "Aodh" and means "little fire" or "the fiery one".
Alder – Alder is a boy's name of English origin. Alder is named after the alder tree.
Apollo – Apollo is one of the Greek names that mean nature spirit. Apollo is the ancient Greek mythology god of the sun, light, healing, poetry, music, and archery.
Ash – Ash in Hebrew means "happy". In English, Ash is a type of tree and a boy's name that represents nature spirit.
Elwood – Elwood is an Old English name for boys that comes from the tree called the elder wood.
Forrest – This boy's name may seem self-explanatory and it is, but with an extra "r".

Forrest could mean simply "forest". More precisely, Forrest was used in Old English to mean "dweller by the woods".

Hawk – Hawk is an English surname spelled as "Hawke". Now, Hawk has dropped the "e" to take flight as an English first name for boys named after the bird.
Jarilo – In Slavic mythology, Jarilo is most famously the god of war. But Jarilo is also the god of vegetation, fertility, springtime, and harvest.
Kai – Kai is a unisex name from Hawaii. This cool, laid-back nature spirit name means "ocean".
Lake – Lake, as in a deep body of water. Lake is an English name and word that is cool, modern, and unisex.
Linden – Linden is Old English and means a tree of the same name from the Tilia species.

Its origins are Germanic and come from the word "linta". Also spelled as "Lyndon", this name means more precisely, "linden tree hill".

Linden, or Lyndon, was a popular boy's name throughout the mid-1900s in the United States and was the name of the American president Lyndon Johnson.

Ocean – Ocean is a fashionable modern-day name, from the English word "ocean" – it means just that — the body of water that surrounds the planet.

The word Ocean itself comes from the Greek word "Okeanos" and is a name that means nature spirit.

Orion – One of the more popular Greek names that mean nature spirit is Orion, or "rising in the sky". The name Orion comes from the mythological character of the same name who was a hunter and son of Poseidon.
Rain – This unisex nature spirit name works perfectly for both boys and girls. Rain is an English word derived from the German word "raine" and means "blessings from above". It can also be spelled as Rainn.
Ridge – Ridge is an Old English name that signified somebody who lived on or near a ridge, a narrow and rough segment of a mountaintop.

Ridge is both a first name and a common surname found in England and Ireland.

River – "Rivers" is a common English last name of French origin. In recent times, it has become popular as a first name too, only without the "s".

A river is a large natural stream and comes from the Latin name "ripa" which means "riverbank".

Sage – Sage is another surname that is being used as a modern first name. Sage is a herb but also means a prophet or a wise person. It can be spelled "Sage", "Saige", or "Sayge".
Slate – Slate is both a first and last name of Anglo-Saxon origin. It was initially used to indicate somebody who worked with slate by profession.

Slate is a metamorphic rock and a strong but cool boy's first name that means nature spirit.

Sol – Sol is one of the Spanish names that mean nature spirit. It's a powerful, fiery, boy's name that's full of heart.

Sol is the Spanish word for "sun".

Surya – Surya is of Indian origin. Surya is the god of sun and light in Hindu theology.
Vale – Vale is an English first name that can be used for both males and females interchangeably. It's meaning is "lives in a valley".
Feel free to share this article on Pinterest!
[bg_collapse view="button-red" color="#fff" icon="arrow" expand_text="A Picture for Pinterest" collapse_text="Show Less" ]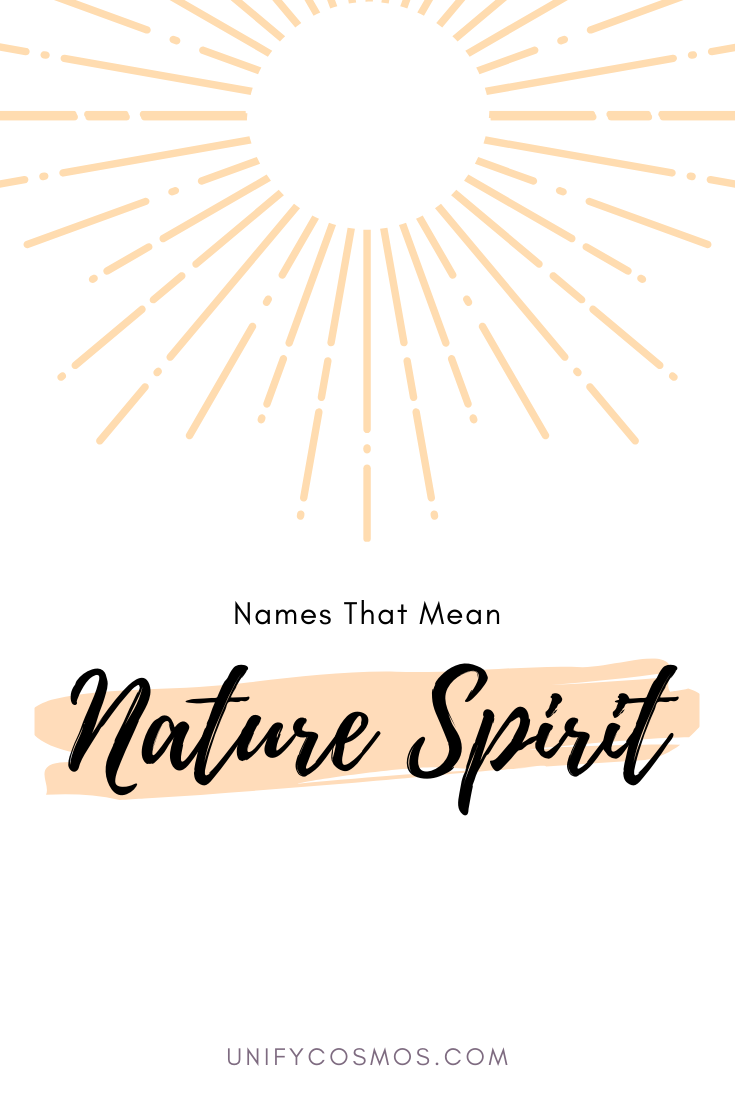 [/bg_collapse]
42 Girl Names That Mean Nature Spirit
Acacia – A Greek name of a thorny tree – the Acacia tree. Acacia is the first name for girls with several Biblical references. In Greek mythology, the acacia tree represents immortality and resurrection.
Alizeh – Alizeh is a Persian girl's name that means "wind".
Artemis – One of the famous Greek Goddess's of mythology was Artemis. She is the goddess of hunting, nature, and birth.

Artemis was considered a powerful goddess and one of the ancient girl's names that means nature spirit in modern times.

Aspen – Aspen is a girl's name that originates in the United States and derived from the Old English word "aespe" or "aepse", which means "shaking popular tree".

Aspens are a type of tree, associated heavily with the state of Colorado, a place known for its jaw-dropping natural beauty where there is a city of the same name.

Assana – Assana is an Irish girl's name that means "waterfall".
Autumn – One the most cherished seasons, when the leaves turn beautiful reds, yellows, and oranges and the weather cools off a bit, Autumn. It's no wonder why this beautiful English girl's name has remained a classic.

The name Autumn comes from the Latin word "autumnus" and means "fall".

Blossom – Blossom, or "to bloom", is an English girl's name that means nature spirit.

Blossom represents a cluster of flowers in bloom. Think of a large field in the spring.

Blossom rose the ranks to popularity as a name in the 1920s and stayed popular throughout the rest of the century.

Brooke – The name Brooke is derived from the Middle English word "brok", a brook or a tiny stream.
Camellia – Camellia is a pretty and exotic flower but also a name that means nature spirit for girls.

"Camellia" was named after botanist Georg Josef Kamel. The word itself is of Latin origin.

Ceres – Ceres was a Greek goddess of ancient myth. She was the goddess of agriculture and the name's meaning is "to grow".
Dahlia – Dahlia is a unique girl's name of a flower.

The name Dahlia is Scandanavian origin and means "dweller of the valley", just like the flower she's named after. It's the national flower of Mexico and they're known for their beauty around the world.

Daisy – Daisy is another classic flower name for girls. A popular name and beloved flower, Daisy is of Old English origin.
Darya – Darya, or Daria, is a girl's name of Persian origin and simply means "the sea".
Delta – Delta is not only a letter in the Greek alphabet, but it's also an island formed at the mouth of a river and a stylish girl's name meaning nature spirit.
Diana – Diana was the Roman goddess of the moon. She is also the goddess of hunt and wild game. The name Diana means "heavenly divine".
Ela – Ela is a name that can be found in many cultures, usually a shortened version of a longer name – Elen, Eliska, Elizabeth, Angela, etc.

In this sense, it is of Hebrew origin and means "oak".

While another variant is found in India, where the girl's name Ela is Sanskrit for "earth".

Feronia – In Roman myth, Feronia is the goddess of nature, fertility, health, and abundance. It is also a cool modern-day girl's name meaning nature spirit.
Flora – Flora is the ancient Roman goddess of flowers and the spring and also an awesome girl's name that means nature spirit.
Gaia – Gaia, a name often endearingly given to the planet we live on. This is because the name Gaia is Greek for "Earth Mother".
Ilana – Ilana is another timeless ancient name for girls. Ilana is of Hebrew origin and means "oak tree".
Iris – Iris is a popular character of Greek mythology and also a stylish nature spirit name for girls. Iris was the Greek goddess of the rainbow and messenger to the gods.

In Greek, Iris means "rainbow".

Isis – The famous goddess Isis has become a popular name for girls in modern times. Isis was the Egyptian goddess of life and magic. The name Isis directly translates to "she of the throne".
Isla – No man is an island, but neither is a woman. That is unless your name is Isla – Spanish for Island.
Lakshmi – Lakshmi is a popular goddess is the Hindu faith. The name is of Indian origin and comes from the ancient Sanskrit word "laksya", meaning "aim" or "goal". In Hinduism, Lakshmi is the goddess of abundance, material, and spiritual wealth.
Lana – Lana is of Gaelic origin and means "little rock". Lana can be used as a shortened version of the names Alana or Liliana.
Lotus – Lotus's have long been associated in Asia with Hinduism and Buddhism as symbols for enlightenment. Now this spiritual nature name has become a choice first name for girls in the Western world.
Luna – Luna means "moon" in Latin, where both the name and word are derived from. This name that means nature spirit is popular in Italy, Spain, Romania, and now in English speaking countries.
Mesi – In English, this girl's name would mean somebody who makes a mess.

But it's Egyptian meaning is much more "nature spirit" than that. Mesi is an Egyptian name that means "water".

Oceana – A Greek name derived from the word "Okeanos", Oceana is a girl's name that means "ocean".
Parvarti – Parvarti is Sanskrit for "she of the mountain". This nature spirit name is of Indian origin, where Parvarti is the goddess of love.
Peoney – A peoney is a highly regarded flower and girl's name. The word peoney is Greek and means "praisegiving".
Pomona – Pomona is a girl's name that goes back to ancient Rome. She is the protector of fruit trees and gardens. Pomona is derived from the Latin word "Pomus", meaning "fruit tree."
Rhea – Rhea is a timeless Greek name that holds up just as much nowadays as it did in ancient times.

Rhe was a popular figure in Greek mythology. She is the goddess of fertility, motherhood, and the mountains.

Rhea was also the mother of Zeus, Poseidon, Hera, and Demeter.

Rio – Rio is a girl's name for a nature spirit. "Rio" means "river".
Saffron – Saffron is a bold girl's name with a lot of pop to it. Saffron is a spice that is derived from the flower of the crocus.
Sky / Skye – Sky is the English version of the Old Saxon word "scio" and it's origins come the Old Norse word "sky" which means "cloud".

Before the 13th century, the word for "sky" in English was "heofen" and meant "heaven" or "home of god".

The sky is more common with an "e" at the end –"Skye". It can be short for Skylar or a name after the English Isle of Skye.

Tala – In the Philippines, Tala is the Tagalog goddess of the morning and evening star.
Talia – Talia is one of the more popular names that mean the nature spirit of Hebrew origin. The name Talia means "water", "gentle dew from heaven", or just "dew from heaven".
Terra / Tara – Terra, or more popularly Tara, means "planet earth" in Latin. In ancient Roman mythology, Terra is the goddess of the earth. Her four children were the 4 seasons: Summer, Winter, Spring, and Autumn.
Themis – A powerful name that means nature spirit for girls is Themis. Themis is the Greek goddess of divine justice. The name Themis means "law of nature" or "divine nature."
Varsha / Varisha – Varsha (or Varisha) is a unique nature spirit name for girls. It's of Indian origin where it means "rain" or "monsoon".
Willow – Willow trees are strong and flexible. They are beautiful and awe-inspiring.

Willow is derived from the Middle English word "wilwe", meaning "graceful, slender, and lithe" – a perfect description of the tree and those girls who wear this as one of the stylish names that mean "nature spirit".