Deborah, Debbie, or Deb. The name comes in many shapes and sizes. This Hebrew name goes back to the times of the Bible. Known as "the bee", a mother in Israel, the name Deborah spiritual meaning once instilled a sense of pride in the people of Israel when morale was at an all-time low.
Spiritual Meaning Of Deborah And Its Origin
Deborah is a female Hebrew name, derived from "D'Vorah", meaning "bee". Deborah is a recognizable character, a prophetess, of the Bible's Old Testament.
The name Deborah is used mostly in English-speaking countries but has variations in other languages – Déborah in France, Débora in Spanish speaking countries, and Debora in Italy and the Czech Republic.
In the Bible, Deborah is a prophetess in the Book of Judges. She was the source of pride and optimism for the people of Israel during a period when the king of Hazor, Jabin, painted the land and its people in a degrading manner. Because of this, Deborah become a "mother in Israel".
Deborah was seen in the Bible sitting under a palm tree where "the children of Israel came up to her for judgment". She summoned an army of 10,000 men from Zebulun and Naphtali and led them to Mount Tabor where she gave them the green light to attack Jabin's army. Deborah and the Israeli's rose from the battle victorious.
The Name Deborah Spiritual Meaning Numerology
The name Deborah has an expression number 8. Your expression number reveals your skills, talents, and abilities that you were born with.
The powerful expression number 8 is the number of goals. The expression number 8 gives Deborah great ambition balanced with the discipline to execute. Her number 8 gives her a laser-like focus and the power to follow through with her visions.
Number 8 expression numbers are that of the businesswomen, the entrepreneur, and the CEO. The number 8 gives Deborah the vision, strength, and focus to be an amazing politician as well.
There are, however, trappings that she may face with an unbalanced number 8 expression number. These include becoming materialistic, impatient, and closed-minded.
The name Deborah has a soul urge number 3. Your soul urge number deals with your heart and your inner-most desires.
Soul urge number 3's are the most artistic. Deborah has the soul urge number that represents creativity. She is likely drawn to all types of art – from music, painting, to performance. Having the soul urge number 3 gives Deborah a unique perspective and outlook on life.
Deborah is seen as being a bit off-beat, but she has a way of solving problems in ways that could only be explained as "genius".
Soul urge number 3 is the number of writers, painters, sculptors, musicians, and actors. Deborah can take her artistic approach and apply it to just about any venture and will be met with success.
This also gives Deborah a bright outlook. It's just her nature to be light-hearted and happy go lucky. Deborah is a pleasant person to be around, as I'm sure you might have noticed.
Deborah's fulfillment throughout life will be brought by artistic and other creative endeavors.
The name Deborah has a personality number 5. Your personality number reveals your outside traits, such as your style, mannerisms, and the ways that you interact with others.
Deborah has the personality number 5. The personality number 5 is that of a free-spirit. It is a highly adaptable number and chances are Deborah feels at home in almost any situation. Personality number 5's are flexible and adaptable and very fluid. Deborah is known for being outgoing and friendly, a genuine and warm person who's always full of energy.
This can express itself negatively as impulsiveness. If Deborah's personality number 5 is out of balance it could manifest as restlessness and being too "flighty".
But Deborah is a free-spirit. She is upbeat and positive and others find it easy to talk to her. She holds her friends, family, and strangers alike with compassion and understanding. She is welcoming to all and others appreciate this about Deborah.
Personality number 5's are that of the entertainer, an actress, or performer. Deborah's ways of going about things are creative, outside of the box, and off-beat. And this works for her like magic. Deborah is both intelligent and creative. You could say she's a special kind of genius.
Feel free to share this article on Pinterest!
[bg_collapse view="button-red" color="#fff" icon="arrow" expand_text="A Picture for Pinterest" collapse_text="Show Less" ]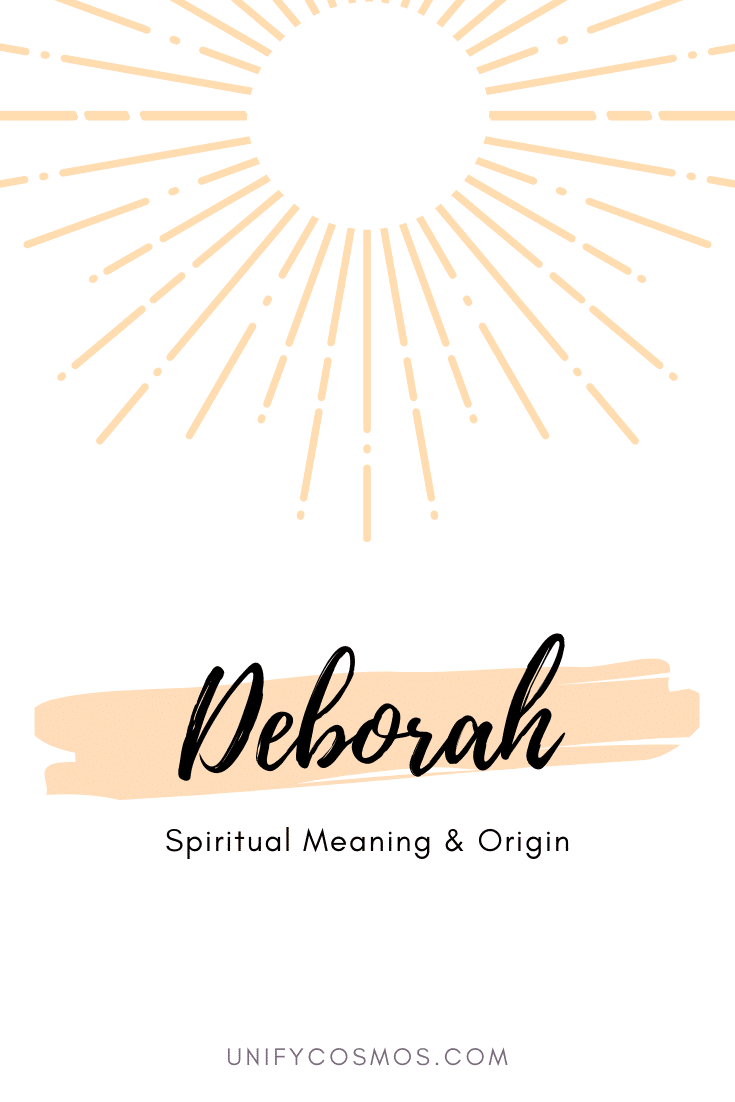 [/bg_collapse]
The Spiritual Meaning Of The Name Deborah In Modern Day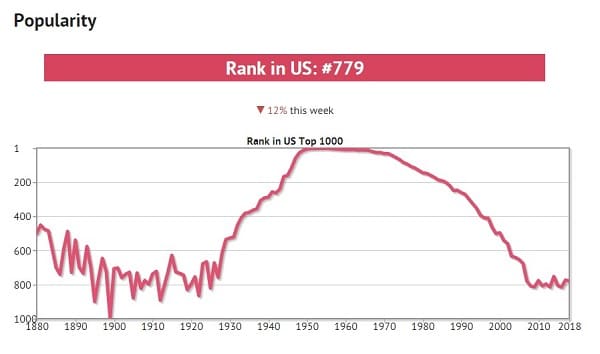 Deborah is a common name in English speaking nations. The name reached its height in the mid 20th century and from 1950 through 1970 the name Deborah climaxed. During this period it was among the top 20 most popular names for girls in the United States.
But It doesn't end there. In 1990, the name Deborah was still the 25th most popular name for girls in the United States. Having dropped off the scene a bit, Deborah was ranked the 780th most popular name for girls in 2007. The previous year the name had ranked in at 676. But thanks to the spiritual meaning of the name Deborah, it's only a matter of time before it climbs back up the charts.
Click here to learn more about the spiritual meaning of other names.