Bethany is a Biblical place and a Biblical name. Bethany is timeless and important to the Christian faith. The spiritual meaning of Bethany represents a desire for goodness and her numerology aspects point to a fun, loving, and creative woman.
The Spiritual Meaning Of Bethany And Its Origins
The name Bethany comes from Greece where it is taken from "Bethania". It's well thought that the name Bethany is of Hebrew origin and means "house of dates" or "house of figs".
The name Bethany is Biblical. The town of Bethany is written about in the Bible, laying at the bottom of the Mount of Olives. Bethany is home to Lazarus in the New Testament. It is also the town where Jesus stayed for Holy Week and before he was crucified. Jesus led his followers to Bethany after his resurrection and it's where he ascended to heaven.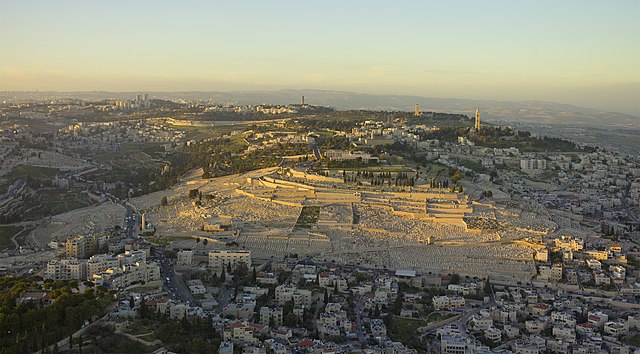 The name Bethany is popular in English-speaking countries, where it's been used as a first name since the 19th century. This is particularly true in the UK where it was the 11th most popular name nationwide in 1999.
In the United States, however, the name Bethany was more popular during the 1980s when it ranked in the top 100 female names.
The name Bethany is popular with Catholics in English speaking countries in honor of Mary of Bethany, who is referenced in the New Testament's books of John and Luke. As a Bible character, she is seen in two instances: rising from the dead and the anointment of Jesus.
"House of figs", or "dates", may not seem like a title to be very proud of. To understand why Bethany is such a spiritually significant name we must look at what figs and dates symbolize.
Figs represent the desire for good on an outer level while dates represent the desire for good on a deeper soul level. We can look at both the name Bethany and town as representing a state of material and spiritual goodness. This could be both a state of consciousness and a physical location.
The Spiritual Meaning Of Bethany In Numerology
The name Bethany has an expression number 3. Your expression number reveals your skills, talents, and abilities that you were born with.
Bethany has an expression number 3. This is a playful number. Bethany is outgoing and creative and known for being offbeat. She's quite the social butterfly.
Number 3 expression numbers can be summed up by two things – creativity and social interaction. This is the number of the performer, the musician, and the actress.
Bethany is full of enthusiasm and people are easily motivated by her. Even if she may not know where she's going, she knows that it'll be fun. Others trust that she knows and will follow her.
There is a downside, however. Number 3 expression numbers can manifest themselves as being a little too "flighty" for their own good. This can lead to irresponsibility, emotional swings, forgetfulness, disorganization, loss of focus, and even though it's not, it can appear to others as selfish.
The name Bethany has a soul urge number 6. Your soul urge number deals with your heart and your inner-most desires.
A soul urge number 6 is a loving number. Bethany's heart is huge and her compassion knows no limits. This soul urge number makes Bethany sensitive and emotional and at the same time charming and friendly. Simply put, people will always be drawn to her for her genuine and fun-loving ways.
Because Bethany is a magnet for others, both their good and their bad parts, she is capable of taking on more than her fair share, only realizing it after-the-fact. Being empathic, Bethany will have to learn to set up healthy boundaries and take care of herself first and foremost.
This can be a tricky balancing act since Bethany will likely draw in an enormous amount of fulfillment from helping others. She has to remind herself that it's OK to help, it's noble and what she is here for after all. But she'll have to learn, most likely through much trial and error, that there is a such thing as being "too giving" and it can lead to being hurt.
This is most likely felt when Bethany feels taken advantage of. Because boy does she feel it. Being so sensitive it's easy for her to beat up on herself, possibly swearing off helping others altogether.
Soul urge 6 people feel the need to be accepted. Bethany may strive hard to win the praise of her peers, teachers, and her superiors. Whether offering support to friends or excelling in her career, Bethany needs to feel like she's needed. And believe me, she is needed. Her type is a rare breed.
The name Bethany has a personality number 6. Your personality number reveals your outside traits, such as your style, mannerisms, and the ways that you interact with others.
Along with her soul urge number, Bethany has a personality number 6. Again, this is a very loving number and further explains why Bethany has such a big heart. Personality number 6's are especially known for their compassion. Chances are if any of Bethany's friends are asked about her, it's her love and care for others that first come to their mind.
6 is another emotional number. It also indicates that Bethany has a strong intuition. Luckily for her, the number 6 personality number makes her responsible – not too flighty or overly-idealistic. Bethany is adaptable and flexible, most likely she feels at home wherever she goes because 6 is a social number.
All of these qualities woven together make Bethany an excellent leader in education, sciences, or spirituality.
Feel free to share this article on Pinterest!
[bg_collapse view="button-red" color="#fff" icon="arrow" expand_text="A Picture for Pinterest" collapse_text="Show Less" ]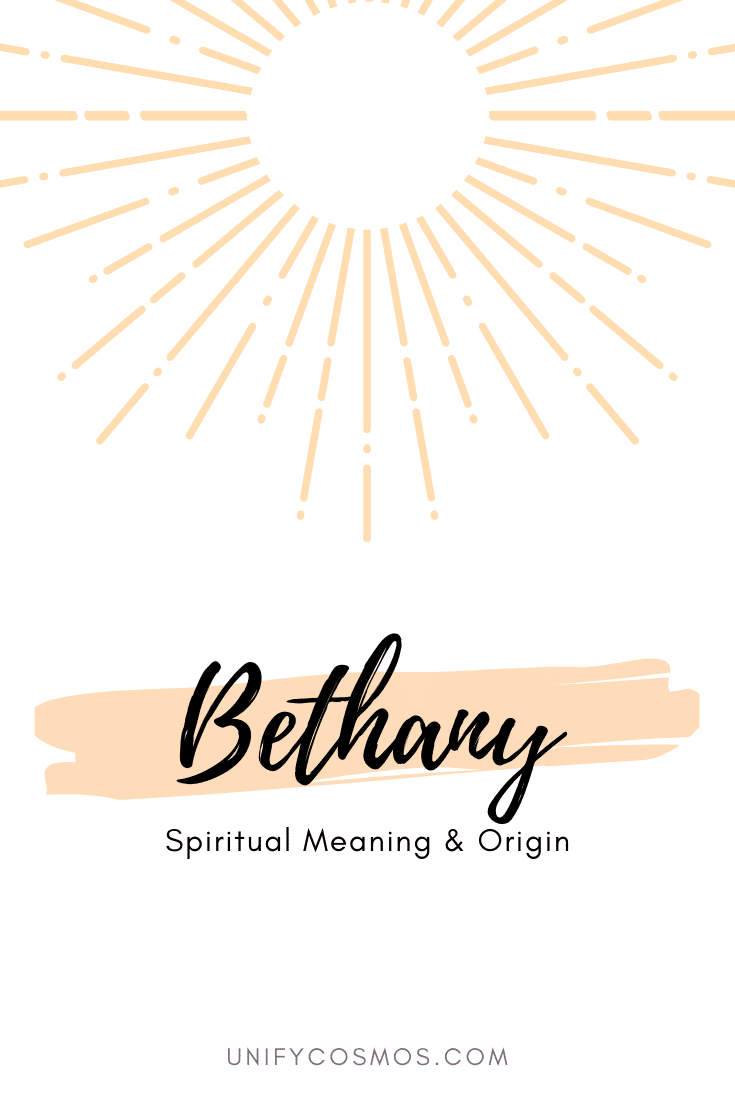 [/bg_collapse]
The Name Bethany Spiritual Meaning In Modern Day
In the United States during the 1970s and 1980s, the name Bethany reached its peak, ranking in the top 100 names for girls. In 1973, there were 1043 baby girls in the united states named Bethany.
So far, in 2020, the name Bethany is the 1,390th most popular girl's name. This is down slightly from 2019.
However, in the United Kingdom, they still recognize the spiritual meaning of Bethany. The name is as popular now as ever. In 1999, the name had reached its peak coming in as the 11th most popular name.
Click here to learn more about the spiritual meaning of other names.