Many cultural references have been made of this timeless and classic name – "Roger that", Roger the Rabbit, to "Roger" in England, and the skull and bone flag of "Jolly Roger". But many may not know that the spiritual meaning of the name Roger is of great significance as well.
Roger was once one of the most popular names in the English speaking world, having a stranglehold on the top male names in the United States for the greater part of the 20th century. It's strong, bold, and confident.
The Origin and Spiritual Meaning Of The Name Roger
Roger (sometimes spelled "Rodger") is an Old English name derived from the French name "Rogier". The spiritual meaning of the name Rodger is from the Germanic origin, Hrōþigēraz.
The etymology of the Germanic name Hrōþigēraz can be broken down as hrōd ("fame") and gēr ("spear"). Thus, the name Roger means "famous spear" or "renowned for his sword".
The name "Rogier" had been brought to England by the Normans when it took the place of the Old English name "Hroðgar" during the Middle Ages.
Otherworldly variations of the name Roger include "Rutger" (Dutch), "Rüdiger" (German), "Ruggiero" (Italian), "Roar" (Norwegian), and "Rogério" (Portuguese).
Because of its meaning of "spear" or "sword", the name Roger has been used for sexual innuendos in the UK. But this is what great names tend to do.
The Spiritual Meaning Of The Name Roger Letter Analysis
R – Roger is sharp analytically and able to unpackage and grasp concepts quickly and easily. Chances are, you only need to tell him once for him to get it.
O – Roger will have an abundance of opportunities coming his way all throughout life. While some struggle to find the next step to take, Roger sees steps going in all directions.
G – Roger is an emotional person, even though his exterior wouldn't let you know that. More specifically, Roger feels the emotions of others and can be swayed by them often.
E – Roger is compassionate and caring. The letter "E" lends credibility to being a cheerful, warm, and friendly person.
R – There is a tendency for Roger to reflect too much on the past, even if he realizes that it's unchangeable. What he may not realize though, is how dwelling in the past directly impacts his future.
Feel free to share this article on Pinterest!
[bg_collapse view="button-red" color="#fff" icon="arrow" expand_text="A Picture for Pinterest" collapse_text="Show Less" ]
[/bg_collapse]
The Spiritual Meaning Of The Name Roger Numerology
The name Roger has an expression number 1. Your expression number reveals your skills, talents, and abilities that you were born with.
Expression number 1 represents independence. This indicates that Roger is a born leader; fiercely confident and self-reliant. Roger doesn't second guess his inspiration and desires, he's quick to digest a thought – deciding on whether it's good or not – and then act swiftly.
But a little balance is in order for Roger as to not become over-dominating and aggressive. This can put others off and weaken their trust in you. If Roger can learn how to respect others, then the sky is the limit for him and beyond.
The name Roger has a soul urge number 11. Your soul urge number deals with your heart and your inner-most desires.
Soul urge number 11 is highly mystical. It's the first of the Master Numbers and is governed by intuition and interaction. Roger's are known to bring their dreams into reality with ease and are the happiest when connecting with others, something they seem to be natural at.
11's are visionaries for the greater good. Other spiritual/intuitive numbers have a high tendency to isolate. Not the soul urge number 11, which is favorable for leadership and working in groups. 11's are born diplomats and inspire harmony and balance.
Roger's intuition is strong. He likely suspects that he is "psychic" or possesses the 6th sense and that may very well be. His strong intuition allows him to connect with others at a base level and this is something that brings Roger much fulfillment. He has a natural ability to connect with just about anyone.
This desire to connect with others and a knack for being able to do that grant Roger a rich social life and many fulfilling career paths to choose from – basically, anything that deals with people.
The name Roger has a personality number 8. Your personality number reveals your outside traits, such as your style, mannerisms, and the ways that you interact with others.
Personality number 8's are powerful and bold. It's a highly energetic number. Roger is likely well-disciplined and goal-oriented with a laser-like focus and execution. Roger sees what he wants or what has to do and tackles it head-on. He doesn't know the meaning of "to shy away".
8's are visionaries with an insane ability for foresight. Roger can see things miles ahead before they arrive. This is an extremely favorable number for business, entrepreneurship, and the stock market. This is the kind of valuable foresight that others would pay top dollar to have.
There is a tendency with number 8's and Roger to lean towards stubbornness, vanity, materialism impatience, and closed-mindedness towards others. A little awareness and mindfulness will go a long way for Roger here.
Roger In Modern Day
Roger was an extremely popular name in the United States during the 18 and 1900s. It was in 1921 when the name Roger really began to take off, breaking through to the top 100 male names. In the 1930s, 40's, and 50's it was in the top 50 names and at its peak in 1945 when it reached #22. It enjoyed rising popularity until the 1970s when it began to dip.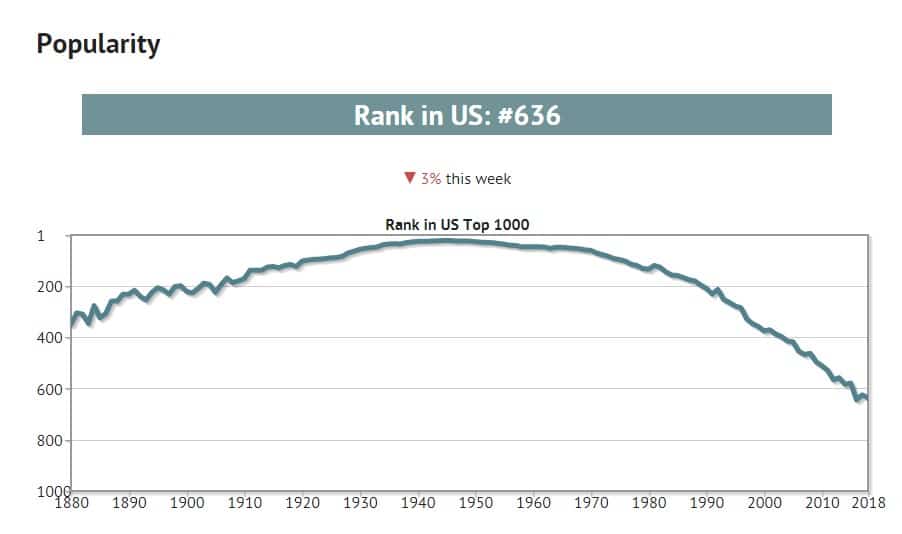 While Roger may have lost steam in current times, many modern-day star athletes proudly wear the name – Roger Federer and Roger "Floyd" Mayweather for example.
Because of the Spiritual Meaning of the name Roger and it's strong English roots, many find this name suitable for today. It's a bold, energetic, and confident name that will eventually push its way back to the top if it has to.
Click here to learn more about the spiritual meaning of other names.