Ava, with its 3 letters, is a short name with a long history. The spiritual meaning of Ava is so old it's actually unclear where it came from. Some claim that its ancient Hebrew while others argue that it comes from Latin. There is good evidence to make both cases. The fact remains that the spiritual meaning of the name Ava is so powerful that even cultures argue where it came from.
Let's dive in.
The Spiritual Meaning of Ava and its Origins
It's unsure exactly where the spiritual meaning of Ava came from, though we can be positive that it's been around for a very long time. Some claim that the name came out of the ancient Hebrew name "H'wwah", which translates to "live" or "life". While others will tell you that it comes from Latin origin.
It seems like everyone wants a piece of the name Ava. Multiple cultures around the world have adopted it as their own and have given it their own unique meanings.
Below are some examples of the different spiritual meanings of Ava across cultures.
Hebrew: "Live", "Life".
Latin: Used as a greeting, a variation of the word "ave".
Persian: "Sound", "Melody".
Afghan: "Voice".
Old Saxon: "The strong".
Old High German: "Water".
Frisian: "Water".
French: "Bird", a variation of the word "Avis".
The Name Ava Character Analysis
The character of the name Ava is represented by responsibility, community, and balance. It is likely that Ava is a nurturing person and highly protective of the ones she cares about. But Ava's sympathetic nature doesn't end there. It extends well out into her community and even to complete strangers. Whenever Ava sees another in need, it's her inclination to help out.
Ava has a natural need to help others. She loves people and enjoys getting to know them. It's likely that she's driven to understand others and put herself in their shoes. The caution here for Ava is that getting too involved may not be healthy, as it can put her own well-being at risk. Ava must remember to take care of herself first and foremost so that she can be a strong person for others.
Because she is a nurturer, home life and family are most important to Ava. More so, she values peace and harmony within the home and often takes it among herself to accept blame for problems and the need to fix them. Ava can be a worrier. But that's only because she cares.
You are drawn to children and would make a great teacher. Chances are that you have your own already. If not, the younger children in your extended family (nieces, nephews, cousins, etc.) play a major role in your life.
Beyond being a solid nurturer and compassionate of others, Ava is an artistic name. It's possible that she is talented in music, painting, or writing.
The characteristics of the name Ava give her good health, though she must caution against weight problems, kidney, bladder, and reproductive issues.
Feel free to share this article on Pinterest!
[bg_collapse view="button-red" color="#fff" icon="arrow" expand_text="A Picture for Pinterest" collapse_text="Show Less" ]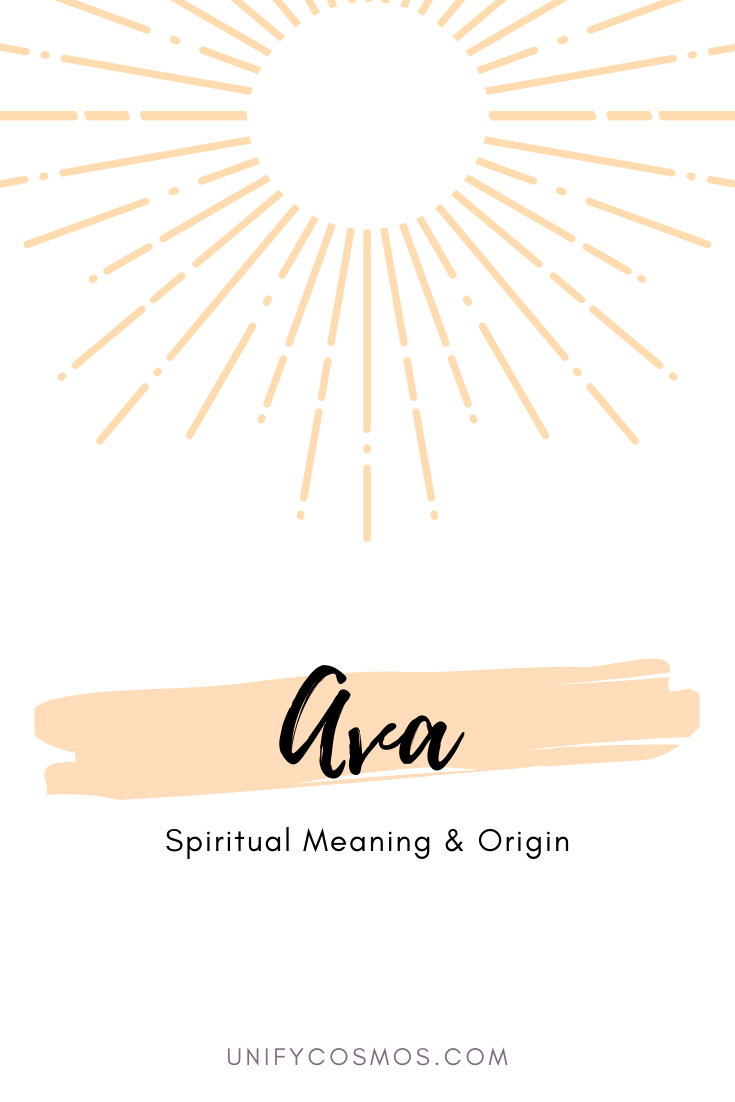 [/bg_collapse]
The Name Ava in Numerology
The name Ava has an expression number 6.
Number 6's are helpers. It could be that Ava has a strong sense of responsibility and duty, a natural need to serve others. People with expression number 6 can always be seen involved with groups and active in their communities.
The number 6 makes Ava likable and respected by those who know her. Because of her need to serve, Ava will naturally like and respect others as well.
The number 6 is highly generous and selfless, sometimes even to a fault. Ava may find the need to make sure that everyone else is doing alright even at the expense of her own well-being. Ava will learn throughout life that the way others feel isn't always her responsibility. It's OK to realize this, people will still love and appreciate you.
The name Ava has a soul urge number 2.
Soul urge number 2 people value harmony and connection with others above all else. This makes Ava a natural diplomat and highly skilled in dealing with others. Ava will feel at her best when she using her abilities to reach out and connect to others working for a greater cause.
Her natural ability to relate to others and smooth things over could make her a respected politician or a diplomat. People with the number 2 need to make sure that they are balancing their social involvement with peace, calm, and alone time to recharge.
The name Ava has a personality number 4.
People with the number 4 personality number are grounded, strong, and practical. The number 4 represents stability and Ava can be seen as something like a rock to others. Because of her self-discipline and level-head, Ava will be seen throughout life as someone who has all of the answers.
The Name Ava in Modern Day
There are currently around 23,400 people with the name Ava in the United States today and it is the 1,458th most popular girl's name in the country. Maybe it's not at the top of the list, but the spiritual meaning of Ava is sure to never go out of style.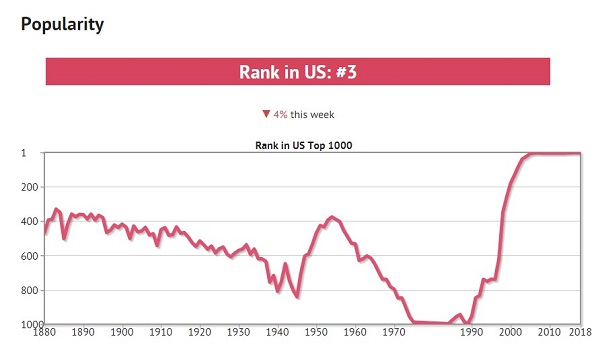 Click here to learn more about the spiritual meaning of other names.