Names, particularly the more traditional ones, have beginnings in ancient times and some are named after powerful figures from spiritual mythology and folklore. The spiritual meaning of the name Cynthia is a good example of this, being a representation from a key figure in Greek mythology.
Many of us are born to spiritually significant names and we may not even realize it. Names can go beyond being something that our parents simply liked the sound of, sometimes even going further than being only a title handed down throughout the family generations.
Origin of the Spiritual Name Cynthia
The name Cynthia is feminine and translates over from its Latinized form of "Kynthia", meaning "the woman from Kynthos" (or, Cynthos). Chances are you may not be from Kynthos, and that's OK because the spiritual meaning of the name Cynthia is more meaningful than just a location.
It's not about the location itself, rather who came from Kynthos. Kynthos is a mountain located on the Isle of Delos, which is an important place in Greek Mythology. And according to which, Mount Kynthos is the birthplace of the Moon Goddess Artemis and her twin brother Apollo. Because of this legend, the name Cynthia is attributed to Artemus (Artemis) and the name Cynthia represents (or translates to) the Moon Goddess herself. Sometimes Artemis is called "Kynthia".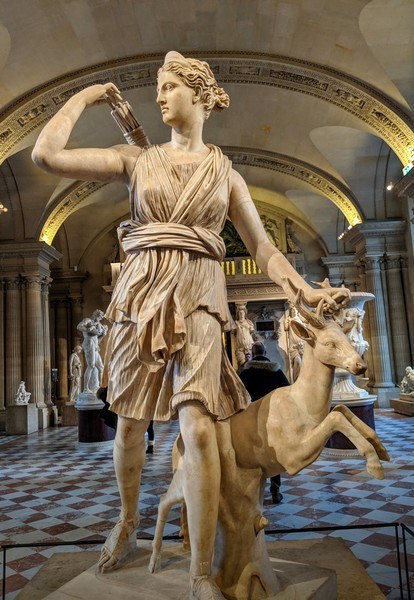 The name Cynthia can be traced back quite a ways. But it wasn't until the Renaissance era, however, that Cynthia was a given name to people. Even further down the line, it took up to the 19th century for Cynthia to become a name given in the United States.
Spiritual Meaning of the Name Cynthia
Because of the spiritual meaning of the name Cynthia, to own such a name can only be considered a blessing. But don't neglect the fact that being the owner of the Cynthia title is a lot of responsibility as well. The Moon Goddess – your power, skills, and abilities to pretty much do anything in life can grant you a lot of freedom and opportunity.
It's entirely up to you what you choose to do with it. well. The Moon Goddess – your power, skills, and abilities to pretty much do anything in life can grant you a lot of freedom and opportunity. It's entirely up to you what you choose to do with it.
Feel free to share this article on Pinterest!
[bg_collapse view="button-red" color="#fff" icon="arrow" expand_text="A Picture for Pinterest" collapse_text="Show Less" ]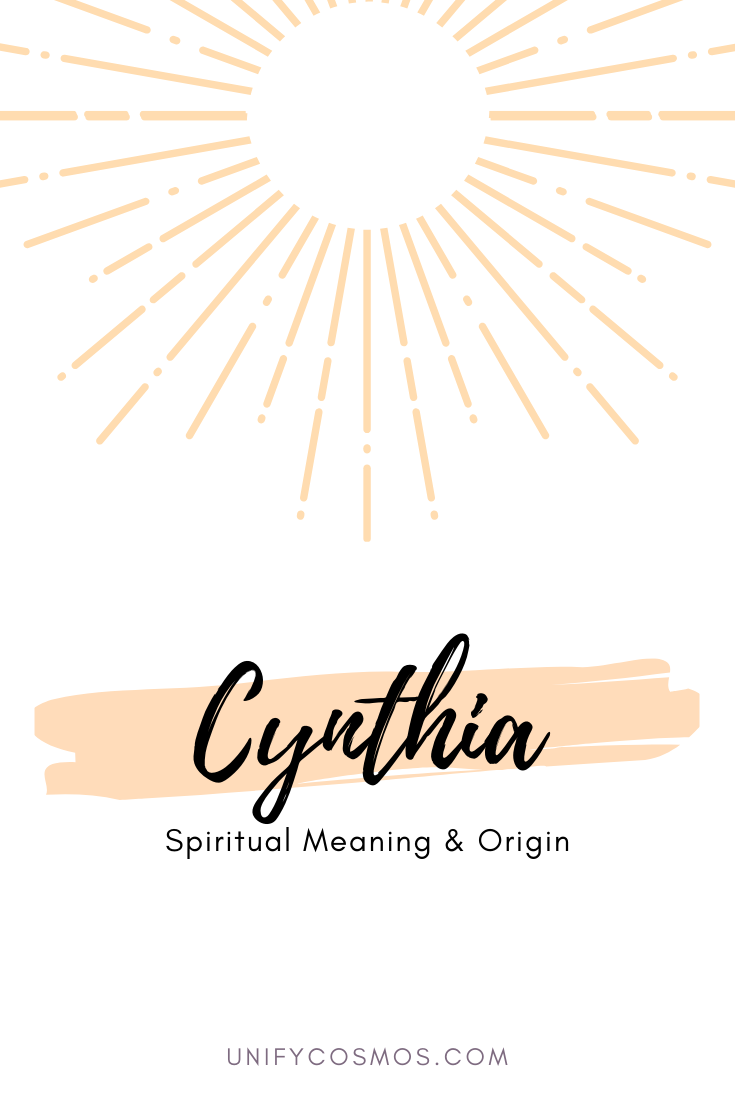 [/bg_collapse]
The Name Cynthia in Numerology
With great name comes great responsibility, and Cynthia is no exception. If you're a Cynthia, it might be tempting to let the Moon Goddess title go to your head. But the numerological aspects of the name Cynthia call for a more grounded approach for you to reach your full potential.
Cynthia happens to be a powerful leadership name. It's reflected in the name's numerology, Cynthia, which has 7 letters that total 35. Since 3 plus 5 equals 8, the name Cynthia is governed by life-path number 8.
The life-path number 8 dictates that Cynthia's do best when they're able to lead, whether it's in politics or a managerial position. This works well for Cynthia since status is important to her.
You prefer to focus on the larger more important issues and are a genius when it comes to accomplishing your own goals. This is partly due to having original ideas along with being a natural hard worker and a very strong will to execute with. You are both intuitive and methodical in your approach, which is a powerful mixture of a cocktail to possess.
You are something like an intellectual powerhouse, rapidly responding to your environment and formulating strategies in your head in real-time. But, above all else, you value personal freedom because of your numerological life-path number of 8.
Because Cynthia's are free, they often become depressed if they feel stuck. This is amplified in Cynthia's when they are stuck in downtime. Not having purposeful work to accomplish goes against Cynthia's very life force.
With a strong head and will, Cynthia's can become too hard-headed at times. There is also a propensity to become too rigid and stuck in your ways.
Cynthia's numerological aspects can manifest in other negative ways in being short and bothered with others too easily, especially those who you are closest to. In a Cynthia gone wild, you can come across as too bossy and pushy. This would not serve you very well as a leader.
These traits are usually seen in Cynthia's who lack personal development. While these are negative aspects of the numerological meaning of Cynthia, they are not written in stone by any means. If you happen to find these aspects showing up in yourself, you can easily correct them if you stay mindful.
8 is considered to be a free number in numerology, meaning that you, yourself are free – mutable and free to choose any path that you'd like. People with the number 8 can adapt with fluidity to most any situation and accomplish any goal that they set their mind to. This is a good number to have since you are not tied down with more specific paths and duties the way that other set numbers are.
So, if you're Cynthia, you can pretty much bet on being able to lead any pack headed in any direction.
Cynthia in Modern Day
While the name Cynthia got a late start in the United States, it already hit its peak of popularity. It is still a common name but is slowly phasing itself out unless the Cynthia baby-naming trend picks back up again.
The name Cynthia was unpopular throughout most of the 20th century in the United States but saw a dramatic spike for the entire decade of the 1950's – peaking in 1957 and coming in as the 860th most popular girl's name. This, only to steadily decline.
It's not unreasonable to assume that the name Cynthia won't be around for a while, even take off in popularity at some point again. After all, Cynthia is the Moon Goddess, and names with spiritual meaning are in. If more people only knew the spiritual meaning of the name Cynthia you would see it becoming popular again.
Other regions where Cynthia is a common name are in Canada and France.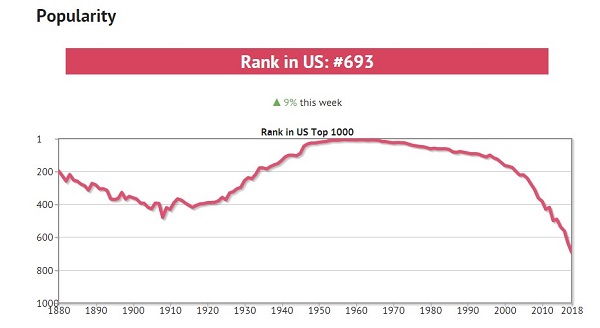 Other Variants of the Name Cynthia
Cindy/Cindi/Cyndi/Sindy – English
Cintia – Spanish, Portuguese, and Hungarian
Cinzia – Italian
Click here to learn more about the spiritual meaning of other names.